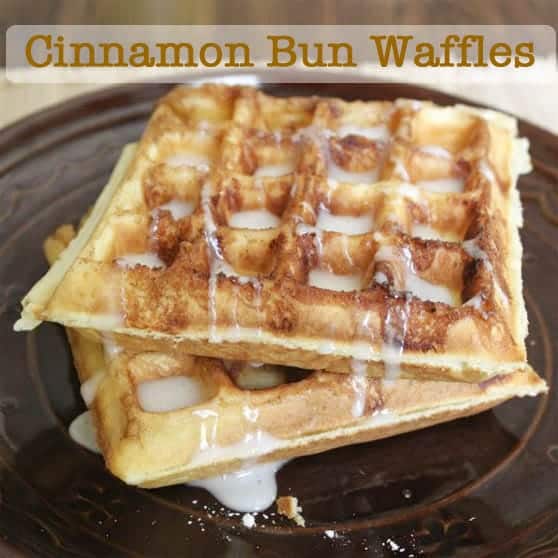 One Sunday I woke up craving cinnamon buns. Yum, right? But making a batch of cinnamon buns means mixing dough, allowing it to rise, and then, of course, baking. All told, I wouldn't have eaten the cinnamon buns I craved until the afternoon.
And my craving didn't want to wait that long! I had things to do. (Like eating breakfast.) Since it was a "waffle-Sunday" in our house, I decided to try making a batch of "cinnamon bun waffles."
Oh my goodness. Just writing about them makes me want to run into the kitchen and make a batch! I love these waffles.
At first I thought about simply adding ground cinnamon to my waffle recipe. But that wouldn't have tasted like a cinnamon bun! It would have tasted like cinnamon waffles. Which might have tasted good but wasn't what I wanted.
What I craved was that delicious swirl that makes a cinnamon bun a cinnamon bun. I don't know about you but that's my favorite part of a cinnamon bun! In my pre-gluten-free days, I'd "unwind" a cinnamon bun before eating it. (Odd eating habits? Oh yes! I have them!) Unwound meant the cinnamon-sugar filling hit my tongue first with each bite.
Happily, It was ridiculously easy to add a swirl to waffles!
Here's how to do it: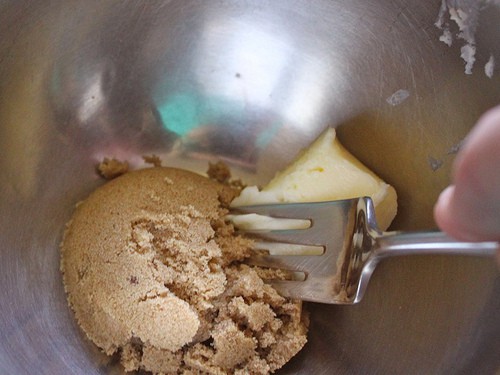 In a bowl, combine ground cinnamon, dark brown sugar and soft butter. (My cinnamon hid under the brown sugar. You can't see it but it's in there.)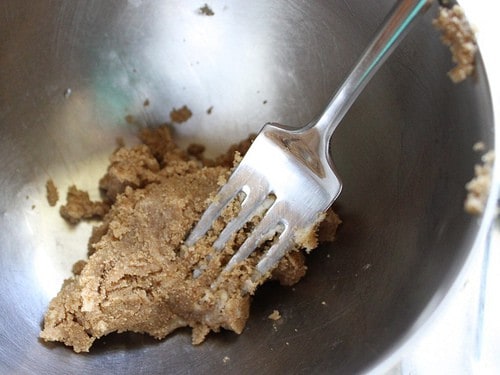 Mash with a fork until a paste forms.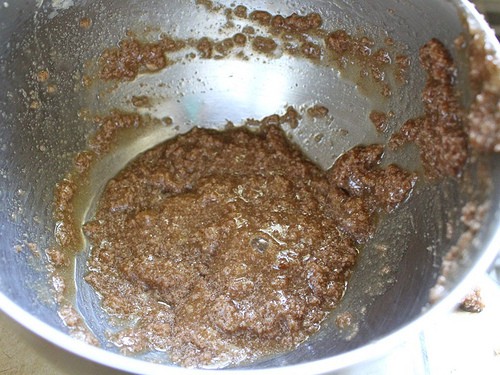 Add the milk. The mixture might look "broken"–almost curdled. Usually you want to avoid a broken batter but in this case, it's fine.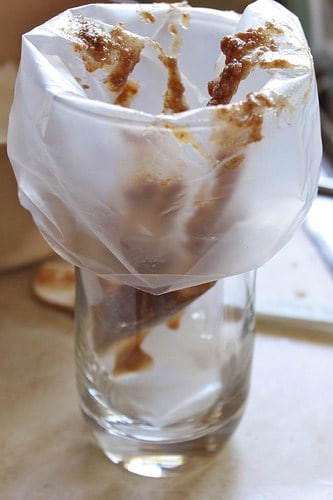 Transfer mixture to a piping bag. If you don't own a piping bag, put the mixture into a large ziplock bag and snip one of the corners of the bag.
Fill waffle-iron with batter. Right away, grab your piping bag.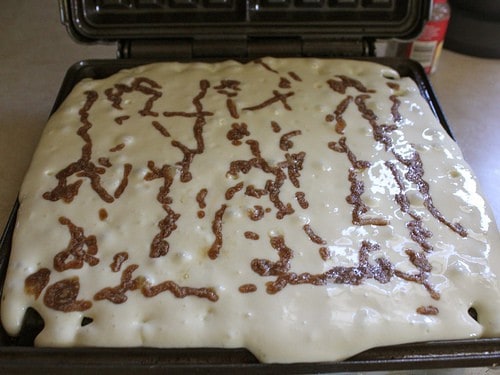 Squeeze cinnamon filling all over the waffle iron. Be sure your waffle iron is nonstick. Most are but if you have an old one, it might not be.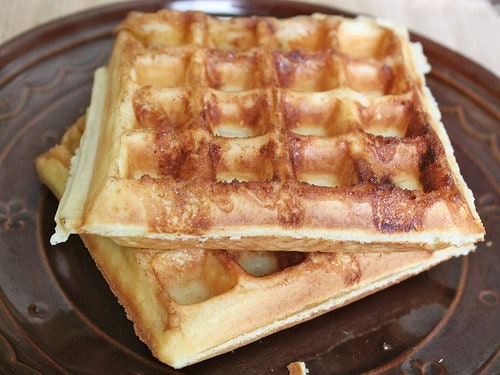 Bake until golden brown.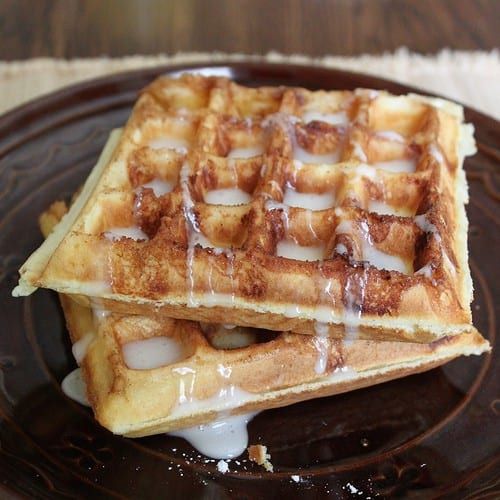 Drizzle with cinnamon bun icing or maple syrup. Both are delicious!
Enjoy! (How good does that look? Really good, right? I'm so thankful I woke up craving cinnamon buns!)
this page may contain affiliate links to products or services I love. I am NEVER paid for my opinion. Ever.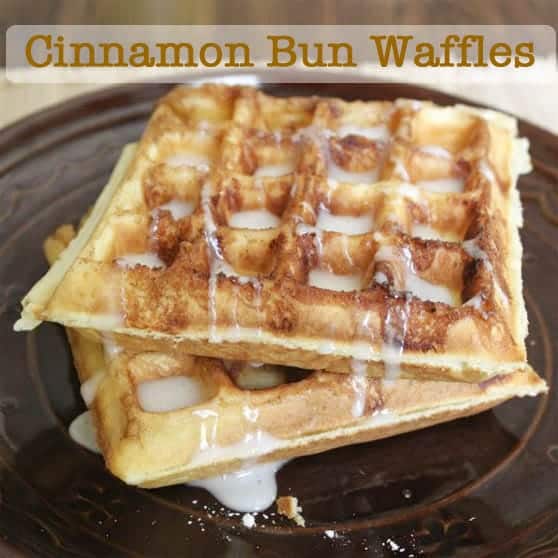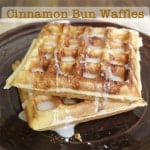 How to Make Gluten-Free Cinnamon Bun Waffles
Ingredients
For the Cinnamon-Swirl
1/4

cup

dark brown sugar, packed

(2 ounces; 56 grams)

1

tablespoon

butter, softened (increase to 2 tablespoons for a richer swirl.)

(1/2 ounce; 14 grams)

2

teaspoons

ground cinnamon

2

tablespoons

milk

(1 ounce; 28 grams)
For the Waffles
1

cup

finely ground white rice flour

(4 ounces; 113 grams)

1/2

cup

cornstarch

(2 ounces; 56 grams)

1/4

cup

sweet rice flour

(1 ounce; 28 grams)

1

tablespoon

baking powder

1

tablespoon

granulated sugar

(1/2 ounce; 14 grams)

1/2

teaspoon

salt

1/2

teaspoon

xanthan gum

1 1/4

cups

milk

(10 ounces; 283 grams)

2

large

eggs

(about 3 1/2 ounces; 100 grams)

1/4

cup

vegetable oil

(1 3/4 ounces; 50 grams)

1

teaspoon

vanilla extract
For the Glaze
1

cup

powdered sugar

(4 ounces; 113 grams)

2

tablespoons

milk, plus more as needed

(1 ounce; 28 grams)

1

teaspoon

vanilla extract
Instructions
Make the Icing: Stir together the powdered sugar, milk, and vanilla extract in a small bowl. It should flow easily from a fork. Adjust with additional powdered sugar (to thicken) or additional milk (to thin) as needed. Set aside.

Make the Swirl: In a small bowl, combine dark brown sugar, butter, and ground cinnamon. Mix until a thick paste forms. Add milk. Stir to combine. Mixture will be thick and look curdled. This is normal. As long as it's thoroughly combined, you're fine. Transfer mixture to a pastry bag fitted with a small (number 4) tip or, if you don't have a tip, cut a hole in the bag later. Set aside.

Make the Waffle Batter: In medium mixing bowl, whisk together white rice flour, cornstarch, sweet rice flour, baking powder, granulated sugar, salt, and xanthan gum. Add the milk, eggs, oil, and vanilla extract. Whisk until smooth.

Heat waffle iron according to manufacturer's directions. Spray iron generously with non-stick cooking spray. Spoon batter onto hot iron (amount of batter will vary depending on your iron). Cook until crisp. Serve with icing. (Note: to clean your waffle iron. Heat on the low setting. This loosens the stuck-on sugar. Wipe (carefully) with a damp cloth while the iron is warm.