Easy gluten-free cinnamon-sugar pretzels. Perfect sweet and salty snack. Easy recipe. Dairy-free option included.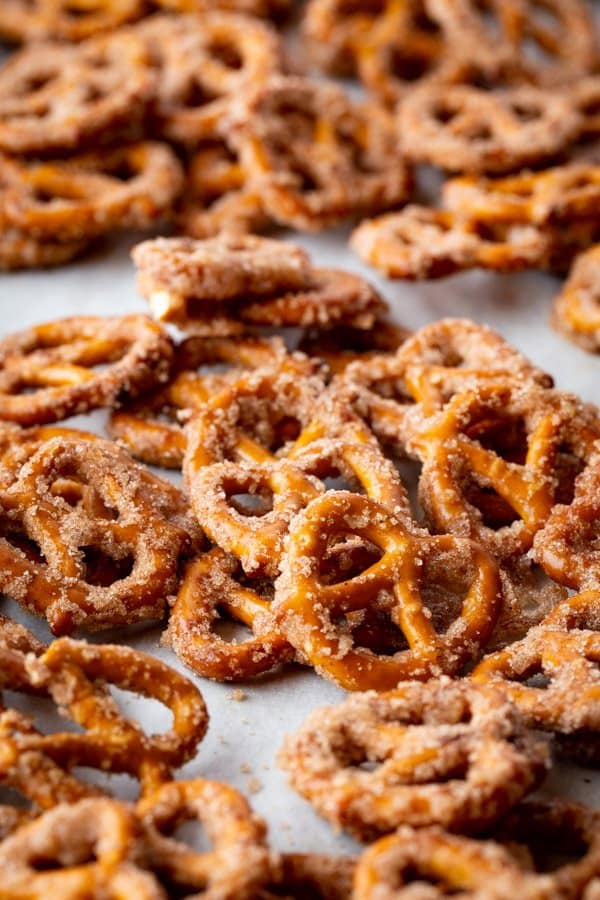 There are easy recipes, like my gluten-free vanilla mug cake. And then there are ridiculously easy recipes, like these gluten-free cinnamon and sugar pretzels.
These are something I've made for so long that I can't believe I've never shared the recipe on the blog. If I'm honest, I don't really think of this as a recipe. It's more like, "Throw some gluten-free pretzels into a bowl. Add sugar, cinnamon, and some melted butter. Bake for a bit. Eat by the large handful."
That last part? It's the most important. Because, friend, this is one of those recipes that people can't stop eating. (Myself included.)
How To Make Gluten-Free Cinnamon Sugar Pretzels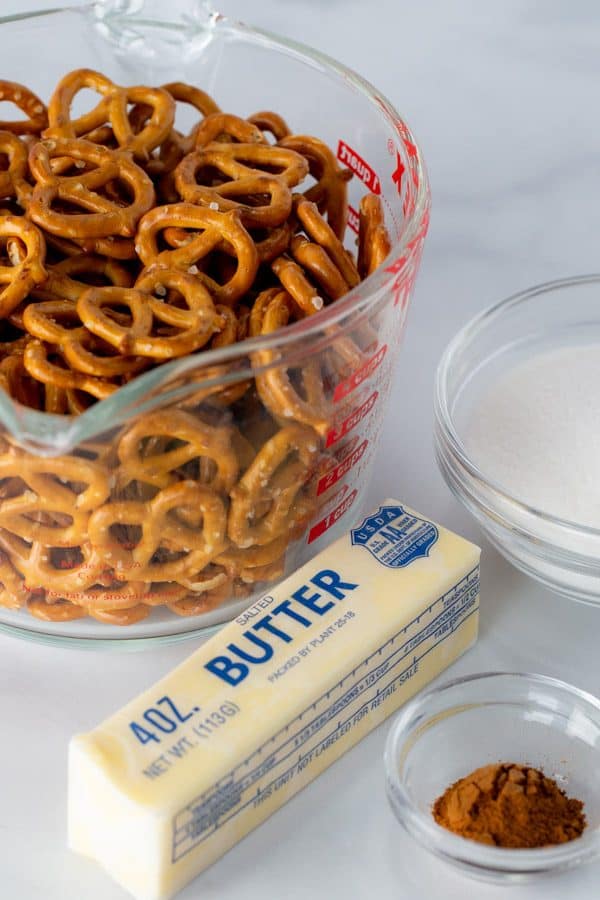 Buy a bag of gluten-free pretzels. For this recipe, I like Snyder's of Hanover gluten-free pretzels*. Why? Because they contain less fat (as of this writing, always check labels) than other brands. *Not an ad. I just like them.
Preheat the oven. You need to bake these pretzels. This step helps the cinnamon-sugar mixture stick to the pretzels. It only takes about 15 minutes but you don't want to skip it.
Stir together the cinnamon and sugar. This is the most important step in the recipe. It helps to distribute the cinnamon evenly. If you add the cinnamon and sugar separately, you can end up with some pretzels that have a lot of cinnamon and others that have none.
Melt the butter. If you don't include dairy in your diet, or if you don't have some butter in the house, you can still make this recipe.

Replace the melted butter with either dairy-free margarine or vegetable oil. You could use coconut oil but I don't love the mouthfeel that coconut oil gives the pretzels. If you like coconut oil, go ahead and use it.

Toss the gluten-free pretzels with the melted butter. Grab a large bowl. You're going to need it. If you don't have a large bowl, use a pasta pot. It works in a pinch. Stir until all the pretzels are coated with butter. When they're coated, they'll shine.
Add the cinnamon and sugar. Some folks add the cinnamon and sugar to the melted butter. I hate this. Hate it. Adding the cinnamon and sugar to the melted butter takes this recipe from easy-peasy to a pain in the…well, you know. When you mix the melted butter and cinnamon and sugar, a thick paste forms. It's almost impossible to get this paste to evenly coat the pretzels. You're left with pretzels that are coated in gobs of cinnamon-sugar and others that have no coating at all.It's better to toss the pretzels with cinnamon and sugar after you've already coated them with butter. All the pretzels get an even coating of sugary goodness. And you don't have to swear while making them. Everyone wins.
Bake. Spread the coated pretzles onto a parchment-lined baking sheet. Bake until the sugar almost melts. This takes about 15 minutes.
Break apart and serve. Don't eat the pretzels as soon as they come out of the oven. This is hard. Very hard. But you'll burn your mouth because the sugar is, what's the term, freaking hot. Once they've cooled a bit, break them up–they tend to stick together during baking. You can pile them into a bowl and serve right away or put them into an airtight container. And since these make great gifts, you can spoon some into a cello bag, tie with a ribbon, and pat yourself on the back. (Don't forget that last step.)
Gluten-Free Cinnamon Sugar Pretzels
Ingredients
1/2

cup

granulated sugar

(3 1/2 ounces; 100 grams)

1 1/2

teaspoons

ground cinnamon

4

cups

gluten-free pretzels

(about 7 ounces; 200 grams)

1/4

cup

butter or dairy-free margarine, melted

(2 ounces; 56 grams)
Instructions
Preheat oven to 350 degrees Line a rimmed baking sheet with parchment paper.

Stir together granulated sugar and cinnamon in a small bowl.

Stir together pretzels and melted butter in a large bowl. Sprinkle the sugar-cinnamon mixture evenly over the pretzels. Stir to coat the pretzels.

Spread pretzels onto the baking sheet. Bake until sugar bubbles, about 12 minutes. Remove and let pretzels cool on the pan. Don't eat right away. The sugar is very hot and can burn your mouth. Once the pretzels are cool, break apart.

Store pretzels in an airtight container for up to one week.