Easy gluten-free corn chowder made with corn, potatoes, chicken stock, and a little kick of hot pepper. It's simple and delicious.
Thick but not too rich: a gluten-free corn chowder conundrum.
You know those foods that you just prefer a certain way? I'm like that with chowder. I like my chowder thick but not ultra-rich. Sounds like an oxymoron, right? Let me explain.
Often chowder's thickness and richness comes from heavy cream. A chowder made with lots of cream, to me, blunts the delicate flavor of the corn. But I still want my soup thick! To work around this problem—and still enjoy a thick consistency—I up the amount of sweet rice flour I use to thicken the soup. Instead of a 1:1 ratio of fat to flour, you use a 1:2 ratio. I decided to omit the cream altogether. However, if you prefer a thick and rich soup, go ahead and add cream.
By the way, this chowder has a little spicy kick under the sweetness of the corn. If you prefer chowder without the kick, just leave out the hot sauce.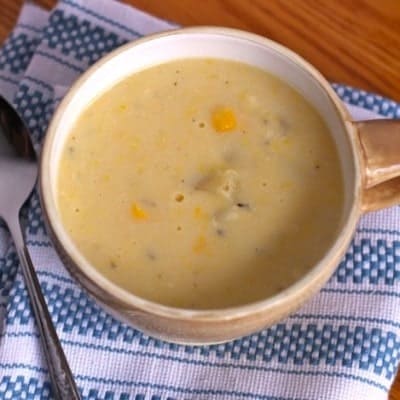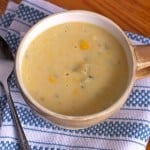 Gluten-Free Corn Chowder
Total Time
1
hour
10
minutes
Ingredients
2

tablespoons

unsalted butter

(1 ounce; 28 grams)

1

small

onion, finely diced

1/4

cup

sweet rice flour

(1 ounce; 28 grams)

3

cups

milk, warmed

(24 ounces; 680 grams)

2-3

cups

homemade chicken stock or store-bought reduced-sodium broth

2

cups

corn, either fresh cut from the cob or frozen

2

medium

russet potatoes, peeled and diced

(about two cups)

1/2

teaspoon

dried thyme

Salt and freshly ground black pepper

1/4

teaspoon

hot pepper sauce
Instructions
Melt butter in large pot over medium-high heat. Add onion and cook, stirring with a wooden spoon, until tender but not brown, about three minutes.

Switch to a whisk and stir in sweet rice flour. The flour will coat the onions and be very dry. Whisking constantly, cook for three minutes. In a slow and steady steam, add milk. Allow the paste to absorb the milk as you add it. This will prevent clumping. At first, add the milk slowly; as you add more milk, you can slightly increase the pouring speed until it's all in. Stir in the chicken stock, corn, potatoes, thyme, 1/2 teaspoon salt, and 1/2 teaspoon pepper.

Bring the soup to a gentle boil. Lower the heat to medium-low and simmer (look for occasional gentle bubbles) for 45 minutes.

Ladle about two cups of the soup into a blender and blend until smooth. The soup shouldn't fill the blender more than halfway. If you have a small blender, do this in batches.

Return the puréed soup to the pot and stir to combine. Add the hot pepper sauce. If you prefer your chowder thin, add the additional cup of stock. Taste and adjust the seasoning with salt and pepper as needed. Simmer over medium heat for five minutes, or until the soup is hot. Serve.