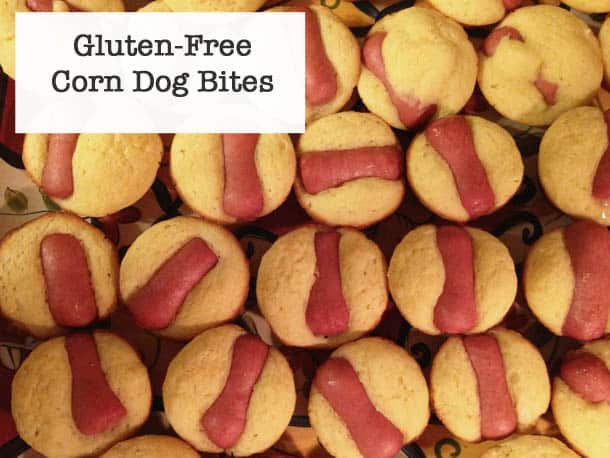 A year or so ago, I saw a recipe for corn dog muffins on Pinterest. I made a batch with the cornbread recipe from How to Cook Gluten-Free. They were cute and tasty. YAY! So for this year's Super Bowl "feast", I made a batch of corn dog bites instead of our traditional pigs in a blanket. Since mini-wieners were involved, I thought it counted as "tradition." Of course, I posted the photo to Facebook (as you do!). And someone asked for the recipe. I'm happy to share it!
The recipe comes together easily. You make a cornbread batter—I imagine you could use a gluten-free cornbread mix–and press a mini-wiener into the center of each muffin. Then bake for about 20 minutes. If you don't like to see a naked wiener (Yes, I got that as soon as I typed it. I'm leaving it there for us to giggle at!). Where was I? Oh, yes, naked wieners. You can hide the wiener in your muffin. (OH MY GOD. NO. THAT'S TERRIBLE. *whispering* I'm sorry. #notsorry)
Let's try this again. Where were we? Hiding wieners! Yes! You can put the wieners in the muffin tin and then spoon the batter on top. As the muffin bakes, it encases the weiner. Either way, these cornbread bites are tasty.
That's it. No more wiener jokes. Nope! Just a recipe for corn dog bites and an apology. This post was obviously written by the 10-year-old who lives inside my head. I'm sorry.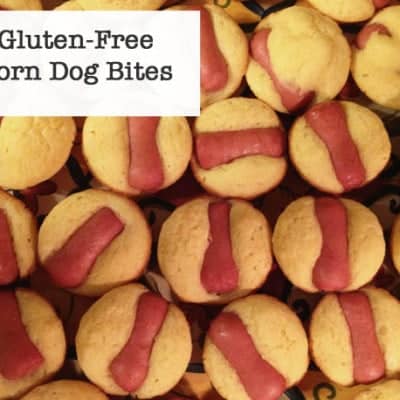 Gluten-Free Mini Corndog Muffins
Use mini-wieners or cut regular hot dogs into bite-pieces for this easy recipe.
Ingredients
1

cup

finely ground gluten-free cornmeal

(4 ounces; 113 grams)

1/2

cup

white rice flour

(2 ounces; 56 grams)

1/2

cup

sweet rice flour

(2 ounces; 56 grams)

1/4

cup

granulated sugar

(1 3/4 ounces; 50 grams)

1

tablespoon

baking powder

1/2

teaspoon

salt

1/4

teaspoon

xanthan gum

2

large

eggs

(about 3 1/2 ounces; 100 grams, out of shell)

1

cup

milk

(8 ounces; 226 grams)

2

tablespoons

olive oil

(about 1 ounce; 24 grams)

1

( 14-ounce) package

package mini-wieners or 8 hot dogs cut into bite-sized pieces
Instructions
Preheat oven to 350°F. Spray two 24-cavity mini-muffin pans with gluten-free cooking spray. Set pan aside.

In a medium bowl, whisk together the cornmeal, white rice flour, sweet rice flour, sugar, baking powder, salt, and xanthan gum. Add eggs, milk, and olive oil. Whisk until smooth.

Drop batter into prepared muffin cavities, about half full. Press mini-wiener or hot dog piece into the center of each muffin.

Bake until muffins are golden brown, about 20 minutes. Remove muffins from the pan and serve.