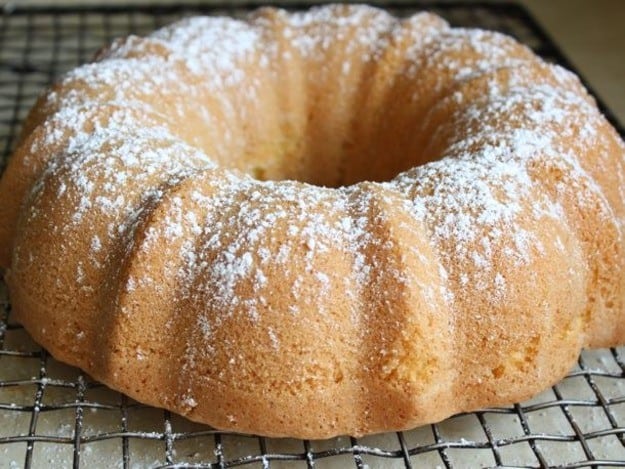 Gluten-Free Cornmeal Cake OR Dairy-Free Pound Cakes are AWESOME
I love this cake for many reasons: it's easy to make, pairs well with summer fruits, and is dairy-free. But most of all, I love how it seems to transform depending on how you serve it. With a cup of tea in the morning, it resembles a breakfast cake; toasted and served with macerated berries spooned over the top, it's suddenly an elegant summer dessert.
Unlike many pound cake-style bundt cakes, this one doesn't use butter. To achieve the delicate texture, you start by whipping eggs and granulated sugar together until the eggs are thick and pale yellow. This takes about five minutes and can't be rushed. Those whipped eggs, along with two teaspoons of baking powder, leven the cake. If the eggs aren't whipped enough, the cake bakes up unpleasantly dense. After the eggs and granulated sugar are whipped, simply add the dry ingredients and mix.
Here's where the method gets a little weird. After the dry ingredients are incorporated, you add a quarter cup of vegetable oil. This causes your lovely batter to deflate. At first it looks, well, wrong. The light batter turns shiny with oil. That's okay, just keep whipping it. After about a minute, the oil is incorporated into the batter, which again thickens and lightens. Transfer the batter to a prepared bundt pan and bake.
For me, it's once the cake is baked that the real challenge begins. How do I serve it? While it's great on its own, I often plate it with fresh berries or lemon curd. Another nice option is to grill it and serve with some fresh or grilled pineapple. And don't forget about trifles! Cube the cake and layer it in a large bowl with whipped cream, pastry cream or pudding, berries, and, if you feel like it, nuts and chocolate. The serving options for this cake are endless! Have fun customizing it all summer long.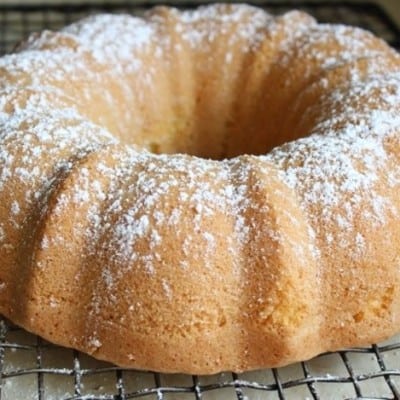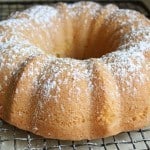 Gluten-Free Cornmeal Bundt Cake
To achieve a delicate texture for this cake, be sure to select a very finely ground gluten-free cornmeal for this cake. I prefer Bob's Red Mill gluten-free corn flour. Corn flour is finely ground cornmeal, not corn starch.
Total Time
1
hour
5
minutes
Ingredients
Gluten-free nonstick cooking spray

1

cup

white rice flour

(4 ounces; 113 grams)

3/4

cup

Bob's Red Mill gluten-free corn flour (see note above)

(3 ounces; 85 grams)

2

teaspoons

baking powder

1/4

teaspoon

salt

5

large

eggs

(about 8 3/4 ounces; 248 grams, out of shell)

1

cup

granulated sugar

(7 ounces; 198 grams)

1/4

cup

vegetable oil

(1 3/4 ounces; 50 grams)

1

teaspoon

vanilla extract

Confectioners' sugar

optional
Instructions
Adjust oven rack to middle position. Preheat oven to 350 degrees F. Grease 12-cup bundt pan with nonstick cooking spray.

Whisk together white rice flour, corn flour, baking powder, and salt in small bowl. Fit bowl of stand mixer with whisk attachment. Whip eggs on medium speed until combined. In a slow and steady stream, add granulated sugar. Increase mixer speed to high. Whip egg mixture until pale yellow and thick and fluffy, about five minutes. Reduce mixer speed to medium. With mixer running, add dry ingredients. Mix until dry ingredients are combined, about one minute. Add oil in slow and steady steam. Batter will deflate. Increase mixer speed to high. Whip batter until oil is incorporated and batter thickens, about two minutes.

Spoon batter into prepared pan. Bake until a cake tester inserted into the center of the cake comes out clean, about 35 minutes. Cool cake in the pan for ten minutes. Invert onto a rack and cool. If desired, sprinkle with confectioners' sugar before serving.