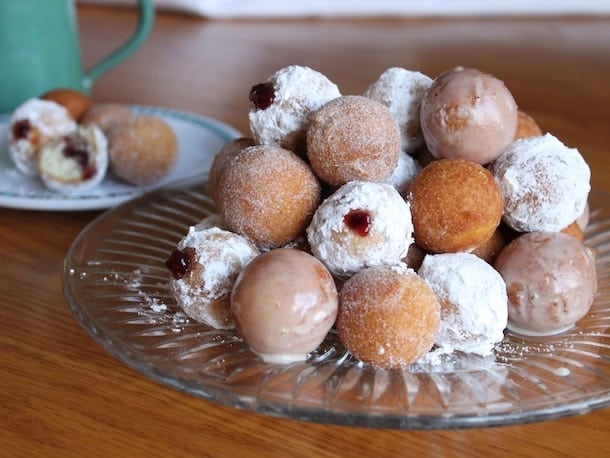 As a kid, I knew one thing about Hanukkah: it included latkes and doughnuts and Christmas didn't. This made me more than a little sad that my family didn't celebrate the holiday. In my opinion, even the best Christmas cookie can't compete with a latke or doughnut fresh from the fryer.
Thankfully my mom's friend Judy provided all the laktes and doughnuts I could eat. This year I asked for her doughnut recipe—I didn't want to spend another holiday season jelly doughnut-less.
The doughnuts Judy made were jelly doughnut bites. "They're not doughnut holes because I don't make the full-size doughnut!" Judy told me after I asked for her "doughnut hole" recipe. (When I mentioned that jelly doughnuts don't actually have a hole, Judy laughed at me.) Thinking it might be a family tradition, I asked why she made doughnut "bites" and not full-size doughnuts. Did her mom make doughnut bites?
Her reply showed Judy's no-nonsense nature: "Tradition? No! My mother made regular doughnuts. Bites are just easier. I got the idea from Dunkin Donuts' Munchkins. They were new at the time and my kids loved 'em."
After I worked with the recipe, I understood what she meant about bites being easier. The recipe makes a soft dough. Not so soft that it's hard to fry but soft enough that rolling it out into large doughnuts might present a challenge. The size of the doughnuts isn't the only place Judy sidestepped tradition. Her doughnut bites are cake doughnuts—yes, cake jelly doughnuts—instead of traditional yeast-raised doughnuts.
The resulting doughnuts, which include just a little nutmeg and lemon extract, are a delicately flavored and tight-crumb "home style" cake doughnut. (Actually, they are very similar to the Munchkins that inspired the recipe.)
Like Judy, you could squeeze a little jam into the finished doughnut holes. Or, if you aren't in the mood for a jelly doughnut, dip them into a honey glaze or roll the doughnuts into granulated sugar and ground cinnamon. You could even leave them unadorned, even plain these doughnuts bites are a treat.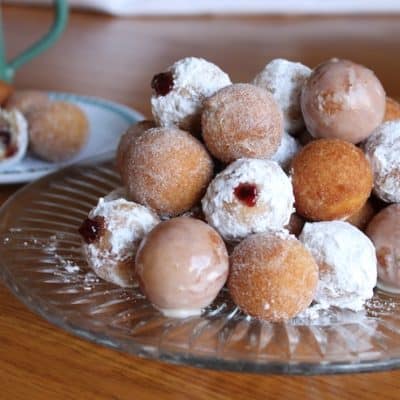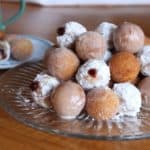 Gluten-Free Doughnut Holes
You want to keep the doughnut holes small, about two teaspoons each. Any larger than this and the center of the doughnut might be raw while the outsides are cooked.
Ingredients
2 1/2

cups

white rice flour

(10 ounces; 283 grams)

3/4 cup granulated sugar

(5 1/4 ounces; 148 grams)

1/2

cup

potato starch

(2 ounces; 56 grams)

1/3

cup

tapioca starch

(1 1/3 ounces; 38 grams)

1

teaspoon

baking soda

1

teaspoon

baking powder

1

teaspoon

salt

1

teaspoon

xanthan gum

1/4

teaspoon

ground nutmeg

1

cup

buttermilk

(8 ounces; 226 grams)

2

large

eggs

(about 3 1/2 ounces; 100 grams, out of shell)

2

tablespoons

butter, melted

(1 ounce; 28 grams)

1

teaspoon

vanilla extract

1/2

teaspoon

lemon extract

Vegetable oil for deep frying
Jelly Doughnuts
1

cup

powdered sugar

(4 ounces; 113 grams)

1/2

cup

jelly (raspberry, strawberry, or sour cherry are especially nice)

(4 ounces; 113 grams)
Cinnamon Sugar
1

cup

granulated sugar

(7 ounces; 198 grams)

2

teaspoons

ground cinnamon
Milk and Honey Glaze
1

cup

powdered sugar

(4 ounces; 113 grams)

2

tablespoons

milk

(1 ounce; 28 grams)

2

teaspoons

honey

(1/2 ounce; 14 grams)
Instructions
In bowl of stand mixer, combine white rice flour, potato starch, tapioca starch, baking soda, baking powder, salt, xanthan gum, and ground nutmeg. In small bowl, whisk together buttermilk, eggs, melted butter, vanilla extract, and lemon extract. Fit mixer with paddle attachment. Mix dough until smooth, about 45 seconds. Cover dough with plastic wrap to prevent a skin from forming and allow to rest for 15 minutes.

Heat oil to 375°F. Pinch off large, about two teaspoons, pieces of dough. Roll dough into a ball and slip into hot oil. Depending on the size of your fryer, you can fry a few at a time. Don't crowd the fryer or the oil temperature will drop, giving you greasy doughnuts. Fry until golden brown, about three minutes.

Using a metal slotted spoon, remove doughnuts from oil an place on a paper towel lined plate. Repeat with remaining dough.

For Jelly Doughnuts Place powdered sugar into a small bowl. Roll doughnuts to coat. Fit a pastry bag with a bismarck tip and fill with jam. Insert tip about halfway into doughnut and squeeze a little jam into doughnut.

For Cinnamon-Sugar Doughnuts Combine granulated sugar and ground cinnamon in small bowl. Roll doughnuts into mixture to coat. If desired, fill with jam.

For Milk and Honey Glaze In small bowl, combine powdered sugar, milk, and honey. Stir until smooth. Dip doughnuts into glaze.