Gluten-Free Funfetti Cake Makes a Perfect Birthday Cake! This delicate yellow cake recipe–that's bursting with sprinkles–only requires one bowl to make. It's perfect for beginner bakers. Finish the cake with vanilla buttercream frosting–and more sprinkles, of course!

It's no surprise that I love funfetti cake. I mean, it has sprinkles. And I LOVE sprinkles. Honestly, if you don't love sprinkles, we can't be friends. (Kidding. Mostly.)
When a reader left a comment asking for a funfetti birthday cake, I could not wait to make it. For some reason, I've made easy gluten-free funfetti cupcakes. They're really easy and only make 12 cupcakes. And I've made a "just like the box" gluten-free funfetti cake. That recipe is a Saturday baking project. It uses individual gluten-free flours and requires you to cut in shortening–not a hard task but one that takes some time.
This recipe is quick. It makes a perfect two-layer cake —which is what you want for birthday parties or any other time you want SPRINKLES!
What is Funfetti?
If you aren't familiar with funfetti, I'm about to make your day! Funfetti is white cake with sprinkles. Lots of sprinkles. Pillsbury is the creator of the funfetti phenomenon. They introduced it in 1989. And the rest, as they say, is history.
What's the Best Gluten-Free Flour to Use for Funfetti Cake?
For this recipe, use a gluten-free flour blend that contains xanthan gum. Without it, the cake turns out flat and dense.
I tested the recipe with Bob's Red Mill 1:1 Gluten-Free Baking Flour. If your flour blend doesn't contain xanthan gum, add 1 teaspoon to the recipe.
What Flavor is Funfetti?
There's a lot of debate around this. I believe that the unique funfetti flavors comes from a combination of clear vanilla extract and a dash of almond extract. It's funny that I call for clear vanilla extract. If you're familiar with vanilla, you know that clear vanilla is artificial vanilla. And that's the point. Boxed funfetti cake mix, the type you probably grew up eating, includes artificial vanilla. If that's the flavor you crave, grab a bottle. It makes a difference! I'd use clear vanilla extract in my frosting too, for the full effect.
As for the almond extract, it adds an almost maraschino cherry flavor. (If you're just realizing that maraschino cherries taste like almonds, raise your hand, girlfriend.) The almond extract isn't required. Feel free to skip it if you don't want to buy a bottle.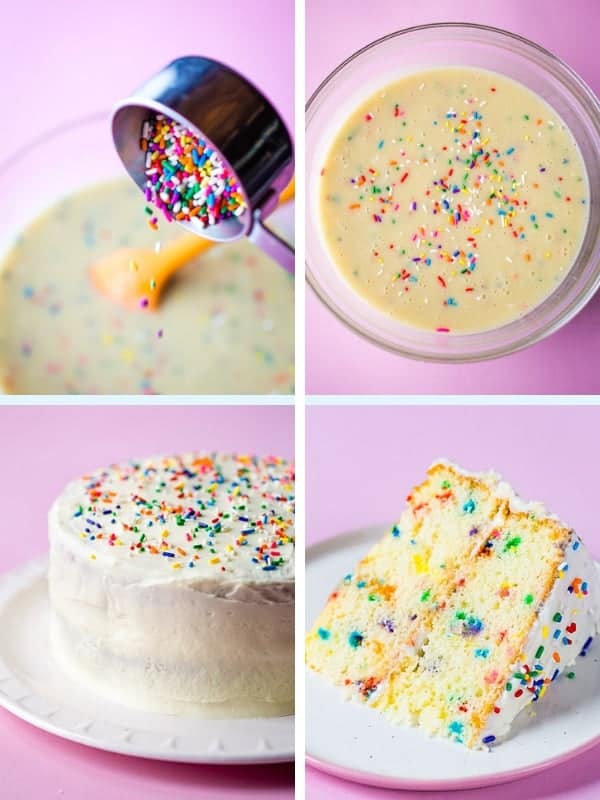 Why Make Funfetti Cake from Scratch? Can't I Use a Mix?
You sure can! The reason I prefer to make it from scratch is a simple one: taste. I think that homemade cake tastes better. Plus, when you make it from scratch, you can tailor the ingredients to suit any other food allergies you or your loved ones deal with.
How to Make Gluten-Free Funfetti Cake
Prepare the Batter. This is an easy one-bowl recipe. Whisk together the dry ingredients, add the eggs, oil, and flavors. Stir. Done!

Add the sprinkles.

Pour batter into greased cake pans.

Bake.

Cool. <–this is key. If you frost a warm cake, the frosting melts and drips down the cake.

Frost.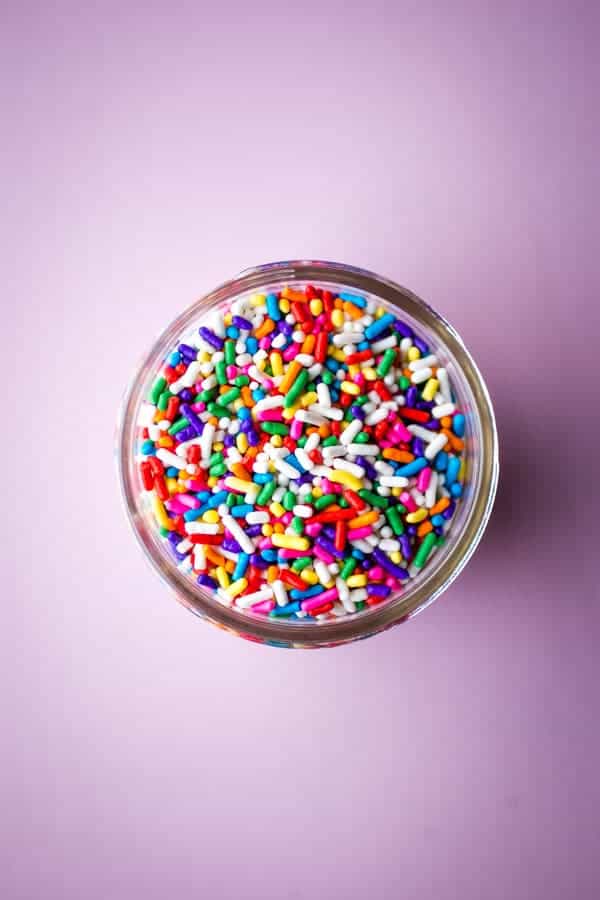 Are Sprinkles Gluten-Free?
It depends. Most sprinkles (also called Jimmies) are gluten-free. However, you should always read labels.
What Kind of Sprinkles Should I Use for Funfetti Cake?
Good question! There's lots of sprinkles on the market. For funfetti cake, I use "sprinkles", they are also labeled jimmies. Don't confuse these with nonpareils. "Sprinkles" are long and soft. Nonpareils are tiny, hard sugar balls. In batter, nonpareils tend to melt and bleed color, while sprinkles don't–giving you nice bursts of color throughout the finished cake.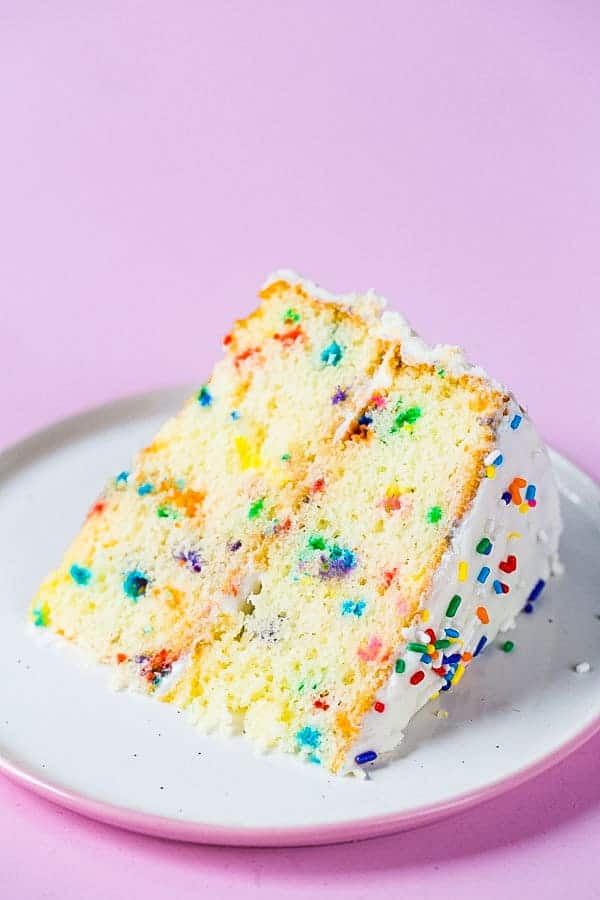 What Frosting Should I Use?
You can finish funfetti cake with any frosting that you love! Classic vanilla buttercream frosting is traditional. But I think chocolate and cream cheese also make nice frostings for funfetti cake.
Shop the Recipe
The links below are affiliate links. GlutenFreeBaking.com earns a commission when you use the links to shop.
Bob's Red Mill 1:1 Baking Flour
Clear Vanilla Extract
Almond Extract
Sprinkles
Handheld Mixer
Mixing Bowls
Cake Pans
Cooling Rack
Cake Stand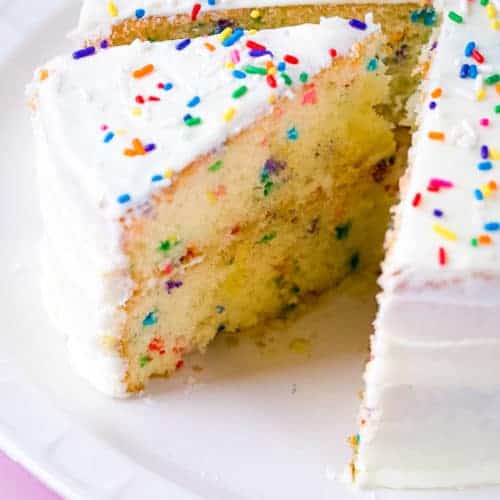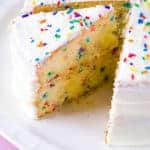 Gluten-Free Funfetti Birthday Cake
Easy gluten-free funfetti cake. Loaded with sprinkles, this tender cake makes a fun birthday cake--no mix needed!
Ingredients
Gluten-Free Funfetti Cake
2 1/2

cups

gluten-free all-purpose flour (see note)

11.5 ounces/326 grams

1 1/2

cups

granulated sugar

10.5 ounces/ 298 grams

3 1/2

teaspoons

baking powder

1

teaspoon

salt

1 1/4

cup

milk

traditional or dairy-free

2/3

cup

vegetable oil

(4.75 ounces/134 grams)

4

large eggs

(about 8 ounces/226 grams)

2

teaspoons

vanilla extract

pure vanilla or clear (imitation)

1/2

teaspoon

almond extract

optional

1/3

cup

colored sprinkles, plus additional for topping cake
Gluten-Free Vanilla Buttercream
2

sticks

butter, softened

(8 ounces; 226 grams)

4

cups

powdered sugar, sifted

(16 ounces; 454 grams)

4

tablespoons

milk, more as needed

2

teaspoons

clear vanilla extract

1/4

teaspoon

almond extract, optional
Instructions
Preheat oven to 350 degrees F. Grease two 8-inch round cake pans with nonstick cooking spray.

Whisk together gluten-free flour, sugar, baking powder, and salt. Add milk, oil, eggs, and extracts. Whisk until a smooth batter forms. Add 1/3 cup sprinkles. Stir to combine.

Divide batter evenly between the two prepared pans.

Bake until cake is golden brown and a cake tester inserted into the center of the cake comes out clean, about 30 minutes.

Remove cakes from the oven and place on a wire rack to cool for five minutes. Then turn cakes onto the wire rack to cool completely.

Once cool, frost with vanilla buttercream and sprinkle additional sprinkles onto cake.
Gluten-Free Vanilla Buttercream
Cream butter until smooth in a medium mixing bowl. Add powdered sugar, milk, vanilla, and almond extract. Mix, on low speed, until smooth. If buttercream seems thick, add a teaspoon or so additional milk. Use as directed.
Recipe Notes
Gluten-Free Flour 
Use a gluten-free flour blend that includes xanthan gum. Bob's Red Mill 1:1 Gluten-Free Baking Flour recommended. If your blend doesn't include xanthan gum, add 1 teaspoon along with the flour. Whisk together.