Gluten-free funfetti cake makes any event a celebration!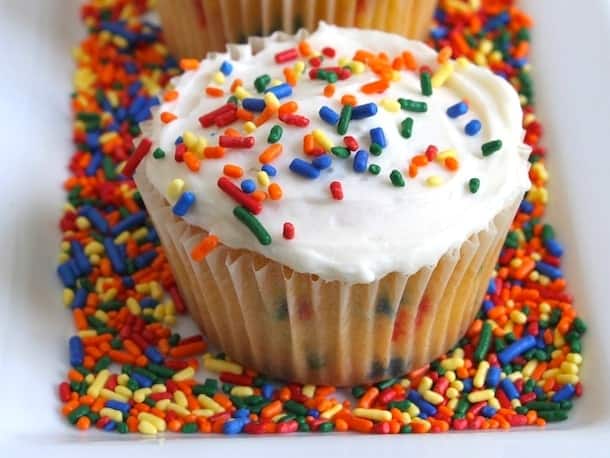 A few months ago, someone asked me to make a gluten-free version of Pillsbury's Funfetti cake. This was a bit of a problem. At its heart, Funfetti cake's just a sprinkle-studded white cake. And white cake's always been a bit of a nemesis of mine.
You think it'd be easy: gluten-free flour, sugar, eggs, and fat. Simple, right? Not the case!
I've created more flops of white cakes than just about anything else (including gluten-free bread). Before creating another too-dense/too-heavy/too-dry white cake, I went to the supermarket to do some research.
When re-creating a box mix cake, one needs to read a box mix! I noticed that all wheat-based boxed cake mixes contain shortening cut into the flour. Hmm. Could this be the secret to a light gluten-free white cake?
Shortening, when cut into flour, creates little pockets of fat. These pockets produce steam during baking and the steam helps to leaven the cake. In all my years of baking gluten-free cakes, I never tried cutting shortening to the flour. Now I am sorry I didn't! After cutting solid shortening into the flour, and then adding eggs, oil, and water, my cake was unbelievably light.
At first, I pulled out the food processor to cut the shortening into the cake. Then I transferred the flour mixture to a stand mixer to finish making the batter. This was, well, a hassle. Turns out, I didn't need the food processor. Using the paddle attachment of my stand mixer, I cut the shortening into the flour and then added my wet ingredients. Success without having to drag out two appliances!
Of course you can make this cake without the sprinkles, but if you do make the Funfetti variation, be sure to use sprinkles, sometimes called Jimmies. Quins or nonpareils don't work as well in the batter.
Baking Note: You can make your own homemade cake mix with this recipe. Simply prepare the recipe through adding the shortening to the dry ingredients. Store mix in a plastic bag for up to two months. When you are ready for cake, add the remaining wet ingredients.
Allergen Note: In addition to being gluten-free, this contains no dairy or corn. (It does contain xanthan gum, which some corn allergic folks can tolerate and others can't.) To make the cake soy-free, use a solid soy-free shortening, like Specturm. During testing, I attempted an egg-free version using a ground flax replacement, but the results turned out heavy.
This piece first appeared on SeriousEats.com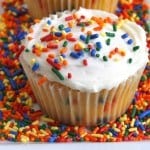 Gluten-Free Funfetti Cake
Ingredients
1 3/4

cups

granulated sugar

(12 1/2 ounces; 354 grams)

1 3/4

cups

white rice flour

(7 ounces; 198 grams)

1/2

cup

sweet rice flour

(2 ounces; 56 grams)

1/2

cup

potato starch

(2 ounces; 56 grams)

1

tablespoon

baking powder

1

teaspoon

salt

1/2

teaspoon

xanthan gum

1/2

cup

solid shortening

(3 1/4 ounces; 92 grams)

1

cup

water

(8 ounces; 226 grams)

1/3

cup

vegetable oil

(2 1/3 ounces; 66 grams)

4

large

eggs

(7 ounces; 198 grams)

2

teaspoons

vanilla extract

1

teaspoon

almond extract

1/3

cup

sprinkles plus more for sprinkling on top of the cake

Gluten-free frosting
Instructions
Preheat oven to 350°F. Line two (24 cavities total) muffin pans with paper liners or grease lightly with non-stick cooking spray. In bowl of stand mixer fitted with paddle attachment, combine granulated sugar, white rice flour, sweet rice flour, potato starch, baking powder, salt, and xanthan gum. Stir to combine.

Add shortening. Turn mixer on to medium-low speed. Mix until no large piece of shortening remain. Turn off mixer. Add water, vegetable oil, eggs, vanilla extract, and almond extract. Turn mixer on to medium-high. Mix for two minutes. (Timing is important with this batter.) Batter should be light and fluffy. Turn off mixer. If making a funfetti cake, add sprinkles. Turn mixer on to low and stir until sprinkles are just combined. Over-mixing causes the sprinkles to break up in the batter.

Fill each muffin cup about 2/3 full. Bake until a cake tester inserted into the center of a cupcake comes out clean, about 20 minutes. Cupcake tops should be golden brown. Allow cupcakes to cool in the pan for three minutes and then transfer to a wire rack to cool completely. Once cool, ice as desired.