Homemade gluten-free garlic bread is buttery, flavorful, and easy to make. Spread homemade garlic butter on your favorite gluten-free bread. Then, if you'd like, add cheese. Bake until brown and then it's time to enjoy.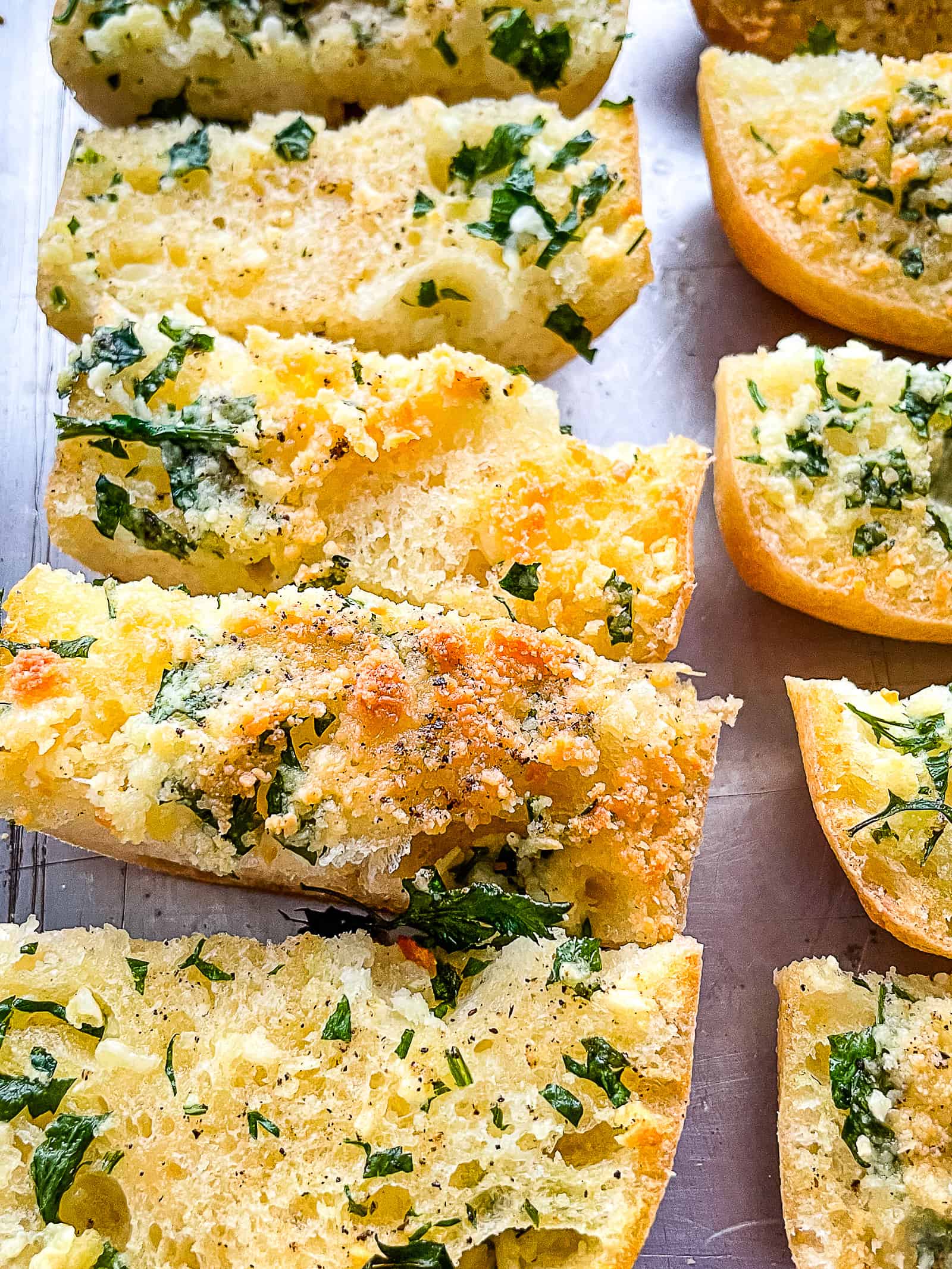 This gluten-free garlic bread is my go-to recipe. The best part? I've made it with all types of gluten-free bread and it turns out delicious each time. If you love the ease of frozen garlic bread, make a batch ahead, freeze it, and then heat it when you're ready to enjoy.
What's the best bread for gluten-free garlic bread?
Gluten-free garlic bread starts with prebaked bread. Both homemade and store-bought gluten-free bread work great. I'd avoid sweetened bread, like cinnamon-raisin, because it adds a flavor not usually found in garlic bread.
Suggested Bread Types for Gluten-Free Garlic Bread.
Gluten-Free Dinner Rolls.
Gluten-Free Ciabatta or French Bread.
Gluten-Free Sandwich Buns.
Gluten-Free Hot Dog Buns. You read that right. Gluten-free hot dog buns make great garlic bread. They're larger than wheat-based hot dog buns. Simply split them and top.
Gluten-Free Hamburger Rolls. If you like your garlic bread on the soft side, use hamburger buns. Split them in half and top with the garlic butter.
Gluten-Free Sandwich Bread. If using homemade gluten-free sandwich bread, slice the bread into 1/2-inch slices.
How to Make Gluten-Free Garlic Bread.
From start to finish, this recipe takes about 20 minutes to make. Before making the garlic butter, preheat your oven or toaster. This way it's hot and ready to use when the bread is prepared.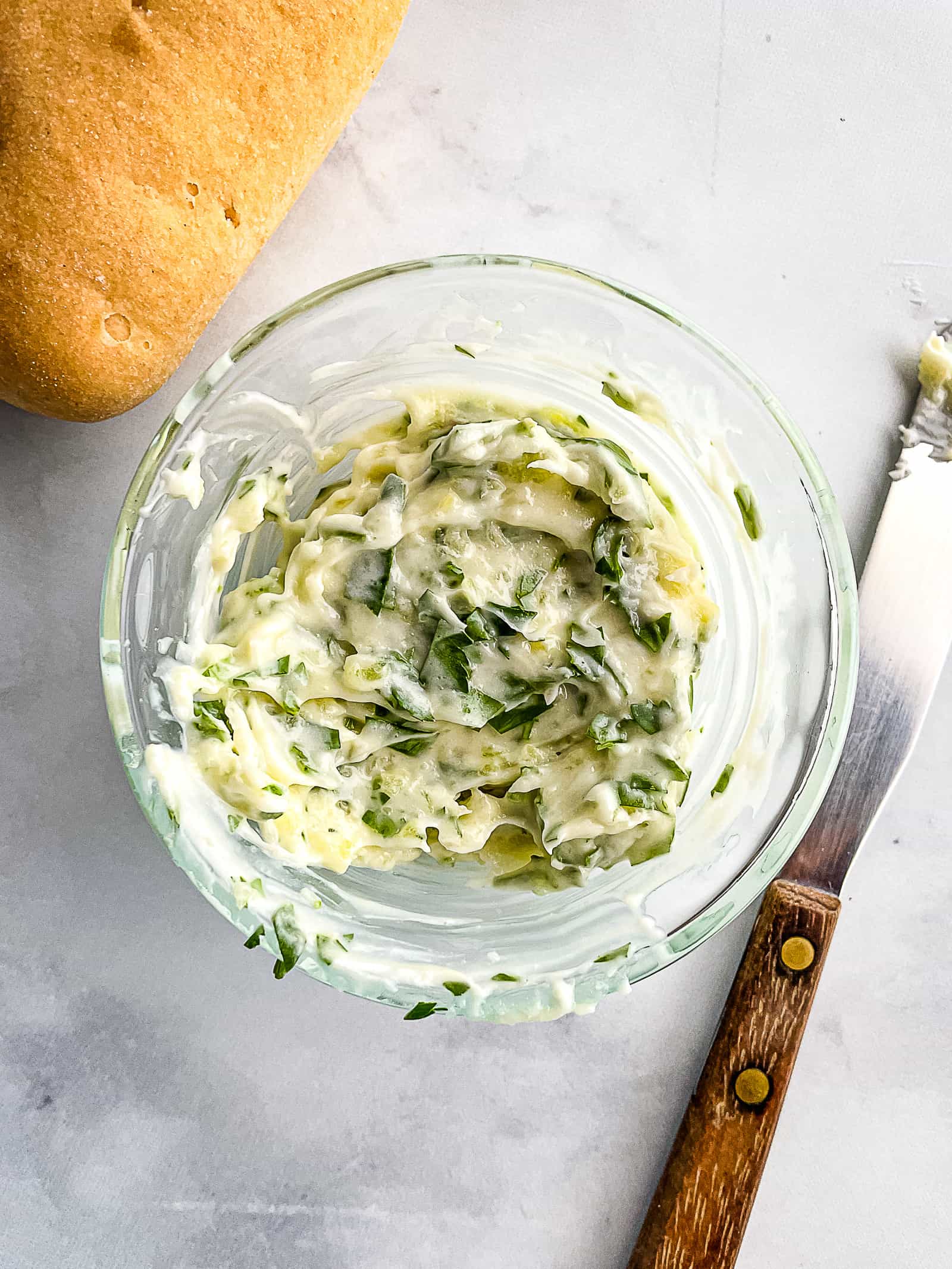 Make the garlic butter.
This gluten-free garlic bread starts with easy-to-make garlic butter. Simply mix together softened butter with minced garlic or garlic powder, parsley, and a little black pepper. You can make this right before you prepare the garlic bread or make it in advance and store it in the refrigerator.
Cut the bread.
If you're using gluten-free rolls or French bread, slice it in half lengthwise. If you're using a loaf of homemade bread, cut it into ½-inch slices. To make cutting gluten-free bread easy, use a serrated knife.
Top and Bake.
Place the bread on a parchment-lined baking sheet. Spread the garlic butter evenly over the bread. If you love cheesy garlic bread, sprinkle grated parmesan or mozzarella over the garlic butter.
Place the bread into a preheated oven or toaster oven. The baking time varies depending on the type of gluten-free bread you use. Slices take about 8 minutes, while rolls take between 12 and 15 minutes. It's best to check the garlic bread as it bakes to ensure it doesn't burn.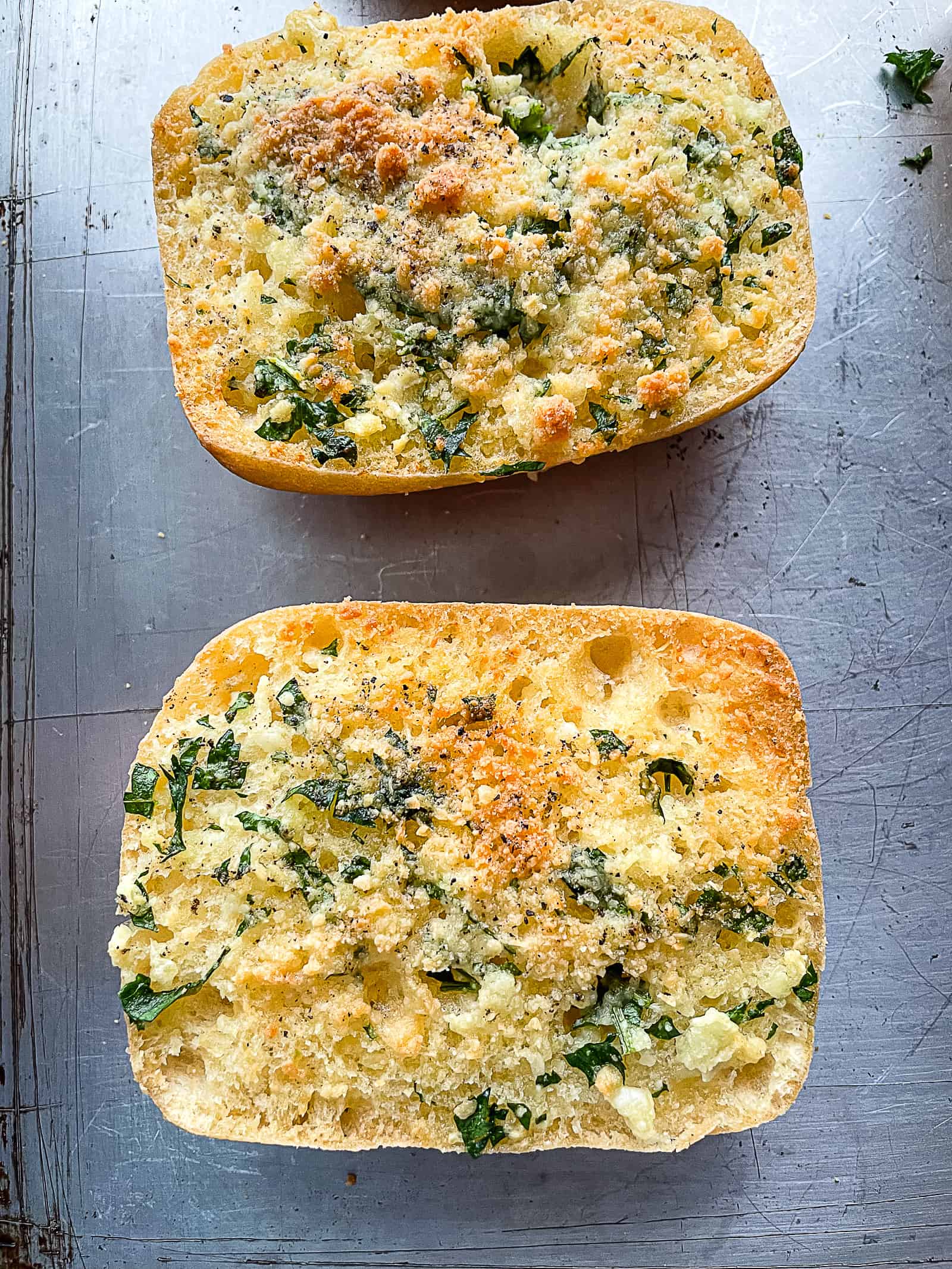 Making Gluten-Free Garlic Bread in Advance.
You can make garlic bread and store it in the freezer to enjoy later. Here's what to do. 
Prepare the bread but don't bake. Make the garlic butter. Spread it on the bread but skip the baking. 
Wrap tightly in foil. After spreading the garlic butter on the bread, wrap the bread tightly in foil. This keeps it from drying out. 
Bake from frozen. There's no need to thaw frozen garlic bread before baking. Heat your oven, unwrap the bread, and bake until brown. Garlic bread baked from frozen takes a little longer to brown than fresh bread.
How to Store Gluten-Free Garlic Bread.
Gluten-free garlic bread tastes the best right after it's made. If you've got some left, don't toss it. Wrap it in foil and store it overnight. When you're ready to enjoy, reheat in the oven, toaster oven, or Air Fryer.
If you have a lot left over, freeze it. Allow the bread to cool, wrap it tightly in foil and freeze. Reheat in the oven. Note: Frozen and reheated garlic bread can dry out slightly.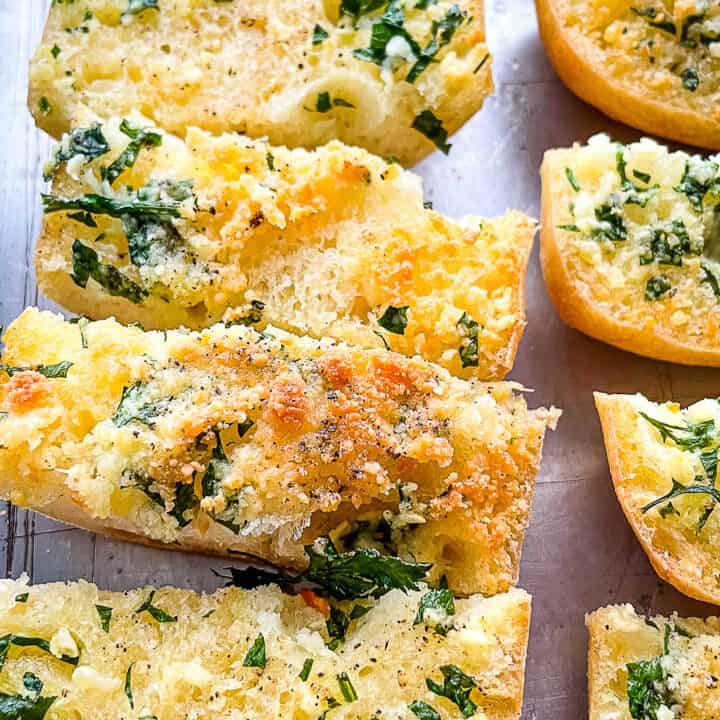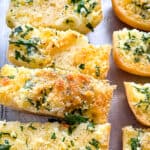 Gluten-Free Garlic Bread
Buttery and garlicky, this gluten-free garlic bread is easy to make. For a dairy-free version, replace the butter with a dairy-free spread.
Ingredients
4 to 6

gluten-free rolls or 6 slices of gluten-free bread, about 8 ounces of bread

6

tablespoons

butter, softened (traditional or dairy-free)

3

cloves

garlic, minced or 1 teaspoon garlic powder

2

teaspoons

chopped fresh parsley or 1 teaspoon dried parsley

½

teaspoon

freshly ground black pepper

Pinch

red pepper flakes, optional

¼

teaspoon

salt, optional

optional

½

cup

grated parmesan or shredded mozzarella, plus more to taste
Instructions
If needed, split gluten-free rolls, lengthwise. Place bread, cut-side up, on a baking sheet.

Combine butter, minced garlic or garlic powder, parsley, black pepper, red pepper flakes, and salt in a small bowl. Mix until creamy.

Spread garlic butter onto bread. If using, sprinkle cheese over the bread.

Bake until golden brown, about 8 minutes for slices and 12 minutes for rolls. For crispy garlic bread, broil for one to two minutes.

Remove bread from the oven. Let cool for a few minutes and then slice.