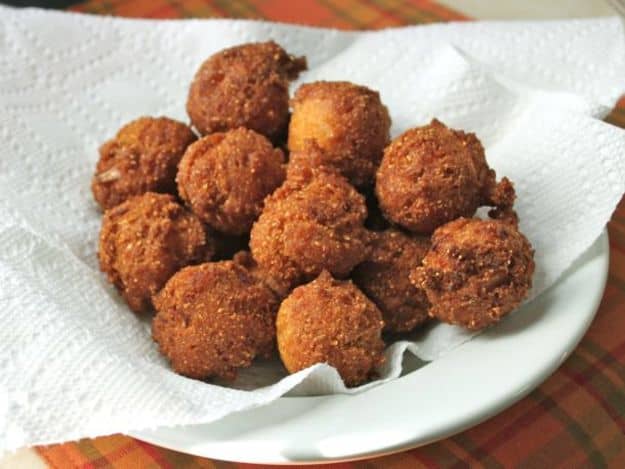 I love reader recipe requests! The other day I opened my email to find a request for Hush Puppies! Oh! Hush Puppies! When was the last time you ate a Hush Puppy? For me it had been years! The email said, "The recipe makes 'plain jane' hush puppies. Since they are so light and fluffy, they remind me of a savory doughnut hole!"
A savory doughnut hole? Sign me up! As promised, the recipe was indeed "plain jane." The flour mixture was a simple blend of self-rising cornmeal and self-rising flour plus just a little onion and garlic powder. After combining with an egg and milk, the batter was dropped into a deep fryer. That's it.
I replaced the self-rising flour with white rice flour and added a little baking powder to make up for the self-rising cornmeal and self-rising flour. (Pre-made gluten-free self-rising flours aren't available.) I was disappointed to find that the hush puppies were dense and heavy. One teaspoon of baking powder wasn't enough to leavening. During testing, I increased the baking powder to two teaspoons and added a little baking soda, both for lift and to aid the browning.
It worked! Almost as soon as the batter hit the oil, the hush puppies puffed up nicely and then fried a deep brown. Since I was having fun with the recipe, I wanted to tweak the flavor a little. For me, a hush puppy is all about the onion. For a variation, I replaced the onion and garlic powder with freshly chopped onion and minced garlic and added a little chipotle powder. These small changes add both flavor and texture to these puppies.
Whichever variation you chose, this recipe makes classic crispy-on-the-outside, tender-on-the-inside hush puppies.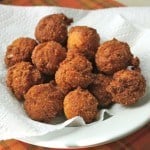 Gluten-Free Hush Puppies
Ingredients
1

cup

gluten-free cornmeal

(5 ounces; 141 grams)

3/4

cup

finely ground white rice flour

(3 ounces; 85 grams)

3

tablespoons

granulated sugar

(1 1/2 ounces; 42 grams)

2

teaspoons

baking powder

1

teaspoon

seasoned salt or regular salt

1/2

teaspoon

baking soda

1/2

teaspoon

chipotle powder, optional

1/4

teaspoon

xanthan gum

1/2

teaspoon

onion powder

1/2

teaspoon

garlic powder

1/2

cup

milk

1

large

egg

(about 1 3/4 ounces; 50 grams, out of shell)

2

quarts

vegetable oil, for frying
Instructions
In medium bowl, whisk together cornmeal, white rice flour, granulated sugar, baking powder, salt, baking soda, chipotle powder (if using), and xanthan gum.

In a medium bowl, whisk together onion, garlic, milk, and egg. Pour wet ingredients into dry ingredients and stir together until smooth but some lumps remain.

Heat oil in a Dutch oven over high heat to 350°F and adjust flame to maintain temperature. Line a rimmed baking sheet with paper towels.


Drop batter, about 2 teaspoons at a time into hot oil until you have a dozen hush puppies. Fry for two minutes and then turn the hush puppies. Fry until deep golden brown, about 2 minutes longer. Remove hush puppies from the oil with a skimmer. Transfer to prepared baking sheet. Repeat with remaining batter. Serve warm.