I live in upstate New York, near the Vermont border, where people take maple season seriously. How seriously? The other day my husband's co-worker took two days off to boil down 300 gallons of maple sap to get about six gallons of maple syrup.
While I've never made my own maple syrup, I've eaten plenty of it. Not only have I poured it on pancakes and waffles, I've eaten it in baked beans, pulled pork, desserts of all kinds, and, of course, sugar on snow with a pickle*."
Maple blondies, however, might be my favorite way to enjoy maple. These cakey bars, which combine maple syrup, dark brown sugar, and vanilla, are sweet but not cloying. Plus they're easy to make.
I used "Grade B" maple syrup in the blondies. This dark grade of maple syrup has a more robust flavor than the more common Grade A. If you can't find Grade B in your area, don't fret. Grade A works well, lending the bars a more delicate maple flavor. Just don't use imitation maple syrup. For these bars, you want the real thing.
As for the flour, it's a blend of white rice flour, sweet rice flour and cornstarch. This bland flour blend allows the maple flavor to shine. If you want a nutty/earthy flavor, use brown rice flour in place of white rice flour.
You might be wondering why I haven't included walnuts in the bars. Maple and walnuts are a classic combination, but I'm allergic to tree nuts. If you aren't, add up to 3/4 cup toasted chopped walnuts to the bars. Just remember to alert anyone you serve that the bars contain nuts.
*Sugar on Snow is made by boiling maple syrup and pouring the hot syrup over, you guessed it, snow. It's often served with a dill pickle, doughnuts and coffee.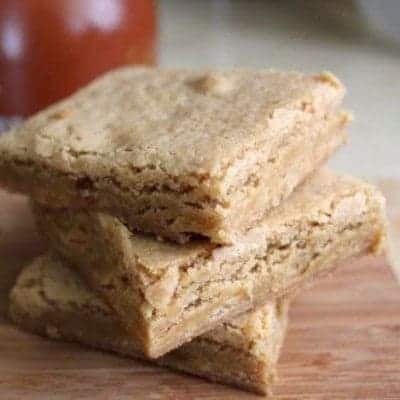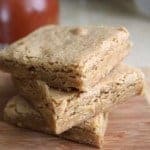 Gluten-Free Maple Blondies
Ingredients
1

cup

finely ground white rice flour

(4 ounces; 113 grams)

1/3

cup

cornstarch

(1 1/3 ounces; 38 grams)

1/3

cup

sweet rice flour

(1 1/3 ounces; 38 grams)

1/2

teaspoon

salt

1/2

teaspoon

baking powder

1/2

teaspoon

xanthan gum

1

stick

butter, softened

(1/2 cup; 2 ounces; 56 grams)

3/4

cup

brown sugar

(5 1/2 ounces; 155 grams)

1

large

egg

(1 3/4 ounces; 50 grams)

1/2

cup

pure maple syrup

(5 1/2 ounces; 156 grams)

1/2

teaspoon

vanilla extract

gluten-free cooking spray
Instructions
Preheat oven to 350°F. Spray 9-inch baking pan with gluten-free cooking spray.

In small mixing bowl, whisk together white rice flour, cornstarch, sweet rice flour, salt, baking powder, and xanthan gum. Set aside.

In medium mixing bowl, cream together butter, and dark brown sugar until thick paste forms, about 30 seconds. (Use high speed on handheld mixer or medium-high speed on stand mixer.) Add egg and mix until thoroughly combined.

Add whisked dry ingredients. Blend until smooth, about 30 seconds. (Use medium-high speed with a handheld mixer or medium speed with a stand mixer.) Batter will be dry. Add maple syrup and vanilla. Mix until batter is light and fluffy.

Spread batter evenly into prepared pan. Bake until golden brown, about 25-30 minutes. Remove pan from oven and place on wire rack to cool completely. When cool, Cut into nine or 12 pieces.