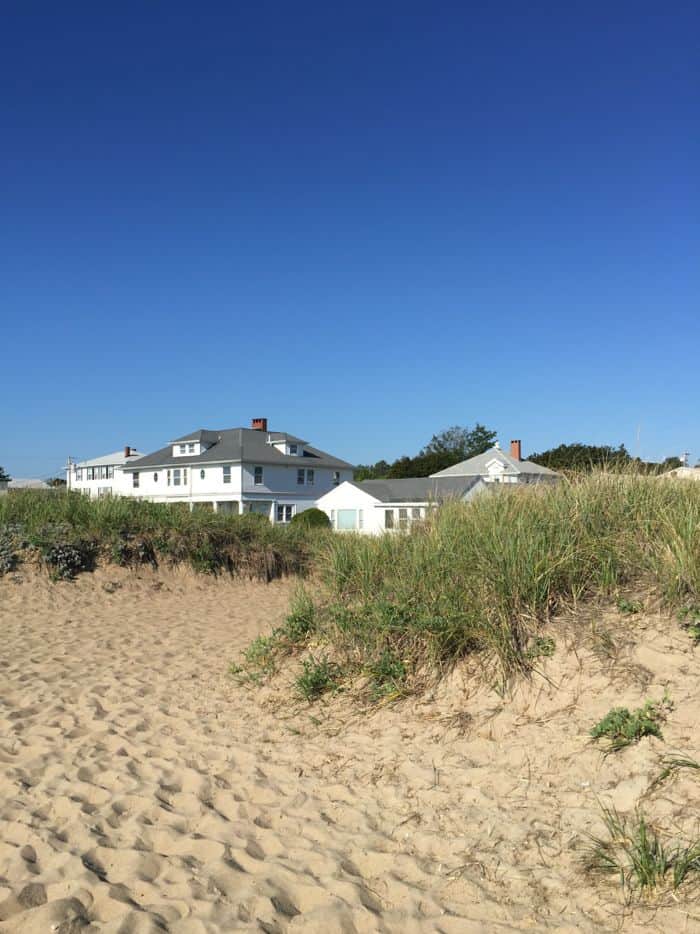 Gluten-Free Travel: Old Orchard Beach Maine
Or How I went to Maine and ate on the cheap!
Remember those "What I did on my summer vacation" reports in elementary school? This is my grown-up version!
First a few confessions:
This trip happened after Labor Day, the unofficial end of summer. So was it still a summer vacation? I say YES!
I didn't do much. Which was AMAZING.
I'm one of those crazy people who swim in the ocean in Maine even when the water temperature hovers around 60°F. And I love it!
Here's the thing, the end of 2014 and all of 2015 have been crazy-busy for me. I wrote and photographed my upcoming paleo book, I relaunched this website, and I did a major clean out and reorganization of several rooms in my house. (I found phone bills from, ahem, 2004 neatly filed away. Those are now gone!)
I needed a break.
In the middle of August, out of the blue, I looked at my calendar and said to Greg, "Let's go to Maine." I found that the rates of hotels were a wee bit higher than I'd expected but still within a range that I felt comfortable spending. When traveling, I like a room with a kitchenette. I'm allergic to so many things that it's easier–and safer—to cook for myself on vacation. There were only a handful of rooms with kitchen in the greater Portland area. I booked a room at the Scarborough Residence Inn for $159 per night–before tax. I sat back and looked forward to my vacation.
And then I lost my mind.
See, I love finding a good deal. I LOVE IT. Did I mention that I love it? Because I do! I'm not someone who gets excited about how much you spent on something. I'm the friend that gets excited when you tell me how much you saved. During the weeks leading up to the trip, I'd visit hotel booking sites looking for a better deal than I'd gotten at the Residence Inn. Each day price of hotel rooms in Maine went up. Many sold out.
Boo! It looked like I was out of luck.
Then, on the Thursday before we left, I remembered a little motel that my parents stayed in when they'd visit Maine: The Gull. I wondered if it was still around. A quick poke on the internet told me that not only was it around but it had expanded to include an Inn and Apartments. Oh! Exciting!
The only thing? You couldn't check rates online. You had to gasp pick up the phone and call. I know. Crazy, right? For some reason, even though most things in Maine were booked solid, I had a good feeling about this.
Me: "Hi! I know it's last minute but do you have any availability for this upcoming week?"
Motel Guy: (sound of pages being flipped.) "Hmmm….it looks like I only have one room left. It's a King with a kitchenette. Does that work?"
Me: (doing the happy dance in my chair.) "Yes. That sounds good. How much?"
MG: $90.00 per night.
Me: (internally: oh my god. oh my god. OH MY GOD.) "Perfect! I'll take it!"
He wrote down all my information and that was it. No email confirmation. No nothing. I canceled my reservation at the Residence Inn and prayed that when we showed up at the Gull that we'd have a room. (Yes, I'm a worrier. Why do you ask?)
I texted Greg that I'd saved us $80 per day and that I was the best wife EVER. He texted back and corrected my math: "$69 per day. Still awesome."
Hrump. Greg rarely finds a hair he won't spilt. #lovehim #precise.
I texted back. "Until the other place, this one is right on the beach. We don't have to pay to $10 each day to park at the beach. So $80 a day." Out of character for Greg, he didn't quibble about the $1.00.
A few minutes before we arrived at the motel, I started to worry. What if it was terrible? You know what they say about a deal to good to be true. Visions of a terrible room danced in my mind. I tried to push those thoughts away. They whispered anyway: old mattress. dark room. bed bugs. I'm a terribly fun and optimistic person! My mind on the other hand often goes rouge.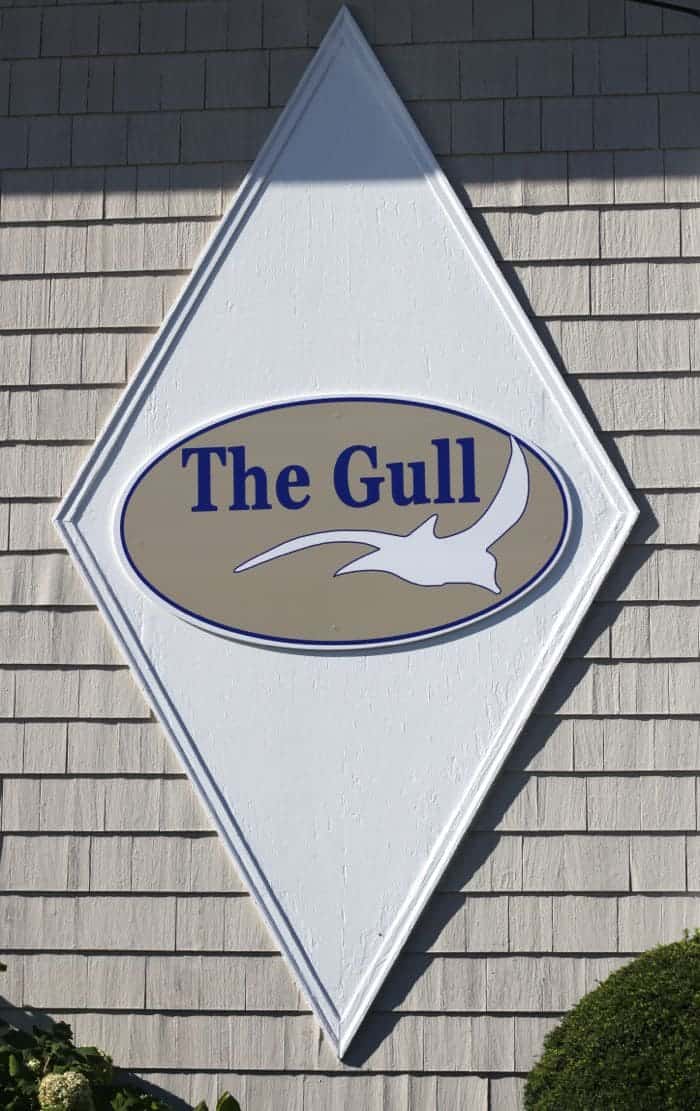 After a six hour drive, we pulled into the motel. It looked…nice. Really nice! The town of Old Orchard Beach, which has a bit of a carnival feel, was mostly closed. Not that it would have mattered. The Gull is located at the end of the "strip", away from the rides and other noise. When we checked in, the nice man at the desk looked up our reservation in a book. He found us. (I gave my worry a small kick under the table.)
And then…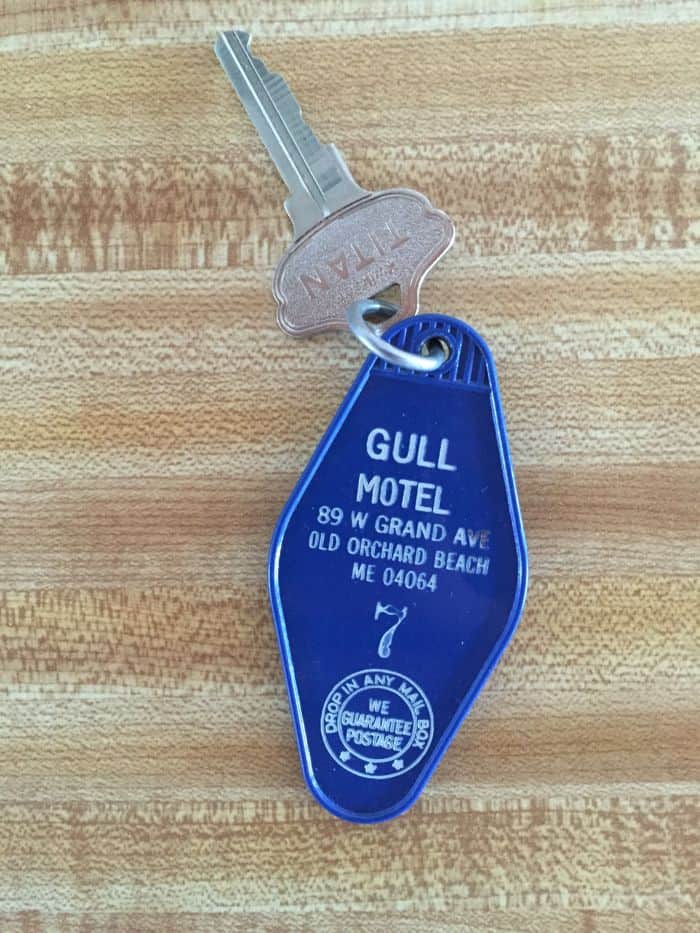 He handed us a key. A KEY! When was the last time you were handed a key to a hotel room? Awesome, right? The office was so clean and airy that my worry faded a bit. We headed upstairs to our room. I held my breath.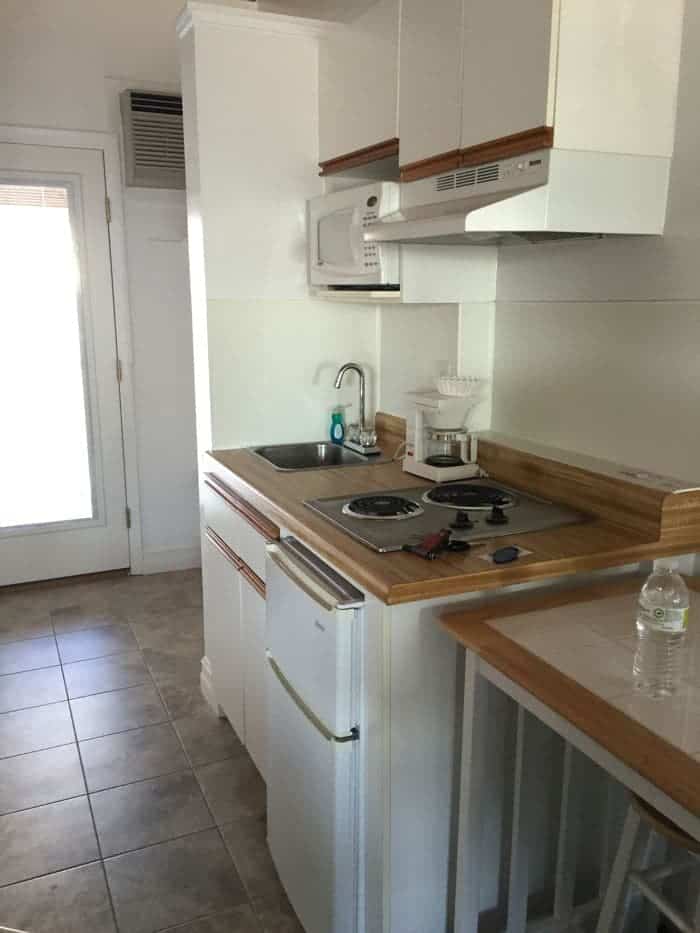 Oh my god….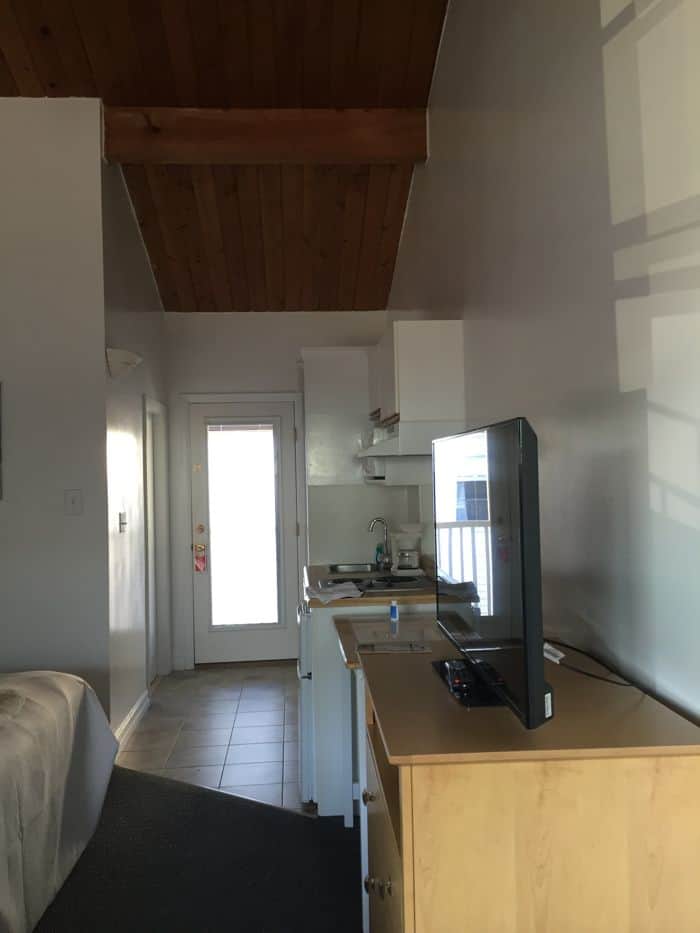 It.was.AMAZING. The room was so bright and airy.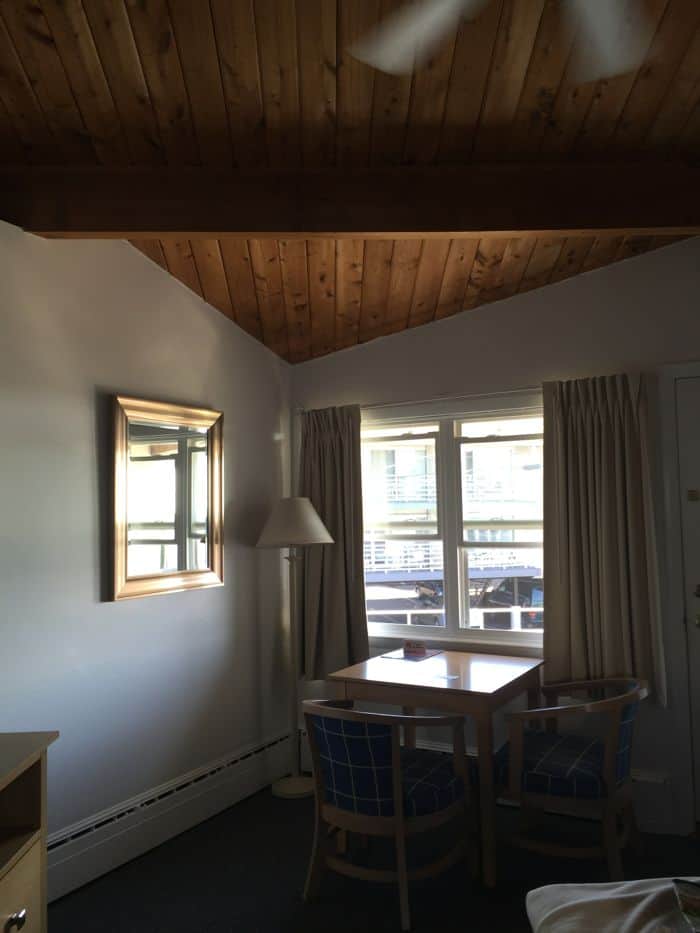 It had vaulted ceilings, a table for two, and a kitchenette. I know the room looks dark in this photo. Sorry about that! It really wasn't a dark room at all. There was so much sun shining in from the windows and doors. Lovely.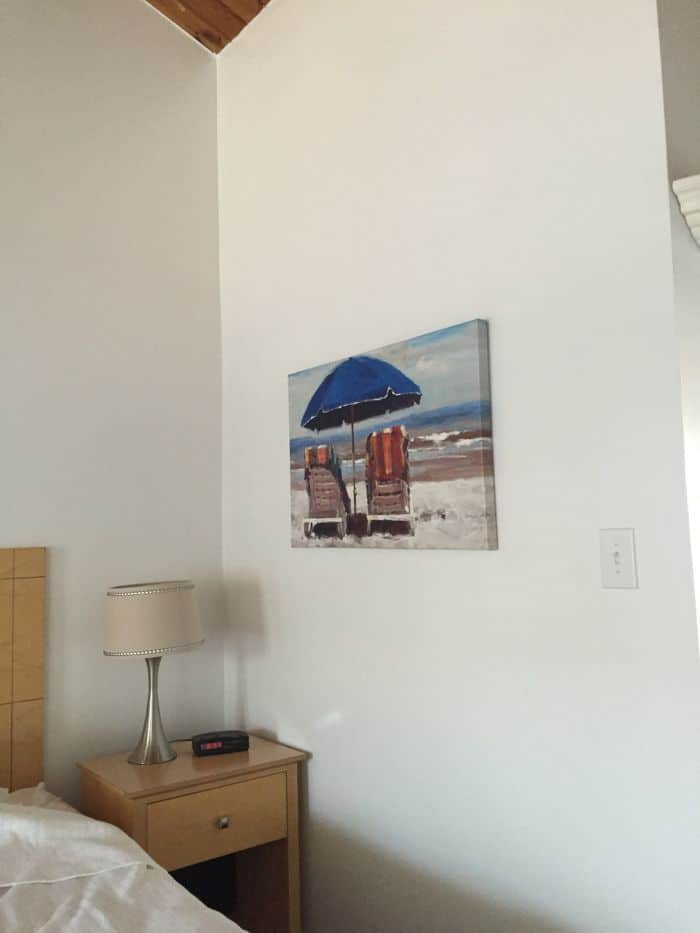 High ceilings. Comfy bed. Woo-HOO!
Spoiler alert: the stay at the Gull was fantastic. It was full, or almost full, the entire time we were there and we didn't hear a peep from the other guests. Each day, our room was cleaned and it was spotless. If you are looking for a place to stay in Maine, I can't recommend the Gull highly enough. All those crazy fears I had were just that: fears.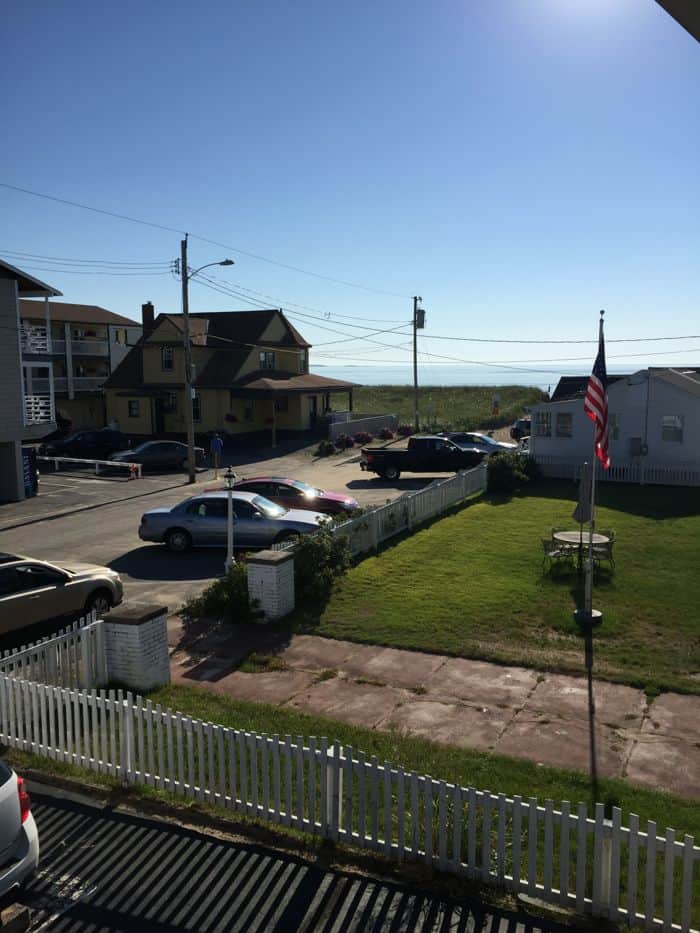 I stepped out onto the balcony. And this is what I saw.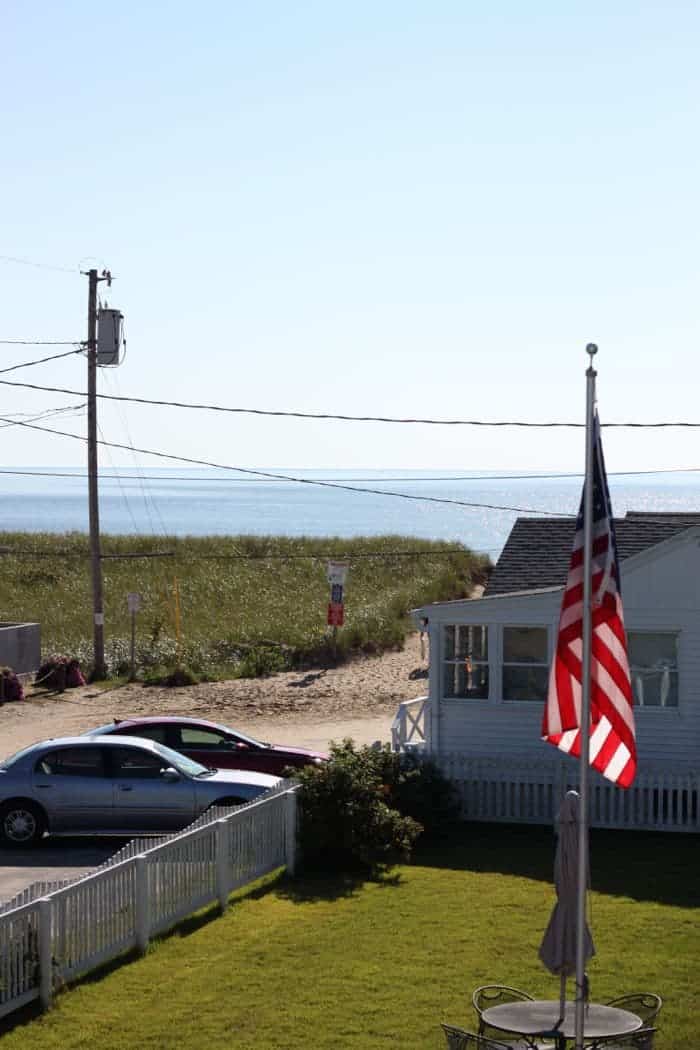 The ocean. Right there. Like, RIGHT THERE. For $90.00 a night. Can you even??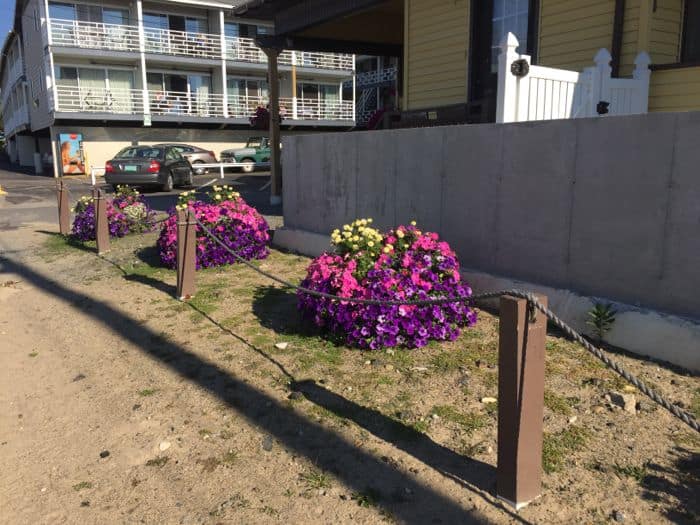 After unpacking, we walked down to the beach. It look less than one minute.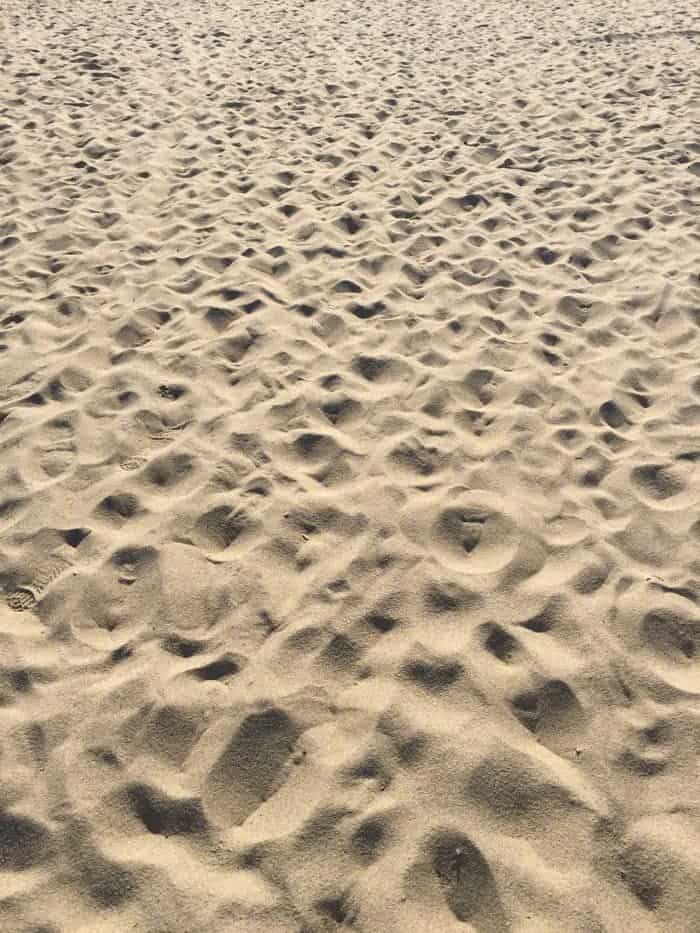 Ahhhhhhh….that's the good stuff.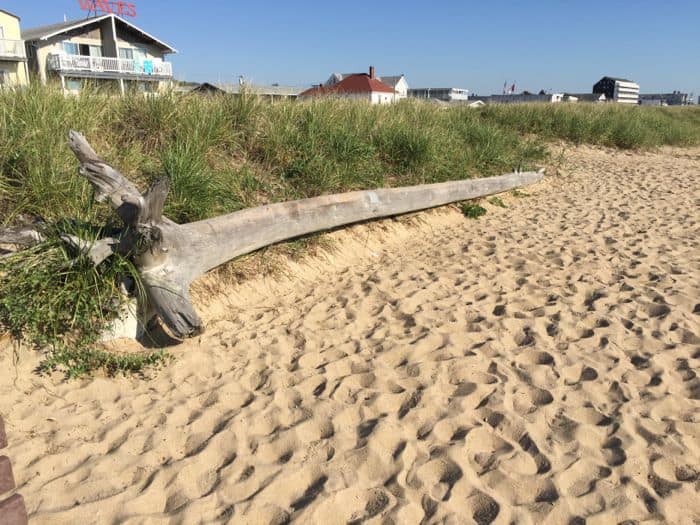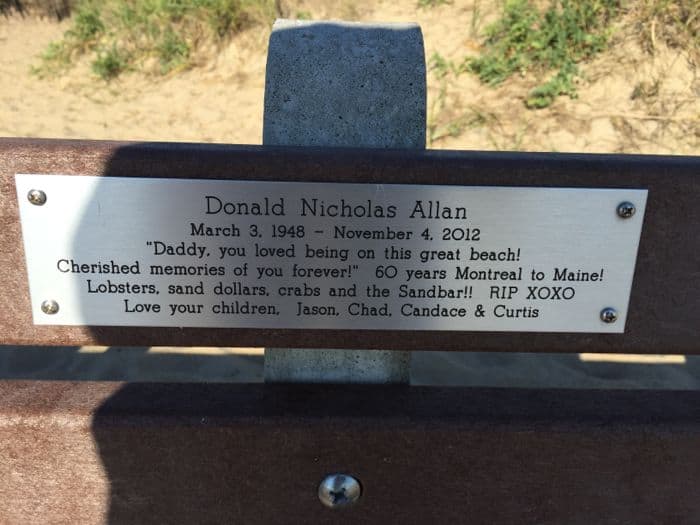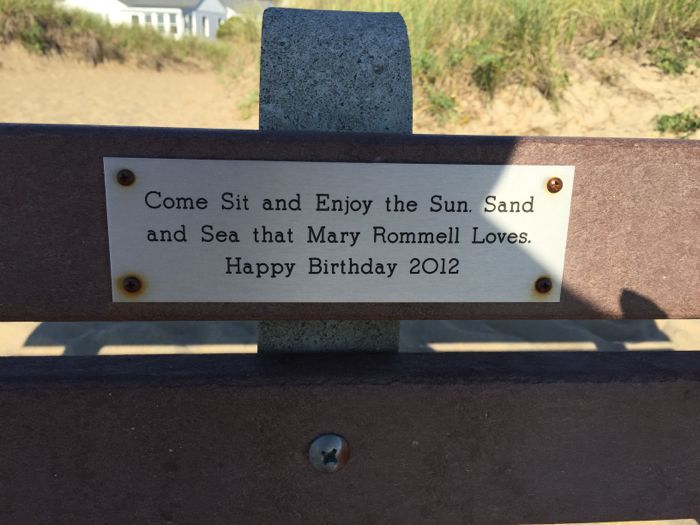 Benches dedicated to loved ones dotted the beach. We'd sit on one each morning and enjoy our coffee.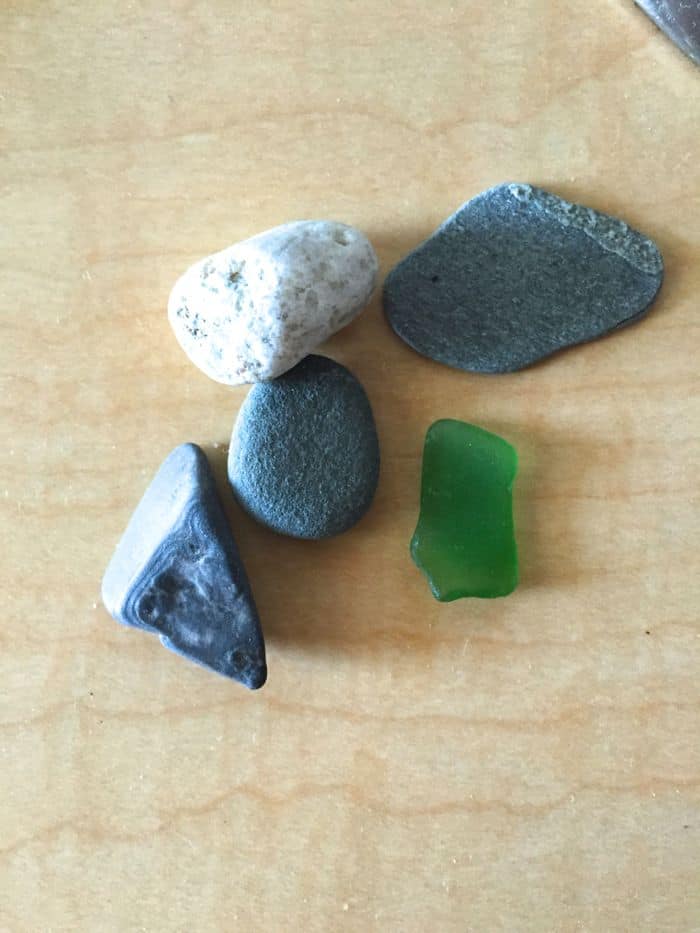 I picked up free souvenirs. Including a piece of sea glass.
We spent much of the week reading on the beach. Ahhhh.
And we ate. We ate really well. The cost? Less than $40 per day for both of us. Somedays it was even less!
Here's what we did.
First, a few disclaimers:
My style of eating on this vacation was very casual. I wasn't looking for anything other than…food? (and lobster. More about that in a minute.)
Yes. I know that my breakfast and lunches were boring. That's fine with me. For me, not every meal needs to be gourmet experience.
We don't have children. I have no idea if how we ate would work for folks with kids.
We didn't eat in restaurants at all. That saved us a ton of money.
Gluten-Free Breakfast: Vacation Edition
Each day for breakfast, I ate a Greek yogurt. Some days I threw a banana into the mix. Oh, and a coffee. Of course.
Gluten-Free Lunch: School Lunch Throwback
For lunch, I went old school. As in elementary school. I ate a peanut butter sandwich on Udi's bread with an apple. On a few days, I went wild and added potato chips to the mix. I can't even begin to tell you how much I enjoyed this. At home, I rarely, if ever, eat a peanut butter sandwich. Sitting on the beach, eating my peanut butter sandwich while watching the ocean felt magical.
Gluten-Free Dinner: Lobster, Lobster, and More Lobster
Dinner was a different story. Kind of.
Day One
We were tired from the drive. So I ordered two gluten-free pizzas from Uno's. They had an online coupon. You ordered one pizza and got the second for $5.00.
Total cost: $16.99.
Day Two
The only day it rained! We headed to the grocery store and picked up a package of organic salad greens, a bottle of dressing, and a rotisserie chicken. Done!
Total cost: $12.97
Day Three
It was time for lobster! Earlier this year, I made lobster rolls. So good. So easy. And, dare I say it? I found I preferred the lobster roll to a hot lobster dinner. You simply take lobster meat, mix it with mayo and lemon juice. Slap it into a buttered roll and call it dinner. At home, this means buying lobster, steaming it, allowing it to cool, and then removing the lobster from the shell. It's a bit of work. But totally worth it!
Not in Maine!
Bayley's Lobster Pound
We headed to Bayley's. On previous trips to Maine, we'd seen the place but had never shopped there. Mistake.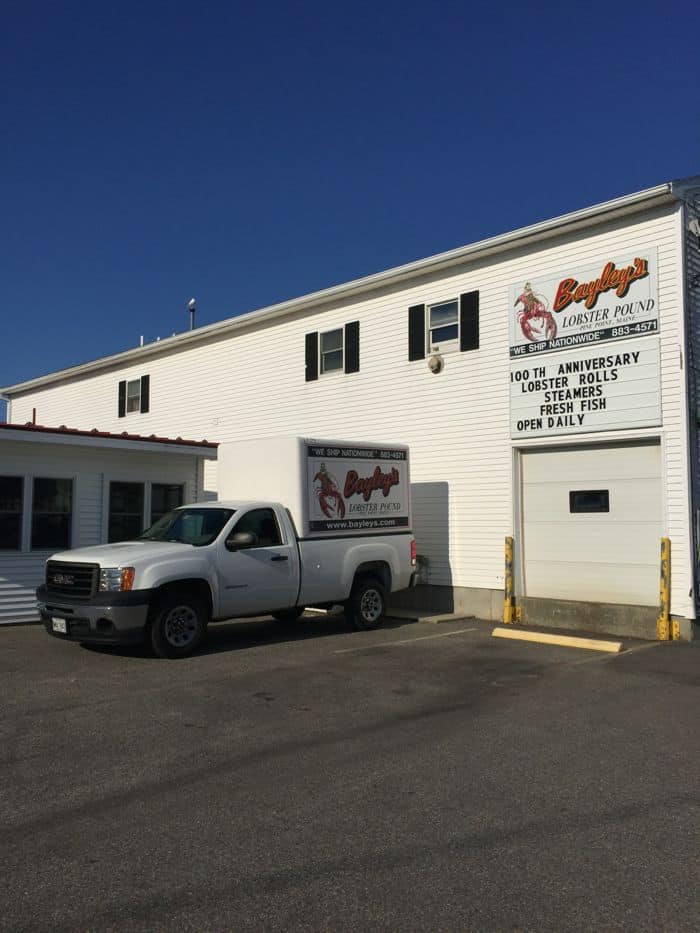 See how it says 100th anniversary? Yeah. There's a reason for that.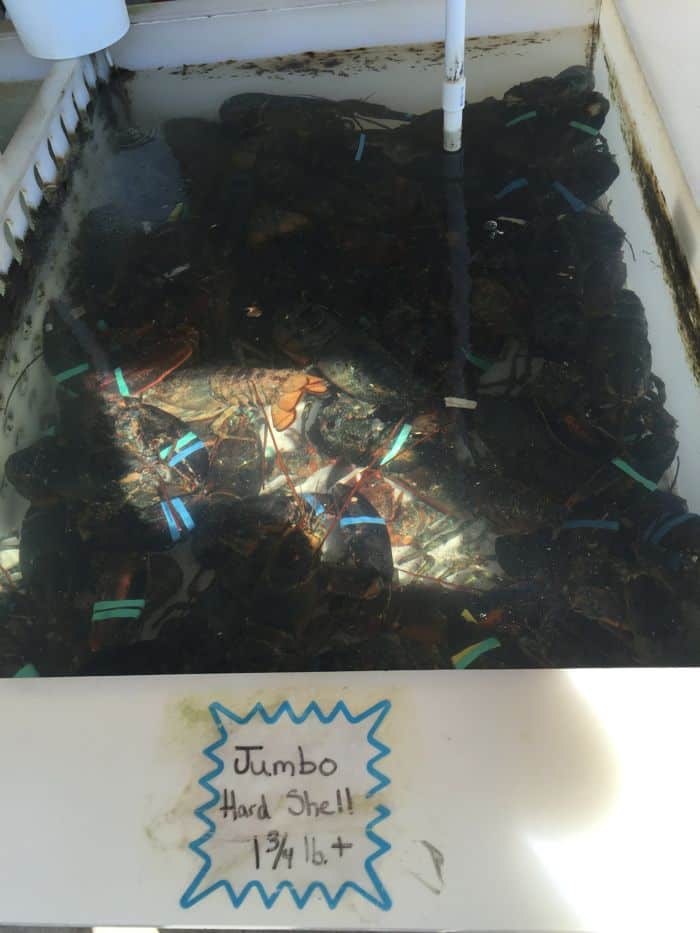 They sell lots of lobsters. You want a fresh lobster? They have it.
You want a steamed lobster? They've got it.
You want to eat a lobster out back on their porch? You're good.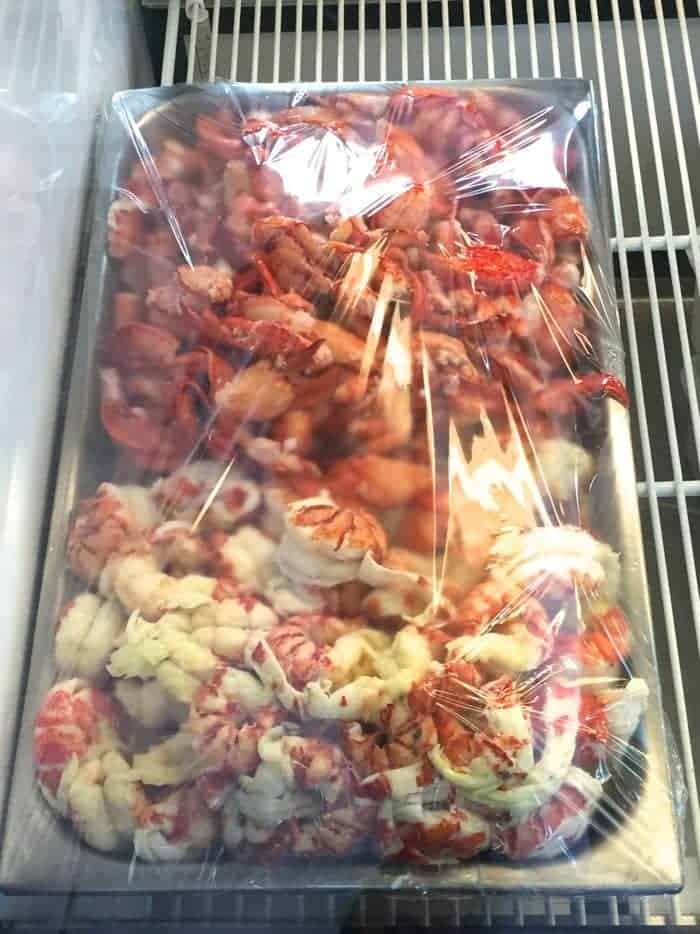 But this is what I came for: picked lobster meat. All of the lobster awesomeness and none of the work. It was $39.95 per pound.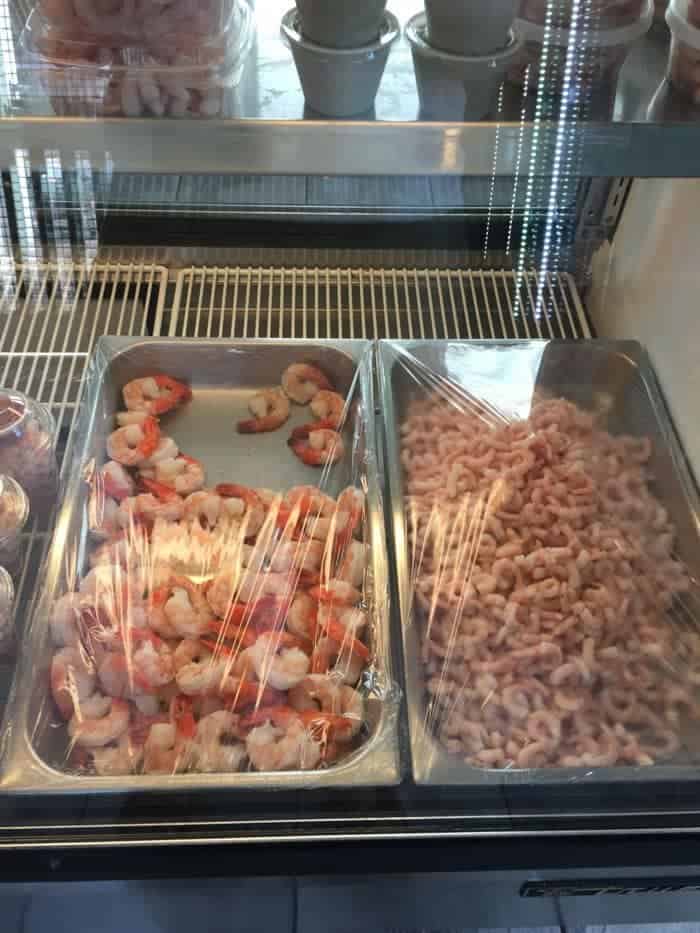 They also sold shrimp. I didn't buy any because…lobster.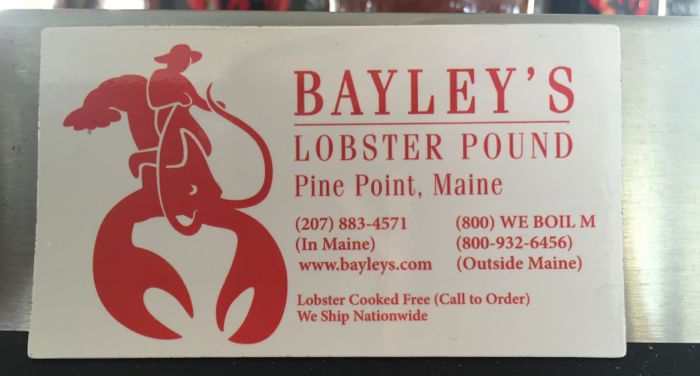 Funny thing, if you were to close your eyes, you would NOT know you were standing in the middle of a seafood store. Bayley's is clean. Very, very clean.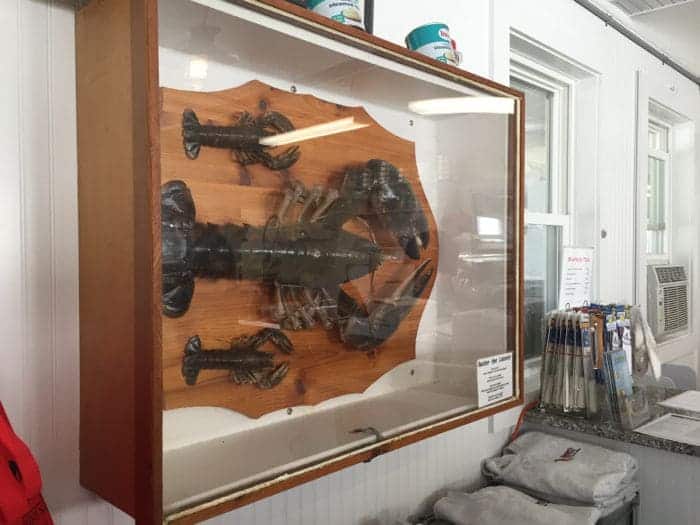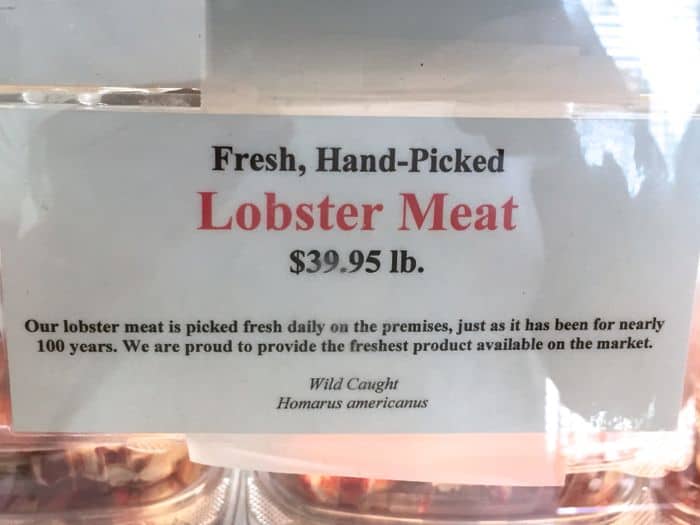 Reason #4563 why I've pondered moving to Maine.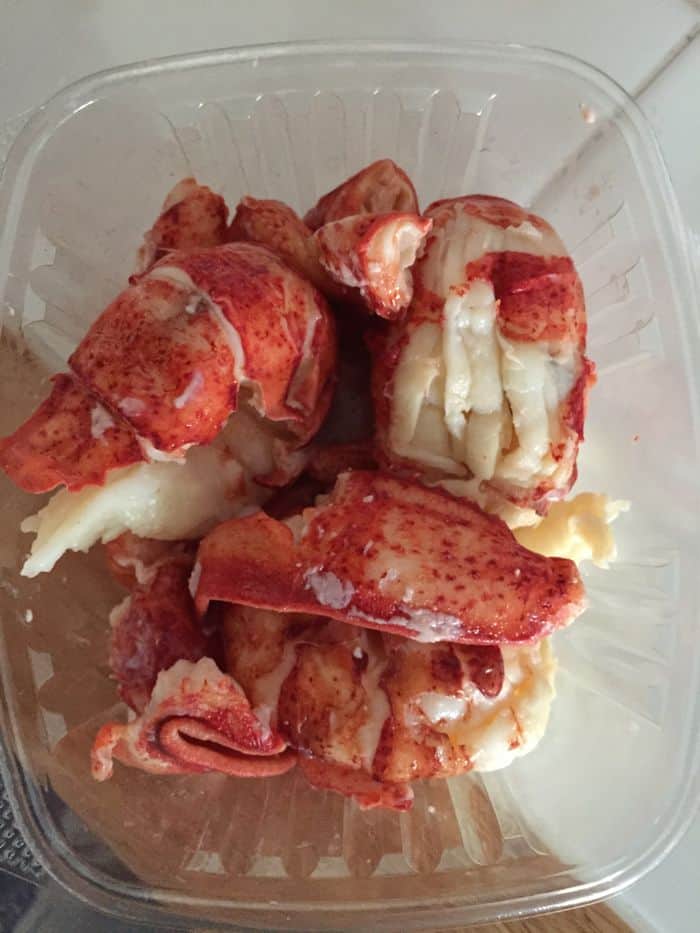 That's 8 ounces of fresh lobster right there. YUM.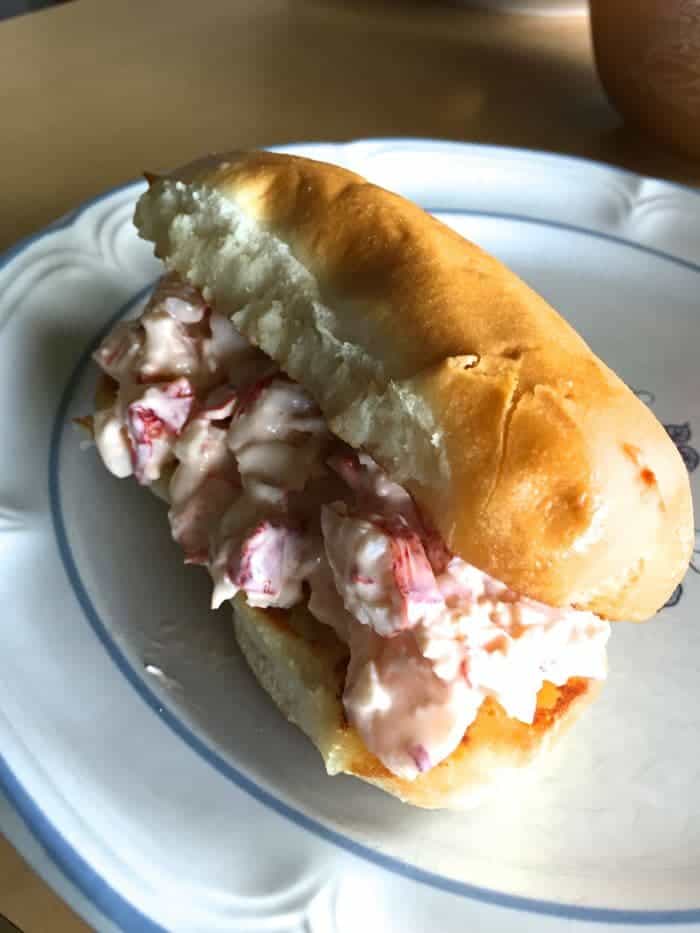 This was SO DARN GOOD.
Total Cost for two Gluten-Free Lobster Rolls: approx. $25.oo.
That includes the lobster meat, two Udi's gluten-free hot dog buns, mayo, and 1/3 of a large lemon.
Day Four
Leftovers! We finished the half a chicken. I chopped it up and put it on the remaining salad greens. Done.
Total Cost: $0.00
Day Five and Six
Lobster Rolls. Yes. We totally ate lobster rolls three times on this trip. It was GLORIOUS. And so very, very easy. (recipe is below.)
Total Cost (per day) $25.00
That's how we ate in Maine. I brought up a batch of snickerdoodles and, like I said, we picked up a bag or two of potato chips. I'm sure there are a few other things that I'm not thinking of, like fruit and other vegetables but that was pretty much what we ate. We ate really simply and really well.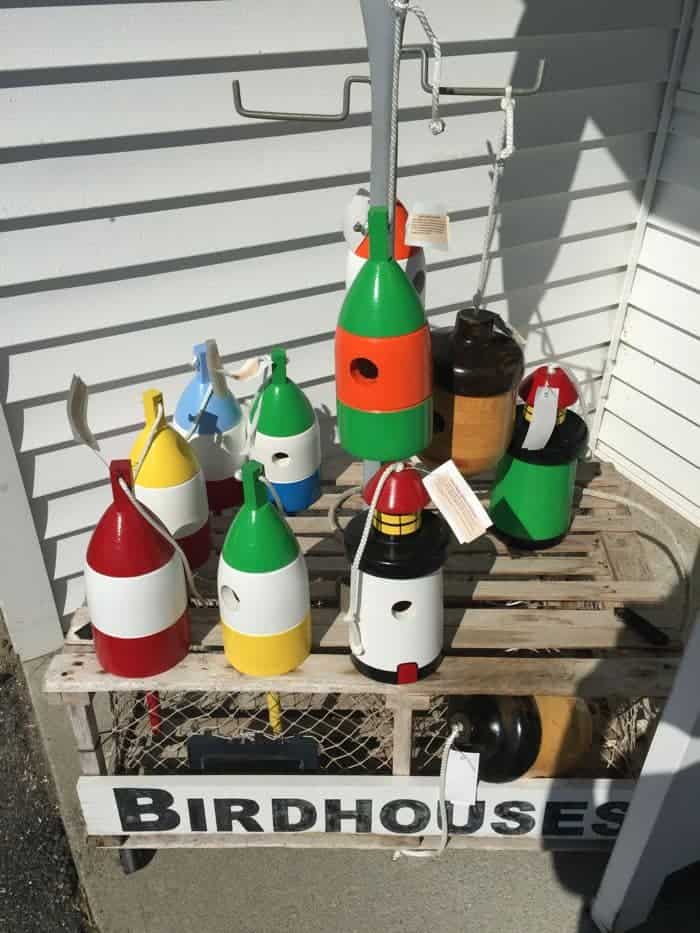 Portland, Maine
It wasn't all beach time and food. It was mostly beach time and food. 🙂
One morning, we headed to Portland, Maine for a couple of hours.
It's such a pretty city!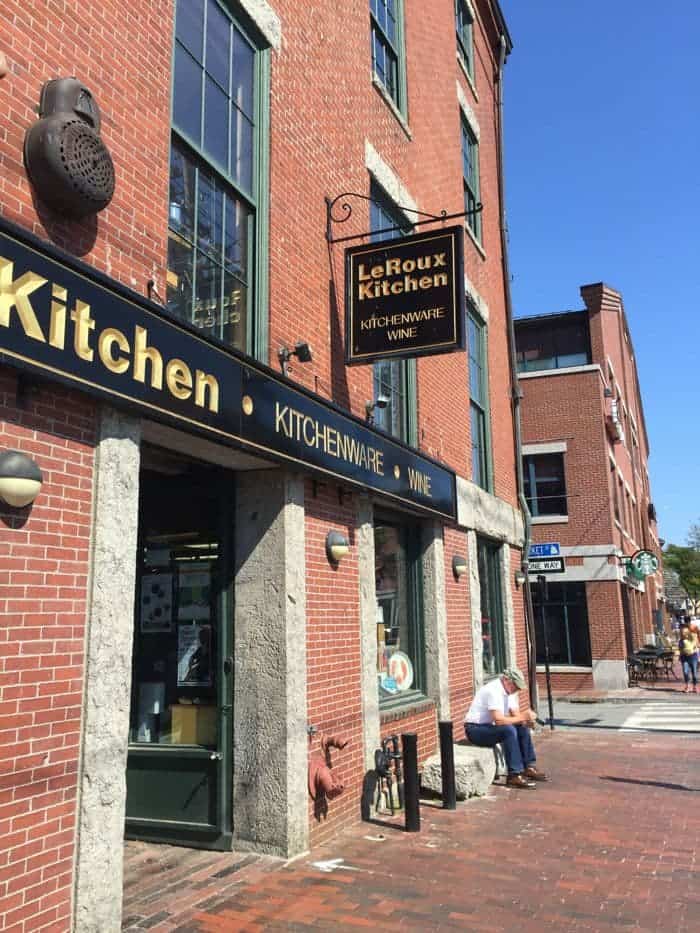 If you love to cook, you must visit LeRoux.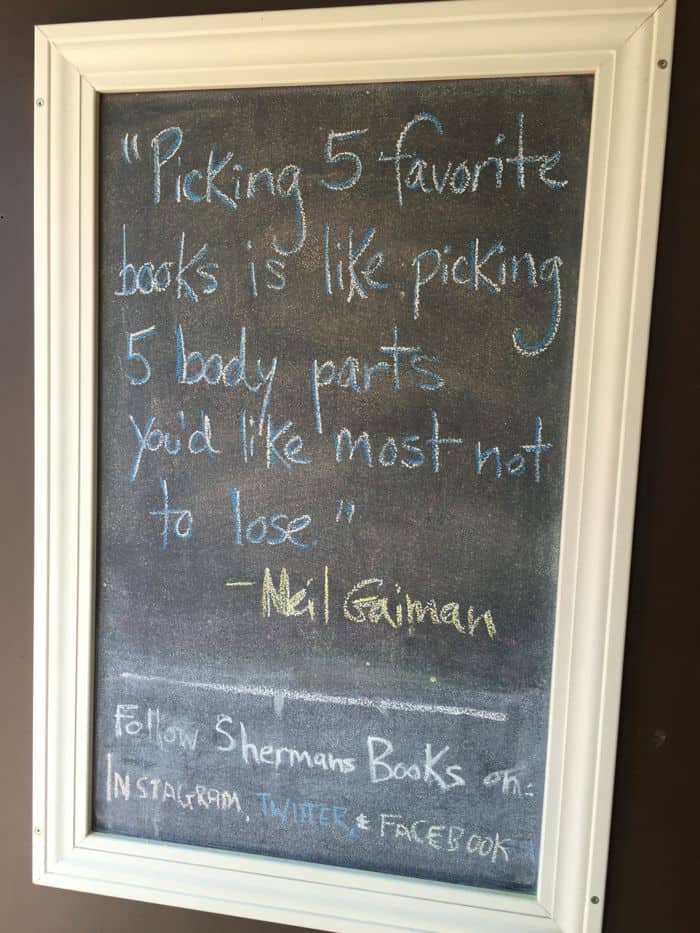 If you love to read, stop by Sherman's. (If you love to do both, stop by each place. #Duh) 🙂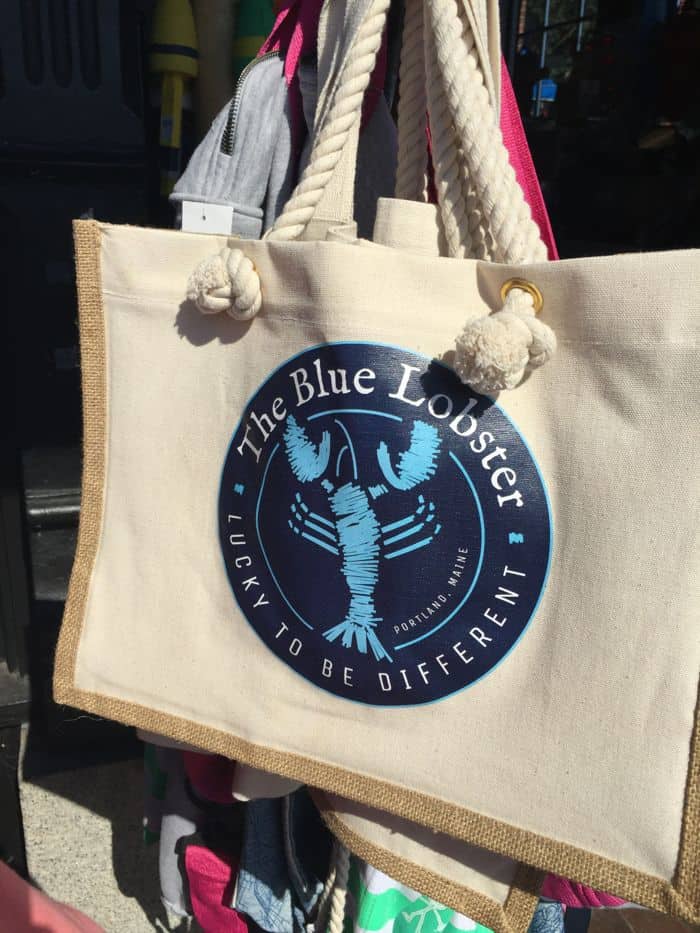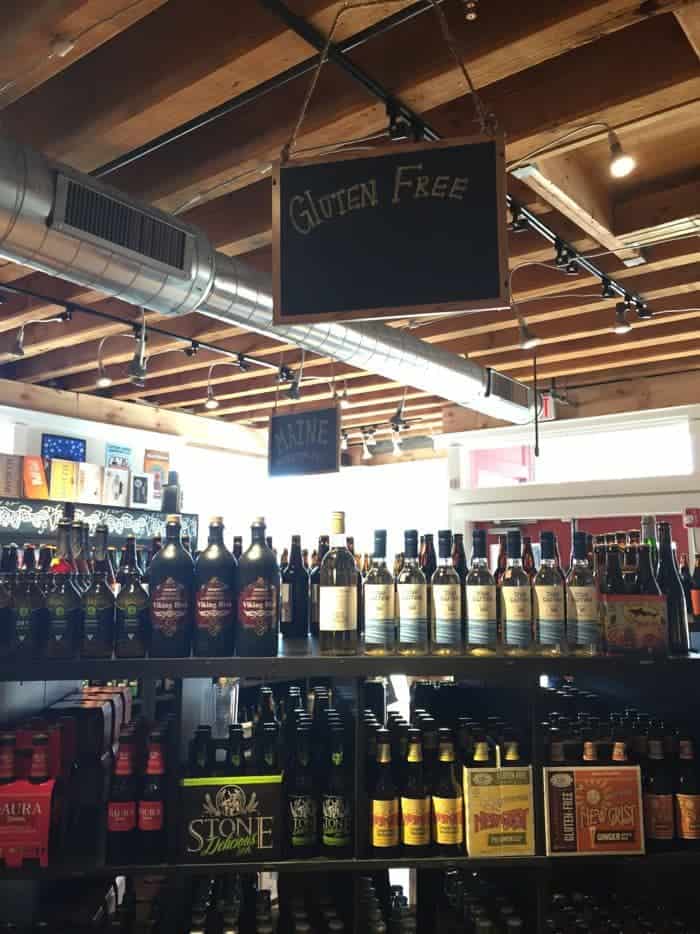 Portland Maine has lots of gluten-free beer options. This was only part of the selection offered at the Craft Beer Cellar.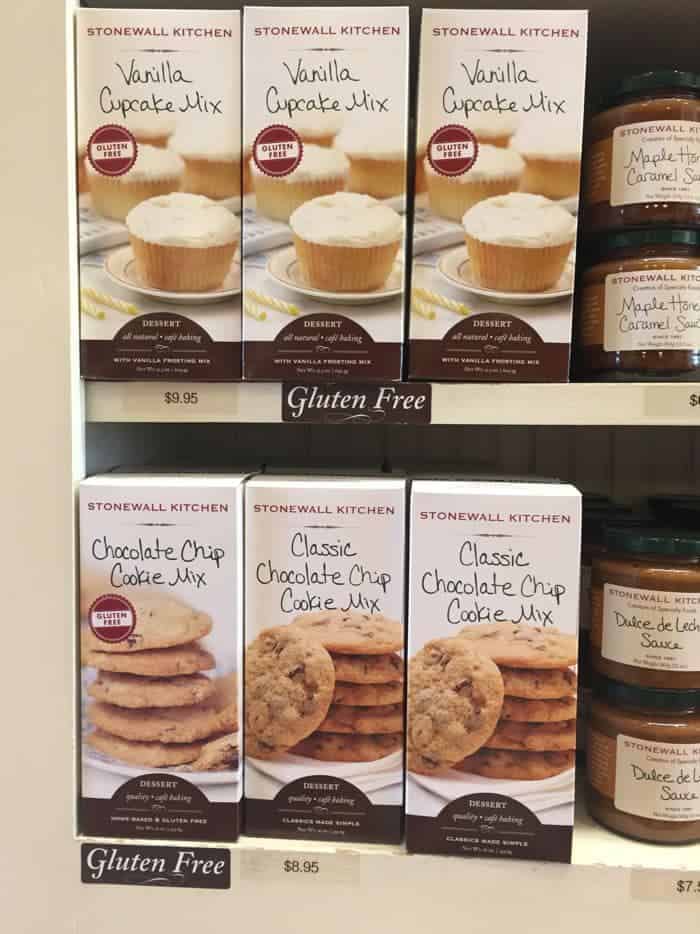 Even Stonewall Kitchen sells gluten-free products!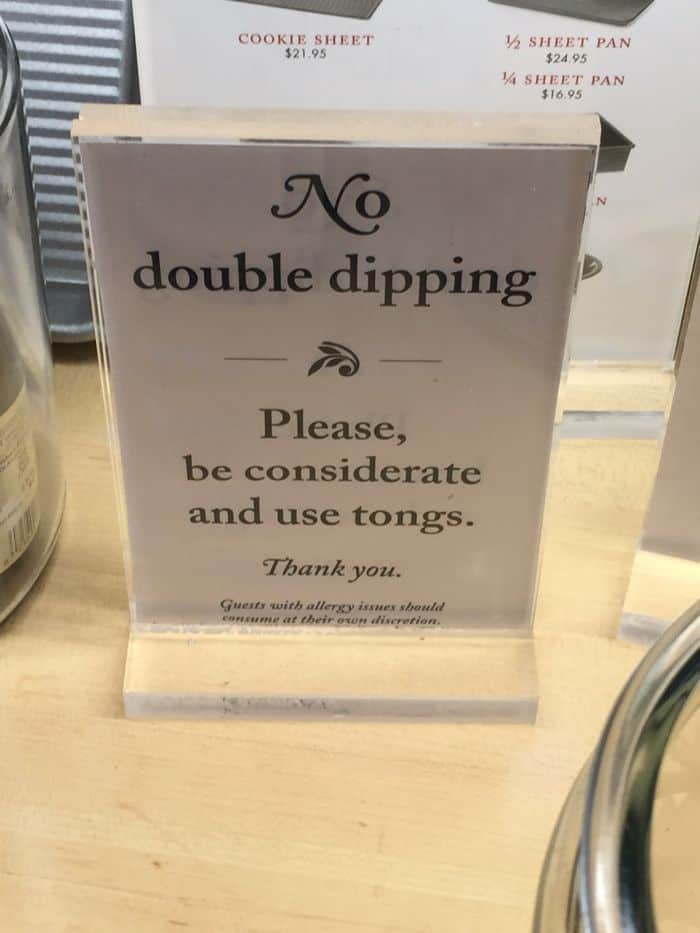 And they remind people not to be a gross.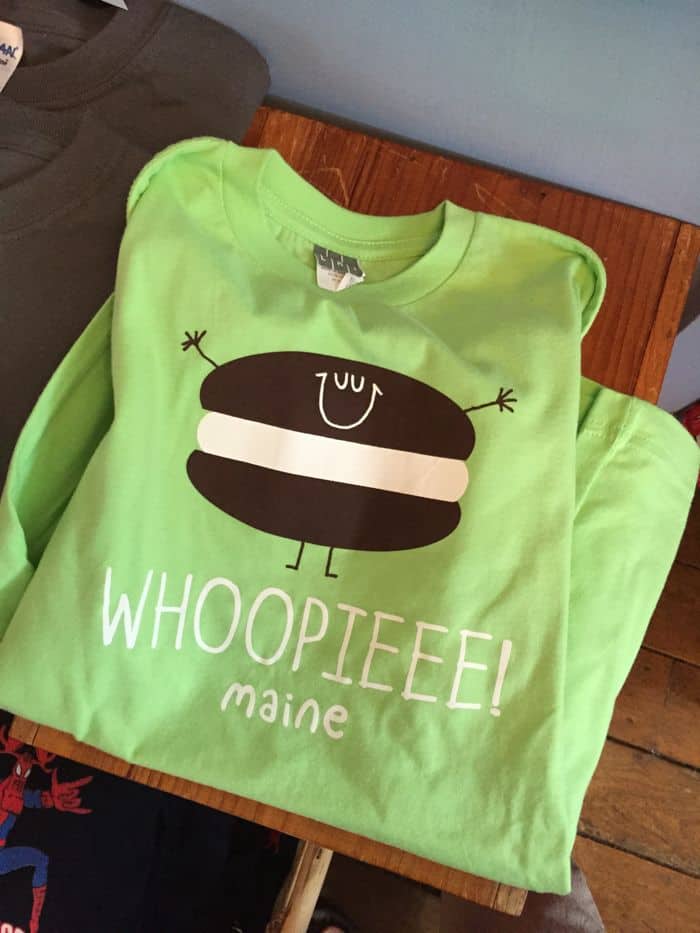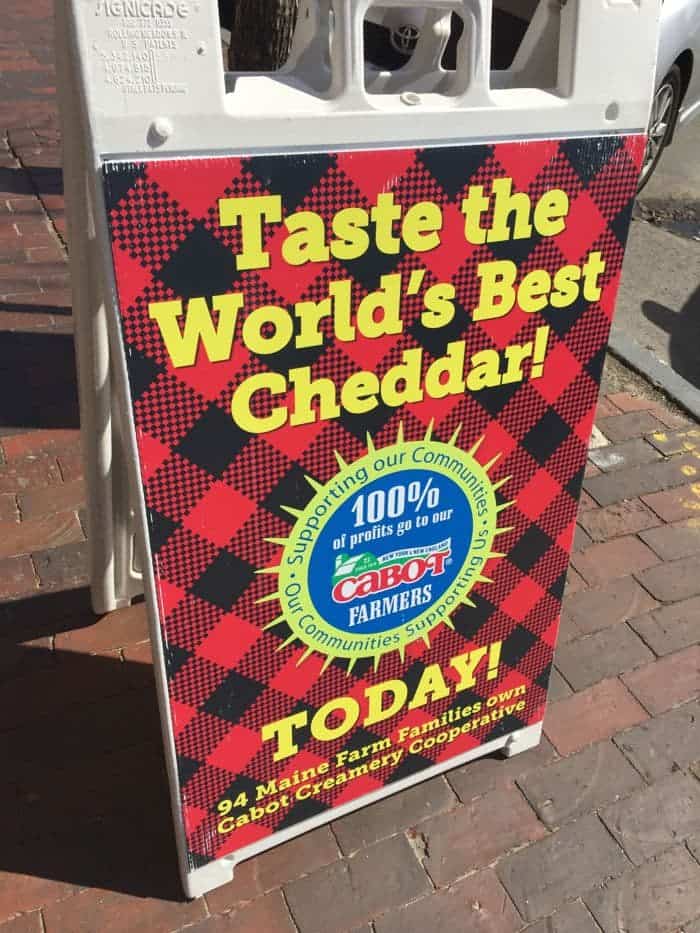 Cabot Cheese even has it's own store! If you love cheese, visit here, please!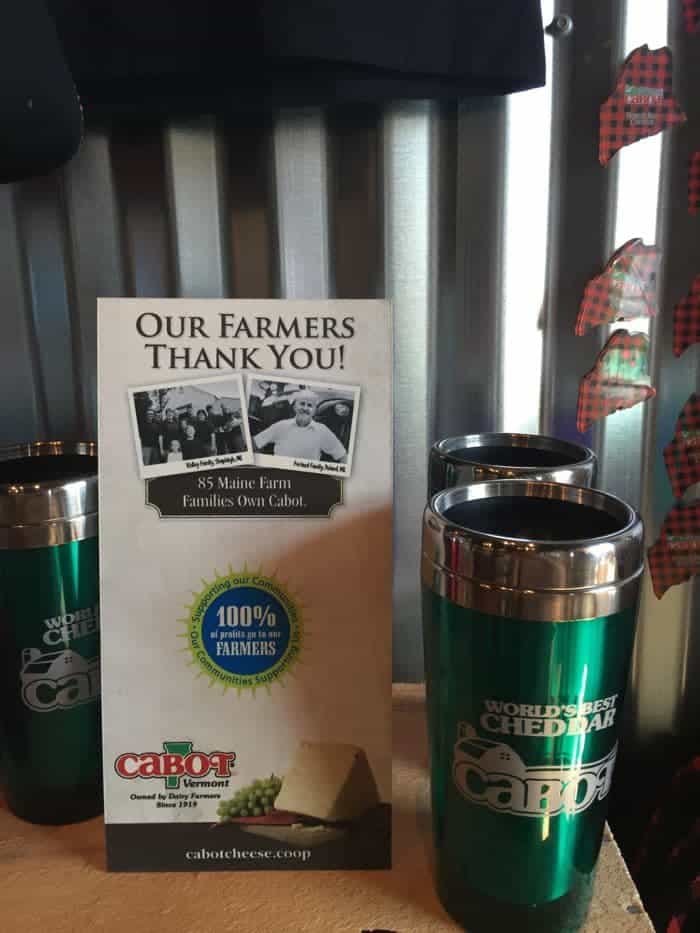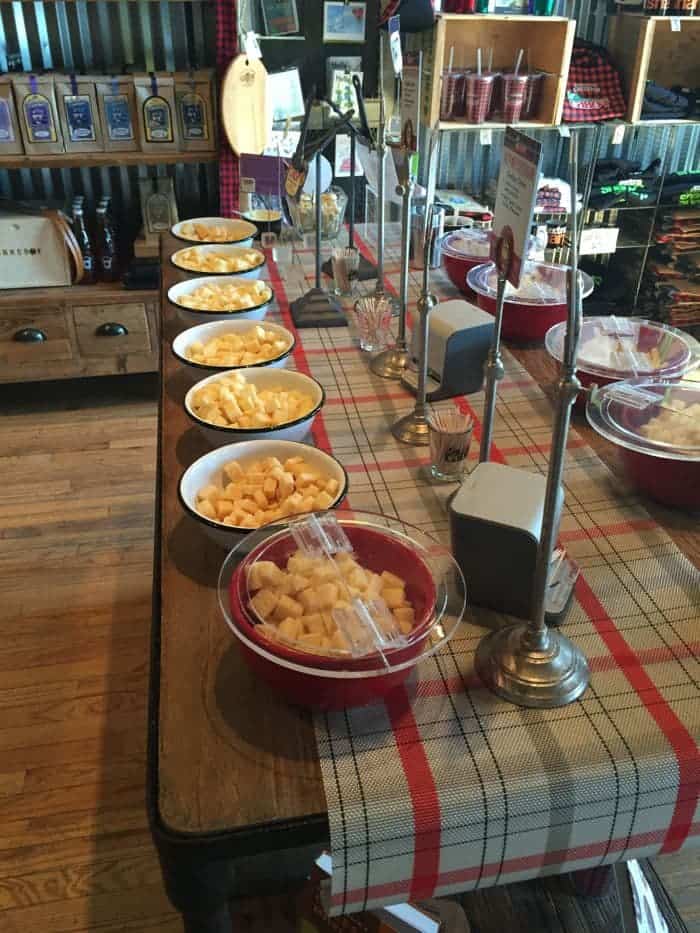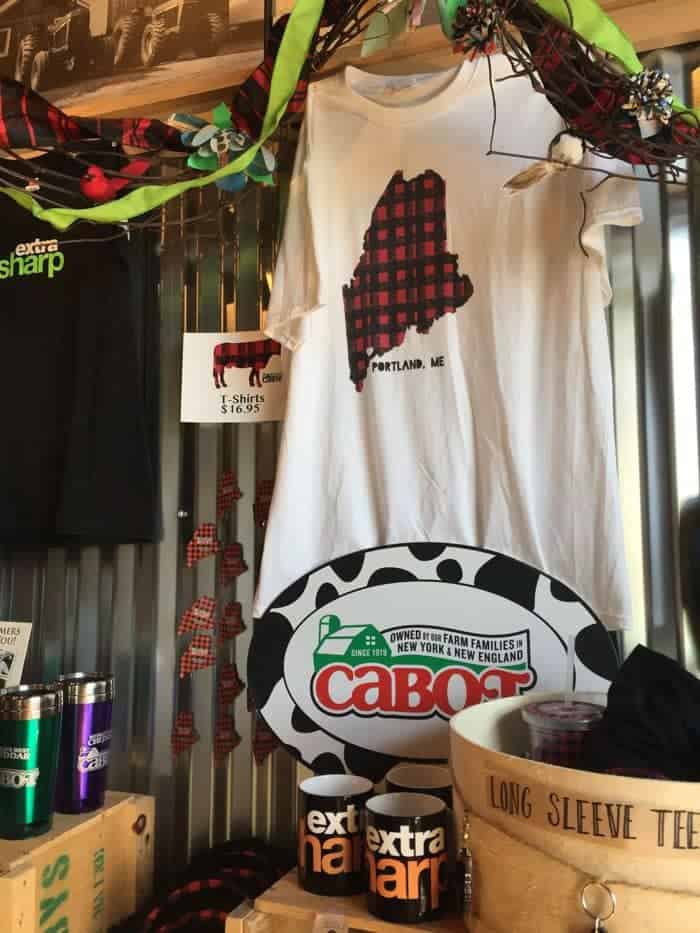 Freeport, Maine
And a trip to Maine isn't complete without a visit to LL Bean. It's only about 45 minutes from Old Orchard Beach. Or the time it takes to drink a coffee and have a good conversation.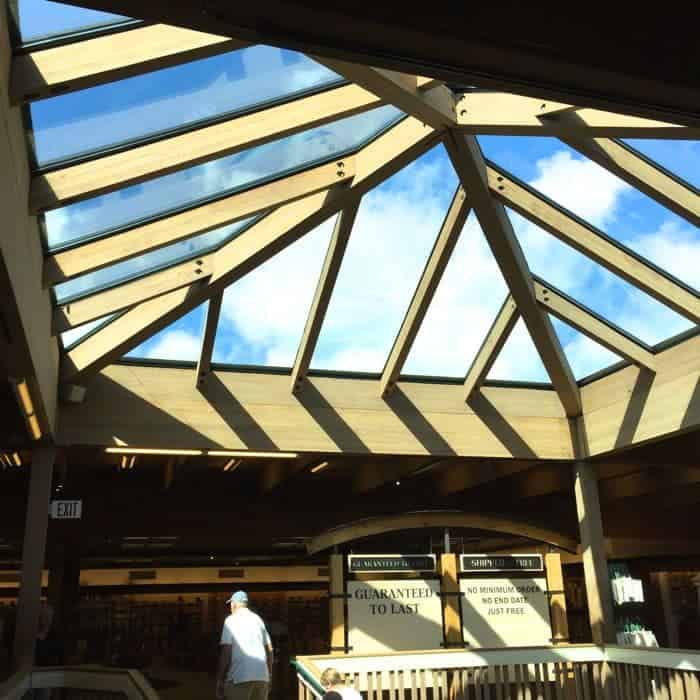 LL Bean's flagship store is an experience.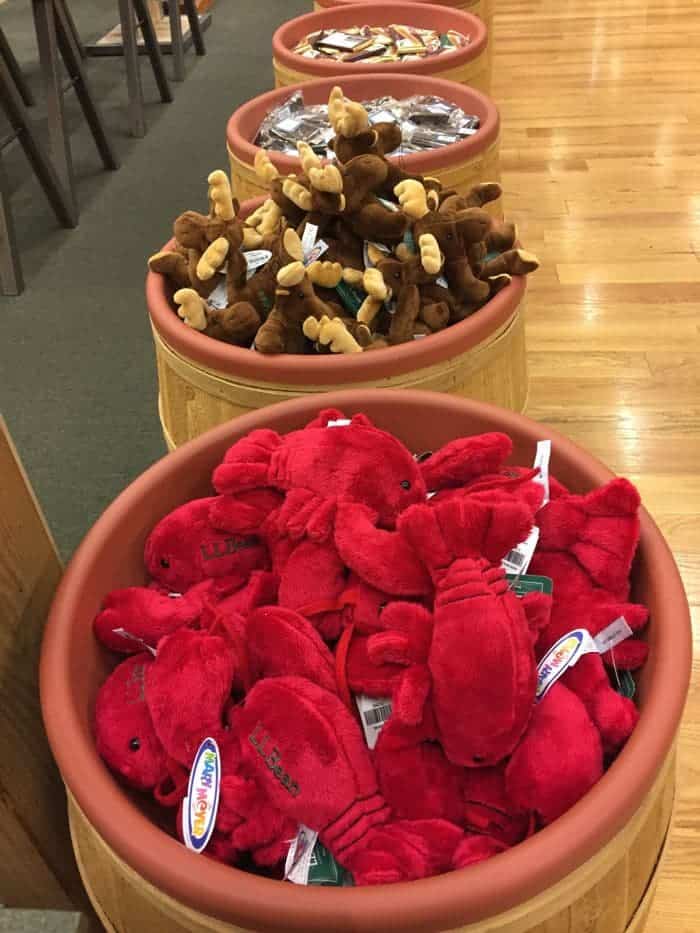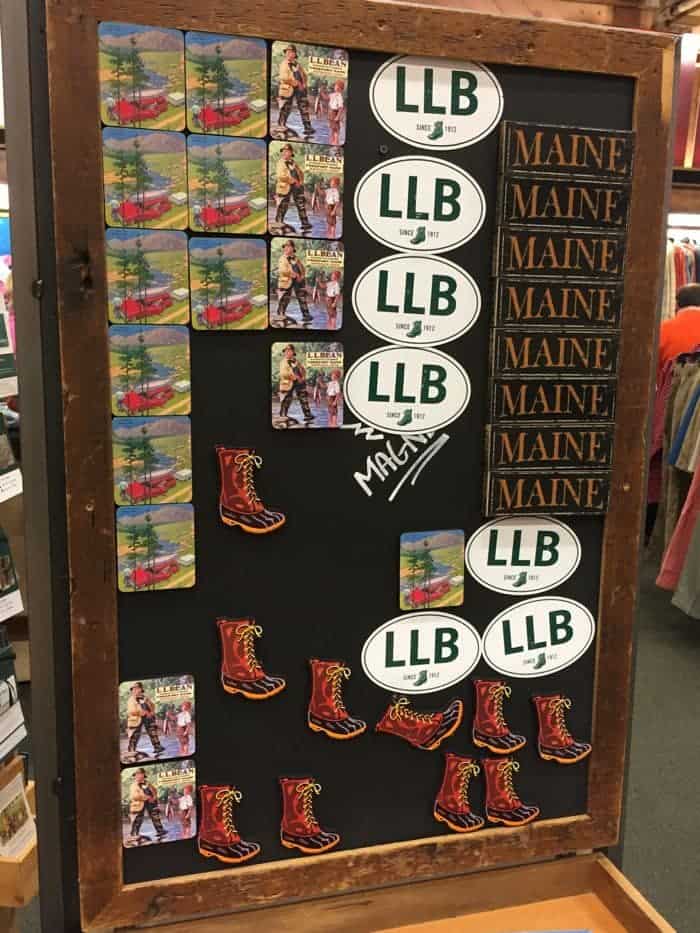 I love magnets!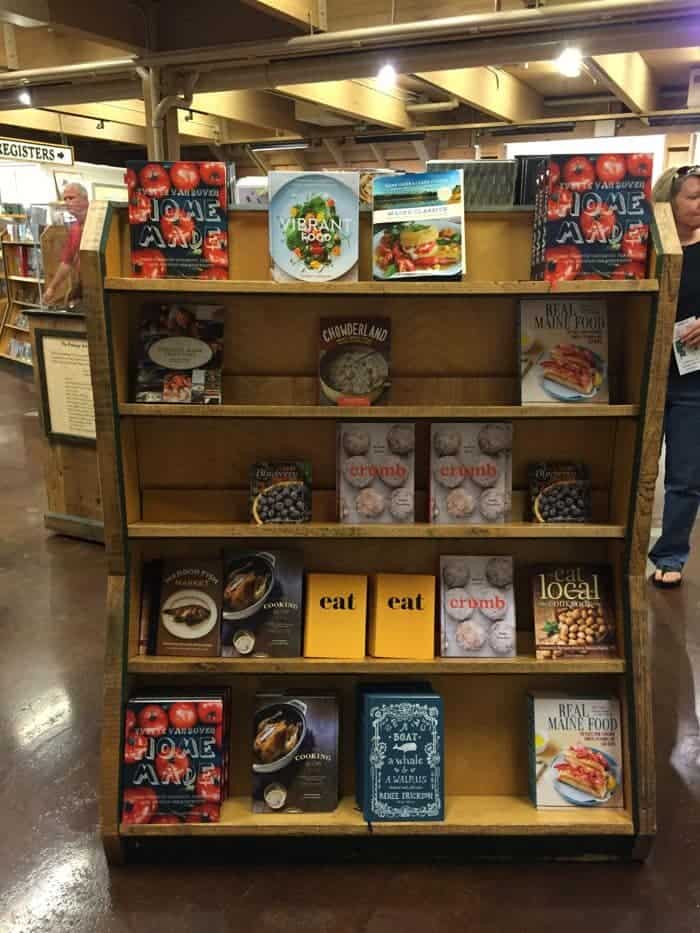 They even have a coffee shop adjacent to a little bookstore.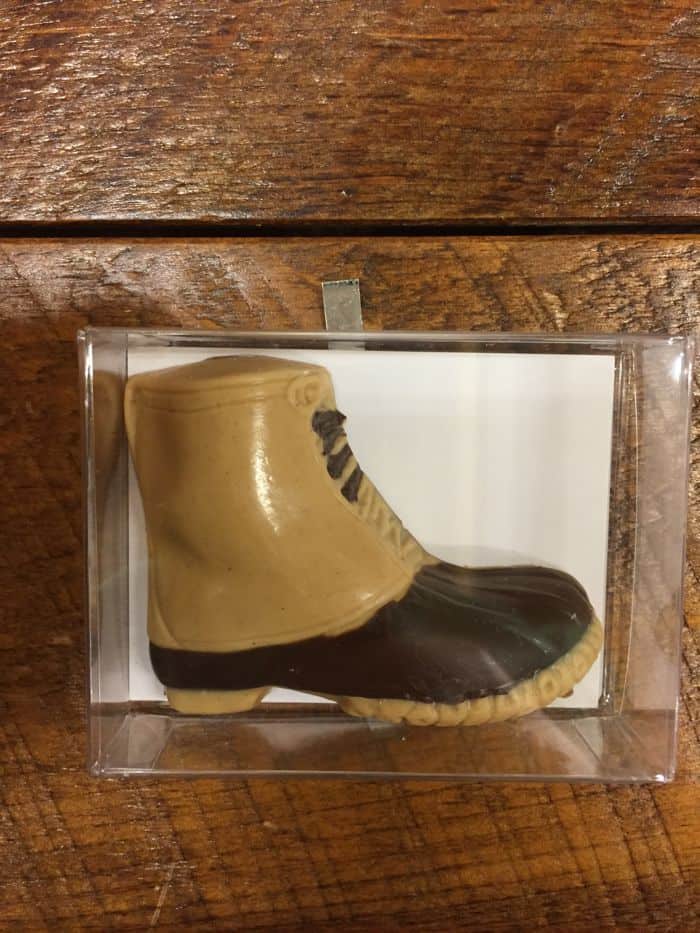 That's a peanut butter and chocolate version of their classic "Bean Boot."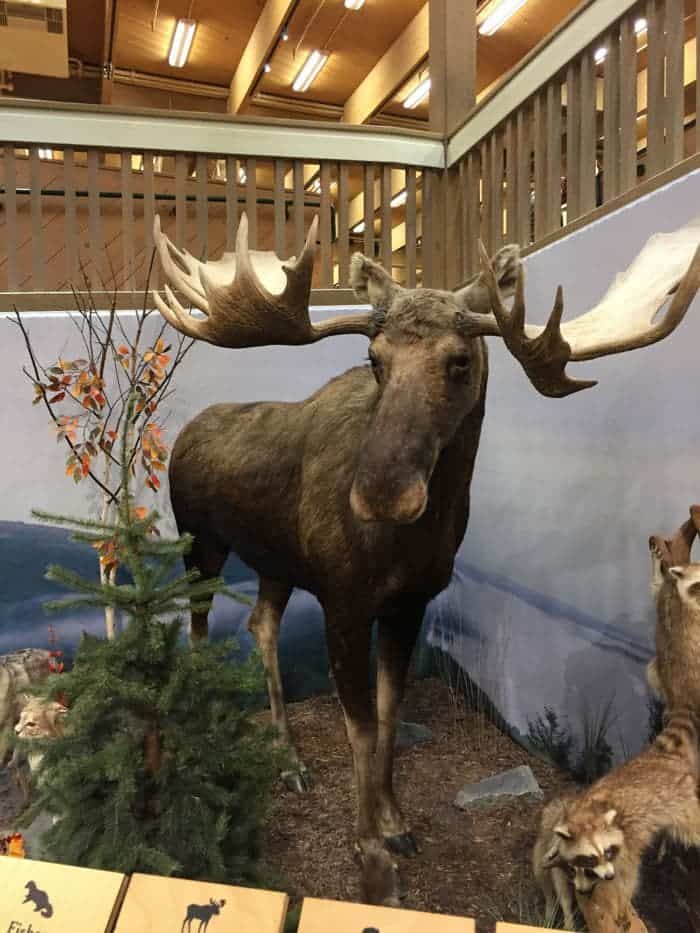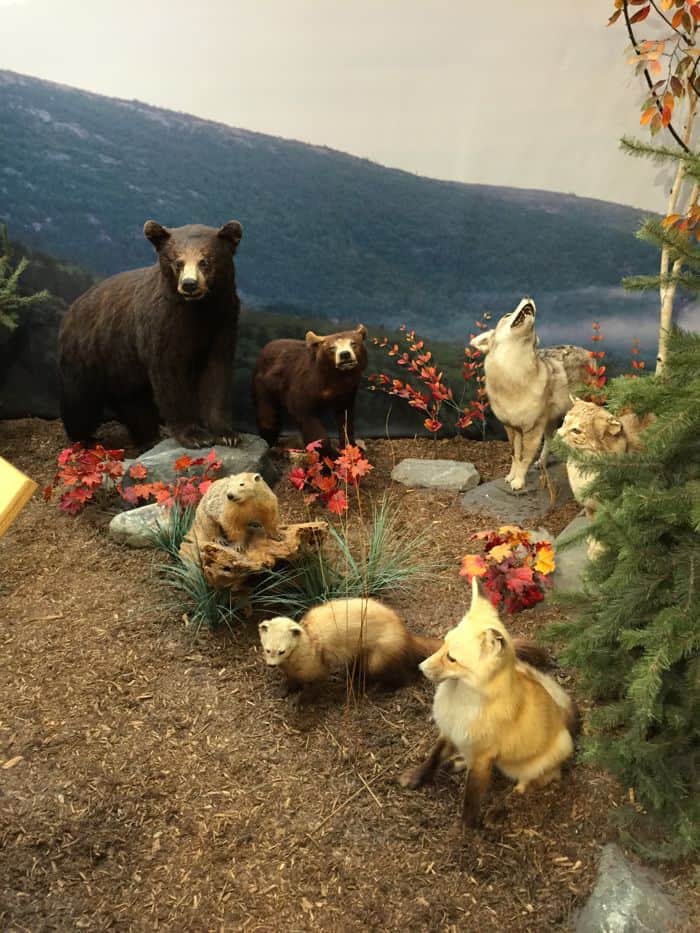 They have animal displays. Odd but charming.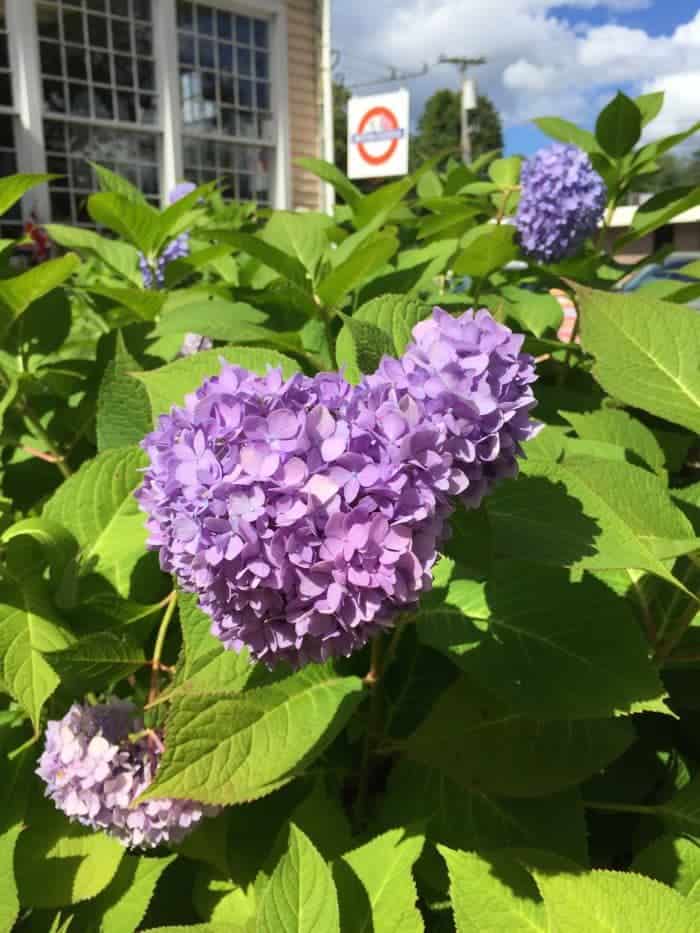 Outside of the LL Bean complex, there are other shops, Bridgham and Cook, a shop dedicated to all things British, is by far my favorite.
Really, however, our trip was about this…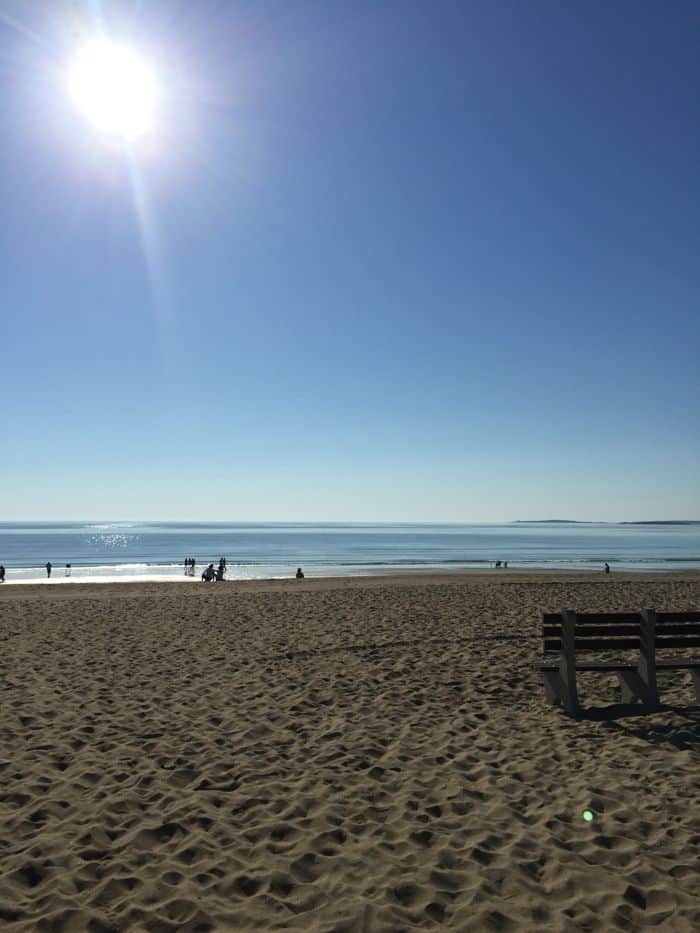 And this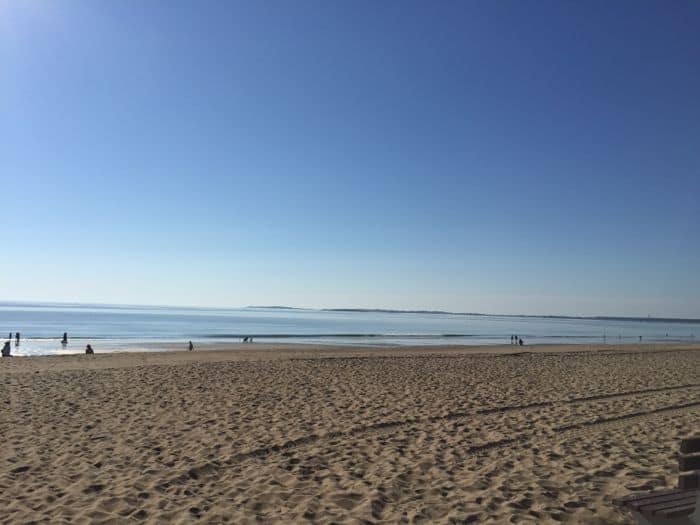 And, of course, this.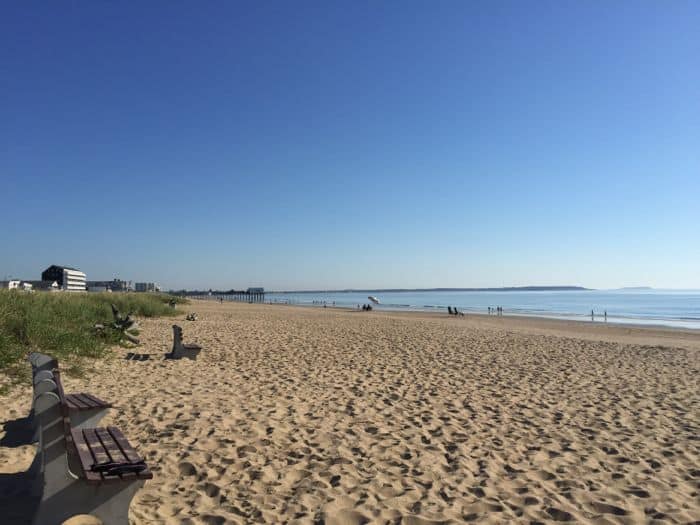 It was just what I needed.
Places to Visit
The Gull Motel, Inn, Cottages and Apartments
89 West Grand Avenue
Old Orchard Beach, Maine 04064
Phone: 207-934-4321
http://www.gullmotel.com/
Bayley's Lobster Pound
9 Avenue 6
Scarborough, ME 04074
Phone: (207) 883-4571
http://www.bayleys.com/
Lois Natural Foods
152 U.S. 1 #15
Scarborough, ME 04074
(207) 885-0602
http://www.loisnatural.com/
LeRoux Kitchen
161 Commercial St
Portland, ME
Phone:(207) 553-7665
http://www.lerouxkitchen.com

Stonewall Kitchen
182 Middle Street
Portland, ME 04101
Phone: 207.879.2409
http://www.stonewallkitchen.com/portlandstore.html
Abacus Gallery
44 Exchange St, Portland, ME 04101
Phone:(207) 772-4880
http://www.abacusgallery.com/
LL Bean Flagship Store
95 Main Street
Freeport, ME 04032
1-877-755-2326
http://www.llbean.com/
Royal River Natural Foods
443 US Route 1
Freeport, ME 04032
(207) 865-0046
http://www.rrnf.com/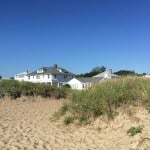 Gluten-Free Lobster Rolls
This recipe for gluten-free lobster rolls is more of a guide than a specific recipe. Here the lobster is the star. Just add enough mayo to hold things together and adjust seasonings as needed.
Servings
2
generous lobster rolls
Ingredients
1/2

pound

lobster meat

mayonnaise

fresh lemon

salted butter

melted

2

Udi's gluten-free hot dog bun
Instructions
Gently chop lobster into bite-sized pieces. Take your time, so you don't break the lobster meat up too much.

Place the lobster meat into a medium bowl. Add a generous dollop of mayo. Start with about three tablespoons. Add a squeeze of lemon juice. Stir together. The lobster meat should be faintly coated with mayo. You don't want the meat drowning in mayo. Set the lobster mixture aside.

Brush each side of the hot dog rolls generously with butter. Remember that butter is an essential ingredient to the rolls. Don't skimp.

Heat a nonstick frying pan over medium-heat. Place the buns, butter-side down, into the pan. Toast until golden brown, about three minutes. (This time will vary. Don't walk away from the rolls.)

Remove the rolls from the pan and allow them to cool slightly.

Taste the lobster mixture. Adjust the mayo and lemon juice as needed. Add salt and pepper to taste. (I rarely add either. I don't like the kick of the pepper and the lobster and mayo bring enough salt to the rolls.)

Spoon lobster mixture into the rolls. Really pile it on!

Enjoy!