This recipe for gluten-free peanut butter cookie bars combines two of America's favorite cookies into one easy-to-make bar. If you are peanut-free, replace the peanut butter with almond butter. And if you really love chocolate, double the amount of chocolate chips, for an over-the-top treat.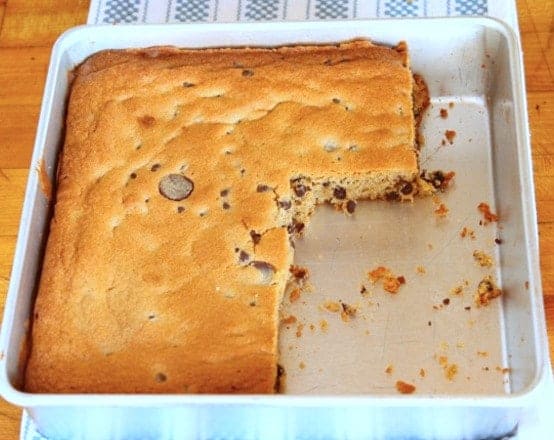 Gluten-Free Peanut Butter Chocolate Chip Bars: Mixing
You know what I love? Chocolate chip cookies, peanut butter cookies, and cookie bars. So…I put 'em together. These peanut butter chocolate chip cookie bars are the best of all cookie worlds. You get the sweet-salty flavor of the peanut butter, the chocolate and molasses from chocolate chip cookies, and the ease of a cookie bar.
To make this recipe, you'll need some basic gluten-free flours. You know I don't use a premade flour blend. However, if you do, go ahead and use it in this recipe. Just be sure it doesn't contain any gums. This recipe doesn't need it.
Whisk together the dry ingredients and set the bowl aside. In a large bowl, or the bowl of a stand mixer, cream together butter (or a solid dairy-free margarine) and your favorite creamy peanut butter with the dark brown sugar and vanilla extract. The dark brown sugar adds a nice molasses flavor. If you only keep light brown sugar in the house, do yourself a favor and pick up a box of dark brown sugar the next time you're at the store. The flavor is top-notch. If all you have in the house is light brown sugar, go ahead and use it.
Cream the room temperature butter together with the peanut butter and dark brown sugar. To test if your butter is at room temperature, poke it. I'm not kidding. Poke the butter gently. Your finger should leave a gentle little indent in the butter.
You don't want your butter melted or too cold. Basically, you need to turn into Goldilocks and make sure that your butter is "just right."
Why is this important? If the butter is too soft, the bars come out dense. If the butter is too cold, it won't mix evenly with the peanut butter and butter. So give your butter a poke.
Then add the eggs one at a time. Allow the first egg to incorporate into the mixture before adding the next. Once both eggs have been added, stop the mixer and give the bowl a scrape. You'll be surprised how much butter-sugar mixture sticks to the bottom of the bowl with nary a drop of egg in it. Once you scrape the bottom of the bowl, mix the butter-sugar-egg mixture for another few seconds.
Stop the mixer and add the whisked dry ingredients. Then, starting at a low speed and increasing slowly to medium speed, mix until a thick batter forms. Again, stop the mixer. Scrape down the sides and bottom of the bowl and mix for another few seconds. Then add the chocolate chips and mix until combined.
Gluten-Free Peanut Butter Chocolate Chip Bars: Baking
To prevent the bars from sticking, you can line your baking pan with aluminum foil. I have to admit, this is a "do as I say, not as a I do" statement. For some reason, I lack the skills that allow a person to line a pan with foil without ripping the foil. Instead of foiling lining, I give my pan a generous coating of cooking spray and call it a day.
Spread the batter evenly into the prepared pan. This is key. The batter for these peanut butter chocolate chip cookie bars is thick. This means that as you spread it, the batter might not want to go evenly into the corners of the pan. Make sure that it does. If not, the bars will either burn or be overdone at the edges. And no one wants that.
Bake until golden brown and aromatic. In my oven this takes about 35 minutes. When the bars are done, remove the pan from the oven and allow the bars to cool in the pan. If you lined your pan with foil, go ahead and lift the bars out of the pan using the foil. If you didn't line your pan with foil, (high five) cut the bars in the pan (take care not to scratch your pan as you cut).
Gluten-Free Peanut Butter Chocolate Chip Bars: Storing
Go ahead and store these bars right on the counter for up to four days. If you don't think you'll eat them all by then, freeze the the bars. First allow the bars to cool, then wrap in plastic wrap. Place the bars in a freezer and you're good for up to three months!
Gluten-Free Peanut Butter Chocolate Chip Bars: Variations
Like most cookie bar recipes, these peanut butter chocolate chip bars are easy to modify.
Peanut-Free: Swap the peanut butter with a peanut-free spread, like sunbutter.affiliate link. NOTE: sunbutter tends to turn baked goods that contain baking powder bright green as they cool. It looks weird but it's totally normal.
Almond Butter Bars: Replace the peanut butter with an equal amount of almond butter.
Double Chocolate: Add one cup of milk chocolate chips to the batter along with the dark chocolate chips.
Peanut-Plus: Add one cup of chopped peanuts. (Check to make sure your peanuts don't contain any flavorings like onion or garlic powder. Some brands do and that would taste awful in these bars.)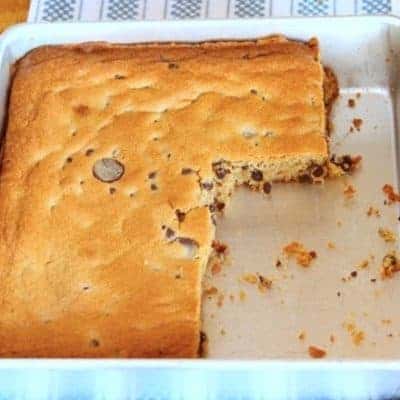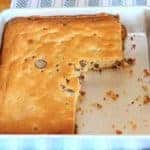 Gluten-Free Peanut Butter Chocolate Chip Bars
Ingredients
3/4

cup

brown rice flour

(3 3/4 ounces; 106 grams)

1/3

cup

potato starch

(1 1/3 ounces; 36 grams)

2

teaspoon

baking powder

1/4

teaspoon

salt

1

stick

unsalted butter, softened (use dairy-free solid spread if desired)

(1/2 cup; 4 ounces; 113 grams)

1/2

cup

smooth peanut butter or peanut-free spread

(4 3/4 ounces; 135 grams)

3/4

cup

dark brown sugar

(6 ounces; 170 grams)

2

large

eggs

(3 1/2 ounces; 100 grams)

1

cup

chocolate chips

(6 ounces; 170 grams)
Instructions
Preheat oven to 350°F. Grease 8x8x2-inch pan with nonstick cooking spray.

In small bowl, whisk together brown rice flour, potato starch, baking powder, and salt. Set aside. In large bowl, cream together butter, peanut butter, and sugars until light and fluffy, about one minute. Add eggs, one at a time, and beat well between each addition. Stop mixer and scrape down bottom and sides of bowl. Turn mixer back on and continue to beat until mixture is light, fluffy, and almost white. Turn off mixer. Add dry ingredients, turn mixer to low and blend to combine. Add chocolate chips. Mix until just combined.

Spread batter evenly into prepared pan. Bake until bars are puffy, golden brown, and a cake tester interested into the center of the bars comes out with a few moist crumbs, about 35 minutes. Place pan on wire rack to cool. When cooled, cut into 12 bars.
These bars take about an hour to make, 15 minutes or so to prep the batter and about 35 minutes to bake. Allow them to cool for at least 20 minutes before servings. (That's a long 20 minutes, let me tell you!)