Occasionally I suffer from a bit of culinary stubbornness. Take these flourless peanut butter cookies, for example. For years people told me that I needed to try them. But the simple combination of peanut butter, sugar, an egg, and baking soda didn't sound good to me. It sounded like a potential hot mess. So my culinary stubbornness kicked in, reminding me that I already had a gluten-free peanut butter cookie recipe I liked—and it contained flour, like a good cookie should.
Recently, however, I went to make a batch of peanut butter cookies and realized I was out of sweet rice flour. On a whim, and almost begrudgingly, I decided to finally try the flour-free recipe. I stirred together one cup of peanut butter, one cup of brown sugar, one egg, and one teaspoon of baking soda. The batter looked weird, thick and shiny. "These won't taste like cookies. They'll probably taste like peanut butter blobs."
I was so wrong. The cookies baked up crisp and crunchy. And much to my surprise, let me tell you, they tasted very similar to my beloved peanut butter cookie recipe. I couldn't tell they didn't contain flour, and neither could anyone else.
Since the cookies were so good, I played around with a few batches. I added mini-chocolate chips to one, chopped roasted peanuts to another, and topped a few with jam. The only variation that didn't quite work were the ones topped with jam. They baked up with super soft centers under the jam and about an hour after baking, the jam began to leak through the cookies.
Even though it took a long time, I'm glad my stubbornness didn't win out. This easy cookie recipe can be whipped up in minutes.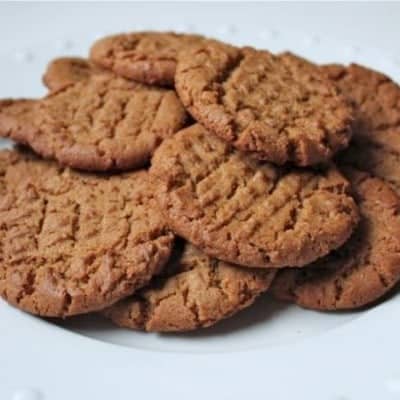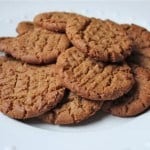 Impossible Gluten-Free Peanut Butter Cookies
These flourless peanut butter cookies bake up thin and crisp. The simple batter welcomes variations. To the batter, consider adding 1 cup of mini chocolate chips, 1 cup toasted, chopped peanuts, 1/2 cup shredded coconut or 1 cup chopped dried fruit, such as dried cranberries.
Ingredients
1

cup

dark brown sugar, packed

(7 1/2 ounces; 212 grams)

1

teaspoon

baking soda

1

cup

smooth or creamy peanut butter

(9 1/2 ounces; 270 grams)

1

large

egg

(about 1 3/4 ounces; 50 grams, out of shell)

1

teaspoon

vanilla extract
Instructions
Preheat oven to 350°F. Line two rimmed baking sheets with parchment paper. In small bowl, rub together dark brown sugar and baking soda. Add peanut butter, egg, and vanilla extract. Stir together with wooden spoon until smooth. Batter will be thick.

Drop rounded tablespoons onto prepared baking sheet. Cookies spread during baking; space about two inches apart. Using the tines of a fork, press down lightly and make a crosshatch design on top of each cookie. Bake until cookies puff and settle, about ten minutes. Cookies should be lightly golden brown.

Allow cookies to cool on the pan for ten minutes. After ten minutes, transfer to a wire rack to cool completely. Repeat with remaining dough. Store cookies in airtight container on the counter for up to four days.