Gluten-Free Pizzelles. Thin and Crisp Recipe. Perfect for Christmas and Easter.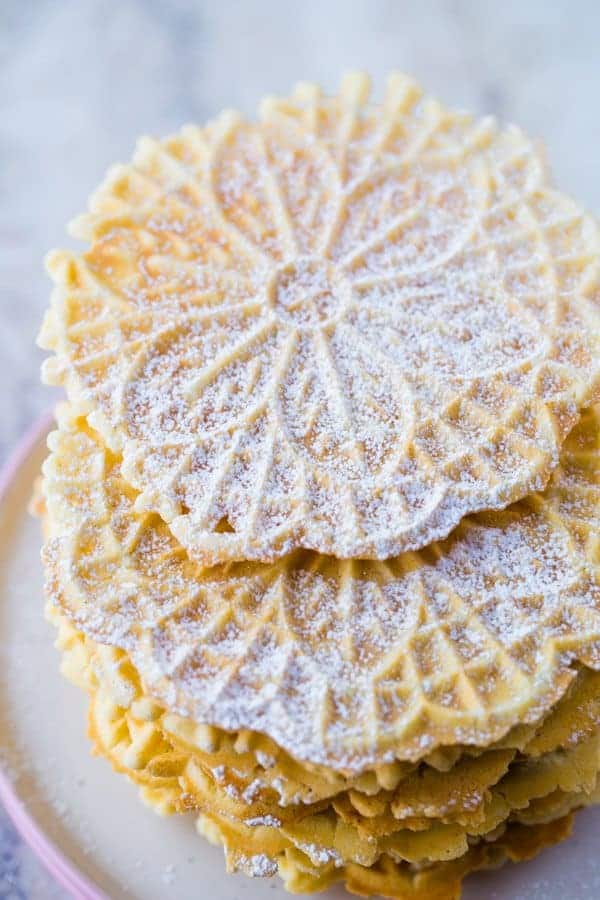 I always joke that my favorite cookie is whichever one I'm eating at the moment. That's usually true. Then I remember pizzelles. And I know that I'm a liar. (Sorry, gluten-free chocolate chip cookies. I love you but I love pizzelles more.)
Like all cookies, pizzelles come in a wide variety. Some are thick and soft. Some are chocolate and others, like the ones that have my heart, are thin, crisp, and scented with anise.
Growing up, it wasn't a holiday unless there were pizzelles on the table. Actually, it wasn't a wedding, bridal or baby shower without pizzelles either. They were our version of sugar cookies. And, like sugar cookies, it's hard to eat just one.
This recipe is based on the cookies I grew up eating. It makes thin, crisp pizzelles with a light anise flavor. (If you don't like anise, replace it with vanilla. The cookies will taste just as lovely.)
How Do You Make Gluten-Free Pizzelles?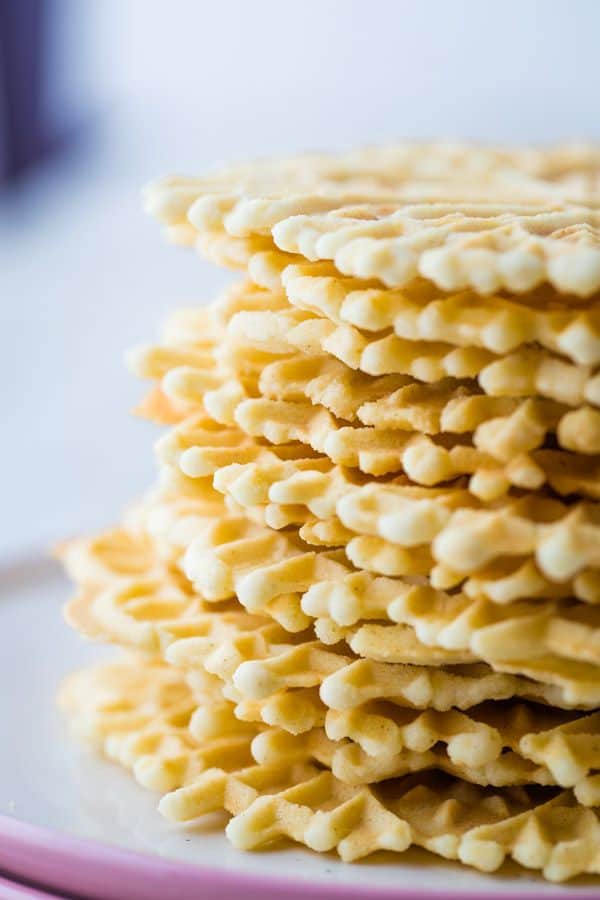 It's simple to make the batter for gluten-free pizzelles. Simply whisk together all the dry ingredients, including the sugar, in a large bowl. Then add cooled butter, eggs, and anise extract. Stir everything together with a wooden spoon. Don't worry about overmixing. There's no gluten in the batter, so it won't get tough the way a wheat-based dough would.
The batter will be soft–somewhere between a pancake batter and chocolate chip cookie dough.
Drop the cookies onto a hot, greased pizzelle iron. Close the iron and watch for steam. A good indicator that pizzelles are done is the amount of steam coming from the iron. At first, the steam pours out of the iron, then it slows down. When the steam slows, check the pizzelle. It's probably done.
Pizzelles only take a minute or two to bake. (cooking time will vary depending on your iron.)
Place the hot pizzelles on a wire rack. Then, as they cool, transfer them to a platter. I usually can fit about 6 pizzelles on the rack at a time. I move the coolest ones to the rack as another batch bakes.
Do I need a pizzelle iron to make pizzelles?
Yes. To get the characteristic shape and thickness of pizzelles, you'll need an iron.
Can you replace the melted butter?
I think so. I haven't attempted this recipe without dairy. I'd use a melted dairy-free margarine.
Can you make pizzelles without eggs?
I don't think so. I haven't tried the recipe without eggs but I'm not confident it would work.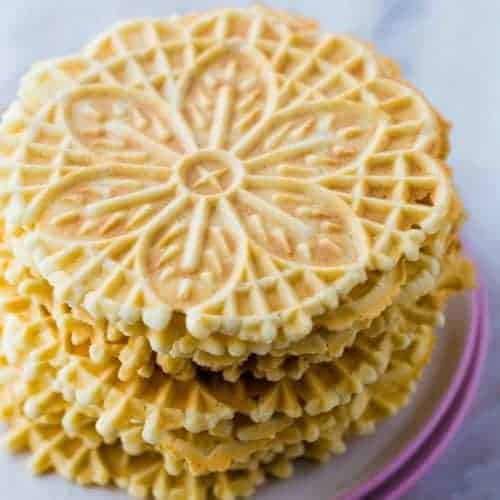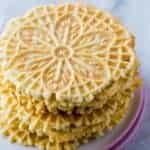 Gluten-Free Pizzelles: Thin and Crisp
Ingredients
1 3/4

cups

Bob's Red Mill Gluten-Free Baking Flour

3/4

cup

granulated sugar

2

teaspoons

baking powder

3

large

eggs

1/2

cup (1 stick)

butter, melted and cooled slightly

1/2

teaspoon

anise extract (or 1 teaspoon vanilla extract)

nonstick cooking spray

Powdered sugar, if desired
Instructions
Whisk together gluten-free baking flour, granulated sugar, and baking powder in a medium bowl. Switch to a wooden spoon and stir in eggs, cooled, melted butter, and anise extract. Batter will be thick and soft.

Heat pizzelle iron according to manufacturer's directions. Grease with nonstick cooking spray. Spoon batter onto hot iron. Bake until lightly golden brown.

Remove hot pizzelles from iron. Transfer to a wire rack to cool. Dust cooled pizzelles with powdered sugar, if desired.