Ever heard of poutine? It's made with French fries, cheese curds and gravy. And it's just as good as it sounds! This gluten-free poutine is just like the real thing. Maybe better!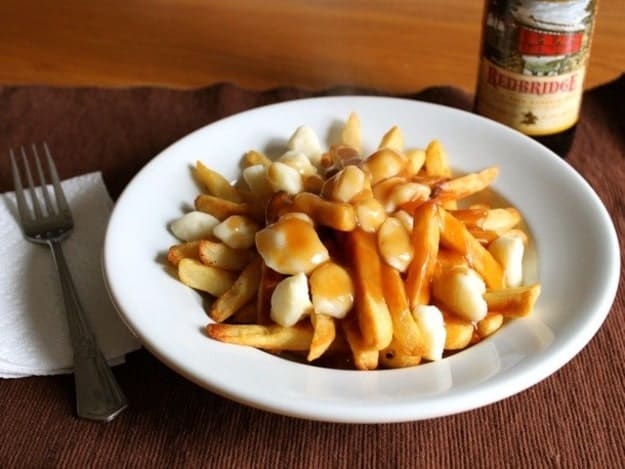 Most of the time poutine is annoyingly gluten-filled. You wouldn't think so since it's just fries, gravy, and cheese curds. But there are usually one or two gluten culprits at play; either the gravy contains wheat flour or the fries are made in fryers shared with gluten-containing foods. Sometimes it's both.
So when a poutine craving hit, I headed into my kitchen instead of a restaurant. (What restaurant is going to serve gluten-free poutine?)
Two of three poutine elements, french fries and cheese curds, weren't a problem plus the homemade fries tasted better than many of the soggy, greasy fries served in many a restaurant. It was the gravy that provided the challenge.
Poutine gravy is a thick brown gravy with black pepper and vinegar notes. For the first batch of gravy, I used all beef broth. The resulting gravy was too beefy, overtaking the dish, like it should be poured over pot roast and not poutine. After a little research, I learned that many poutine recipes use chicken stock, not beef.
Batch number two was better but still not right. While the chicken stock didn't overpower the fries and cheese, it lacked the salty-mineraly depth that beef imparts.The next time, I used half chicken stock and half beef broth. Perfection! (For a vegetarian poutine, use vegetable stock. Just be sure it's gluten-free.)
While tinkering with the flavor, I also adjusted the consistency of the gravy. Since many restaurants told me that poutine gravy contained wheat, I assumed the wheat was from a roux. To thicken the gravy, I first doubled the amount of sweet rice flour roux used in traditional gravy—this was a mistake. You could have cut that batch of gravy with a knife. Poutine, instead, should have the sheen of a cornstarch-thickened sauce. Could using both a roux and cornstarch work? Yes! The roux flavors the gravy nicely while the cornstarch adds additional thickness without making the gravy too pasty or thick.
The finished poutine was indistinguishable from the gluten-filled poutines served at restaurants. The biggest difference? Time. Depending on the method you use to fry your french fries, this recipe takes at least two hours to complete.
this recipe first appeared on SeriousEats.com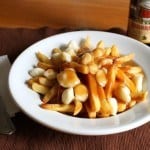 Gluten-Free Poutine
Made with French fries, cheese curds, and gravy, this gluten-free poutine is rich and wonderful.
Total Time
1
hour
30
minutes
Ingredients
1

cup

gluten-free chicken stock, divided, warm

(8 ounces; 226 grams)

3

tablespoons

butter

(1 1/2 ounces; 42 grams)

3

tablespoons

sweet rice flour

(3/4 ounce; 22 grams)

1

cup

gluten-free beef broth, warm

(8 ounces; 226 grams)

1

tablespoon

cornstarch

(1/4 ounce; 7 grams)

1

teaspoon

apple cider vinegar

Kosher salt and freshly ground black pepper

8

ounces

cheese curds

Gluten-Free French Fries

for four
Instructions
Prepare Gravy: Just before frying french fries, prepare gravy. Reserve one tablespoon chicken stock. Set aside. In medium pot, melt butter over medium-high heat. Add sweet rice flour and whisk to combine. A thick paste will form. Cook, whisking constantly, until mixture turns lightly golden brown, about three minutes. Whisking constantly, add remaining chicken stock and all beef broth in a slow and steady stream. Cook until gravy thickens, about four minutes. Combine cornstarch and reserved chicken stock. Whisk with a fork until smooth. Add to gravy. Continue whisking and bring gravy to a boil. Reduce heat to low. Add vinegar and season to taste with salt and pepper. Whisk gravy occasionally while you prepare the french fries.

Put together the Poutine: Remove cheese curds from refrigerator. Set aside. Fry french fries as directed in recipe. Divide cooked french fries between four bowls. Top with cheese curds and gravy. Serve immediately.