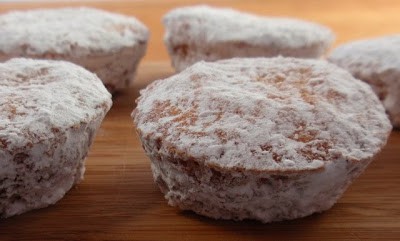 This recipe is my mom's fault. Okay, maybe not "fault" because who would want to blame someone for inspiring powdered sugar doughnut-muffins?
Anyway, she was watching "The Best Thing I Ever Ate: Snack Attack" on The Food Network and someone mentioned Doughnut-Muffins. That's right. Muffins that taste like doughnuts. My mouth was already watering when she said, "You should make a gluten-free version."
Since I try to be a good daughter, I listened to my mom. The doughnut-muffins from The Downtown Bakery (the bakery that serves the gluten-filled doughnut-muffins) are rolled in melted butter and then in cinnamon-sugar. While that sounds divine, I love powdered sugar doughnuts and wanted to try making a doughnut-muffin version.
Taking a cue from Mexican wedding cookies, I rolled the muffins in powdered sugar right after they came out of the oven. It worked! The sugar stuck to the warm muffins.
The muffins have a bit of crust that gives way to a tender interior. The next time I make them, I think I'll fill them (after baking) with a little jam. Jelly Doughnut-Muffins, anyone?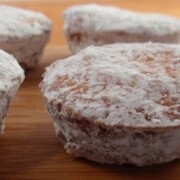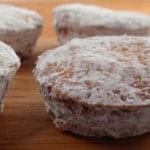 Gluten-Free Powdered Sugar Doughnut Muffins
These muffins really do taste like powdered sugar doughnuts. If you want, spoon a little jam on top or, if you have a pastry bag and tip, squeeze jam into the center of each muffin.
Ingredients
3/4

cup

white rice flour

(3 ounces; 85 grams)

1/2

cup

cornstarch

(2 ounces; 56 grams)

1/4

cup

sweet rice flour

(1 ounce; 28 grams)

3/4

cup

granulated sugar

(5 1/4 ounces; 148 grams)

2

teaspoons

baking power

1/4

teaspoon

salt

1/4

teaspoon

ground nutmeg

3/4

cup

milk

1/4

cup

vegetable oil

(1 3/4 ounces; 50 grams)

1

large

egg

(about 1 3/4 ounces; 50 grams, out of shell)

1

teaspoon

vanilla extract
Instructions
Preheat oven to 350 degrees F. Spray a min-muffin pan (24 cavity) with non-stick cooking spray.

In a medium mixing bowl, whisk together white rice flour, cornstarch, sweet rice flour, granulated sugar, baking powder, salt, and nutmeg.

Add the milk, vegetable oil, egg, and vanilla extract. Whisk to combine. The batter will be very, very, very thin. I just use a large fork to whisk it together. There really is no need to dirty your electric mixer for this recipe. Fill muffin cups about 1/2 full.

Bake for 20-25 minutes or until muffins are golden brown.

While muffins are baking, fill a 8x8x2-inch cake pan with powdered sugar. Remove muffins from the oven and place directly into the powdered sugar. The steam from the hot muffins will make the sugar stick to the muffins.

Cover the muffins in powdered sugar and allow to cool. Remove muffins from the sugar and tap off any excess sugar.