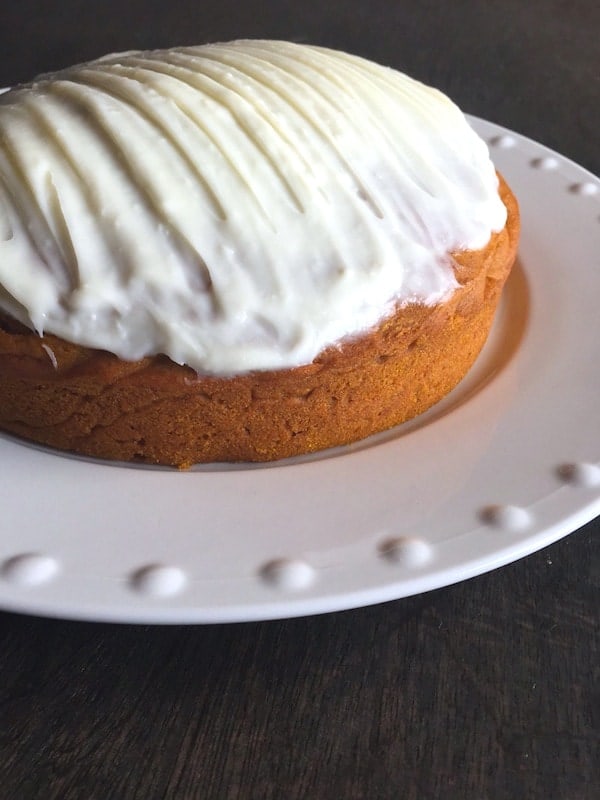 editors note: Welcome to the new "Mix It Up" column. In this column, we'll explore tasty recipes made from popular gluten-free mixes.
If you love pumpkin desserts, this recipe is for you.
If you love dense, rich cakes, this recipe is for you.
If you love cakes that aren't too sweet, this recipe is for you.
If you love easy-to-make recipes, this recipe is for you.
I almost called this my "5 Minute Gluten-Free Pumpkin Spice Cake" since it only takes five minutes to mix the batter. However, since the cake isn't ready to eat in five minutes, I didn't want to tease your sweet tooth.
How to Make (the easiest ever) Gluten-Free Pumpkin Spice Cake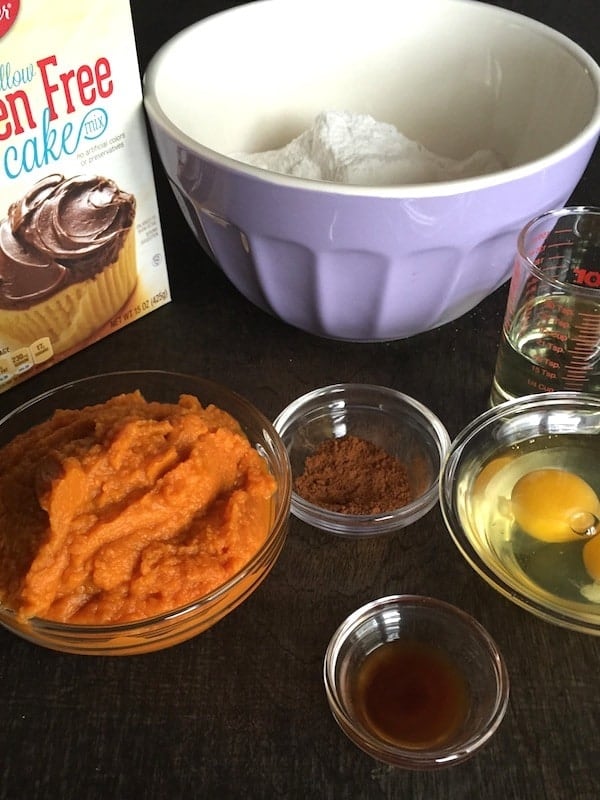 For this recipe, we're going to transform a Yellow Cake Mix into a gluten-free pumpkin spice cake. Magic, right? It's ridiculously easy. You just need the mix, a small can of pumpkin, oil, pumpkin spice, vanilla, and eggs. If you're egg-allergic, you can make this cake egg-free. Yes! If you omit the eggs, the recipe still works. The cake is a little denser but you still have cake. (nom nom nom)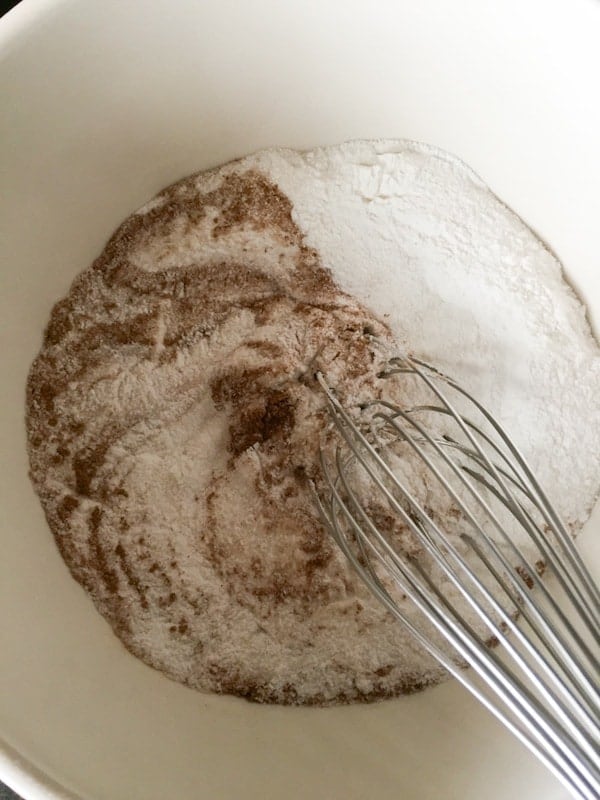 Whisk the pumpkin pie spice into the cake mix. Do this before you add the wet ingredients to prevent the spice mix from clumping.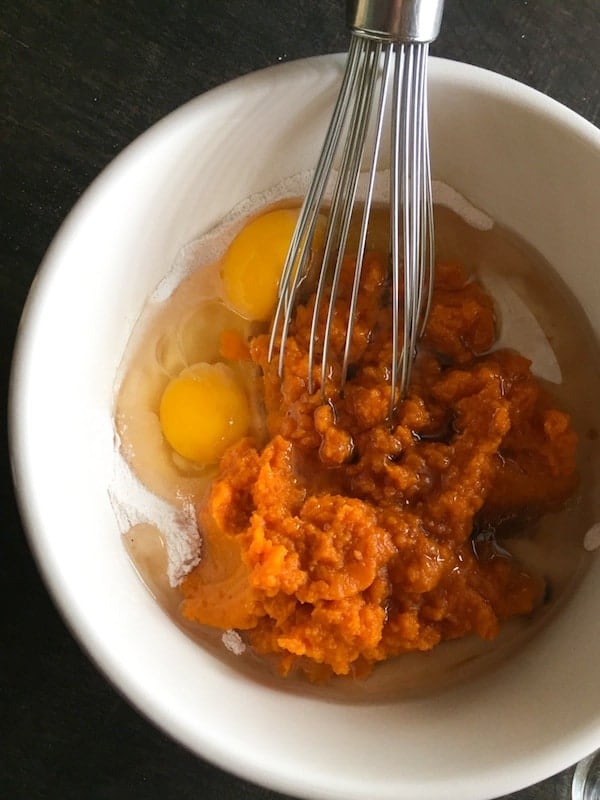 Add the pumpkin, oil, vanilla, and eggs.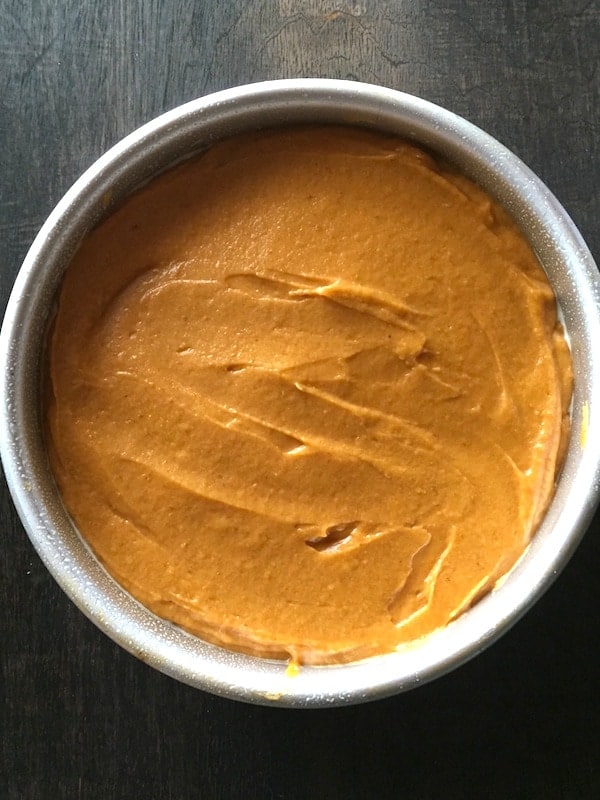 Whisk until the batter is smooth. It's a thick batter. Don't let that worry you. Spread batter into a sprayed 8-inch cake pan.
Bake!
Turn cake out onto a wire rack to cool completely. This keeps the cake from getting soggy.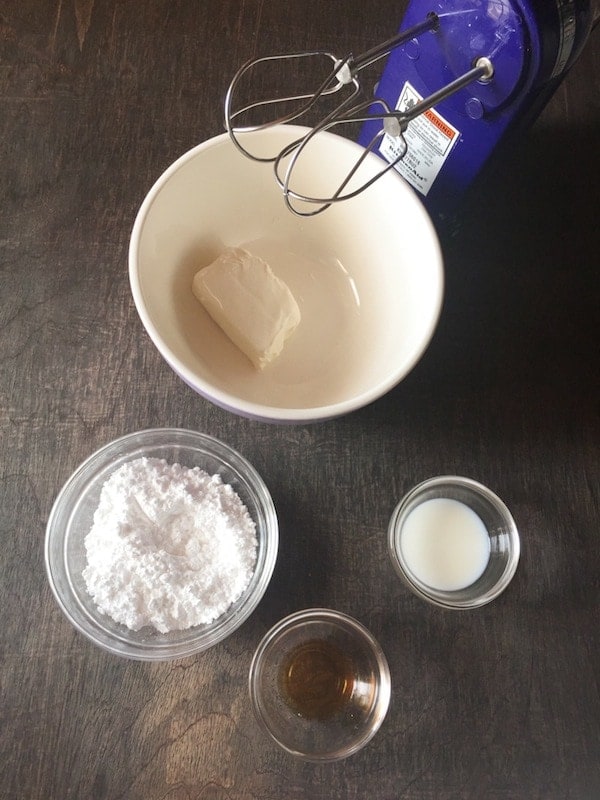 Now it's time to make the icing! I love cream cheese icing on pumpkin cake. If dairy is off-limits for you, use a dairy-free cream cheese option, like Daiya cream cheese.
This icing recipe doesn't make a ton of icing. I know it's not popular but I don't love cakes topped with mounds of icing. If you love icing, double this recipe.
To ensure the icing comes out lump-free, start with room temperature cream cheese. Before adding any of the other ingredients, whip the cream cheese until it's smooth. I use a handheld mixer to make the icing but that's only because my triceps are lazy. If you have strong triceps, 1. good for you. 2. you can mix this by hand with a balloon whisk.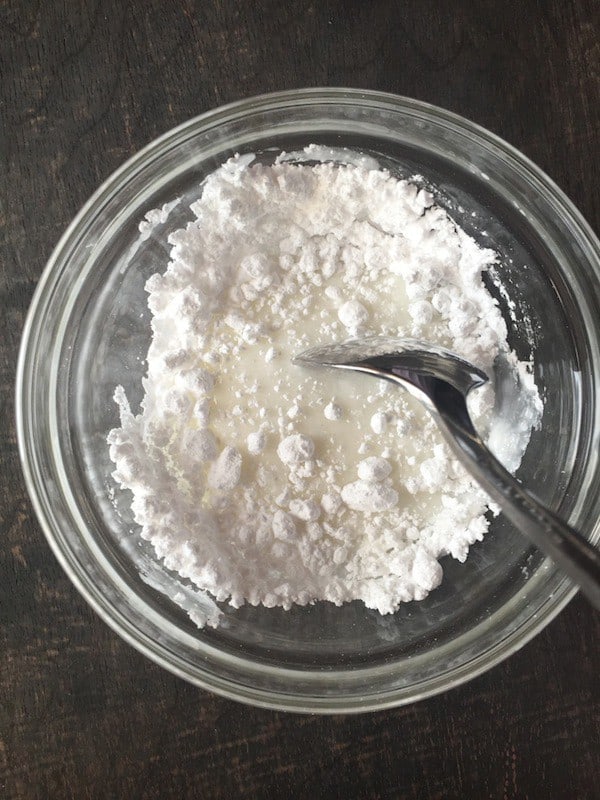 Here's something that I do to keep cream cheese icing smooth. I mix the milk and the vanilla with the powdered sugar before I add them to the cream cheese.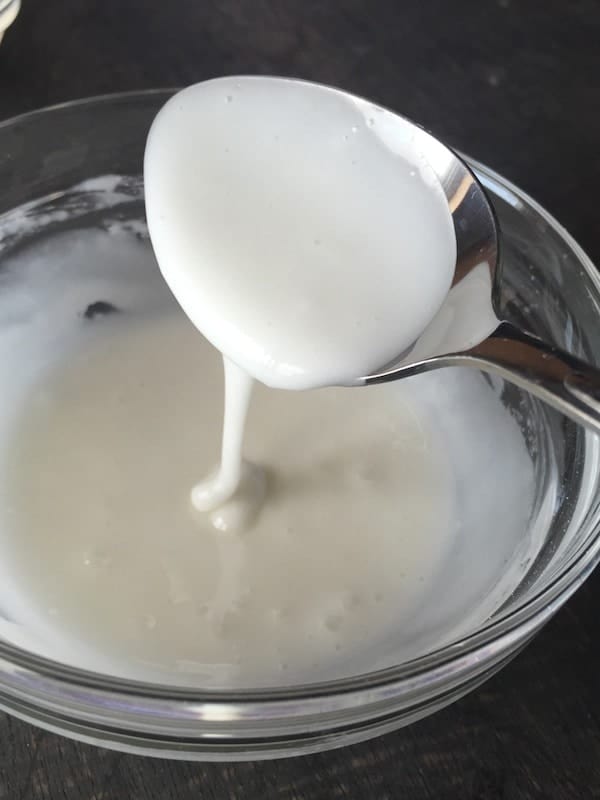 You want the mixture to be smooth. It should be the consistency of Elmer's glue. Is it weird to compare a food to Elmer's glue? Yeah. It is. #sorry.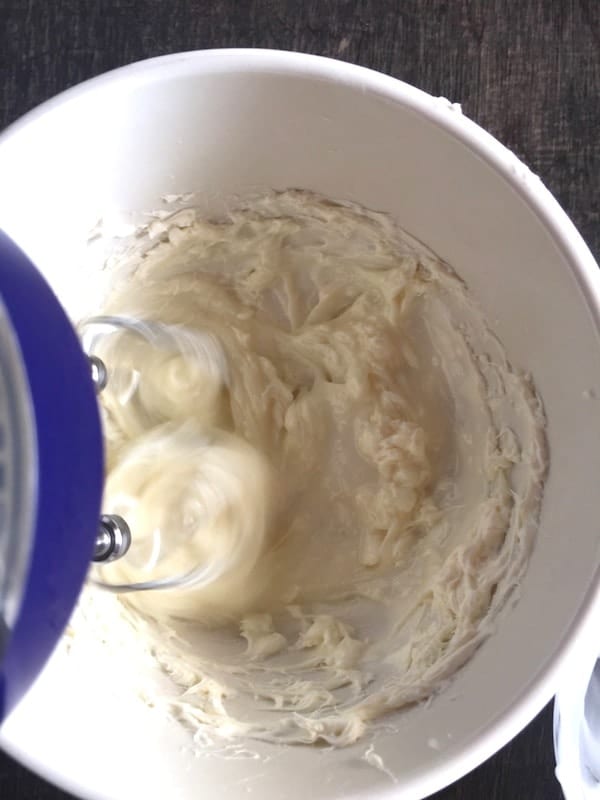 Add the powdered sugar-milk mixture to the cream cheese. Mix until smooth.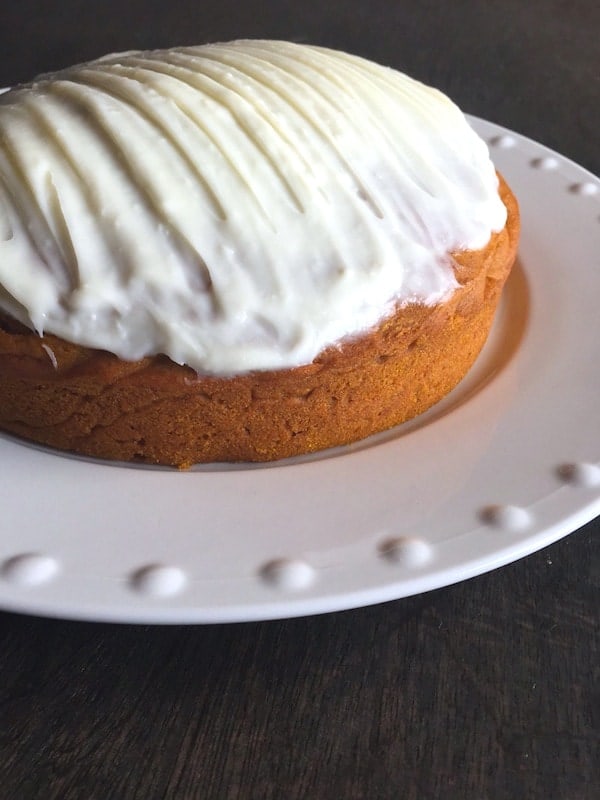 Spread icing over cake. Lick spatula. (That second part is optional.)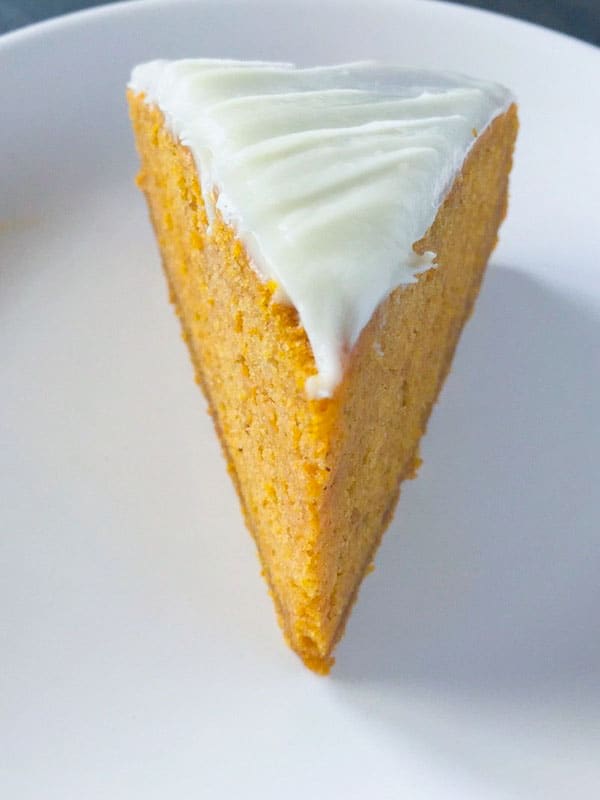 Enjoy. Oh, yes. By the way, I think this cake makes a great dessert but it's also an indulgent breakfast treat. I mean, any time is a good time for some gluten-free pumpkin spice cake, right?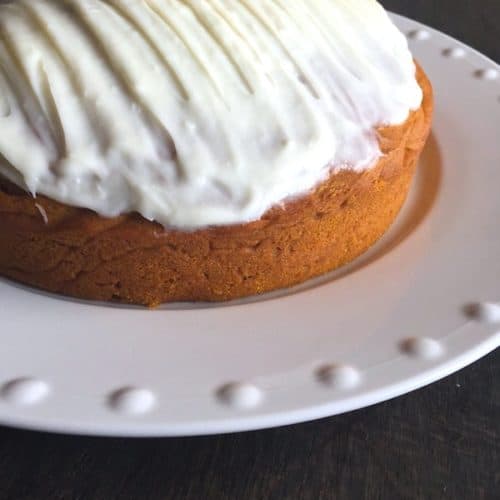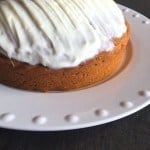 Easy Gluten-Free Pumpkin Spice Cake
Ingredients
For the Gluten-Free Spice Cake
1

(15 ounce) box

Gluten Free yellow cake mix, I used Betty Crocker

1 1/2

teaspoons

pumpkin pie spice

1

(15 ounce) can

pumpkin puree

1/3

cup

canola oil

(2 1/3 ounces; 66 grams)

2

large

eggs

(about 3 1/2 ounces; 100 grams)

1

teaspoon

gluten-free vanilla extract
For the Frosting
3

ounces

cream cheese, regular or dairy-free, softened

1/2

cup

powdered sugar

(2 ounces; 56 grams)

2 to 3

teaspoons

milk

1

teaspoon

vanilla extract
Instructions
Prepare the Cake: Preheat oven to 350 degrees F. Spray a 9-inch* round cake pan with nonstick cooking spray. (If you don't own a 9-inch cake pan, no problem. Use an 8-inch round pan. If your pan is 2-inch deep, you'll be fine. If it's only 1 1/2 inches deep, fill the pan 2/3 full. Use the remaining batter for a cupcake or two.)

Place cake mix in a medium mixing bowl. Add pumpkin pie spice. Whisk to combine. Add the pumpkin, oil, eggs, and vanilla extract. Whisk until smooth. Batter will be very thick. (Feel free to use a handheld mixer.) Spread batter into prepared pan.

Bake until a cake tester inserted into the middle of cake comes out clean, about 40 minutes.

Allow cake to cool in the pan for five minutes and then turn the cake out onto a wire rack to cool completely.

Prepare the Icing: In a medium bowl, whisk cream cheese until smooth. In a small bowl, combine powdered sugar, milk, and vanilla extract. Stir with a spoon until smooth. Add powdered sugar mixture to the cream cheese. Beat until smooth. Spread icing over cooled cake. (If the cake is warm, the icing will melt.)

Store cake covered at room temperature for up to four days. Freeze wrapped cake for up to one month.