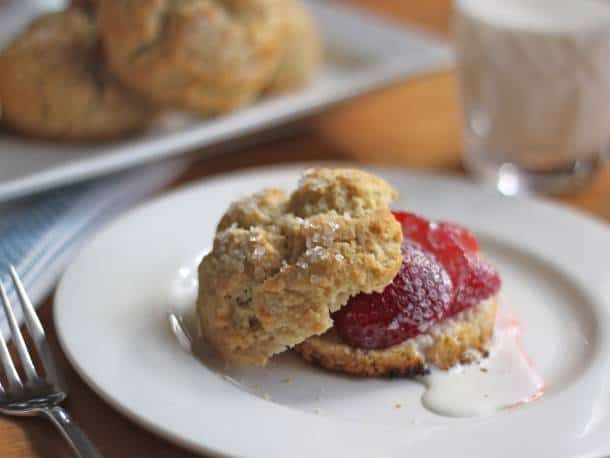 If I close my eyes, I can hear it: the call of summer berries. OK, maybe that's just my stomach talking but nonetheless it's berry season. And you know what that means—it's shortcake season!
Shortcakes are really just sweetened biscuits. A few weeks ago we made cheddar biscuits. The technique for this recipe is the same: cut cold fat into flour, add liquid (in this case heavy cream) and drop the finished dough onto a baking sheet.
Most traditional (read: wheat-filled) shortcakes, use white flour. I wondered how shortcakes made with a blend of whole-grain flours might taste. Would the mild, nutty flavor of the brown rice and sorghum enhance or overpower the delicate berries?
Turns out, the flours nicely enhanced the flavor of the finished shortcake. A few of my tasters thought the whole-grain version contained more vanilla than the shortcakes baked with white rice flour. The recipe didn't contain any vanilla extract! I think the combination of whole-grain flours added a fragrant, earthy tone that they mistook for vanilla. This was a happy surprise.
If you prefer a traditional shortcake, replace the brown rice and sorghum flour with white rice flour. I've made the recipe both ways and love both versions.
Allergen Notes:
Dairy is the only "top eight" allergen this recipe contains. To make the shortcakes dairy-free, replace the butter with a solid dairy-free shortening and the half and half with a dairy-free replacement. Full-fat coconut milk works well. Be sure to whisk the coconut milk into smooth. You want the fat from the top of the can fully incorporated into the milk before you measure.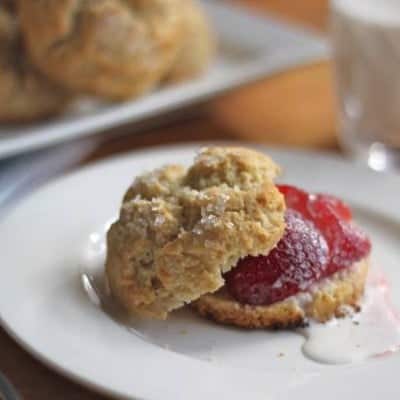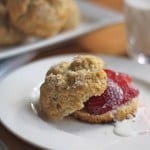 Gluten-Free Shortcakes
Ingredients
1 1/4

cups

sorghum flour

(6 ounces; 170 grams)

1

cup

brown rice flour

(5 ounces; 142 grams)

1

cup

potato starch

(4 ounces; 113 grams)

3/4

cup

tapioca starch

(3 ounces; 85 grams)

6

tablespoons

granulated sugar

(2 2/3 ounces; 73 grams)

2

tablespoons

baking powder

3/4

teaspoon

salt

1/4

teaspoon

xanthan gum

1 1/2

sticks

unsalted butter, cut into small pieces

1 1/2

cups

cold half and half (or 3/4 cup whole milk, 3/4 cup heavy cream)

(12 ounces; 340 grams)

Coarse sugar for sprinkling on top of shortcakes

optional
Easy Strawberry Shortcake
Strawberries

hulled and sliced

Confectioners' sugar

Heavy cream or whipped heavy cream
Instructions
Make the Shortcakes: Adjust oven rack to middle position. Preheat oven to 425 degrees F.

In bowl of food processor, pulse together sorghum flour, brown rice, flour, potato starch, tapioca starch, granulated sugar, baking powder, salt, and xanthan gum. (Don't have a food processor? Use a medium bowl and whisk ingredients together.)

Add butter. Cut butter into dry ingredients by pulsing food processor a few times. Butter pieces should be about the size of a small peas. (If doing this by hand, cut shortening and butter into the dry ingredients with either a pastry cutter or by rubbing the fat into the dry ingredients with your hands.)

Add half and half. Pulse food processor until dough forms. (Stir to combine if doing this by hand.) As soon as dough comes together, stop food processor.

Drop dough, about 1/4 cup each, onto prepared baking sheet. If desired, sprinkle tops of shortcakes with coarse sugar. Bake until shortcakes are golden brown, about 20 minutes.

Remove shortcakes from pan and place on wire rack to cool.

Make Easy Strawberry Shortcake: Toss sliced strawberries with confectioners' sugar. Allow berries to stand for about five minutes. Split shortcake in half. Top shortcake with berries and drizzle with cream or spoon whipped cream on top of berries.