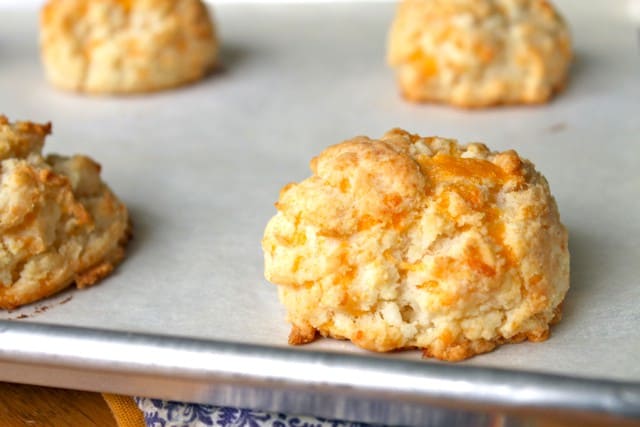 Is it just me or are breadbaskets dangerous? One appears on the table, you chat with friends, and then Poof! it's empty and you aren't so hungry for your meal. This must be especially true for Red Lobster Cheddar Bay Biscuits because over the years, I've gotten a LOT of requests for them.
This recipe, which uses Cheddar, butter, and shortening, tastes just like those famous biscuits. The only thing missing is the gluten! Now if you don't like to use shortening, omit it and use all butter. The biscuits will be extra buttery and tasty!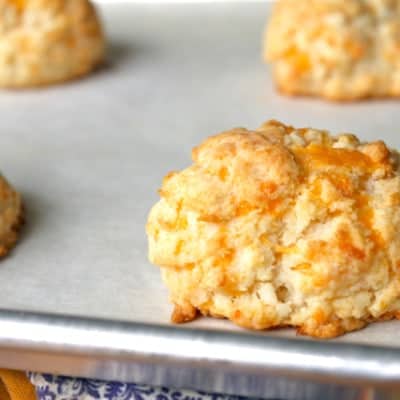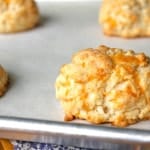 Gluten-Free Red Lobster Cheddar Bay Biscuits
These biscuits are rich. Really rich. Enjoy!
Ingredients
1 1/2

cups

finely ground white rice flour

(6 ounces; 170 grams)

1/2

cup

sweet rice flour

(2 ounces; 56 grams)

1/2

cup

tapioca starch

(2 ounces; 56 grams)

1

tablespoon

baking powder

1

teaspoon

salt

1/4

teaspoon

xanthan gum

6

tablespoons

solid vegetable shortening, cold

(2 1/2 ounces; 70 grams)

1/2

stick

butter, cold

(4 tablespoons; 2 ounces; 56 grams)

3/4

cup

milk

(6 ounces; 170 grams)

1

cup

grated Cheddar cheese

(4 ounces; 113 grams)
Instructions
Preheat oven to 400°F. Line baking sheet with parchment paper and set aside.

In bowl of food processor, pulse together white rice flour, sweet rice flour, tapioca starch, baking powder, salt, and xanthan gum. (Don't have a food processor? Use a medium bowl and whisk ingredients together.) Add shortening and butter.

Cut shortening and butter into dry ingredients by pulsing food processor a few times. Shortening and butter pieces should be about the size of a small peas. (If doing this by hand, cut shortening and butter into the dry ingredients with either a pastry cutter or by rubbing the fats in with your hands.)

Add milk and cheese and pulse until dough forms. (Stir to combine if doing this by hand.) As soon as dough comes together, stop the food processor.

Drop dough, about 1/4 cup each, onto prepared baking sheet. Bake for 18-20 minutes or until golden brown.