Soft Gluten-Free Dinner Rolls are easy to make! The rolls bake up soft and tender. Perfect recipe for a first-time bread baker.
Gluten-Free Soft Dinner Rolls: The Ingredients
Gluten-Free Flour
When I sat down to create this recipe, I asked myself, "What would this recipe look like if it were easy?" The answer: I'd use a flour blend.
If you've been with me for a while, you know this is a somewhat new development. But over the last year or so, I've started using commercial gluten-free flour blends. My (current) favorite is Bob's Red Mill 1:1 Gluten-Free Baking Flour.
I don't use it because they're a sponsor. (They aren't!) I use the blend for two reasons: 1. It works well. 2. It's easy to find. While there are many gluten-free flour blends on the market today, none enjoy the reach that Bob's has. I want you to be able to make these rolls without having to run all over trying to find the flour. If your local store doesn't carry it, you can order the flour online.
If you'd prefer to mix your own flour, replace the flour with a mix of brown rice flour or millet and tapioca starch. The exact flour replacement is included in the recipe.

Since all commercial flour blends vary, I can't say if this recipe works with a different blend. If you use one, let us know how it goes.
The Egg
I'm still working on an egg-free, gluten-free bread recipe but, I have to say, I'm not there yet. This recipe requires one egg. Without the egg, the rolls turn out dense and heavy.
The Dairy
Whole milk and melted butter make these rolls flavorful and rich. But you don't need to use them. You can replace the milk with a dairy-free milk or simply use water. As for the melted butter, use an equal amount of vegetable oil.

Rolls made without dairy tend not to brown as well as those made with dairy. They also seem to stale a little bit faster without the fat from the whole milk and butter. To prevent the gluten-free/dairy-free rolls from staling quickly, freeze the leftovers. (see directions below on how to best freeze gluten-free buns.)
The Xanthan Gum
Although the flour blend contains xanthan gum, for these rolls a little more is needed for the best texture. Without the additional xanthan gum, the dough is too soft to allow the yeast to rise and you wind up with gummy, dense rolls.
How to Make Gluten-Free Soft Dinner Rolls: Step by Step
Dissolve the Yeast. Start these rolls by dissolving instant yeast, also called Rapid Rise or Quick Yeast, in a small amount of warm water. This allows the yeast to get started. (By the way, there's no need to add sugar to the yeast-water mixture.)
Mix the Dough. After the yeast has dissolved, add the remaining ingredients and mix until a very thick dough forms. You want to use the paddle attachment on your stand mixer for this step. Like my gluten-free sandwich dough and hot cross buns, this dough doesn't form a dough ball. It's thicker than the sandwich bread dough but it's not a dough you can turn onto the counter to knead
Shape. There are two ways to shape this dough. The first is the easiest: use a muffin scoop. The scoop makes quick work of shaping the rolls

and

it ensures that they're all the same size. This means you won't end up with large underbaked rolls and small overbaked ones.





If you don't have a muffin scoop, spoon the dough, about 1/3 cup, and drop it onto a parchment lined pan. The finished rolls won't be a round as those made with a muffin scoop but they'll bake and taste the same.

Smooth. After shaping the rolls, dip your fingers into some cool water and smooth the top of the rolls. If the dough begins to stick to your fingers, dip them in water again. Not only does this make the rolls look pretty, it also keeps any thin strands of dough from burning

.

Rise. Cover the pan of gluten-free rolls with a piece of greased plastic wrap. Place the pan in a warm place and allow the rolls to rise. In the middle of the winter, I like to preheat my oven to 150 degrees while I mix the dough. Then I turn off the oven. <–this step is key! I place the pan in the warm oven to rise for an hour or so.



In the summer, or in warm climates, leaving the pan on the counter to rise works just fine.

Preheat the Oven. When the rolls have almost doubled in size, preheat the oven. If you wait until the rolls have doubled in size to preheat the oven, they can over-rise. Why is this bad? Doesn't more rise=higher rolls? I wish! When gluten-free yeast dough rises too much, it can collapse when baked.



Look for the rolls to get puffy and soft. This usually takes about an hour, although it varies depending on your yeast and the temperature of the room. When you see that they've risen, go ahead and preheat the oven.

Bake. It might feel like these rolls take forEVER to brown. That's normal. You want to bake them until they turn a nice golden brown all over. This takes about 25 minutes. If they're still pale when you check them, leave them in the oven. They aren't done yet!
Cool (and enjoy). Remove the rolls from the oven and…don't eat them right away. I know. I know. This can be hard because warm bread is the best. But it's *warm* bread that's great, not hot bread. The starches need time to set up. If you eat a gluten-free roll right out of the oven, it will taste gummy and, to be honest, kind of gross. Wait about 15 minutes before enjoying.
FAQs: Gluten-Free Soft Dinner Rolls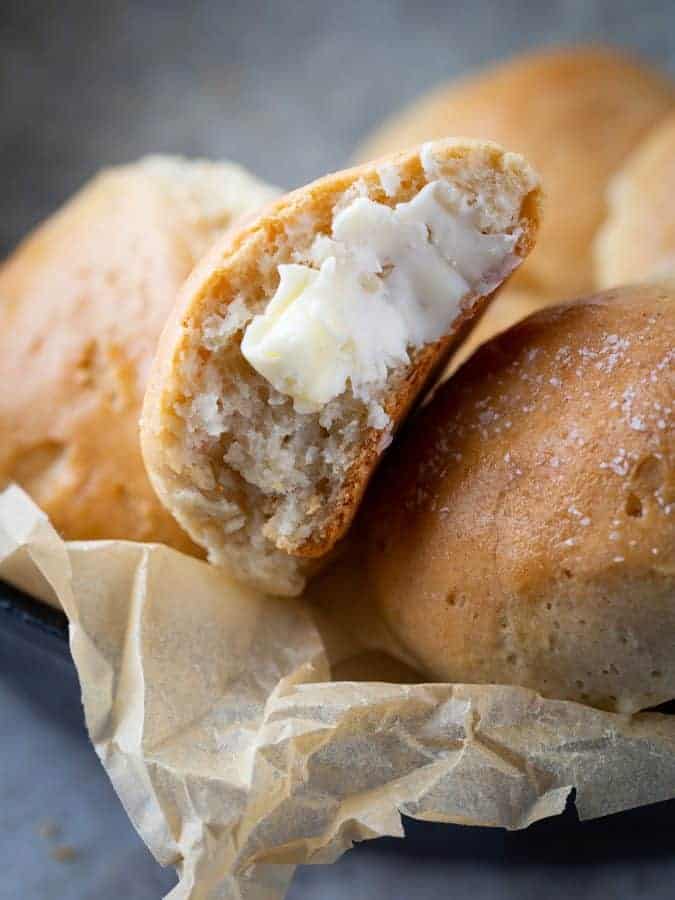 What's the best way to store gluten-free rolls?
It's best to enjoy these rolls the day you bake them. Like most gluten-free baked goods, these dry out on the counter. If you have any rolls left over, wrap them well. The next day, warm them slightly in a toaster oven or low oven.
How do I freeze gluten-free rolls?
Yes! After baking, allow the rolls to cool completely. Once cool, place in a freezer bag. Freeze up to two months. Thaw the rolls on the counter. Warm in a low (200 degree) oven before serving.
Do I have to brush them with butter after baking?
Nope! The added butter adds a nice flavor to the rolls and keeps them soft but it's an optional step.
How do I know if my yeast is fresh?
The best way to check for freshness is to check the date on the package. If you're worried about your yeast, add 1 teaspoon of sugar to the warm water before adding the yeast. After stirring in the yeast, allow it to stand for 10 minutes. It should get foamy. If it doesn't don't use the yeast.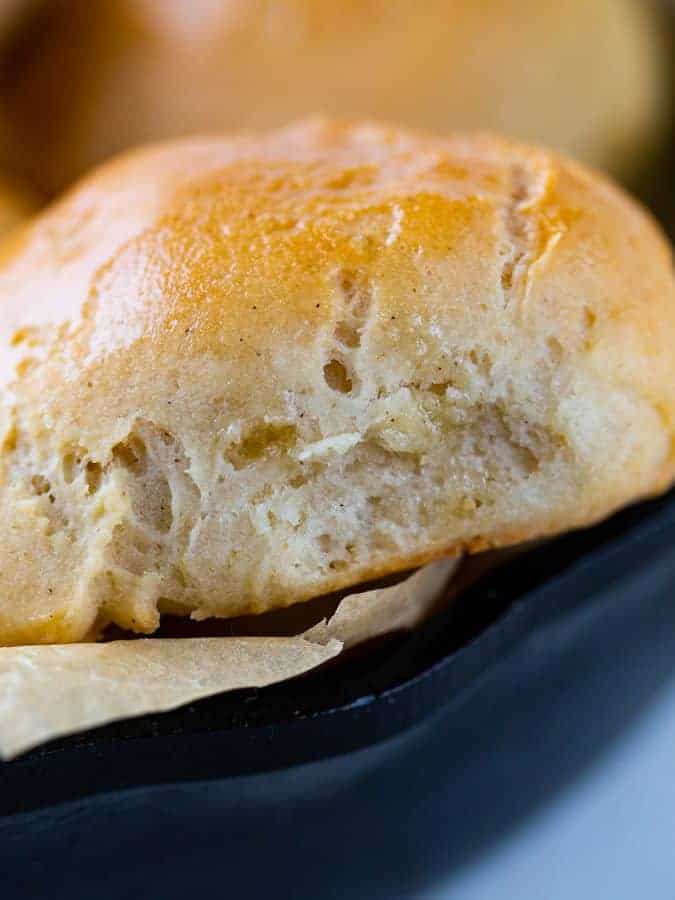 I don't have a stand mixer. Can I make this recipe?
Yes. The dough is thick but can be made with a high powered hand mixer or mixed by hand with a wooden spoon.
Do I need to add the xanthan gum?
Yes. Even though the flour blend contains xanthan gum, the rolls benefit from the additional teaspoon. Without it, they don't rise as well.
Three Gluten-Free Bread Recipes to Try
Shop the Recipe
The following are Amazon affiliate links. If you use them to shop, GlutenFreeBaking.com earns a commission on the sale.
Ingredients
Bob's Red Mill 1:1 Gluten-Free Baking Flour
Tools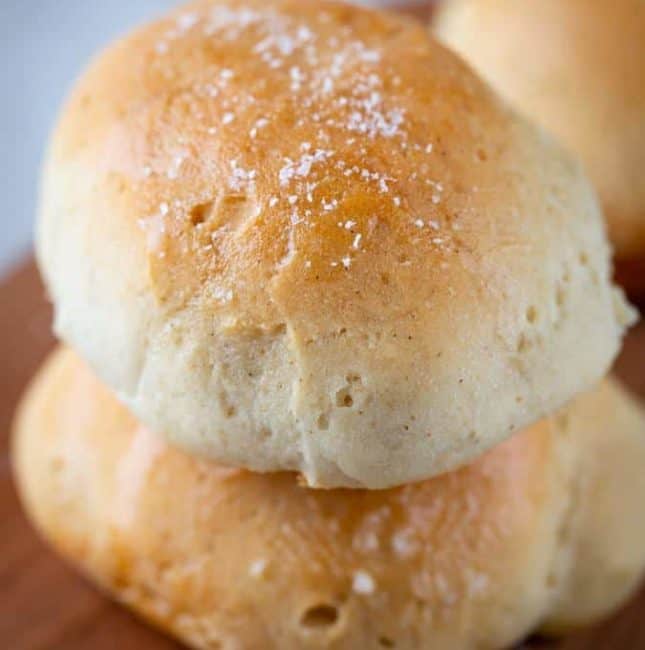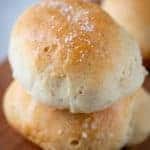 Gluten-Free Soft Dinner Rolls
Gluten-Free Soft Dinner Roll Recipe. Easy to Make. Dairy-Free Option included.
Total Time
1
hour
35
minutes
Ingredients
1/4

cup

warm water, about 110 degrees F.

1

packet

instant dry yeast

2 3/4

cups

Bob's Red Mill 1:1 Gluten-Free Baking Flour

(see note for flour replacement)

2

tablespoons

granulated sugar

1

teaspoon

xanthan gum

1

teaspoon

salt

1

cup

warm whole milk, about 110 degrees F.

(see note for dairy-free)

1

large

egg

2

tablespoons

melted butter

(see note for dairy-free)
For Finishing
2

tablespoons

melted butter

Kosher salt
Instructions
Combine water and yeast in the bowl of stand mixer. Stir to combine. Allow to stand for five minutes.

While the yeast dissolves, combine the gluten-free flour, granulated sugar, xanthan gum, and salt in a small bowl. Whisk.

Add the flour mixture to the yeast mixture. Add the milk, egg, and melted butter. Mix on medium speed until smooth, about three minutes. The dough will be very thick.

Scoop dough, about 1/3 cup each, onto a parchment lined baking sheet. Smooth the top of each roll with your fingers. Dip your fingers in cool water before smoothing. Cover pan with greased plastic wrap. Allow rolls to rise until double in size.

When rolls have almost doubled in size, preheat oven to 350 degrees F. Remove plastic wrap from pan. Bake rolls until golden brown, about 20 minutes.

Remove pan from oven. Brush rolls with melted butter and sprinkle with Kosher salt, if desired. (see note) Allow rolls to cool for about 15 minutes before serving.

Rolls are best enjoyed the day they are made. Store leftover rolls wrapped on the counter or place cooled rolls in a freezer bag and freeze for up to two months. Thaw rolls at room temperature overnight.
Recipe Notes
Gluten-Free Flour Variation
Flour may be replaced with 2 cups brown rice flour or millet flour, 3/4 cup tapioca starch, and 1 teaspoon xanthan gum. (If using this blend, the recipe will include a total of 2 teaspoons xanthan gum.)
Dairy-Free Variation
Replace the milk with an equal amount of dairy-free milk.
Replace the butter in the dough with an equal amount of canola oil.
Brush the baked rolls with olive oil. (Optional)
Brushing with Butter
Lightly brushing the baked rolls with butter keeps them soft and adds a nice buttery flavor.
If you want to finish the rolls with butter, melt about 2 tablespoons of butter. As soon as you remove the baked rolls from the oven, brush each roll generously with melted butter. Sprinkle with kosher salt, if desired.