Easy gluten-free spice cake. Moist and tender. Perfect finished with cream cheese frosting.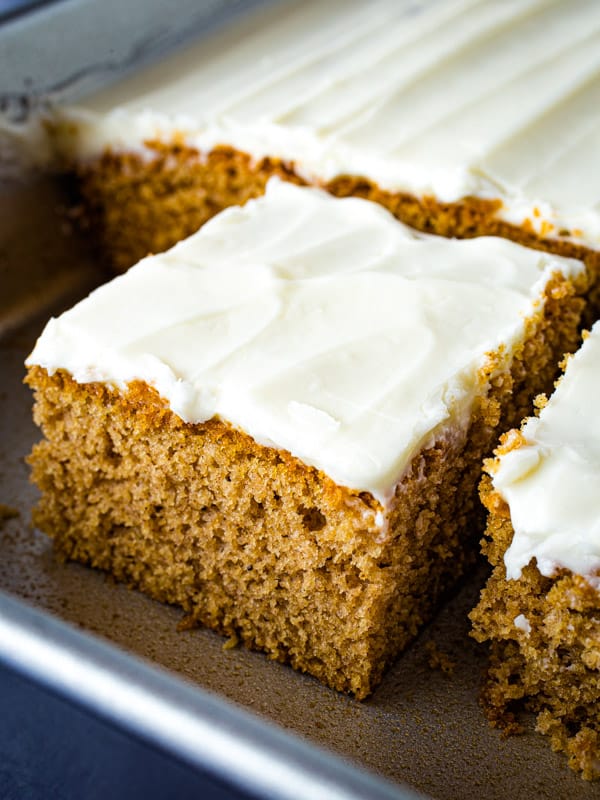 This Gluten-Free Spice Cake is
a one-bowl recipe
easy-to-make
tender-and-moist (not heavy or gummy)
great with frosting; great without
made in a sheet pan (Layers and cupcakes are options too!)
Gluten-Free Spice Cake Ingredients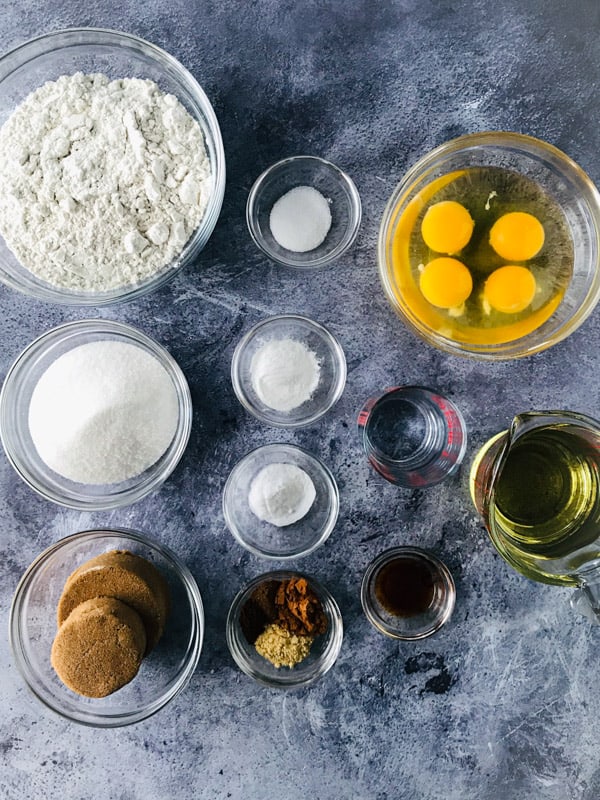 Here's the thing: the ingredient list for gluten-free spice cake looks long. Why? The spices. But if you take a second to read the other ingredients, you'll see that they aren't anything too fancy.
Gluten-Free Flour: This recipe was tested with Bob's Red Mill 1:1 Gluten-Free Baking Flour. It makes for a nice moist and dense spice cake. If you use a different flour, use one that includes xanthan or guar gum. Without those ingredients, the cake comes out too dense and won't rise.
Brown and Granulated Sugar. Brown sugar adds a nice molasses flavor and helps to keep the cake moist. But too much of it proved too much of a good thing. It made the cake a bit too moist. To solve this, I swapped out half the brown sugar for half granulated sugar. It gave me a cake with a moist, delicate crumb and just the right level of sweetness. (I haven't tested this recipe with sugar-replacements.)
Baking Powder and Baking Soda: A combination of baking powder and baking soda helps the cake rise. And the baking soda enhances the flavor and browning.
Salt. Enhances the flavor and controls the sweetness.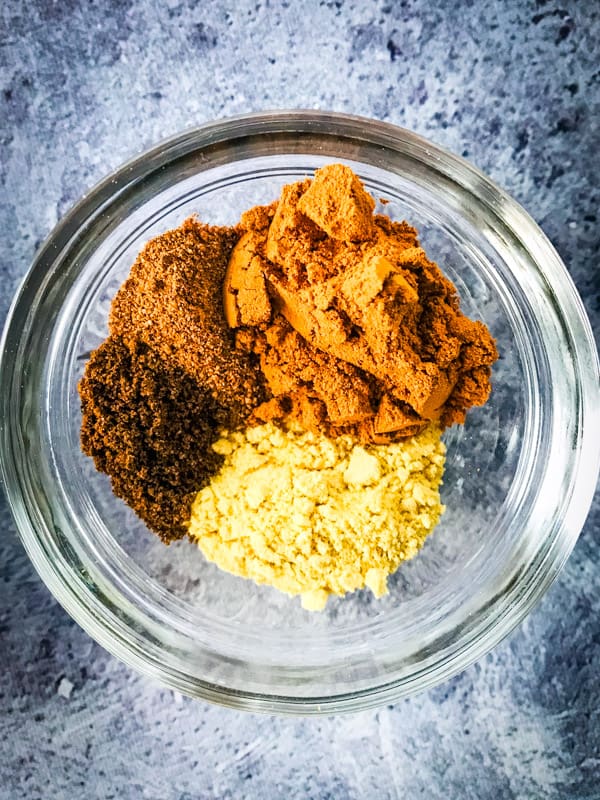 Spices. Here's where the magic is at! Ground cinnamon, ginger, and nutmeg give the spice cake it's spicy flavor. You can replace the individual spices with a spice blend, like pumpkin spice, but the flavor will be a little different.
Vanilla Extract. There's only a teaspoon of vanilla extract in this cake and you can't really taste it. So why use it? The vanilla extract enhances the spices and, frankly, just makes the cake taste good.
Eggs. Helps the cake to rise and gives it structure and a delicate texture. (I haven't tested this cake with a flax egg but several of my testers did with excellent results.)
Oil: Makes for a moist, light cake.
Water. Smooths out the batter.
How to Make Gluten-Free Spice Cake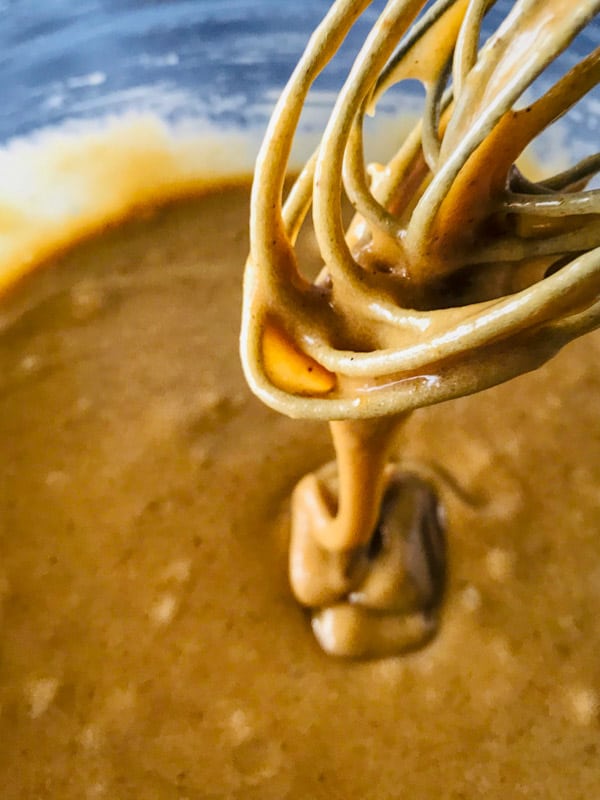 This is a one-bowl gluten-free cake. You don't even need to use an electric mixer to make the batter. (But if you want to use on, go ahead!)
Preheat the oven. Baking a cake in a hot oven ensures it rises to its full potential.
Whisk together the dry ingredients. Take care to break up the brown sugar so there are no little lumps of it.
Add the eggs, oil, and water. Whisk until a batter forms. Switch to a rubber spatula to ensure there's no dry gluten-free flour hanging out in the bottom of the pan.
Spread batter into prepared pan. I like to make spice cake in a 9×13-inch pan. Instructions are included below for two rounds and cupcakes.
Bake. As always, it's best to use visual cues to tell when this cake is done. Look for it to be set in the center. A 9×13 inch cake takes about 40 minutes to bake. (Bonus: the house smells amazing while the cake bakes.)
Make Frosting. While the cake bake, make the frosting. Cream cheese is the classic frosting for spice cake but use any frosting you love.(Or skip this step if you don't want frosting.)
Cool the cake. Unlike most cakes, this one cools right in the pan. It takes about an hour or so to cool.
Frost. Once the cake is cool, frost it. (To make sure it's cool, put your hand on the bottom of the pan, right in the center. It should not feel warm. If it's still warm, the frosting will melt into a mess.)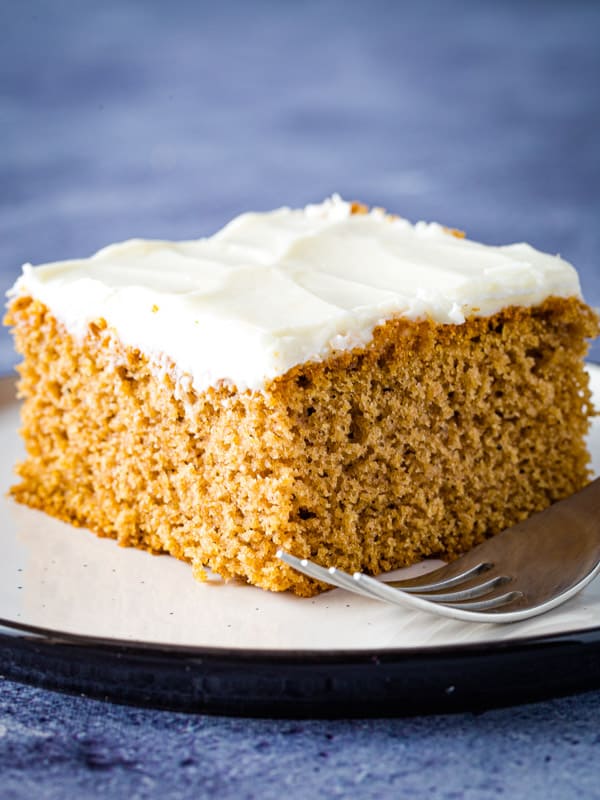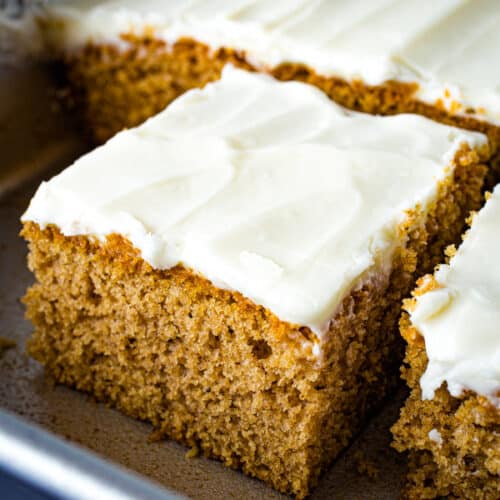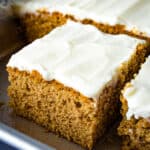 Gluten-Free Spice Cake
Easy and moist gluten-free spice cake.
Ingredients
2

cups

Bob's Red Mill 1:1 Gluten-Free Baking Flour

(10 ounces; 285 grams)

3/4

cup

packed dark brown sugar

(5 1/2 ounces; 158 grams)

3/4

cup

granulated sugar

(5 1/2 ounces; 158 grams)

1 1/2

teaspoons

baking powder

1

teaspoon

baking soda

1

teaspoon

salt

1 1/2

teaspoons

ground cinnamon

1

teaspoon

ground ginger

1/2

teaspoon

ground nutmeg

1/4

teaspoon

ground cloves

3/4

cup

canola or other vegetable oil

(5 1/4 ounces; 148 grams)

4

large

eggs

(out of shell, about 8 ounces; 226 grams)

1/3

cup

water

(2 2/3 ounces; 75 grams)

1

teaspoon

vanilla extract
Cream Cheese Frosting
4

ounces

cream cheese, softened

(4 ounces; 113 grams)

2

tablespoons

butter, softened

(2 ounces; 56 grams)

1

teaspoons

vanilla extract

2

cups

powdered sugar, sifted

(8 ounces; 226 grams)
Instructions
Heat the oven and prepare the pan. Preheat oven to 350° Grease a 9x13-inch pan with nonstick cooking spray and set aside.

Make the batter. Whisk together the flour, sugars, baking powder, baking soda, salt, cinnamon, ginger, nutmeg, and clove. Add the oil, eggs, water, and vanilla extract. Whisk until smooth.

Divide the batter evenly between the two prepared pans.

Bake until set. Bake until golden brown. A toothpick inserted into the center of the cake should come out clean, about 40 minutes.

Cool and frost. Allow cake to cool in the pan. When cool, frost with Cream Cheese Frosting.

Combine cream cheese, butter and vanilla extract in a large bowl. Cream until light and smooth. Add powdered sugar. Mix until smooth. Spread on cooled cake.
Recipe Notes
Other Pan Sizes
Round Layer Cake: Use two greased 8-inch round cake pans. Bake until a cake tester inserted into the center of the cake comes out clean, about 30 minutes. Double cream cheese frosting recipe when making a round layer cake.
Cupcakes: This makes about 24 standard cupcakes. Line cupcake pans with paper liners. Fill cupcake liners about 2/3 full.  Bake until a cake tester inserted into the center of the cupcakes comes out clea, about 20 minutes.