Gluten-Free spice cupcakes are filled with flavor thanks to the abundance of spices and the cream cheese frosting.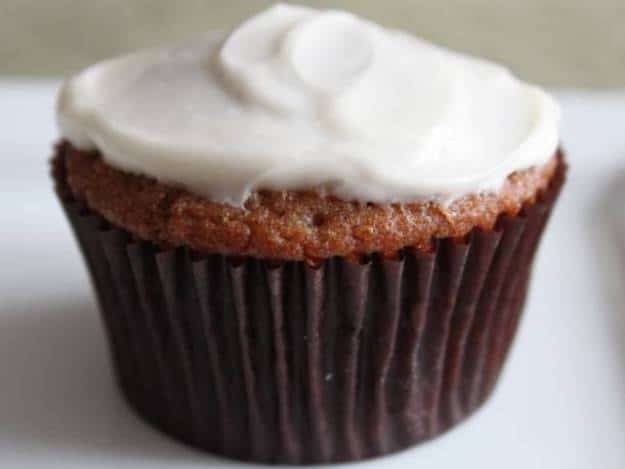 It's clear by now that cupcakes are here to stay—and I, for one, couldn't be happier. Not only are easy to eat (and cute), they're great for gluten-free bakers–especially if you live alone or in a small household. Cupcakes are easy to freeze. You can make a batch, eat a few, and then freeze the rest. Then when the cake-mood strikes (or you get invited to a birthday party), you can reach for an emergency cupcake in the freezer.
Even after the pumpkin breads of the fall and gingerbread of the holiday season, I still crave a spicy cake. And this one does not disappoint. As written, this recipe makes a tender spice cake with a slight buttermilk tang.
You might notice that the ingredient list is long. I tried whittling the recipe down. When I did, the cake suffered. Measuring the ingredients is the most labor-intensive part of making the cake. After the ingredients are measured, you just stir everything together and bake. Once baked, allow the cupcakes to cool before icing. I like cream cheese icing on these cupcakes. To freeze, just pop them into a freezer-safe plastic container.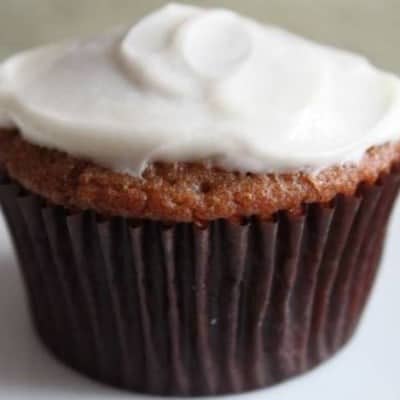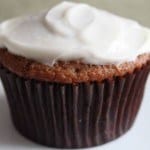 Gluten-Free Spice Cupcakes
Ingredients
3/4

cup

brown rice flour

(3 3/4 ounces; 106 grams)

3/4

cup

finely ground white rice flour

(3 ounces; 85 grams)

1/2

cup

dark brown sugar, packed

(3 3/4 ounces; 106 grams)

1/2

cup

granulated sugar

(3 1/2 ounces; 100 grams)

1/2

cup

cornstarch

(2 ounces; 56 grams)

1/4

cup

tapioca starch

(1 ounce; 28 gram)

2 1/2

teaspoons

ground cinnamon

2

teaspoons

baking soda

1

teaspoon

ground ginger

1/2

teaspoon

ground nutmeg

1/2

teaspoon

xanthan gum

1/2

teaspoon

salt

1/4

teaspoon

ground cloves

1 1/2

cups

buttermilk

(10 ounces; 283 grams)

1/2

cup

vegetable oil

(3 1/2 ounces; 100 grams)

2

large

eggs

(about 3 1/2 ounces; 100 grams, out of shell)
For the Cream Cheese Frosting
4

ounces

cream cheese

softened

2

tablespoons

butter, softened

(1 ounce; 28 grams)

2

cups

powdered sugar, sifted

(8 ounces; 226 grams)

1 1/2

tablespoons

milk

(3/4 ounce; 22 grams)

1

teaspoon

vanilla extract
Instructions
Make the Cupcakes: Adjust oven rack to middle position and preheat oven to 350°F. Line 20 muffin cavities with paper liners or grease with gluten-free non-stick cooking spray.

In a small bowl, whisk together brown rice flour, white rice flour, brown sugar, granulated sugar, cornstarch, tapioca starch, cinnamon, baking soda, ginger, nutmeg, xanthan gum, and salt.

In a large bowl, combine buttermilk, vegetable oil, and eggs. Whisk until thoroughly combined. Add dry ingredients. Whisk, using an electric mixer or handheld whisk, until a smooth batter forms, about two minutes.

Fill muffin cups 2/3 full with batter. Bake cupcakes until a cake tester inserted into the center comes out clean, about 20 minutes.

Remove cupcakes from pan. Place on wire rack to cool. While cupcakes are cooling, prepare icing.

Make the Frosting: In a bowl, combine cream cheese and butter. Cream until smooth. Add confectioners' sugar, milk and vanilla. Cream until smooth. Icing should be spreadable. If needed, add an additional 1/2 tablespoon milk. Spread icing on cooled cupcakes. Cupcakes can be stored for up to three days at room temperature or frozen for one month.