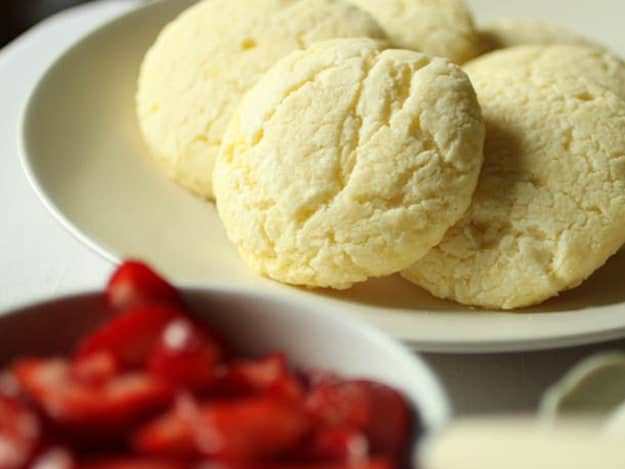 Gluten-Free Strawberry Shortcake OR Where the Heck Did I Put That Recipe??
As always, there were too many hard-boiled eggs in my refrigerator after Easter. Unlike prior years, however, I knew what I wanted to do with them: I wanted to try a cookie recipe that used hard-boiled egg yolks, a technique I had once seen in a recipe. The recipe was in…wait. Where was that recipe?
I couldn't find the cookie recipe anywhere. But during my search, I managed to find another recipe that called for hard-boiled yolks: James Beard's strawberry shortcake.
With the exception of the hard-boiled eggs, the ingredients were fairly standard for shortcake (flour, butter, lots of baking powder), but the method intrigued me. It called for chilling the dough for an hour before baking—usually I whip it all together and pop it immediately into a hot oven.
The dough came together easily. In place of the flour Beard calls for, I used white rice flour and potato starch, cut the butter into the flour, and added the egg yolks and cream, as directed. Other than some small pieces of cooked yolk that speckled the dough, there wasn't a big difference between this dough and others I've made for shortcakes. So far, so good.
The shortcakes baked up light, tender, and rich (thanks to the generous amount of cream). The only problem? Those specks of yolk. Since I stirred the yolk into the batter along with the heavy cream, it didn't really incorporate evenly into the dough.
I doubted the shortcakes were supposed to be dotted with yolk the way chocolate chip cookies are dotted with chocolate chips, so I set out to fix the problem. For the next batch, I added the egg yolks earlier, working them when the butter was almost fully cut into the flour. Once the butter and yolk were incorporated, I added the heavy cream. This time, no more bits of egg yolk dotted the batter.
Once again, the biscuits baked up light, tender, and rich. But this batch was wonderfully sturdy, able to maintain its texture after being split and topped with macerated strawberries. These shortcakes, in fact, are so tasty that I ate some with no topping at all. Oh, and that cookie recipe? I finally found it. With both those recipes in-hand and strawberry season coming into full swing, I have a feeling my refrigerator will once again be filled with a whole lot of hard-boiled eggs.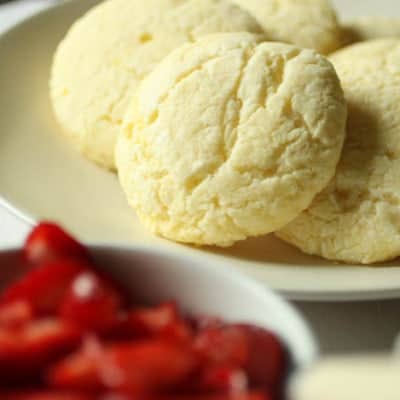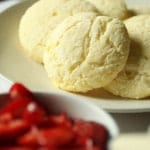 Gluten-Free Shortcakes
Ingredients
For the Shortcakes
2

large

hard-boiled eggs

1 1/3

cups

white rice flour, plus more for dusting

(5 1/3 ounces; 152 grams)

2/3

cup

potato starch

(2 2/3 ounces; 66 grams)

1/4

cup plus 1 tablespoon

granulated sugar

(2 1/4 ounces; 65 grams)

1

tablespoon

baking powder

1/2

teaspoon

xanthan gum

6

tablespoons

unsalted butter, cut into 12 pieces

(3 ounces; 85 grams)

1

tablespoon

butter, melted

3/4

cup

cold heavy cream or half-and-half

(6 ounces; 170 grams)
For the Topping
1

quart

strawberries, hulled and sliced

1/4

cup plus 1 tablespoon

granulated sugar

(2 1/4 ounces; 65 grams)

2

teaspoons

vanilla extract

1

cup

cold heavy cream

(8 ounces; 226 grams)
Instructions
For the Shortcakes: Remove the yolks from the hard boiled eggs. Press the yolks through a sieve or chop very finely. Whisk together white rice flour, potato starch, 1/4 cup of the sugar, baking powder, and xanthan gum in a large bowl. Add cubed butter and, using either your hands or a pastry cutter, cut into flour mixture until pea-sized pieces form. Add egg yolks and continue cutting until flour mixture resembles coarse crumbs. Stir in heavy cream with a wooden spoon until incorporated. Let dough stand for 5 minutes.

Generously dust work surface with white rice flour. Turn dough onto work surface and dust with more white rice flour. Gently knead the dough a few times, then pat into a large rectangle, about 1 inch thick. Using a 2-inch round cutter, cut out four dough rounds. Gather up dough scraps, pat into a 1-inch-thick rectangle, and cut out 4 more dough rounds; discard remaining dough scraps. Place dough rounds on a parchment-lined baking sheet and brush the tops with remaining 1 tablespoon melted butter. Sprinkle remaining 1 tablespoon granulated sugar on top. Cover with plastic wrap and refrigerate for 1 hour.

For the Topping: Stir together strawberries, 1/4 cup granulated sugar, and 1 teaspoon vanilla extract. Using the back of a fork, gently mash a few of the sliced strawberries. Allow strawberries to stand for 1 hour.

In medium bowl, whip heavy cream until soft peaks form. Add remaining 1 tablespoon granulated sugar and 1 teaspoon vanilla extract, and beat until stiff peaks form.

Adjust oven rack to center position and preheat oven to 350°F. Remove plastic wrap from baking sheet and bake shortcakes until edges just turn golden brown, about 12 minutes. Let shortcakes cool on baking sheet for five minutes, then transfer to a wire rack. Serve shortcakes warm or at room temperature, topping with macerated strawberries and whipped cream.