This gluten-free sweet potato pie recipe is made with brown sugar, butter, half-and-half, spices, and a generous helping of love.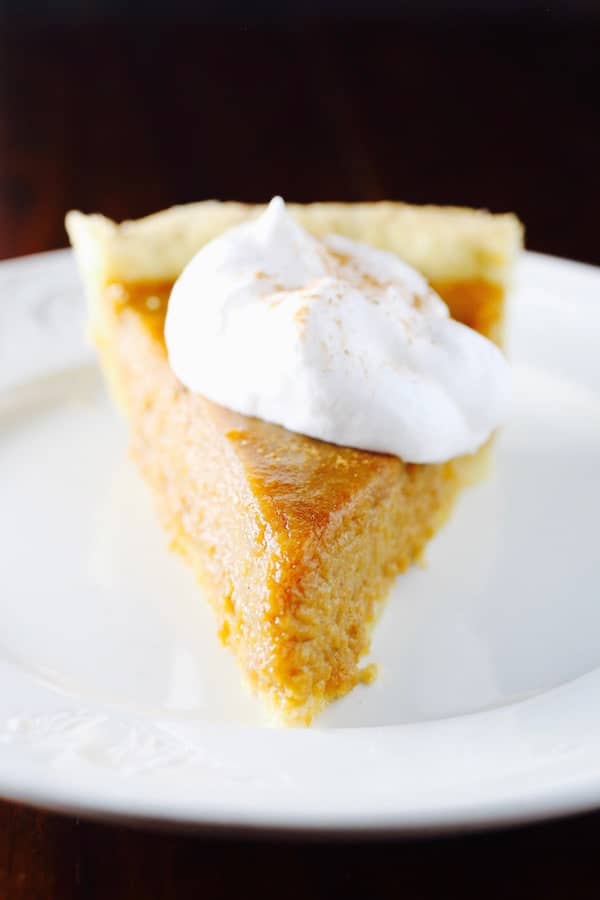 Remember last year when James Wright sang, literally sang, the praises of Patti LaBelle's sweet potato pie? Within days of the YouTube video becoming a viral hit, Wal-Mart sold out of the pie and Mr. Wright ended up sharing Thanksgiving with LaBelle herself.
This year, sweet potato pie seems to be everywhere. Over the last few weeks, I've seen it on the shelves of all my local grocery stores. This is notable because I live in upstate New York and, until recently, I've never seen this pie for sale at so many places.
Sadly, none of these pies are gluten-free. But I didn't want to miss out on the craze. And I bet neither do you!
Gluten-Free Sweet Potato Pie: The Sweet Potatoes
There's a lot of confusion about sweet potatoes. They're often labeled as yams. This is incorrect. Yams are grown in Africa and Asia and a large, starchy root vegetable. It's rare to see a true yam for sale in the United States.
What we call "yams"–those medium-size potatoes with the copper-colored skin and bright orange flesh– are actually sweet potatoes.
When buying sweet potatoes for this pie, don't get fancy on me. At "gourmet" grocery stores (I'm looking at you, Whole Foods), you can often find a wide variety of heirloom sweet potatoes. In fact, I just bought Japanese sweet potatoes the other day. They tasted like roasted chestnuts!
As tasty as those organic, heirloom varieties are, you don't want them for this recipe. Traditional American sweet potatoes roast up dense and moist, making them perfect for pie filling. Other varieties can be too dry to make a creamy pie filling.
Gluten-Free Sweet Potato Pie: Roasting the Sweet Potatoes
To bring out a sweet, caramel-like flavor, roast your sweet potatoes. To do this, place an empty sheet pan on the bottom rack of your oven. (You can also line the bottom rack with foil.) Then place the sweet potatoes directly onto the top rack. The pan on the bottom will catch drips as the sweet potatoes cook.
They take about an hour to roast in a 350 degree F oven. If your sweet potatoes are especially large, pierce them a few times with a knife before roasting. Roast the sweet potatoes until tender. To test for doneness, slide a knife into the center of the potato. It should glide in easily.
Gluten-Free Sweet Potato Pie: Mixing the Filling
I don't know about you, but I don't want my sweet potato pie to taste like pumpkin pie. This can be tough because the ingredients for the two pies are very similar. (And they both bake up orange. So they even look similar!)
To do this, I don't use the same spices found in pumpkin pie. In this recipe, you'll only find ground cinnamon and nutmeg. These two spices don't overpower the sweet potatoes. This is key. I want the flavor of the sweet potatoes to shine because I love me some sweet potatoes.
In addition to not loading up the pie with spices, I also don't puree the filling. I prefer my sweet potato pie to have a little body. After I roast the sweet potatoes and allow them to cool, I peel them. The skins skip off easily. You can just pull them off with your fingers or, carefully, use a knife to ease the skin off the roasted potatoes.
Then I flop the roasted potatoes into a bowl and mash them with a fork. This only takes a minute or so. If you prefer a really smooth pie filling, you can puree the potatoes in a food processor or high-powered blender.
After that, the filling comes together easily. Throw the rest of the ingredients into the bowl. Stir and you're done.
Gluten-Free Sweet Potato Pie: Baking and Cooling
Pour the filling into a 9-inch gluten-free pie crust. You can make the crust from scratch, use a gluten-free pie crust mix,affiliate link or even pick up a premade crust. (Whole Foods tends to have them in the freezer section.)
Bake the pie for an hour or so. As with any custard-style pie, it can be tough to know then the pie is done. My advice: wiggle it. Just a little bit. (If you get this song reference, you get 10 points.) The filling should move as one. If it looks thin and moves like water, it's not done yet.
Allow the pie to cool on a cooling rack for about an hour or so before serving.
I like this pie with a generous dollop of whipped cream or whipped coconut cream. (Learn how to make whipped coconut cream, here.)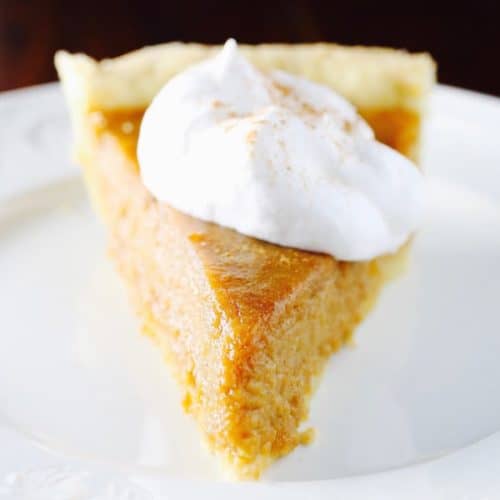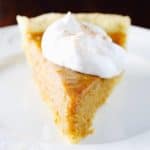 Gluten-Free Sweet Potato Pie
To roast sweet potatoes, preheat oven to 350 degrees F. Place a baking sheet on the lowest oven rack. Put the sweet potatoes directly onto the top oven rack. Roast until tender, about an hour. Remove from oven and allow to cool before using for the filling.
Ingredients
4

medium sweet potatoes

roasted or pressure cooked, cooled (see note above.)

1

cup

light brown sugar

1

teaspoon

vanilla extract

3/4

teaspoon

ground cinnamon

1/2

teaspoon

ground nutmeg

1/4

teaspoon

salt

3/4

cup

half-and-half

1/2

stick butter

melted

2

large eggs

whisked

1

9-inch

unbaked gluten-free pie crust
Instructions
Adjust oven rack to middle position. Preheat oven to 350 degrees F.

Peel the cooled sweet potatoes and place the peeled potatoes in a medium bowl. Mash potatoes with a fork until smooth. (If you prefer a very smooth filing, puree the peeled sweet potatoes in a blender or food processor.)

Stir in the brown sugar, vanilla extract, ground cinnamon, nutmeg, and salt. Add the half and half, melted butter, and eggs. Stir until smooth.

Place pie pan onto a rimmed baking sheet. Pour filling into the prepared pie crust. Bake until filling is set and golden brown at the edges, about 40 minutes.

Allow the pie to cool on a wire rack for one hour before serving. Store leftover in the refrigerator for up to four days.