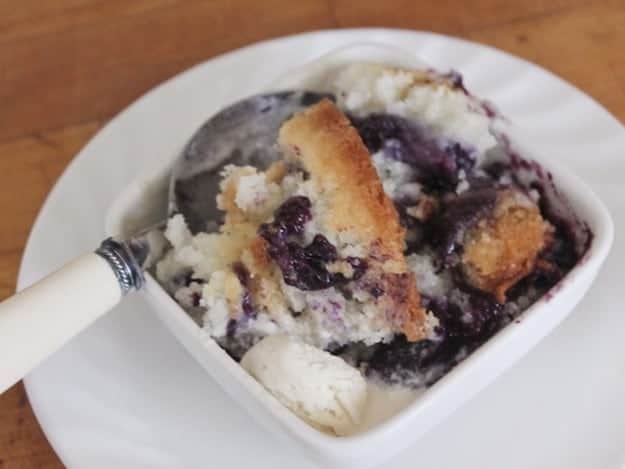 Gluten-Free Texas Cobbler OR Sometimes Ugly Dessert are the Tastiest
When a reader asked for a gluten-free version of "Texas cobbler," I have to admit, I'd never heard of it. So I e-mailed them for clarification. The reply made me chuckle:
"Honestly, I don't know specifics. I'm from Iowa but I read about Texas cobbler in a magazine while waiting at the salon. It looked really good, that much I can tell you."
After some digging, I found a recipe for a blueberry Texas-style cobbler in Cook's Country magazine. The recipe promised "a cobbler made with a thick, pancake-like batter."
It surprised me that the recipe didn't contain eggs. While it isn't unusual for a biscuit topped cobbler to contain no eggs, it's unusual to see an egg-free pancake-like batter. Since gluten-free pancake and cake batters benefit from the addition of eggs, I wondered how this batter would stand up to the gluten-free conversion. Would it fall apart? Or be terribly dense?
Surprisingly, the cobbler topping, made with a simple gluten-free flour blend, butter, and milk, baked up light and airy atop the blueberries.
The biggest difference from the wheat-version was the thickness of the batter. The wheat version promised a thick batter while the gluten-free variation was thin. This meant that the berries dipped below the batter during baking and the crust baked without any hints of the fruit filling lurking below. Once scooped into serving bowls, however, you wouldn't know that the cobbler's crust lacked the craggy fruit appearance of its wheat-filled counterpart. In fact, when scooped into bowls, the cobbler looked a little…ugly. After I took a bite, the cobbler no longer looked ugly. It looked liked the tasty dessert that it was!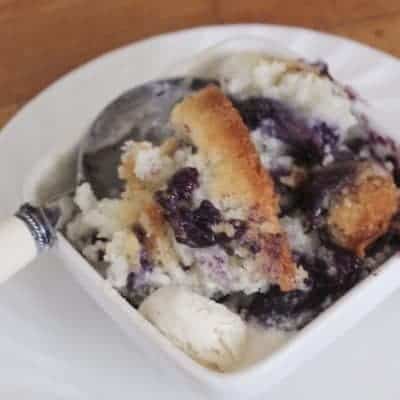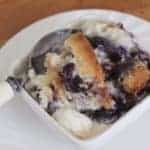 Gluten-Free Texas Cobbler (Cake-style Cobbler)
Total Time
1
hour
10
minutes
Ingredients
1 1/2

sticks

unsalted butter, divided

(6 ounces; 170 grams)

1 1/2

cups

granulated sugar, divided

(10 1/2 ounces; 297 grams)

lemon zest

(about 2 teaspoons)

3

cups

blueberries, washed and patted dry

(about 18 ounces; 510 grams)

2/3

cup

finely ground white rice flour

(2 2/3 ounces; 75 grams)

1/3

cup

potato starch

(1 1/4 ounces; 35 grams)

1/2

cup

sweet rice flour

(2 ounces; 56 grams)

1

tablespoon

baking powder

1

teaspoon

salt

1/4

teaspoon

xanthan gum

1 1/4

cups

milk

(10 ounces; 283 grams)
Instructions
Adjust oven rack to middle position. Preheat oven to 350°F. Cut 4 tablespoons of butter into pieces and place into a 9 x 13-inch baking dish. Melt butter in oven, about 8 minutes.

In small bowl, combine 1/4 cup granulated sugar and lemon zest. Rub together. In large bowl, combine blueberries and 1 tablespoon lemon-sugar. Using potato masher or large fork, gently mash the blueberries until most of the berries are broken. It's fine if a few of the berries remain whole. Set aside.

In medium bowl, whisk together white rice flour, potato starch, sweet rice flour, baking powder, salt, and xanthan gum. Melt remaining butter and allow to cool slightly.

Remove baking dish from oven and place on wire rack. Carefully rotate the pan so the melted butter evenly covers the bottom of the pan. Add the 8 tablespoons melted butter and milk to the dry ingredients. Whisk until the batter is smooth. Pour batter into the baking pan. (The melted butter in the pan might run to the edges of the pan and up the sides of the batter. This is fine.) Dollop the mashed blueberries over the batter. The berries might sink below the batter. Sprinkle the top of the cobbler with remaining lemon-sugar.

Bake until golden brown and set, about 50 minutes. Remove cobbler from oven and place on wire rack. Cool at least 30 minutes before serving. Serve warm or at room temperature.