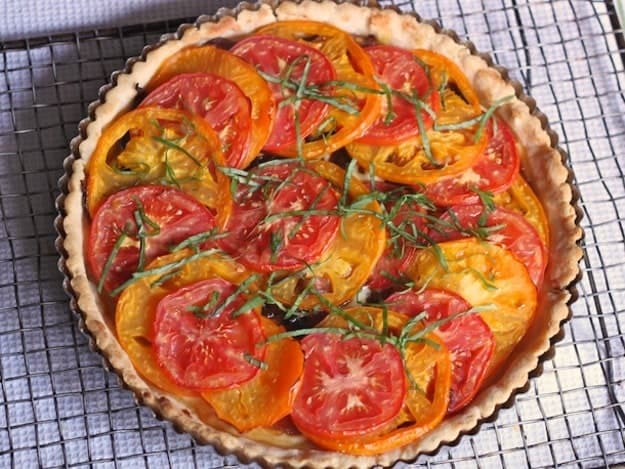 Gluten-Free Tomato Tart or The Reward of Summer
My garden started churning out tomatoes. I always eat the first few tomatoes right from the vine with a whisper of olive oil and a sprinkle of sea salt." But after that? It's tart-makin' time! (And BLT makin' time, tomato sauce makin' time…you get the point.)
To say I wait for a gluten-free tomato tart all year is not an exaggeration. In fact, I blame thank my love of tomato tarts for the ridiculous number of tomato plants in my garden each spring. Just the promise of a tart influences my tomato selection. I'm always thinking, "How will this kind look/taste in a tart?"
I think any tart is only as good as its crust. This one is made with a parmesan-rosemary scented short dough. It's sturdy enough to stand up to juicy tomatoes but still tender enough not to be confused with pizza dough. The delicate nature of gluten-free tart dough prompted me to press it into the tart pan instead of rolling it out because the dough broke apart when rolled. (Remember it lacks the gluten that strengthens wheat-based doughs.)
As for the filling, tomatoes are the star, of course, but the provolone and caramelized onions act as supporting characters and offer a salty-sweet note. As with sweet tarts, this one welcomes playfulness. Vary the filling depending on what cheese or vegetables you have on hand. Use whatever you love and let us know what you create!
Allergen Notes
This gluten-free tomato tart is naturally egg-free, soy-free, and nut-free. It does contain dairy. If you are dairy-free, you can still make this tart.
For the tart dough: omit the parmesan cheese and replace the butter with a solid shortening, increasing the amount of shortening used by two tablespoons to make up for the cheese.
For the filling: omit the provolone and, right before filling, lightly brush the crust with olive oil. This keeps the crust crisp. The dairy-free version of this tart is very good but does lack the golden brown color dairy imparts to the tart. Bake the crust until it's firm and aromatic, about 20 minutes.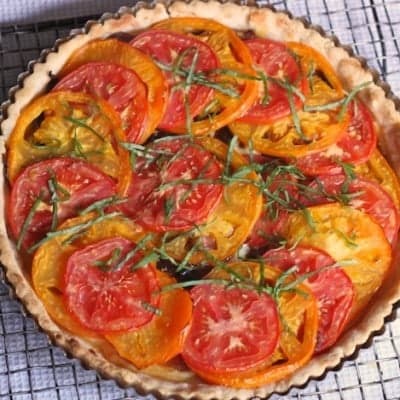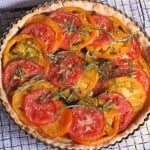 Gluten-Free Tomato Tart with Parmesan-Rosemary Crust
Total Time
1
hour
15
minutes
Ingredients
For the Crust
1

cup

finely ground white rice flour

(4 ounces; 226 grams)

3/4

cup

freshly grated Parmesan cheese

(2 1/2 ounces; 70 grams)

1/4

cup

sweet rice flour

(2 ounces; 56 grams)

1/4

cup

tapioca starch

(1 ounce; 28 grams)

1

teaspoon

rosemary

chopped

1/2

teaspoon

salt

1

stick

unsalted butter, chilled and cut into six pieces

1/4

cup

water, water
For the Filling
2

tablespoons

butter

(1 ounce; 28 grams)

1

large

onion, peeled and cut into ¼-inch pieces

6

slices

deli slices provolone or 4 ounces grated

(about 4 ounces; 113 grams)

2

large

tomatoes, cut into (about) 1/4-inch slices

(about 16 ounces; 453 grams)

nonstick cooking spray

Kosher salt

4-5

fresh basil leaves, chopped
Instructions
In bowl of food processor, combine white rice flour, cheese, tapioca starch, sweet rice flour, rosemary, and salt. Pulse to combine.

Add butter. Pulse until no large pieces remain. Add water, run food processor until dough forms.

Lightly spray a 10-inch tart pan. Pinch off one-tablespoon pieces of dough and place into bottom of tart pan. When all dough is in the pan, press dough down to cover bottom and sides of the pan. Lightly cover pan with plastic wrap and freeze tart for 30 minutes.

While tart is chilling, begin the filling: Melt butter in heavy-skillet over medium-high heat and add onions. Stir onions frequently. When onions begin to brown, reduce heat to low. Cook, stirring frequently until onions are soft and very brown, about 30 minutes.

Preheat oven to 375 degrees F. Remove tart from freezer and pull off plastic wrap. Bake tart until lightly golden brown, about 20 minutes. Remove tart from oven and place on wire rack. Increase oven temperature to 425 degrees F.

Place cheese evenly in bottom of tart. Spoon cooked onions evenly over cheese and top with tomatoes. Sprinkle with a little kosher salt.

Bake until tomatoes soften, about 18 minutes. Place tart on wire rack to cool for about five minutes before cutting. Sprinkle chopped basil over tart. Cut tart into wedges and serve.