When you want a not-too-sweet breakfast treat, bake a batch of these vegan apple-oatmeal muffins. They're vegan but you'd never know it!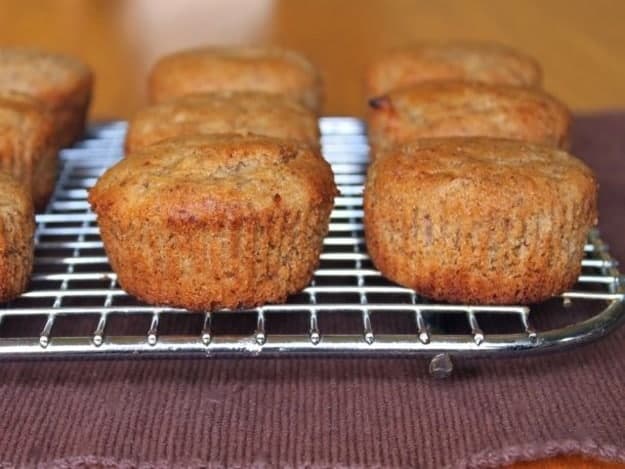 During development, I offered the muffins to friends and my husband. No one had food allergies, so I didn't tell them what kind of muffins I'd baked. Since vegan gluten-free baked goods can have an unpleasantly wet, dense texture, I wanted to see if they could immediately tell that these were vegan. They couldn't.
The non-scientific taste test was a success. No one guessed the muffins were made without milk and eggs. To achieve the light texture, the recipe uses a generous amount of baking powder (one tablespoon) and a flour blend (sorghum, brown rice, flax meal, and tapioca starch) that absorbs liquid without becoming dry.
Yet I wasn't about to let the apple comments go. Since many baked goods, gluten-free or not, are high in fat and calories, this seemed like a good chance to make a low-fat gluten-free muffin. To do this, I reduced the oil from five tablespoons to two and added a half cup of applesauce to the batter. Now the apple-tasting muffins actually contained apple!
The first batch was a bit more damp but hadn't reached the dreaded, "Is that still raw?" state that I dislike in vegan baked goods. Reducing the amount of dairy-free milk solved the problem. Now the muffins are vegan, allergen-free, gluten-free, and low-fat! And they taste great.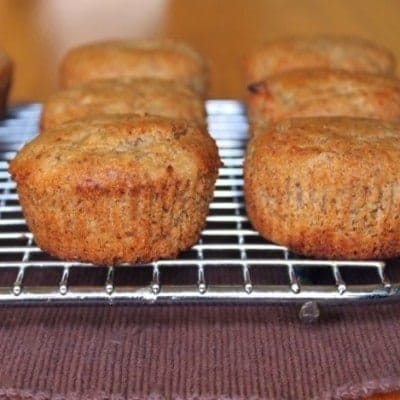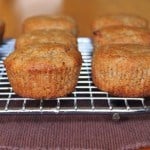 Gluten-Free Vegan Oatmeal Muffins
Ingredients
1

cup

water

(8 ounces; 226 grams)

1/2

cup

gluten-free rolled oats

(1 3/4 ounces; 100 grams)

1

cup

brown rice flour

(5 ounces; 142 grams)

3/4

cup

packed dark brown sugar

(5 1/2 ounces; 155 grams)

1/2

cup

sorghum flour

(2 1/2 ounces; 70 grams)

1/4

cup

ground flax meal

(about 3/4 ounce; 24 grams)

1/4

cup

tapioca starch

(1 ounce; 28 grams)

1

tablespoon

baking powder

1

teaspoon

ground cinnamon

1/2

teaspoon

salt

1/4

teaspoon

ground nutmeg

3/4

cup

dairy-free milk

(6 ounces; 170 grams)

1/2

cup

unsweetened applesauce

(4 ounces; 113 grams)

2

tablespoons

vegetable oil

(about 3/4 ounces; 24 grams)

1

teaspoon

vanilla extract
Instructions
In small saucepan, bring water to boil over high heat. Add oats. Reduce heat to low and cover. Cook until oatmeal is thick and tender, about ten minutes. Remove from heat and allow to cool.

Adjust oven rack to center position and preheat oven to 400°F. Line 16 muffin cups with paper liners or grease with non-stick cooking spay. In medium bowl, whisk together brown rice flour, dark brown sugar, sorghum flour, ground flax meal, tapioca starch, baking powder, cinnamon, salt, and nutmeg. Add cooked oatmeal, dairy-free milk, applesauce, vegetable oil, and vanilla extract. Whisk until batter forms. Spoon batter into prepared muffin cups,about 2/3 full. Bake until golden brown. A cake tester inserted into the center of a muffin should come out clean, about 20 minutes.

Allow muffins to cool in pan for three minutes. Turn muffins out onto a wire rack to finish cooling. Store muffins on the counter, covered, for up to three days. Cooled muffins freeze well for up to six weeks.