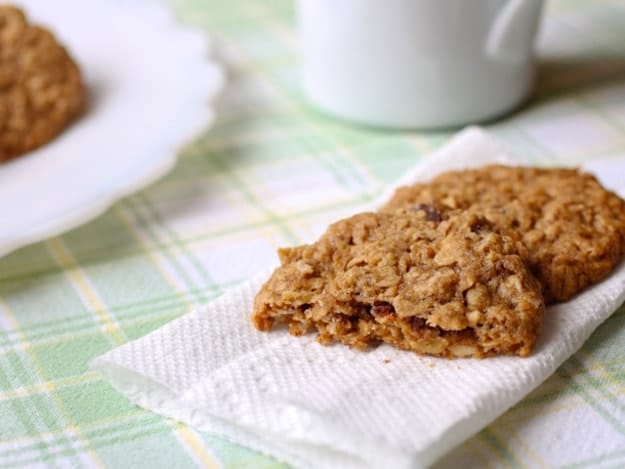 Recently I stopped by a friend's home as she was baking oatmeal cookies. The thick batter she dropped onto baking sheets looked absolutely full of oats. The recipe called for three cups of rolled oats to only one cup of flour. Now that's an oatmeal cookie. She described the flavor: "a bowl of sweet oatmeal but in cookie form." I went home to create a gluten-free version.
Lately, I've been baking more whole-grain and rice-free gluten-free recipes; so I used sorghum flour and oat flour to replace the one cup of all-purpose wheat flour. For an added nutty flavor, I threw in two tablespoons of ground flax.
Once baked, these cookies were just as my friend described. Sweet but with plenty of oats to balance everything out. If you want them less sweet, reduce the sugar by a quarter of a cup; any less sugar and the recipe doesn't work.
Besides using gluten-free flour, I also changed one other thing about the recipe. I didn't add raisins (because I don't like 'em) or chopped nuts (because I'm allergic). Instead, I added chocolate chips to the dough. Add whatever nuts or dried fruit you love. This dough handles about one and half cups of "add ins" without falling apart. This is slightly less than the wheat-version because our dough lacks the gluten structure and can turn crumbly if you add too many nuts or dried fruits to it. And if you don't like anything in your oatmeal cookies, don't add anything. Thanks to all those whole oats, the cookies are flavorful and delicious on their own.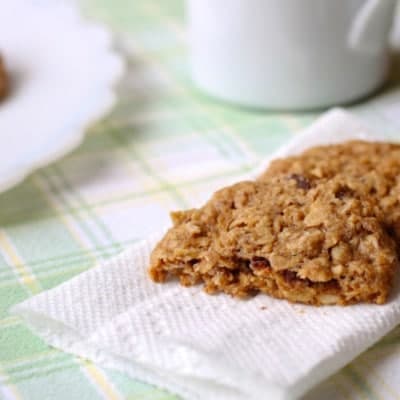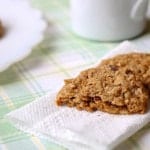 Gluten-Free Whole Grain Oatmeal Cookies
Ingredients
3/4

cup

sorghum flour

(3 ounces; 85 grams)

1/4

cup

gluten-free oat flour

(3/4 ounce; 21 grams)

2

tablespoons

ground flax

(2/3 ounce; 18 grams)

1

teaspoon

salt

1

teaspoon

baking powder

3/4

teaspoon

ground cinnamon

1/4

teaspoon

ground nutmeg

1/8

teaspoon

ground cloves

2

sticks

butter, softened

(1 cup; 8 ounces; 226 grams)

1

cup

dark brown sugar

(7 1/2 ounces; 212 grams)

1/2

cup

turbinado sugar

(3 3/4 ounces; 110 grams)

1

large

egg

(about 1 3/4 ounces; 50 grams, out of shell)

2

teaspoons

vanilla extract

3

cups

gluten-free oats

(10 1/2 ounces; 297 grams)

1 1/2

cups

chocolate chips

(9 ounces; 255 grams)

1

cup

raisins

(5 1/4 ounces; 148 grams)
Instructions
Adjust oven rack to middle position. Preheat oven to 325°F. Line two baking sheets with parchment paper. Set aside.

In medium bowl, whisk together sorghum flour, oat flour, ground flax, salt, baking powder, ground cinnamon, ground nutmeg, and ground cloves. In bowl of stand mixer fitted with paddle attachment, combine butter and sugars. Cream on medium speed until thick paste forms, about 2 minutes. Stop mixer and scrape down sides and bottom of bowl. Add egg and vanilla. Turn mixer on to medium speed and blend until light and fluffy, about 1 minute. Stop mixer. Scrape down bottom and side of mixer. Mix for 1 additional minute. Stop mixer. Add whisked dry ingredients and oats. Mix until thick dough forms, about 1 minute. Turn off mixer. Add chocolate chips. Turn mixer on to low. Mix until combined, about 30 seconds.

Using a tablespoon measure, drop heaping tablespoons of dough onto prepared baking sheet. Lightly press down dough with palm on your hand but don't flatten cookies. Bake 1 tray at a time until golden brown, about 20 minutes. Cool for five minutes on baking pan. Transfer cookies to wire rack to cool completely. Repeat, baking second batch on cool baking sheet, until all dough is used. Store cooled cookies in sealed container for up to 1 week.