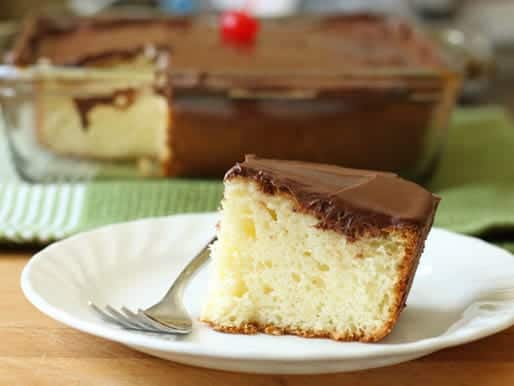 There's one go-to recipe I believe all bakers need: a single-layer cake. There's a time and place for multi-layered cake (usually birthdays and other celebrations). But a single-layer cake isn't about celebration, it's about simplicity.
My love for single layer cakes comes from my mom. Occasionally, I'd come home from school and find one sitting on the counter. It was always a yellow cake, iced with chocolate buttercream, and, if she felt like dressing it up, a single maraschino cherry in the center. Before baking, she'd throw a couple of chocolate chips into the batter. She said whoever got the slice with the chips was guaranteed a "good luck day." Who am I to argue with that mom-logic?
The yellow single-layer cake I bake tastes very similar to the ones I ate growing up. It's just butter, sugar, eggs, and gluten-free flour. The funny thing is the method. It doesn't require you to cream the butter and sugar together. You simply dump all the ingredients into a bowl and mix. That's it. The only thing to watch out for is the butter. You want it soft. Not melty. Not microwaved where the ends are hard and it's melted in the center. You want the butter soft.
If you don't have room-temperature butter ready when you want to bake this cake, try this trick: set up a double boiler. (Nest a small bowl on top of a small pot of very hot but not boiling water. You don't want the water to touch the bottom of the bowl.) Place the butter, still wrapped, into the bowl. Turn the stick every few minutes until it's soft. If you're microwave is gentle enough, go ahead and soften the butter in the microwave. Use a very low setting and heat the butter in 15 second bursts, then turn the stick. If you are very careful, this works. I've noticed that if I stand my butter up while nuking the center doesn't melt but that could just be my microwave.
As for finishing the cake, frost it with a simple buttercream. Or not. This cake works well without any type of frost. If you don't want buttercream but want to finish the cake with something, I'd strongly recommend a citrus glaze. I prefer lemon but any citrus works. Stir together some powdered sugar and a little milk (or water) until you have a thick glaze. Then add the zest of your favorite citrus and pour the glaze over the top of the cake.
From start to cooling, this cake takes less than an hour to make. Of that time, only about fifteen minutes requires any activity. So remember this recipe on a busy days when you want a little something sweet but don't have the time—or the energy—to do much in the kitchen.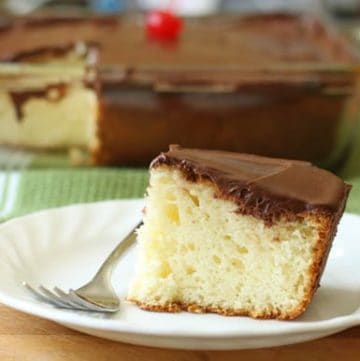 Perfect Gluten-Free Yellow Cake
Ingredients
For the Gluten-Free Yellow Cake
Gluten-free non-stick cooking spray

1 1/4

cups

white rice flour

(5 ounces; 142 grams)

1

cup

granulated sugar

(8 ounces; 226 grams)

1/2

cup

potato starch

(2 ounces; 56 grams)

1 1/4

teaspoons

baking powder

3/4

teaspoon

salt

1/2

teaspoon

xanthan gum

1

stick

unsalted butter, softened

(4 ounces; 113 grams)

2/3

cup

milk or water

(5 1/3 ounces; 150 grams)

3

large

eggs

2

teaspoons

vanilla extract
For Chocolate Buttercream
2

cups

powdered (confectioner's) sugar, sifted

(8 ounces; 226 grams)

6

tablespoons

cocoa powder, sifted

(2 1/4 ounces; 65 grams)

1/2

teaspoon

salt

1

stick

unsalted butter, softened

(4 ounces; 113 grams)

4

tablespoons

milk

(2 ounces; 56 grams)

1

teaspoon

vanilla extract
Instructions
For the Cake
Adjust oven rack to middle position. Preheat oven to 350°F. Spray an 8x8x2-inch square cake pan or a 9x2-inch round cake pan with nonstick cooking spray. Set pan aside.

In large mixing bowl, whisk together white rice flour, granulated sugar, potato starch, baking powder, salt, and xanthan gum. Add butter, milk (or water), eggs, and vanilla. Using a handheld mixer,mix until a thick batter forms, about one minute. Spread batter evenly into prepared pan. Bake until cake tester inserted into center of cake comes out clean, about 40 minutes. Place cake, in pan, on wire rack to cool. If desired, frost with buttercream icing when cool.
For the Chocolate Buttercream
Whisk together powdered sugar, cocoa powder, and salt in a medium bowl. In a large bowl, beat butter until light. Add powdered sugar-cocoa mixture, milk, and vanilla extract. Cream until smooth. Adjust thickness, if needed, by adding more milk, one tablespoon at a time. Frosting should be thick and spreadable.