Finding healthy gluten-free snacks for school lunches or the office can be a challenge. Thankfully, fruits and vegetables are naturally gluten-free!
But…sometimes you're in the mood for something salty, crunchy, or, let's be honest, a cookie. This list is for those times. It covers pre-packaged gluten-free snacks that are adored by kids and adults alike. We've included items that are healthy or healthy-ish. (And we trust you to select the best snacks for your diet and lifestyle and to NOT judge the snack choices of others because the readers of GlutenFreeBaking.com are amazing.)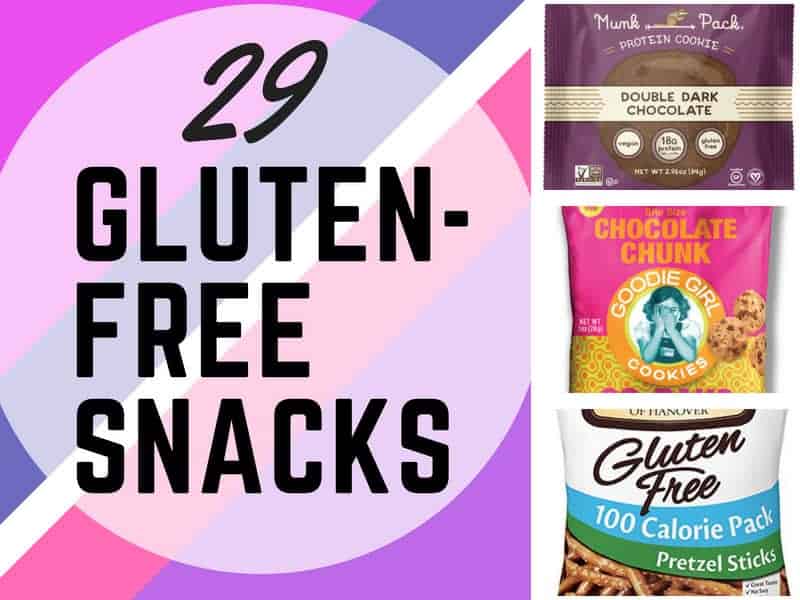 Got a favorite snack we missed? Let us know in the comments!
About this Gluten-Free Snack List
All items listed are currently listed as gluten-free. Not all items carry a certified gluten-free label. Always read ingredient labels. Ingredients change, even on trusted brands. Be sure to read the label each time you purchase an item.
Most snacks on the list are available in individual packages. This helps reduce cross-contamination if snacks need to be kept in a communal area, like a school snack bin.
All snacks lists are either personal favorites or suggested by GlutenFreeBaking.com readers. Most may be found at local grocery stores.
Links provided are affiliate links. GlutenFreeBaking.com earns a commission when you use these links to shop.

Crunchy Snacks
Angie's Boom Chicka Pop Popcorn, Love popcorn? Angie's is for you. They make traditional salt and butter popcorn along with a slew of fun flavors–including sweet treats during the holiday season.
Kettle Brand Potato Chips, One of the most surprising sources of hidden gluten is in potato chips. (We're looking at you, Pringles.) There are several brands of gluten-free chips but Kettle Brands remains a favorite. The chips are thick and crunchy–which means they satisfy when you're in the mood for a chip.

Popchips, A cross between a chip and popcorn, Popchips have earned an happy following among gluten-free eaters. One reader shared, "When I was first diagnosed, I almost cried with joy when I realized that Popchips, my favorite snack, was gluten-free."

Snyder's of Hanover Gluten Free Pretzel Sticks, Pretzels are a perfect lunch box snack. They're great on their own and also go great with hummus or peanut butter. Snyder's of Hanover offers both gluten-free pretzel twists and sticks.

Biena Chickpea Snacks, If you love hummus, you need to try Chickpea snacks. They're crunchy, contain fiber (always a concern for gluten-free eaters!), and are really tasty.

Good Thins Gluten Free Cracker Snack Packs, There are several varieties of gluten-free Good Thins. However, a few are NOT gluten-free. As always, take care when picking up a box to ensure you grab the correct box.

Lance Gluten Free Cheddar Crackers, If you miss Ritz Bits, give Lance cracker sandwiches a try. They're available in both Cheddar and peanut butter.

Seasnax Seaweed Snax, If you're craving something light and salty, try seaweed snacks! If you've never tried them, they're weird–in a great way–the sheets are thin, crunchy, with a mineral twang. And, bonus, lots of kids LOVE them.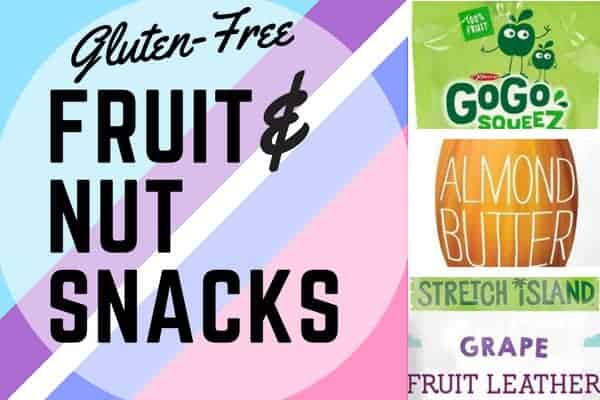 Fruit and Nut Snacks
Fruit Leather, If you've only eaten Fruit Roll-Ups (which, at the time of this writing are gluten-free), you owe it to yourself to try Fruit Leather. It's a thicker, more flavorful version of Fruit Roll-Ups–without the dye and weird flavors. Cherry and Grape are two favorites but, to be honest, they're all good.

Annie's Bunny Snacks, If you're an adult of a (ahem) certain age, you probably remember munching on fruit snacks throughout your childhood. Annie's Bunny Snacks are a fun take on those snacks, with no artificial colors or dyes. Sure they're for kids but we've seen plenty of adults snacking on these.

Enjoy Life Seed & Fruit Mix, Lots of trail mixes and granolas contain nuts. Made with pumpkin and sunflower seeds, along with dried fruits, this mix is perfect if you're gluten- and nut-free. And even if you're not, this tasty mix is great for school snacks or long car trips.

Gluten-Free Granola, If nuts aren't off limits for you, give Udi's gluten-free granola a try. You can enjoy it by the handful or mix it into yogurt. (At this time, Udi's granola isn't available in single serving packages.)

Go Go Squeez, Here's one that little gluten-free eaters love: squeezable applesauce. It comes in a variety of flavors, even Pumpkin Spice during the fall.

Justin's Almond Butter Squeeze Packs, Nuts are off-limits for many schools and some workplaces. So this snack might not work for everyone. If nuts are okay, give these Almond Butter packs a try. Just remember to knead them gently before opening. Sometimes the oil separates in the pouch.

Savory Snacks
Vermont Smoke & Cure Mini Meat Sticks, Vermont Smoke and Cure makes incredible bacon. But…since bacon isn't really a totable lunch snack, give their meat sticks a try. All flavors are gluten-free, even the BBQ and Teriyaki, two flavors that often contain gluten-y soy sauce.
loves, Who else loves olives?!? These are for us! There's only one drawback: if you don't like flavored olives, these aren't for you. All of Oloves olives (Try saying that four times fast!) are marinated–with nary a plain olive packet to be found.
Tuna Pouches, Let's get this out of the way: if you open a tuna packet at work, you might become "that person." If your office includes enough space to enjoy a fishy-snack, tuna pouches are great–especially the ones that don't require draining. Add a few gluten-free crackers to the mix and you have a satisfying snack that will keep you going during a long day.

Cheese and Yogurt
Siggi's Yogurt Tubes, Yogurt makes a great snack, if you don't lose the spoon. And, let's be honest, lots of little ones–even when they try their best–misplace the spoon. Siggi's yogurt tubes takes care of that problem. And, bonus!, unlike most "kid's yogurt" that have lots of sugar, Siggi's contains a modest amount.
String Cheese, Who doesn't love string cheese? And, did you know, it's fine to keep it out of the fridge for several days? Pop one in your desk drawer on Monday and you can still safely enjoy it on Friday afternoon.
Babybel, There's something deeply satisfying about peeling off the wax from a round of Babybel cheese. Oh, and it tastes good too. The original flavor is creamy and sharp without being too sharp. It's a nice change from string cheese.
Laughing Cow Cheese Wedges, Spreadable cheese always feels like a treat! Spread it on gluten-free cracker or dip carrots or apple slices into the cheese.

Protein Bars
RX Bars, There's a wide variety of flavors of RX bars but, by far, the most popular among our readers are the Chocolate Sea Salt Bars. They taste like a candy bar. There's one drawback to these bars: some folks find the texture, which is very chewy, off-putting.
The GFB: Gluten-Free Bar, If you're one of those folks, like me, who loves oatmeal raisin cookies, this is the bar for you. The texture is great–chewy but still bar/cookie-like.
Kind Bars, These bars seem like the grandmother of gluten-free protein bars. (It's worth noting that all of their snacks are gluten-free. Like other brands, they do use gluten-free oats in their granola. As always, check labels!
Munk Pack, This isn't a bar. It's a protein cookie. We've included it here because, although it's round, it does eat like a protein bar. The flavors are delicious, especially the double dark chocolate. Like many protein bars, it's loaded with calories. For a snack, you might want to enjoy only half.

Sweets and Treats
For times when you feel like a sweet snack. Let's call these "healthy-ish"
Annie's Gluten Free Chewy Granola Bars, A chewy granola bar. These taste like a candy bar but include 3 grams of fiber.
Goodie Girl Cookies Chocolate Chunk Cookies, Goodie Girl makes some rather decadent cookies. The "Go-Packs", however, only contain about 120 calories per bag.
Big Fig, If you've read this far, I'm happy to tell you that this bar is a Big Fig-ing deal. It's like a giant Fig Newton. And if that isn't your jam, I'm sorry. Fig cookies are the best.:-)
DelishFish, Remember when I said that these sweets and treats were "healthy-ish"? This treat is a perfect example. It's a refined sugar-free version of Swedish Fish. These are not sugar-free, however. They use fruit juice to sweeten the treats. Basically yummy candy made with fruit juice and without gelatin, so you can share them with your vegan friends.