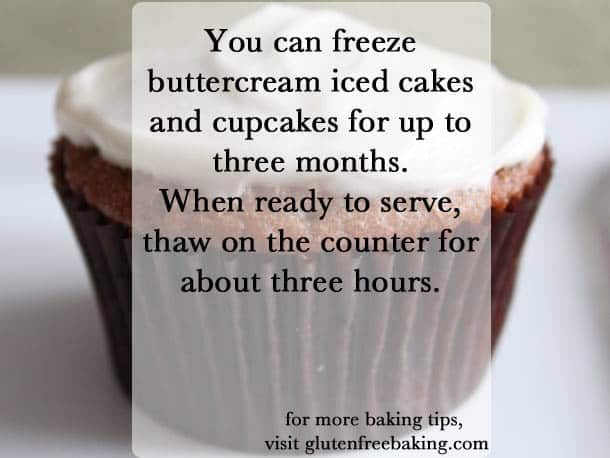 Did you know that you can freeze buttercream-frosted cakes and cupcakes? Yup! You can! Simply make a batch of your favorite cake or cupcakes and allow the cake(s) to cool. When cool, frost with buttercream icing–other icings like cooked or boiled frosting don't freeze well.
Then pop the cake or cupcakes into the freezer. This step requires some freezer room. Be sure to check out your freezer before you start this project to make sure you have the room. After about six hours, the buttercream will be frozen. Remove the cake or cupcakes from the freezer and wrap with plastic wrap.
You can keep a frosted cake or cupcakes in the freezer for up to three months. When the craving for cake strikes, simply remove the cake or cupcakes from the freezer, remove the plastic wrap, and thaw at room temperature. This takes about three hours. If you have the chance, remove the cake from the freezer the night before serving. If not, you need at least three hours.
Here's the Step-by-Step
Bake cake and allow to cool.
Frost with buttercream icing.
Freeze iced cake or cupcakes.
Wrap iced cake or cupcakes when icing is frozen. This takes about six hours.
Freeze cakes for up to three months.
Remove cake from freezer and remove plastic wrap.
Thaw on your counter for six hours or overnight in the refrigerator.