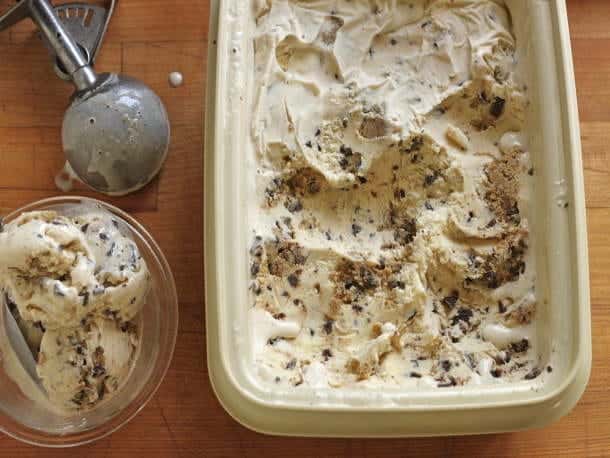 Hailing from the birthplace of Ben and Jerry's ice cream (Burlington, Vermont), my mom has strong feelings about their famous Chocolate Chip Cookie Dough ice cream. She hates it. She always says, "Who wants to eat gobs of raw dough in perfectly good ice cream?" Her daughter, that's who! I love the stuff.
When I thought about making gluten-free chocolate chip cookie dough, I knew I could make it by folding cookie dough pieces into soft, freshly churned ice cream. But what if someone doesn't have an ice cream maker, or just doesn't feel like making a batch of ice cream from scratch? Is it still possible to make this ice cream? I needed to find out.
My first attempt was a total flop. Halfway through making it, I couldn't stop laughing. Melted ice cream, everywhere. I even managed to get some in my hair. The reason it flopped? I allowed the ice cream to get really soft then attempted to fold the dough balls into the softened ice cream. Don't do this. Trust me. The ice cream gets way too melty.
But there is hope—I discovered an easier, much less messy way to make this ice cream. Simply allow store-bought vanilla ice cream to soften slightly. Then transfer the softened ice cream into a freezer-safe container. As you do, dot the ice cream with little balls of chocolate chip cookie dough. That's it!
Here's how to do it!
Allow ice cream to soften but not melt. Work from the outside to the inside of the carton. The ice cream melts first around the edges. If you wait for the entire carton to soften, the outsides edges will be soupy. As soon as the edges become soft, begin scooping the ice cream.
Use small balls of dough. At first, I scooped the cookie dough into, approximately, two teaspoon balls. These seemed a little big. To make this process easy, I split the dough balls into smaller pieces as I pushed them into the dough.
Freeze leftover cookie dough. This recipe makes a little extra cookie dough. You can freeze the leftover dough for the next time you make chocolate chip cookie dough ice cream. To do this: scoop dough into small balls, chill on a baking sheet, and then transfer firm dough balls to a freezer bag. Or, you could bake cookies with the leftover dough! Scoop dough, about one tablespoon each, onto a lined baking sheet and bake in an oven preheated to 350°F until golden brown, about 15 minutes. (And now I am thinking about an ice cream sandwich made with chocolate chip cookies and chocolate chip cookie dough ice cream.)
Allergy Notes
Egg-Free
Since the cookie dough is consumed raw, the dough is egg-free to avoid salmonella from raw eggs. If you are egg-allergic, be sure to select a vanilla ice cream that's egg-free.
Dairy-Free
Replace the butter called for in the chocolate chip cookie dough with a solid shortening and use dairy-free chocolate chips and dairy-free ice cream. If dairy-free chocolate chip ice cream is hard to find, use vanilla and dot the ice cream with dairy-free chocolate chips as you add the dough balls.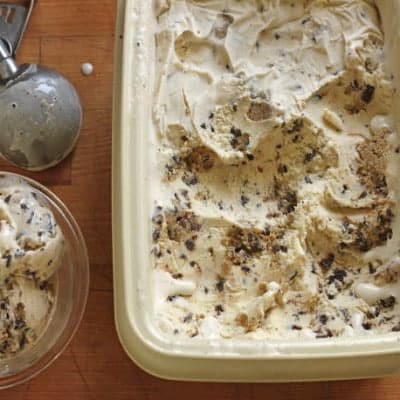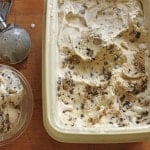 Easy Gluten-Free Chocolate Chip Cookie Dough Ice Cream
If you make homemade ice cream, use it in this recipe!
Total Time
1
hour
30
minutes
Servings
1
/2 gallon ice cream
Ingredients
For the Cookie Dough
1 1/2

tablespoons

ground flax meal

(about 1/2 ounce; 14 grams)

2

tablespoons

hot water

(1 ounce; 28 grams)

3/4

cup

white rice flour

(3 ounces; 85 grams)

1/3

cup

sorghum flour

(1 1/3 ounces; 37 grams)

1/2

teaspoon

baking soda

1/4

teaspoon

salt

softened

3/4

stick

unsalted butter, softened

1/4

cup

dark brown sugar

(2 ounces; 56 grams)

1/4

cup

granulated sugar

(1 3/4 ounces; 50 grams)

1

teaspoon

vanilla extract
For the Ice Cream
3/4

cup

mini-chocolate chips

(4 1/2 ounces; 128 grams)

1/2

gallon

gluten-free chocolate chip ice cream
Instructions
Prepare the Cookie Dough: In a small bowl, whisk together ground flax and hot water. Set aside. In medium bowl, whisk together white rice flour, sorghum flour,baking soda, and salt.

In bowl of stand mixer fitted with paddle attachment (or large bowl), cream together shortening and sugars on medium high speed. Cream until a thick paste forms, about 30 seconds. Add flax mixture and vanilla. Cream until mixture is light and fluffy, about 45 seconds.

Stop mixer and scrape down bottom and sides of bowl. Add dry ingredients. Turn mixer on to medium speed. Mix until dough forms, about 30 seconds. Turn off mixer and add chocolate chips. Turn mixer on to low speed. Mix until chips are combined, about 15 seconds.

Drop dough, about 1/2 teaspoons each, onto prepared baking sheet. Cover pan with plastic wrap and chill until dough balls are firm, about one hour.

Prepare the Ice Cream: Remove ice cream from the freezer. Place it on the counter to soften, about ten minutes. Using a large spoon, scoop softened ice cream, working from the outside of the carton toward the center, into a freezer-safe container. As you work, dot the ice cream with chilled dough balls. (If the ice cream begins to soften too much, return containers to the freezer, allow ice cream to harden, and then finish the recipe.)

After all ice cream has been transferred, smooth ice cream with the back of a spoon.

Press a piece of plastic wrap directly onto the surface of the ice cream. Cover container with a tight fitting lid. Freeze until firm and serve.