I've had a busy end to 2010! The last few months included lots and lots (and lots) of travel. This means that I'm more than a little behind getting ready for Christmas. Do you know the feeling?
Even though I'm struggling to get things done, I've finally headed back into the kitchen. Starting today, I'm sharing easy recipes for holiday treats–because right now it feels like no one needs quick recipes more than I do. From now until December 24th, I'll post a recipe for an easy holiday treat. I'm kicking off the series with The Easiest Christmas Cookies Ever*
If you can make chocolate chip cookies, you can make these buttery, sugary, vanilla-y Christmas cookies. The technique is pretty much the same. You cream butter and sugar together, add an egg and then the dry ingredients.
What Makes These Cookies Special
Thanks to the butter and vanilla in the recipe, these cookies melt in your mouth. Their flavor tastes like a celebration of butter, sugar, and vanilla. Since they're rolled in powder sugar before baking, they're left with a very light glaze that's pretty special too!
How to Make Them Easier
Honestly? I can't think of anything. Since they take a little less than an hour from dough to cookie, I mix the dough and bake in one shot. However, you could always mix the dough the night before baking.
How to Modify
I love these cookies scented with vanilla extract. But vanilla isn't the only flavor that would make these cookies special. Lemon extract or peppermint extract would transform these basic butter cookies into something really special.
How to Modify Part 2
Dairy-Free? While these cookies rely on butter for their great flavor, you can substitute shortening for the butter. Bump up the vanilla extract to 1 teaspoon. In addition to the flavor difference, you'll also noticed that when made with shortening, these cookies don't spread.
How to Modify Part 3
Replace the white rice flour with millet flour for a whole-grain recipe.
*And by "Ever" I mean until I find a quicker recipe next year, of course.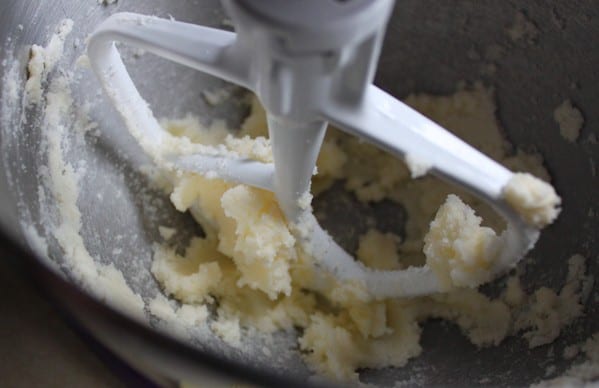 Like most cookie recipes this one begins by creaming together butter (or shortening) with granulated sugar. You want the butter soft but not melted.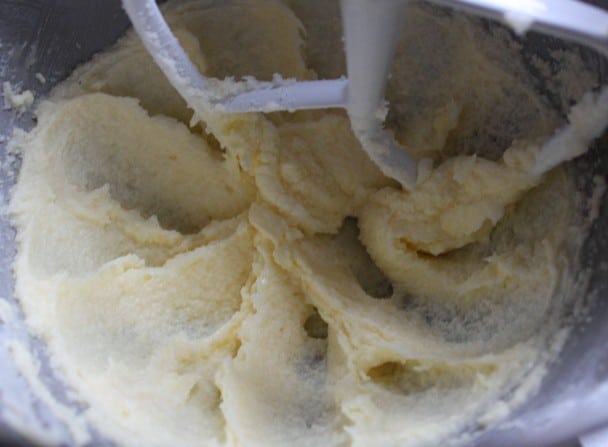 The egg and vanilla go in. At first the mixture will look "broken" or curdled. This is okay. Just cream it on medium-high speed until it becomes smooth. And don't forget to stop the mixer once or twice to scrape down the bottom and sides of the bowl.
Add the dry ingredients. After about 45 seconds, a firm dough forms. It's almost time for cookies!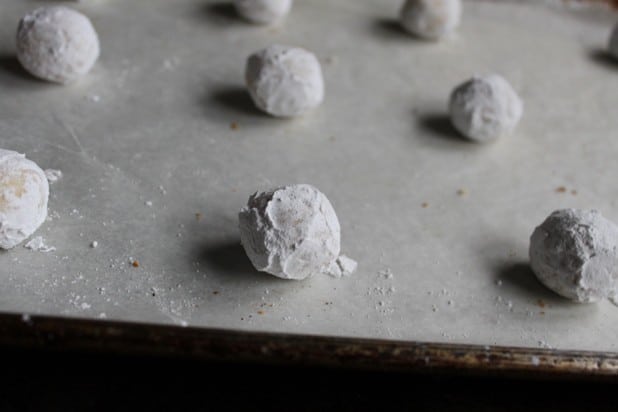 After chilling the dough for ten minutes, roll them in powdered sugar. Bake in a preheated oven for about 12-15 minutes and you'll have, you guessed it, COOKIES! ("COOKIES!" must be said in a cookie monster-like voice, of course!)
Of course, if you don't have the time to roll them in powdered sugar, skip this step. It add a pretty sugar glaze but isn't essential.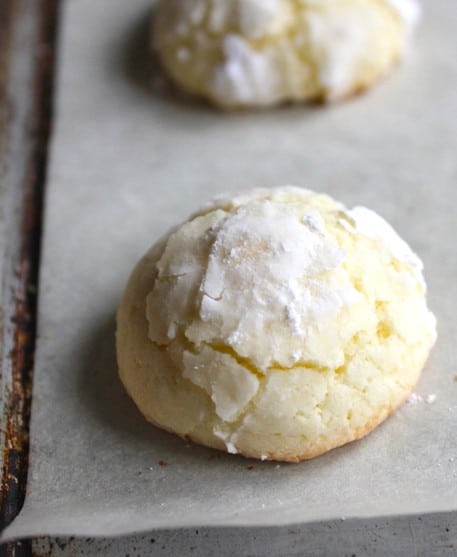 COOKIES!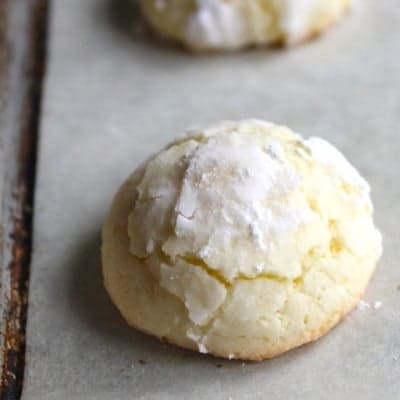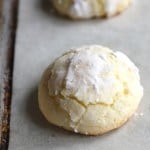 How to Make the Easiest Ever Gluten-Free Christmas Cookies
Easy-to-Make. Buttery Christmas cookies.
Ingredients
1 1/4

cups

gluten-free baking flour, Bob's 1:1 Gluten-Free Baking Flour recommended (see note below)

(5 ounces; 142 grams)

1/2

teaspoon

baking powder

1/2

teaspoon

salt

1/2

cup

granulated sugar

(3 1/2 ounces; 100 grams)

6

tablespoons

butter, softened

(3 ounces; 85 grams)

1

large

egg

(1 3/4 ounces; 50 grams)

1/2

teaspoon

vanilla extract

1

cup

powdered sugar

(4 ounces; 112 grams)
Instructions
Preheat oven to 350 degrees F. Line a baking sheet with parchment paper and set aside.

Whisk together gluten-free flour, baking powder, and salt in a small bowl. 

In bowl of stand mixer, cream together butter and granulated sugar until well combined, about 45 seconds.

Add egg. Cream until thoroughly incorporated. Be sure to stop mixer and scrape down sides and bottom of bowl at least once.

Stop mixer. Add whisked dry ingredients. Turn mixer to medium-low. Mix until a dough forms.

Chill dough for ten minutes.

Scoop dough, about two teaspoons each, and toll into balls. Roll dough balls into powdered sugar. Place cookies, about two inches apart, on prepared baking pan.

Bake cookies for 12-15 minutes or until cookies are firm and edges are golden brown. Transfer cookies to a wire rack*. Repeat with remaining dough.

*If sugar melts during baking, roll warm cookies in powdered sugar.

Store cookies in an airtight container for up to five days.
Recipe Notes
Ingredient Note:
The original version of this recipe used individual gluten-free flours. It has since been updated and tested to use a gluten-free flour blend. If you enjoyed the original recipe, here are the flours:
3/4 cup white rice flour (3 ounces; 85 grams)
1/4 cup sweet rice flour (1 ounce; 28 grams)
1/4 cup potato starch (1 ounce; 28 grams)