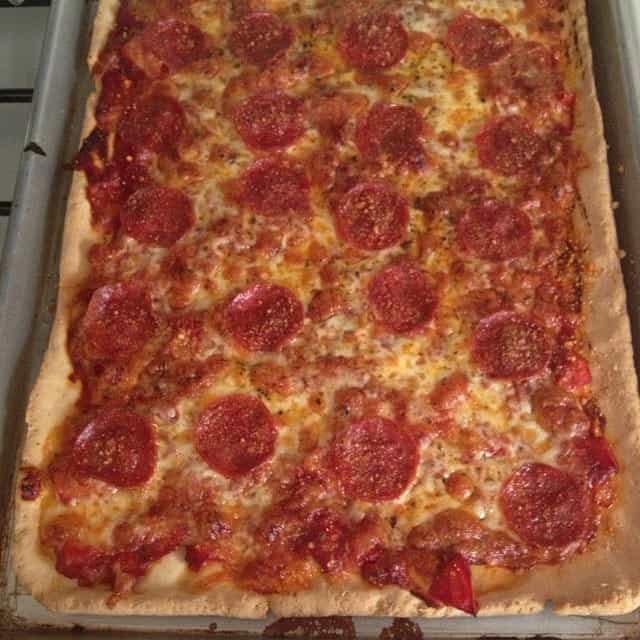 During the ten years I've taught gluten-free baking classes, two questions are asked more than any others: "How do I make bread?" and "How do I make pizza?" Bread and pizza. My favorites.
You want a great, easy pizza crust, right? Here's what to do: start with a Chebe bread* mix. My students have never gasped but, I can tell, they've come close. They know that I bake from scratch. This recipe is the exception to that rule.
*Chebe also sells pizza mix. Be sure to select their bread mix.
Why a mix? Because of the modified tapioca starch it contains, Chebe makes an excellent pizza crust with the "chew" that's so often missing from gluten-free baked goods. Since buying modified tapioca starch is a pain, I use the Chebe mix.
I'm not a food scientist. So, honestly, I don't fully understand the process of making modified tapioca starch. My research proved somewhat futile, likely because modifying tapioca starch is a proprietary process. All I've been able to glean is that when an inorganic material is added to the starch, the characteristics of the starch change. In the case of tapioca starch, we are left with a super-stretchy starch.
How stretchy? Gluten-like stretchy.
You could almost toss this dough over your head like they do at pizzerias. Prepared as the package directs, I find Chebe unpleasantly chewy. Slightly doctored, however, it makes a great pizza.
Add white or brown rice flour, baking powder, and salt to the mix. That's right—baking powder. Telling pizza-savvy SE'rs that this crust can be made without yeast makes me a little nervous. But it's the truth: this crust is excellent without yeast. Since restaurants serving safe gluten-free pizza are still hard to find, it's great being able to make this last-minute crust without having to allow it to rise.
If the thought of a yeast-free pizza is anathema to you, no problem! Replace the baking powder with one packet of active dry yeast. When leavened with yeast, the dough needs to go through about an hour of bulk fermentation (rising in the bowl) and about 45 minutes of pan rise. The baking powder dough? Just mix it up, place it into the pan and bake.
Speaking of baking, no matter which version you use, yeast or baking powder, bake the crust before you top it. Topping the raw dough and then baking makes for one really soggy pizza. I like all types of pizza, but soggy crust pizza isn't one of them.
Let's make a pizza!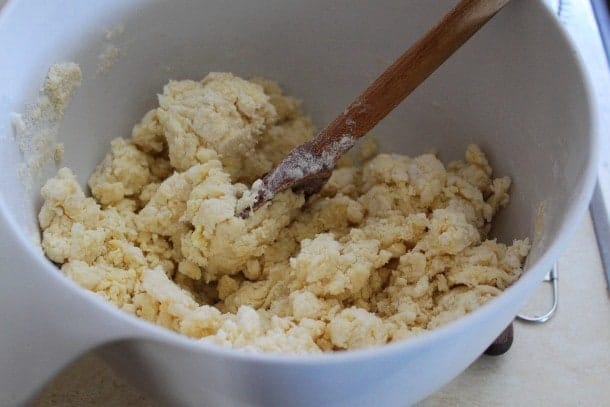 After adding the wet ingredients to the flour and Chebe mix, the dough looks chunky. Turn the dough onto your counter and begin kneading.
At first the dough isn't smooth. As you knead it, it becomes smooth and elastic.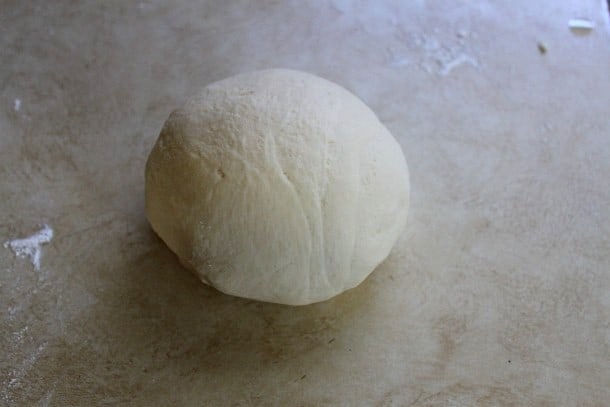 The finished dough looks like this. Pretty, isn't it?
Roll out the dough and lift it into the pan.
Bake the crust until golden brown.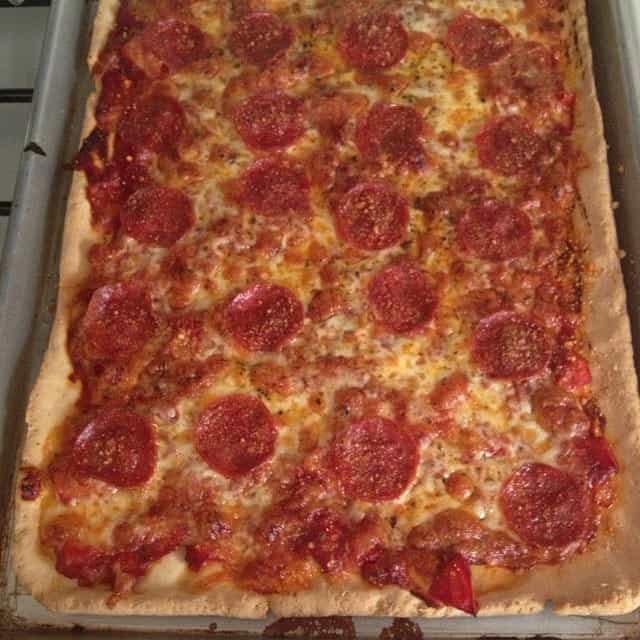 Top the dough, and return pizza to the oven. Bake until cheese is golden brown and bubbling.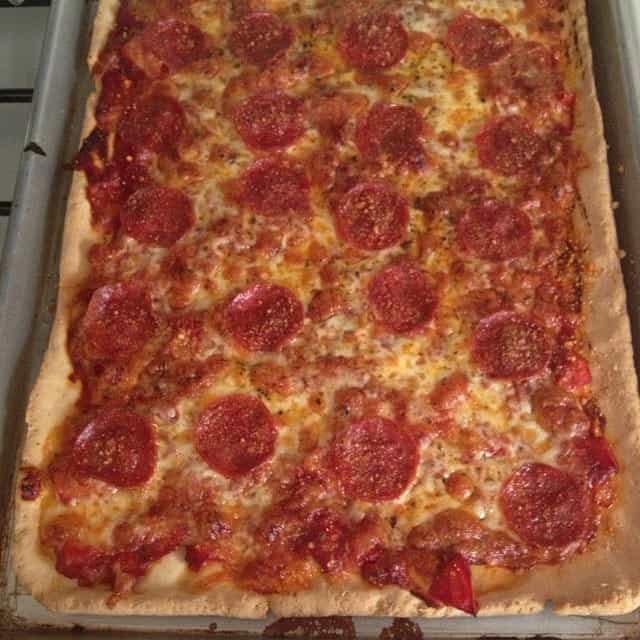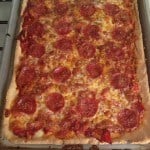 Easy Gluten-Free Pizza Crust
Remember to use Chebe bread mix, not Chebe's pizza crust mix for this recipe.
Total Time
1
hour
20
minutes
Ingredients
New York Style
1

(7.5 ounce) package

Chebe Original Bread Mix (not Pizza Mix)

1

cup

white rice flour

(4 ounces; 113 grams)

2

teaspoons

baking powder

1

teaspoon

salt

3/4

cup

water plus additional as needed

(6 ounces; 170 grams)

2

large

eggs

(about 3 1/2 ounces; 100 grams, out of shell)

2

tablespoons

olive oil

(about 1 ounce; 24 grams)
Instructions
Preheat oven to 425°F.

In large bowl, whisk together Chebe mix, white rice flour, baking powder, and salt. In small bowl, whisk together water, eggs, and olive oil.

Pour water mixture over dry ingredients. Stir with a wooden spoon to combine. Dough should almost form a ball. If dough is dry, add one or two more tablespoons of water.

Lightly white rice flour your counter. Turn dough out onto counter. Knead dough until elastic and pliable, about one minute.

Round dough into a ball. Grease 18"x13" baking pan. Again, white rice flour your counter. Roll dough out into large rectangle. I usually roll it out about 15"x13". In a quick movement, transfer dough to baking pan. Using you hands, press dough evenly into pan. Dough will be thin but will cover the entire pan.

Bake until lightly golden brown, about 18 minutes.

Remove pan from oven. Top as desired. Return pizza to oven and bake until toppings are hot. Time varies depending on topping.

Remove pizza from oven. Allow to cool for five minutes. Cut into squares and enjoy.