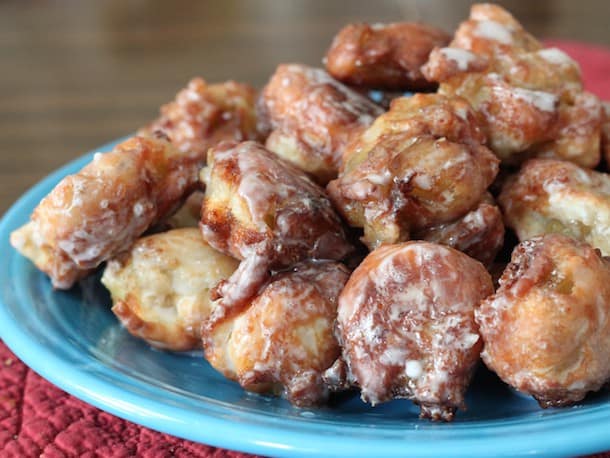 The last apple fritter I ate before going gluten-free was an abomination. I bought it at a cute bakery. It looked a little smoother than a traditional apple fritter but I didn't think much about it one way or the other. Then I bit into the fritter and—What the hell?—apple pie filling burst into my mouth.
Apple fritters should not be jelly doughnuts in which the jam is merely replaced with an apple filling. No, an apple fritter is a nubby affair with crisp bits of chopped apples scattered throughout and just the slightest hint of confectioner's glaze.
For years, I've meant to make a gluten-free apple fritter. The only thing standing in my way? My own laziness. Apple fritters sounded like a lot of work and I just didn't feel like futzing with them.
This year, I set my laziness aside (not an easy task) and heated up a pot of oil. The results were meh—the fritters tasted like apple doughnuts and not fritters. I texted a professional baker-friend and asked what I was doing wrong.
Here's our exchange: (shared with permission)
Me: My apple fritters taste like doughnuts. Blerg.
Steve: ?
Me: I want to make commercial-like apple fritters and I'm getting apple-studded flat doughnuts.
Steve: How are you leavening?
Me: Baking powder.
Steve: Use yeasted dough. Laminate the filling into the dough. Roll and cut into small pieces, then press together. We use leftover dough.
Me: MIND BLOWN.
Steve: Don't use pie filling. That's crap. Fresh apples. Sautéed. Apple cider and thicken. Done. You're welcome.
Me: Thank you!!!
It's funny. Even though the recipe now sounded 100x more complicated than I originally anticipated, I suddenly really wanted to make the fritters.
I did a little more digging and found some videos backed up exactly what Steve had described. But I knew the dough needed elasticity and I didn't want to rely solely on xanthan gum for it. So I grabbed a box of Chebe mix (it's made with tapioca starch and modified manioc flour) and added it to my flour blend. A small amount of modified starch mimics a glutenous dough pretty well. I'm just bummed that it's almost impossible for consumers to buy modified starch. To get it, you need to use a plain mix, like Chebe.
The dough rose nicely and rolled out nicely, but I ran into problems as I tried to cut the dough into small pieces and then work it back together. Without those lovely strands of gluten, the dough sort of smushed back together. The little squares of dough were lost. And the dough was incredibly hard to work with. It kept sticking to everything. Yet I kept moving forward, lying to myself that this would work.
It didn't.
The fritters burnt on the edges and were raw in the center. All the work of cutting the dough into pieces was lost too. The finished fritters were just like doughnuts with apple bits here and there.
Frustrated, I almost threw the remaining dough in the garbage. Then I looked at it, grabbed two spoons, and pulled off a little dough from one of the sloppily formed raw fritters. Perhaps size was my problem here. I made some new fritters, this time smaller, more like hush puppy size.
I let one cool, always a challenge with a hot-from-the-fryer doughnut before trying. It tasted good. Like a wheat-based fritter, it wasn't too sweet and contained bite-sized pieces of apples.
A few days later, I tried the fritters again. I skipped the messy process of laminating the apples into to the dough. Instead, I let the dough rise, punched it down, and then stirred cooked apples in. After another rise, I simply dropped small pieces of the dough into a hot fryer. Perfect.
I won't lie. Homemade apple fritters are a little time-consuming to make. However, the steps are just that—time-consuming, but not hard. For this recipe, you need Chebe mix. You also need time. The dough takes several hours to rise and the filling is a two-step affair that requires time for cooling.
But, in the end, the fritters are totally worth it.
As I sat eating a fritter, I noticed that the yeast-raised dough tasted really great. Now I'm pondering what I can make with it beyond these fritters. Glazed doughnut holes, perhaps?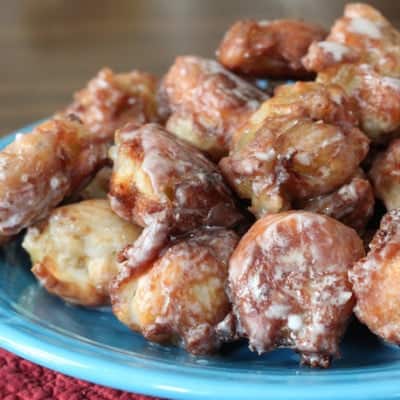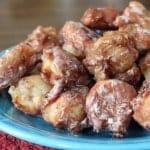 How to Make Gluten-Free Apple Fritter Bites
Be sure to use original Chebe mix, not the pizza mix or cinnamon roll mix.
Total Time
2
hours
3
minutes
Servings
24
small doughnuts
Ingredients
For the Fritters
1

(7.5 ounce) pacakge

Chebe original cheese bread mix (see note above)

1 1/2

cups

finely ground white rice flour

(6 ounces; 170 grams)

1/2

cup

sweet rice flour

(2 ounces; 56 grams)

1/4

cup

granulated sugar plus 1 teaspoon, divided

(1 3/4 ounces; 50 grams)

1

teaspoon

ground cinnamon

1/2

teaspoon

xanthan gum

1/2

teaspoon

salt

1/4

cup

water, warm

(2 ounces; 56 grams)

1

(1/4 ounce) packet

active dry yeast

(2 1/4 teaspoons; 7 grams)

1

cup

milk, warm

(8 ounces; 226 grams)

1

large

egg

(1 3/4 ounces; 50 grams, out of shell)

2

tablespoons

butter, melted and cooled

(1 ounce; 28 grams)

1/2

teaspoon

vanilla extract

Oil or nonstick cooking spray for greasing the bowl

2

tablespoons

butter

4

tablespoons

dark brown sugar
For the Apples
3

large

cooking apples, peeled, cored, and diced (Granny Smith work best)

(about 3 1/2 cups)

1/2

cup

apple cider

(4 ounces; 113 grams)

2 1/2

teaspoons

corn starch

about

2 cups

vegetable oil, for frying
For the Glaze
2

cups

confectioner's sugar

(8 ounces; 226 grams)

4

tablespoons

half-and-half

(2 ounces; 56 grams)

1

teaspoon

vanilla extract
Instructions
For the Dough: In large bowl, whisk together Chebe mix, white rice flour, sweet rice flour, 1/4 cup granulated sugar, cinnamon, xanthan gum, and salt. Set aside.

In small bowl, whisk together warm water and 1 teaspoon sugar until sugar dissolves. Add yeast. Whisk until yeast dissolves. Set aside until doubled in size, about five minutes. (If yeast doesn't bubble and double in size, it means the yeast is dead. Discard it and start with a new packet of yeast.)

Add warm milk, egg, melted butter, and vanilla extract to the yeast mixture. Pour milk-yeast mixture over the whisked dry ingredients. Stir, using a wooden spoon, until a stiff dough ball forms. Generously flour your countertop and turn sticky dough out onto counter. Dust dough with white rice flour and knead dough until smooth, about one minute. Lightly oil a medium bowl. Place dough in oiled bowl. Cover with plastic wrap and allow dough to double in size, about 2 hours.

For the Apples: In large cast iron or stainless steel skillet, combine butter and dark brown sugar. Melt butter and sugar over medium heat, stirring occasionally. Add apples and stir to combine. Cook until apples darken slightly and just begin to soften. In a small bowl, whisk together cider and cornstarch. Pour cider over the apples. Stir. Bring to a boil and cook until thick, about 3 minutes. Transfer apples to a bowl and allow to cool.

When dough doubles in size, punch down or stir with a rice floured wooden spoon. Stir in cooled apple mixture. Cover and allow to rise until dough almost doubles in size, about 1 hour.

To Fry: Line a rimmed baking sheet with paper towels. Heat oil, about two cups, in a 12-inch cast iron skillet, Dutch oven, or wok to 350°F. (Fill skillet about 1/2 wayAdjust flame during cooking to maintain temperature. Using two spoons, carefully drop balls of dough about 2 tablespoons each into the oil. Cook until edges turn golden brown. Turn and repeat. Using a wire skimmer, remove fritters from hot oil. Place on prepared baking sheet. Repeat until all the dough is fried.

Prepare the glaze: whisk together confectioner's sugar, half and half, and vanilla extract. Line a rimmed baking sheet with parchment paper. Place a wire rack over the baking sheet. One by one, dip the fritters into the glaze. Shake excess glaze off and place fritters on wire rack.

Fritters are best served the day they are made but may be held overnight. Store leftover fritters on a plate and cover with plastic wrap.