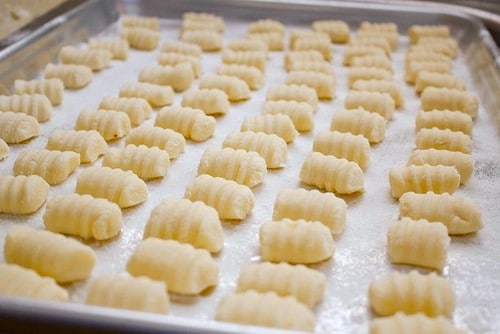 How to Make Gluten-Free Gnocchi or Turning Potatoes Into Pasta is Easy!
Turning on the oven to roast potatoes during the summer seems silly. But summer foods, including pesto, caponata, and fresh tomato sauce, pair so well with potato gnocchi that it's worth the hour or so of extra kitchen heat.
The Potatoes
Without wheat flour to bring stretchy gluten to hold the gnocchi together, starchy potatoes provide the structure that we need. Use russetts or Idaho potatoes for this recipe.
To further ensure the gluten-free gnocchi hold together during cooking, you need to bake, not boil, the potatoes. Baked potatoes not only reward you with a stronger potato flavor, they don't absorb water during the cooking process. During testing, batch after batch of gnocchi made with baked potatoes used approximately one to one and a half cups of gluten-free flour. The same recipe made with boiled potatoes sometimes required up to two and half cups of flour, leaving the gnocchi heavy and unpleasantly gummy.
The Flour
Thanks to the starchy, roasted potatoes, we don't need to use a complex gluten-free flour blend or xanthan gum for this recipe. A simple mix of white rice flour and sweet rice flour does the trick. And the sweet rice flour is important. Made with only white rice flour, the gnocchi were too soft. A half cup of sweet rice flour, which is ground from glutinous, short-grain rice, added a nice bite without making the gnocchi gritty.
The Shaping
After selecting the potatoes and the flour, it's time to make your gluten-free gnocchi. Are you excited? I'm excited! Let's get going!
Rice or Grate Cooled Potatoes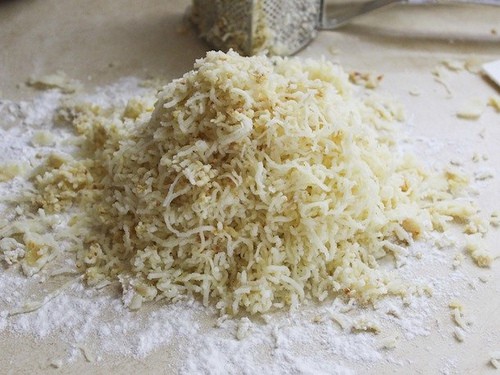 Once the potatoes are cooked, allow them to cool. Then go ahead and peel them. I know that some cooks make gnocchi with hot potatoes. However, in my non-scientific tests, I found that the negatives (handling hot potatoes and the possibility of the eggs cooking when they hit the hot potatoes) outweighed any benefits. Once you peel the potatoes, pass them through a potato ricer or food mill. If you don't have a potato ricer handy, you can grate the potatoes or mash them. (In fact, you can make small batches of gnocchi with cold, leftover mashed potatoes!)
Add Beaten Eggs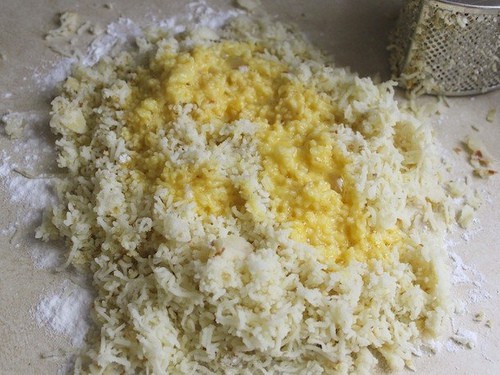 Whisk together your eggs. Pour over your shredded potatoes.
Mix Until a Dough Forms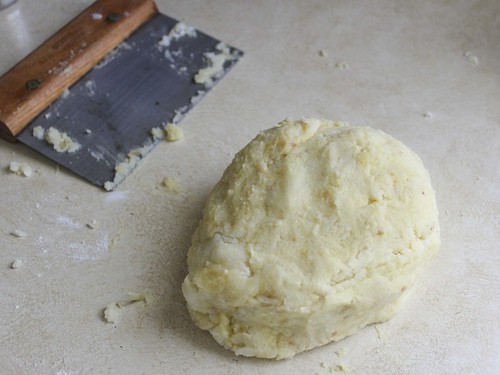 Work the eggs into the shredded potatoes with a bench scrapper or fork. As soon as the eggs are incorporated into the dough, the potato-egg mixture should resemble a very soft dough. Stop mixing at this point.
Add the Gluten-Free Flour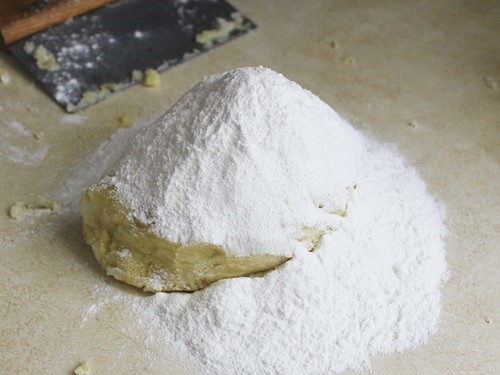 For two pounds of gnocchi, you need about 1 1/2 cups of gluten-free flour. (recipe below.) The few times I used less flour, the gnocchi fell apart while they boiled. Begin by adding 1 cup of flour. Work it into the dough and then go from there.
Knead the Dough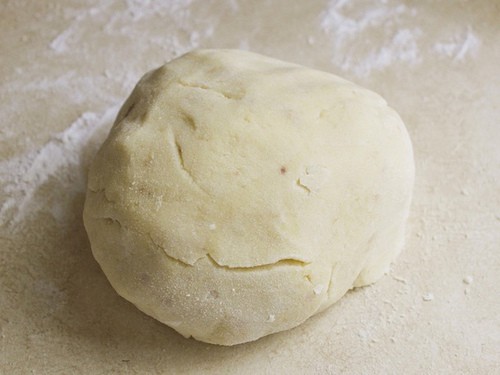 You want the dough firm, not soft and sticky. If the dough seems too soft, add the remaining flour mixture, 1/4 cup at a time. If you've never made gnocchi before and aren't sure if you've added enough flour, you can pinch off a little piece of dough and test it in a small pot of boiling water. The dough should not fall apart, if it does, add more flour.
Divide It Up!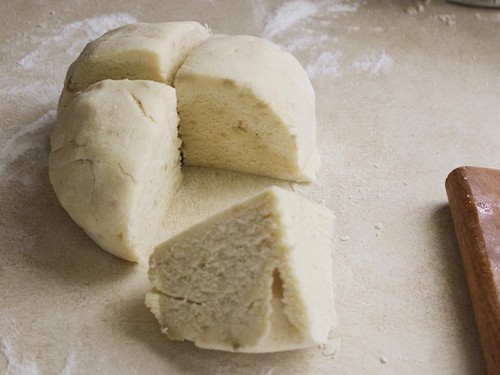 Cut the dough into eighths. Place a damp paper towel over the dough you aren't working with. This prevents a skin from forming.
Roll Into a Log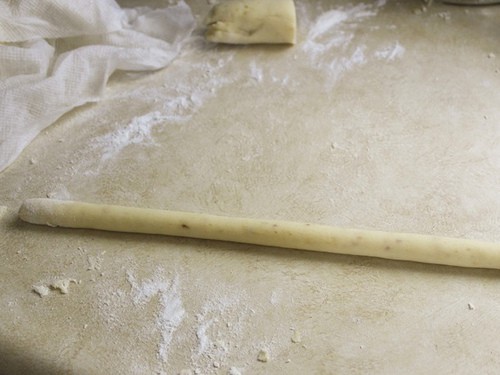 Knead the dough a few times before rolling out into a long log. Don't place too much flour on your counter of the dough will be hard to roll out.
Cut into Pieces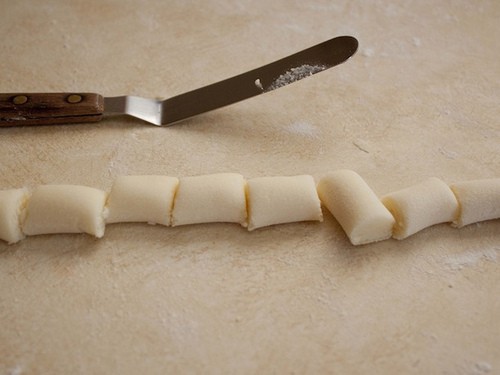 Cut each log into bite-size pieces. Since my dough wasn't on a cutting board, I used a small icing spatula to cut the dough into pieces. This prevents my knife, and countertop, from damage.
Dent it!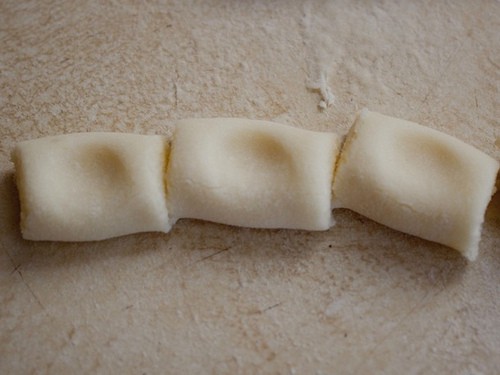 The easiest way to shape gnocchi is to simply press a small indentation into each piece. Place the cut gnocchi onto a lightly floured baking sheet.
or Roll It On a Fork!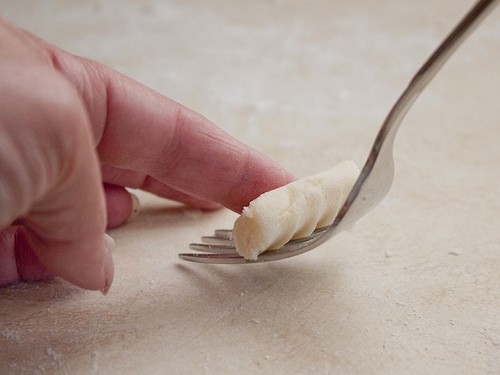 Or you can roll the gnocchi over a fork or gnocchi board. This creates ridges which hold onto sauce for serving. Place the cut gnocchi onto a lightly floured baking sheet.
Boil It!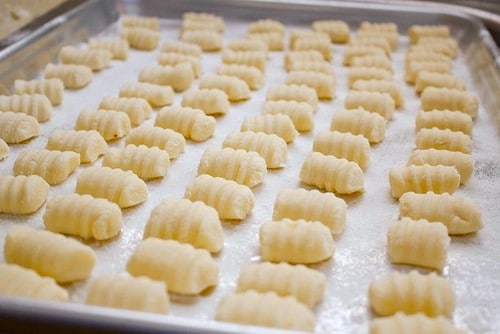 Once all the gnocchi are shaped, boil them, top with your favorite sauce, and enjoy!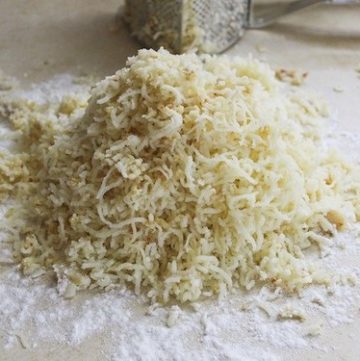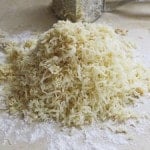 How to Make Gluten-Free Gnocchi
Note: Do NOT freeze these gnocchi. They fall apart in the water if they are frozen. They must be cooked the day they are made.
Total Time
1
hour
5
minutes
Ingredients
2

pounds

russet potatoes, washed

(about 4 medium)

1

cup

white rice flour

(4 ounces; 113 grams)

1/2

cup

sweet rice flour

(2 ounces; 56 grams)

2

large

eggs

Kosher salt
Instructions
Adjust oven rack to center middle position and preheat oven to 400°F. Pierce potatoes a few times with a knife and place on a baking sheet. Roast until tender, about one hour. Remove potatoes from oven and allow to cool.

Whisk together white rice flour and sweet rice flour. Using the flour mixture, flour your counter. Peel the potatoes and pass through a potato ricer onto the counter. Whisk together eggs and 1 teaspoon salt. Pour over the potatoes. Work the egg mixture into the potatoes with a bench scrapper or fork until potatoes begin to hold together. Mixture will be sticky.

Work one cup of the flour mixture into the potato mixture. Start by working the flour into the potato mixture with a bench scrapper or fork. As soon as a dough begins to form, begin kneading the dough by hand until all the flour is incorporated. The dough should be firm and not sticky. If it is, add the remaining flour mixture, about 1/4 cup at a time. (You can test the gnocchi by boiling a small pot of water and cooking a small piece of dough. The gnocchi should hold together.)

Divide the dough into quarters. Then, as you work with it, cut each quarter in half. Cover remaining dough with a damp paper towel. Roll out each dough eighth into a log. Cut into bite-size pieces. Shape by either pressing a small indentation into each gnocchi or rolling the gnocchi over a fork or gnocchi board.

Transfer shaped gnocchi to a lightly white rice-floured baking sheet. Shaped gnocchi can either be frozen or cooked right away.

To Cook: Boil a large pot of salted water. Cook half the fresh or frozen gnocchi in the boiling water until they float, about four minutes. (Taste one gnocchi to ensure it is cooked through). Remove the gnocchi from the water with a skimmer and transfer to a bowl or pot of sauce. Repeat with remaining gnocchi. If gnocchi must be held for more than a moment, drizzle with oil and toss to prevent sticking.