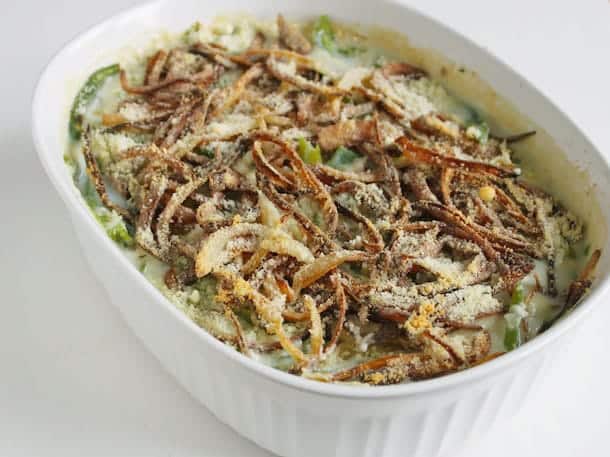 A few years ago, when one of my readers asked me to create a gluten-free green bean casserole, I was excited. Until then, I had never eaten the classic Thanksgiving side. After perfecting the recipe, a funny thing happened: several of my friends revealed themselves to be secret green bean casserole lovers. Now I make this for Thanksgiving every year.
Canning the Cans
Created by Campbell's in 1955, the original recipe uses canned green beans and canned cream of mushroom soup. While de-glutening the recipe, I replaced the canned green beans with frozen because I prefer the texture. (And if fresh green beans had looked good at the market, I would have used those. That said, if you love canned green beans in this dish because that's how you've always made it, use them!)
To make Thanksgiving prep a little easier, you can make the casserole the night before. (Don't top it with the fried onions the night before or they'll get soggy.) About 30 minutes before you are ready to serve, heat the casserole in the oven and then top with the freshly fried onions.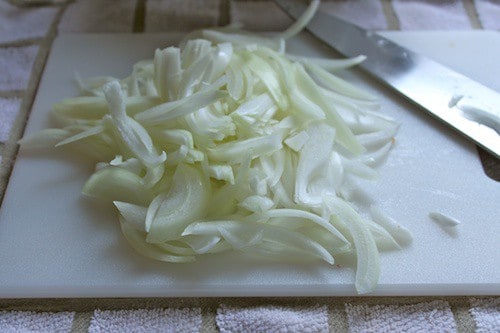 What's green bean casserole without fried onions??? Unlike making batter-dipped onion rings (the kind you'd find on bar menus or frozen), these fried onions are thin strips. To do this, cut your onion in half and then cut each half into strips. Using your fingers, "break" apart the onion slices.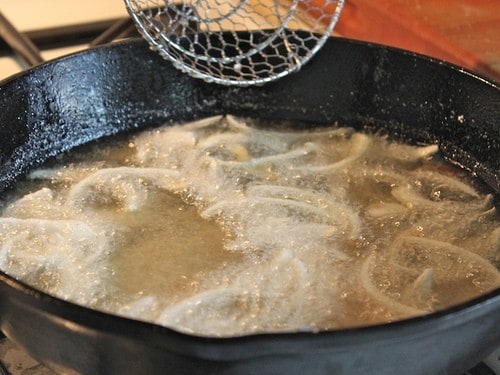 After dusting the onion strips with the flour mixture, drop them into hot oil. You'll need to divide the onions into batches. If you fry too many onions at one time, the temperature of the oil will drop, making for greasy onion strips. Usually four to five batches of onion strips are best. As you can see, I don't use a deep fryer. I cast iron skillet is perfect for this job.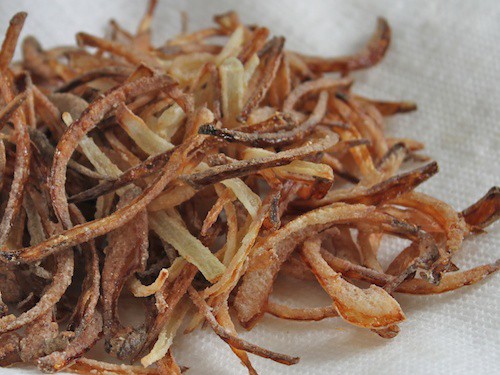 The finished onion pieces should be golden brown and crisp. (I am so glad you can't hear the sound of my nibbling on the other side of the screen. These babies are addictive!)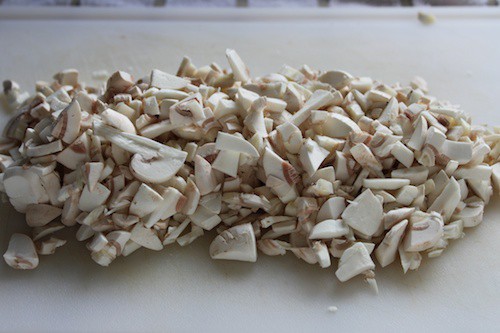 For the mushroom sauce, chop the mushrooms into small, bite-size pieces. These pieces don't need to be perfect–at all! As you'll see, the mushrooms get very small and soft.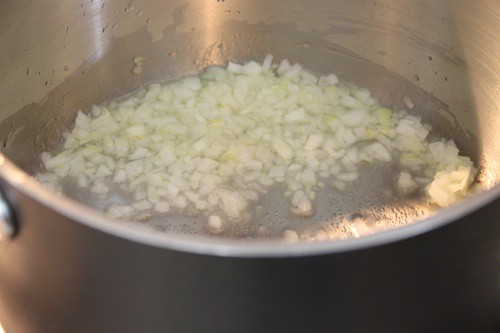 More onions (and garlic too)! Begin the white sauce by sweating onions and garlic together until soft.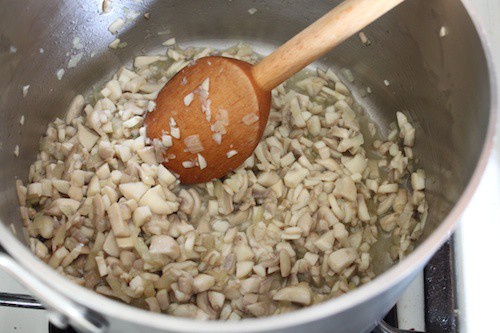 Once the onions are soft and aromatic, add the mushrooms. Cook until soft.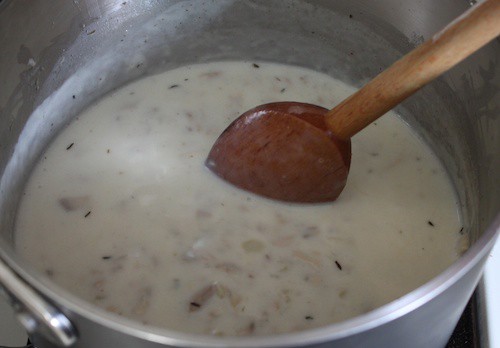 Add the milk and bring to a boil. This is important. Cornstarch needs to come to a boil to fully thicken. If you don't boil the milk, your casserole will be thin.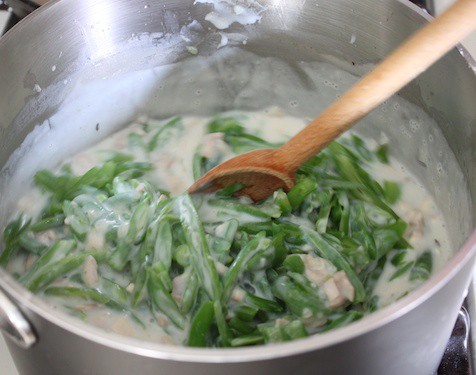 Add the green beans and spoon the entire mixture into a casserole dish.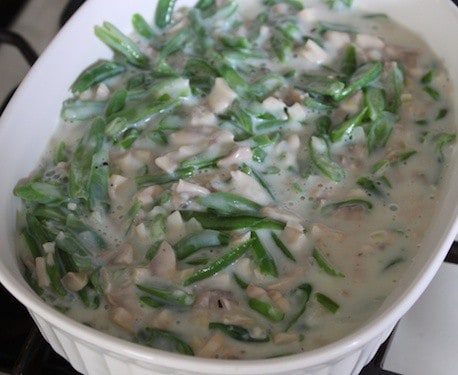 Top with fried onions and cheese. (I snapped this picture before I added the final addition of cheese. Sorry!)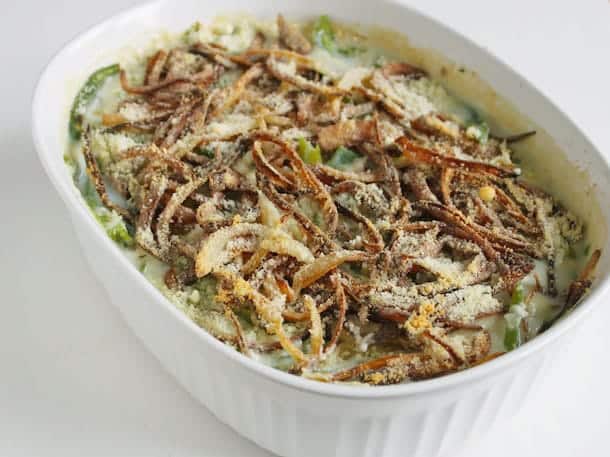 Bake and you're done!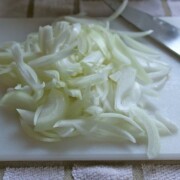 Gluten-Free Green Bean Casserole
Consider doubling the onion part of the recipe if you like to munch on fried onions.
Ingredients
For the Fried Onions
3

tablespoons

cornstarch

(3/4 ounce; 22 grams)

3

tablespoons

white rice flour

(3/4 ounce; 22 grams)

1

medium onion

sliced into thin strips

Vegetable oil for frying
For the Casserole
Salt

to taste (optional)

3

tablespoons

olive oil, divided

1

small onion, finely diced

8

ounces

white button mushrooms, finely chopped

(approximately 3 cups)

1

clove

garlic, minced or put through a garlic press

2

cups

milk, divided

(16 ounces; 453 grams)

2

tablespoons

cornstarch

(1/2 ounce; 14 grams)

1

(16-ounce) bag

frozen French-cut green beans, thawed and drained or 16-ounces fresh green beans, cleaned, trimmed, and cooked until tender

1/8

teaspoon

ground thyme

Salt and pepper

to taste

1/4

cup

grated Parmesan cheese, divided

(3/4 ounce; 22 grams)
Instructions
For the Onions: In a large zip-close bag, combine cornstarch and white rice flour. Add onions and shake bag to combine. Remove onions from bag; shake off any excess flour.

Fill a large heavy-bottomed skillet (cast iron works best) with 1/2 inch of vegetable oil. Heat oil over medium-high heat until hot and shimmering. (To test your oil, drop one onion slice into it. The onion should sizzle when it hits the oil. If it doesn't, the oil is not hot enough.) Fry a handful of onions, about 4- 5 batches, until golden brown and crispy. (Don't crowd the pan while frying.

Remove onions from oil using a slotted spoon. Place on paper towel-lined plate to drain. If desired, season with salt to taste. Repeat with remaining onions.

For the casserole: Preheat oven to 350ºF. In a medium saucepan, heat 2 tablespoons of olive oil over medium-high until shimmering. Add onion and garlic. Sauté until soft, stirring frequently. Add mushrooms and remaining tablespoon of olive oil. Cook until mushrooms are soft and tender, stirring frequently, about three minutes.

Add 1 3/4 cups of milk and thyme. Bring to a boil. Once the mixture boils, combine remaining 1/4 cup of milk and two tablespoons cornstarch. Stir vigorously with a fork to combine milk and cornstarch. Quickly whisk in cornstarch. Allow to boil for 45 seconds. Remove from heat. Reduce heat to low. Allow to simmer for three minutes. Salt and pepper to taste.

Add green beans, stir to combine. Pour into a 1 1/2-quart casserole dish. Top with half the grated Parmesan cheese. Cover with foil. Bake for 30 minutes.

Remove foil. Sprinkle fried onions and remaining cheese over the top of casserole. Return to oven until bubbling and lightly golden brown, about seven minutes.