Creamy gluten-free macaroni and cheese! YES! Oodles of cheese and a sweet rice flour-roux combine to make this a creamy, dreamy mac and cheese. The recipe uses both Cheddar and Colby cheese—the Cheddar brings the classic flavor of macaroni and cheese while the Colby makes it creamy. If you prefer all Cheddar (or all Colby) go ahead and substitute to suit your tastes!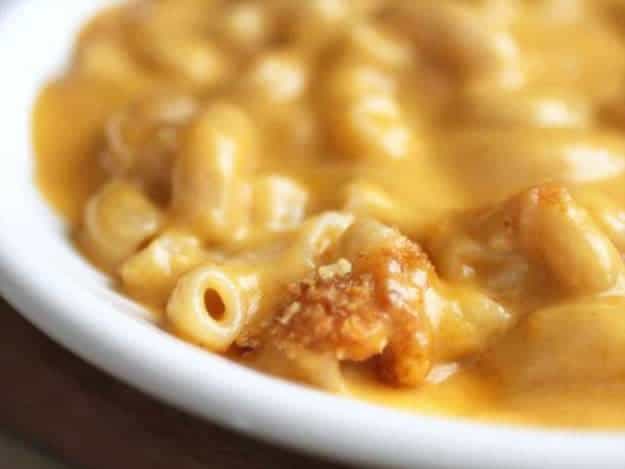 Gluten-Free Macaroni and Cheese: How a frozen dinner turned me into a fan.
Macaroni and cheese never grabbed me. Crazy, right? The few times I tried the American comfort classic, made with a cheddar sauce, I found it dry and unappealing. Then Stouffer's happened.
Years ago, I watched a friend zap a pan of frozen Stouffer's macaroni and cheese in the microwave. Like me, she generally prefers homemade to store bought. As she ate, I saw the appeal: the creaminess of the sauce. It looked AMAZING. In the name of food research, I swiped a forkful from her plate (I wasn't gluten-free at the time.). My reaction? Well, thank goodness for willpower. It kept me from grabbing her plate, running off, and eating the whole thing in one quick go.
If a frozen macaroni and cheese achieved a creamy sauce, a homemade one could too, right?
But they never did. I tried several recipes. One recipe called for eggs in the sauce, making it more custard-like, while another used evaporated milk and half-and-half, creating a rich sauce that muted the flavor of the cheese. One version even used Velveeta, and the result was creamy but I didn't like the flavor. Was it impossible to make a macaroni and cheese at home that was both flavorful and creamy?
Then, one day at the hairdresser (not kidding!), I flipped through an old copy of Cook's Country magazine and saw a promising recipe for a creamy macaroni and cheese. Creamy, you say?
The amount of cheese in the casserole startled me a little. It called for….(wait for it) one and half pounds of cheese! CAN YOU EVEN?!! Since there was more cheese than pasta (it used one pound of pasta) I worried it might be too rich but I decided to try it anyway. I converted it to gluten-free by replacing the wheat flour needed to thicken the sauce with sweet rice flour and the wheat pasta with brown rice pasta. Everything else I left the same.
As promised, the sauce, even after baking, stayed creamy.
Had I finally found the winning recipe? Yes! But this didn't stop me from tinkering with it. One time I reduced the amount of whole milk and bumped up the chicken broth. Another time I swapped the ratio of Colby to Cheddar, using more Cheddar because I like its sharper flavor. Finally, because as much as I like macaroni and cheese, I don't need a 9×13-inch pan of it; I reduced the recipe by half.
Finally, I'd found a gluten-free macaroni and cheese recipe I loved and boy, oh boy, was it creamy and dreamy!
Gluten-Free Macaroni and Cheese: How to Make It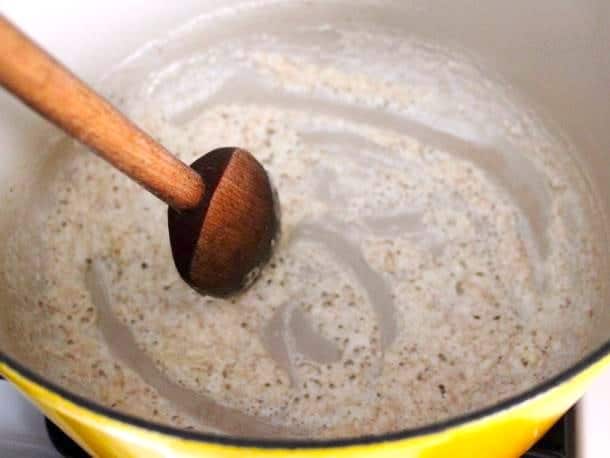 This recipe starts with a cooked mixture of sweet rice flour and butter. This is called a roux. When you first add the flour to the butter, it will seize and get clumpy. This is totally normal. Just let the mixture do its thing while you do yours. And your thing is to stand their and stir. You want to cook the sweet rice flour until it turns a light shade of beige. This takes a minute or two. Don't walk away from the pan or the flour-butter mixture will betray you and burn.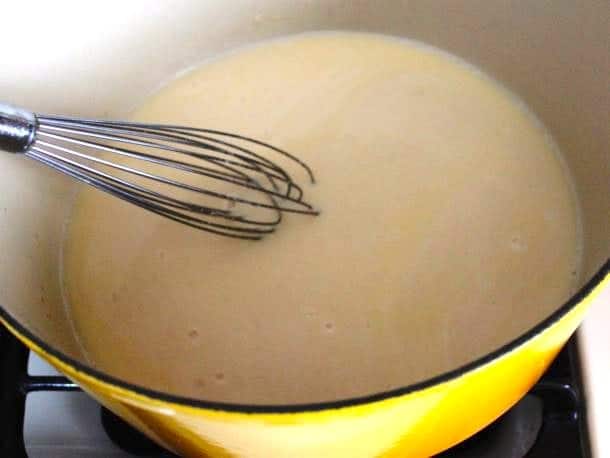 Once you've cooked the roux, it's time to add the broth and milk. The roux thickens the second a little broth hits it. Add the broth in a slow and steady stream, whisking as you add the liquid. Do the same as you add the milk. The roux will relax and you'll be left with a nice smooth sauce. Cook the mixture until it thickens a little. I love watching this happen!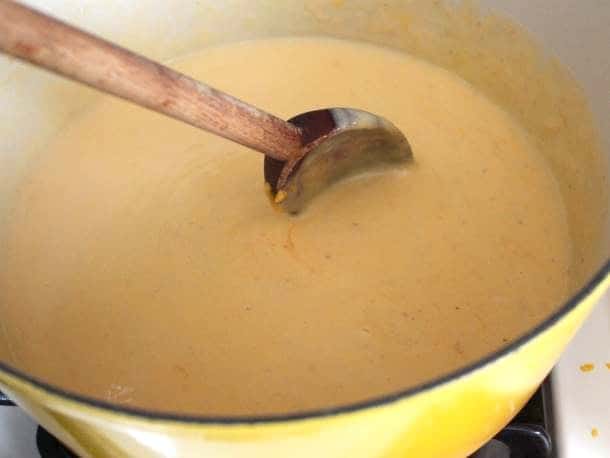 As soon as the sauce thickens, add your grated cheese. Now, don't add it all at once or it'll clump and make you sad. You want to add a handful (about 1/2 cup) at a time. Stir the sauce gently after each addition and allow the cheese to melt into the sauce. If you stir the sauce too fast, the cheese might break and make the sauce oily. Don't stress about this too much. If you go slow and steady, you'll be fine. Add cheese, one handful at a time, until you've added all of it.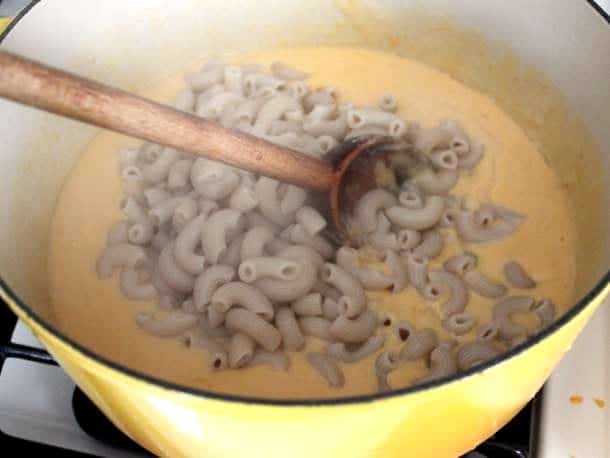 At this point, your pasta should be ready to drain and add to the sauce. If the pasta isn't ready yet, reduce the heat under the cheese sauce to low and stir it occasionally while you wait. When the pasta's ready, drain it, and stir the pasta into the sauce.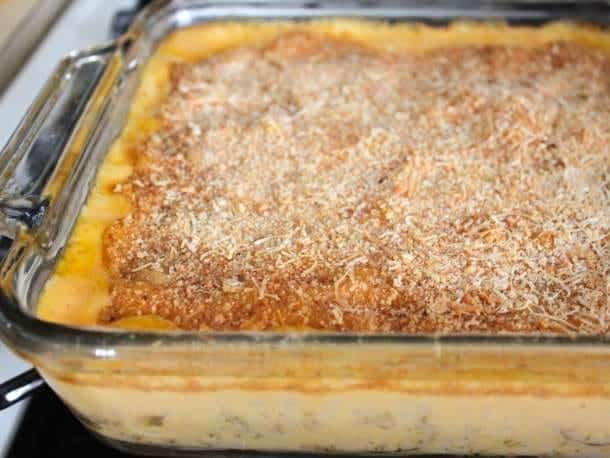 Transfer the macaroni and cheese to a 9×13-inch pan, sprinkle breadcrumbs over the top, and bake until bubbly.
Gluten-Free Macaroni and Cheese: Variations
Sauce: Replace the chicken broth with gluten-free vegetable broth for a vegetarian macaroni and cheese. If you want a rich sauce, omit the broth and use all milk; for a (slightly) lighter-tasting sauce, use reduced fat (2%) milk. Skim milk doesn't work as well.
Pasta: When cooking the pasta, boil it until it's al dente or it will overcook and become bloated and mushy in the casserole. Look for your pasta to be firm but yielding. If it crunches when you bite into it, cook it a little longer.
Cheese: The combination of cheddar and Colby provides great flavor and creaminess. If you prefer to use all cheddar or all Colby, go ahead. Or use any combination of the two.
Topping: You'll sprinkle gluten-free breadcrumbs over the macaroni and cheese before baking. If you don't have gluten-free breadcrumbs on hand, replace the breadcrumbs with grated Parmesan cheese.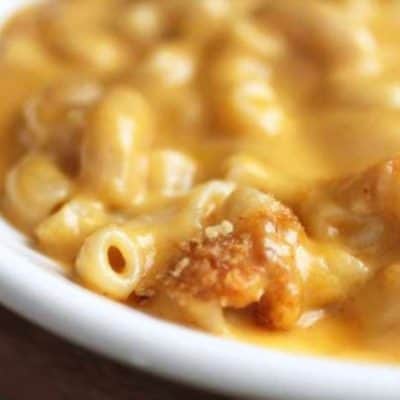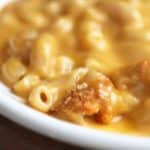 How to Make Gluten-Free Macaroni and Cheese
If you like a slightly less cheesy gluten-free macaroni and cheese, reduce the cheese from 12 ounces (total) to 8 ounces (total). Feel free to do this as you please, reducing either the Cheddar, the Colby, or both!
Ingredients
8

ounces

gluten-free elbow macaroni

3

tablespoons

butter

(1 1/2 ounces; 42 grams)

1

clove

garlic, minced or put through a garlic press

1

teaspoon

Dijon mustard

3

tablespoons

sweet rice flour

(3/4 ounce; 21 grams)

1 1/4

cups

chicken broth, homemade or reduced sodium

(10 ounces; 283 grams)

1

cup

whole milk

(8 ounces; 226 grams)

8

ounces

Cheddar cheese, grated

4

ounces

extra sharp Colby cheese, grated

3

tablespoons

cup dried gluten-free breadcrumbs

1

tablespoon

grated Parmesan cheese
Instructions
Adjust oven rack to middle position and preheat oven to 375°F.

Fill a medium (3 quart) pot 3/4 full with water. Cover and bring to a boil over high heat. When water reaches a boil, add one teaspoon salt and pasta. Stir frequently with a wooden spoon during the first few minutes of cooking. Set a colander in the sink drain the pasta.

As soon as you start your pasta, begin your sauce. In a large (5 1/2 quart) pot, melt butter over medium heat. Add garlic and mustard. Cook, stirring constantly, until garlic is translucent, about one minute

Switch to a wire whisk. Add sweet rice flour. Cook, whisking constantly, until thick and light brown, about three minutes.

In a slow and steady steam, add chicken broth and milk. Whisk until mixture thickens. Cook until mixture is thick and beings to bubble. Add cheese, one handful at a time, until incorporated. Stir gently using a wooden spoon until cheese melts. Sauce should be smooth. Reduce heat to low.

Check pasta. When it's almost tender, drain and return to cooking pot.

Add pasta to sauce. Stir to combine. Pour into an 8x8-inch baking pan. Sprinkle breadcrumbs and Parmesan cheese evenly over the top of pasta.

Bake until sauce is bubbling and edges are starting to turn golden brown, about or 25-30 minutes. Remove pan from oven and allow to cool for ten minutes before serving.