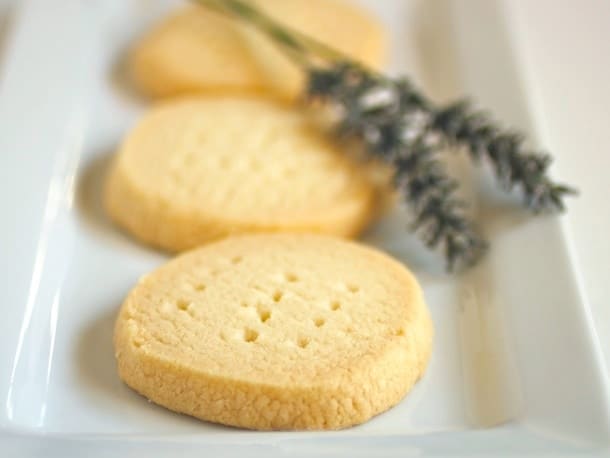 I was about to tell you that gluten-free shortbread are my favorite cookies. And then I thought of chocolate chip cookies. And sugar cookies. And lemon wafers. And then I realized that cookies are my favorite cookies.
Funny how that works!
Shortbread cookies, I must say, are right up there. Before going gluten-free, I'd often pick up a box of Walkers shortbread. They now make a gluten-free version. They are good! But they are pricey. So I still prefer making my own. I freeze the extras and then whenever I want a shortbread cookie, I head to the freezer.
Shortbread cookies are an old cookie. How old? Historians date shortbread to the medieval times. The first printed version appeared in 1736!
Made with flour and butter, two expensive ingredients, shortbread was often reserved for Yuletide baking. And to this day, Walkers sells more shortbread during the holiday season than any other time of year.
I'm guessing—and go with me here–that in 1736 people didn't pull out their KitchenAid mixer to whip up a batch of shortbread. But I'm no historian. So what do I know?
While I use–and recommend using!— an electric mixer for making shortbread, there are some things to keep in mind to make the very best gluten-free shortbread.
Gluten-Free Shortbread Rule #1 
Don't overmix
Shortbread cookies are dense affairs. Over-mixing the butter causes their texture to become too light and crumbly. When preparing the dough, don't cream the butter and sugar so much that it becomes light and fluffy.
Gluten-Free Shortbread Rule #2 
Take your time
Since these cookies contain no eggs, there's no moisture to coax the ingredients quickly into a dough. Once the dry ingredients are added to the butter and sugar paste, it takes a little while for a dough to form. At first the dough seems incredibly sandy–you might even worry that it's not coming together—don't fret like I did the first time I made a batch! The dough does come together after two or three minutes of mixing. Don't rush it and don't give up. The wait's worth it.
Gluten-Free Shortbread Rule #3 
Re-rolling is welcome
With no gluten to make things tough, you can roll and re-roll this dough until every last piece is used. Since these cookies are so rich, I make about two dozen 2 1/2-inch cookies from one batch, gathering and re-rolling the dough as needed to get this many cookies.
Gluten-Free Shortbread Rule #4
 Use Butter (optional, sorta)
In my opinion, dairy-free shortbread is a skip. Butter is an essential ingredient in these cookies. Made with a dairy-free fat, I don't think shortbread cookies are worth the time or the calories. Without butter, shortbreads main flavor, they just taste kind of flat. However, if you like the taste and texture of coconut oil or a different dairy-free fat, go ahead and give it a try. When selecting a dairy-free fat, be sure to use a solid fat, not a liquid oil.
Gluten-Free Shortbread Rule #5
Enjoy 'em, today or next week
Happily, gluten-free shortbread store really well. After you bake a batch, allow them to cool and then store them in an airtight container. They are good for a ridiculously long time! So you can make a batch now and still enjoy them next week or the week after!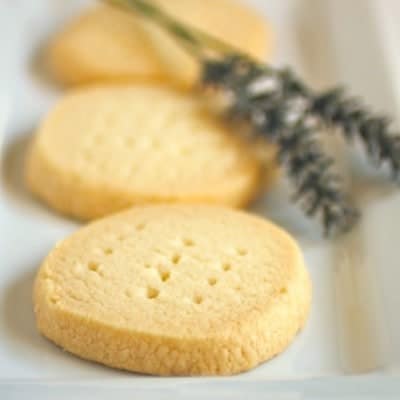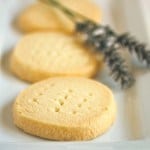 Gluten-Free Shortbread
Ingredients
1 ⅓

cups

white rice flour

(7 ½ ounces; 213 grams)

½

cup

sweet rice flour

(2 ½ ounces/ 70 grams)

½

cup

cornstarch

(2 ounces/ 56 grams)

1

teaspoon

salt

¼

teaspoon

baking powder

¼

teaspoon

xanthan gum

this prevents the cookies from spreading

14

tablespoons

butter, softened

(7 ounces; 198 grams)

¾

cup

granulated sugar

(5 1/4 ounces; 148 grams)

1

teaspoon

vanilla extract
Instructions
Preheat oven to 325°F. Line baking sheet with parchment paper. In small bowl, whisk together white rice flour, sweet rice flour, cornstarch, salt, baking powder, and xanthan gum. In bowl of stand mixer fitted with paddle attachment, cream butter, sugar, and vanilla extract together, on medium-low speed, until a thick paste forms, about 30 seconds. Shut off stand mixer. Add dry ingredients. Turn on mixer and mix until a dough forms, about three minutes.

Lightly white rice flour your countertop. Turn dough out onto counter and shape dough into a disk. Using a rolling pin, roll dough out, about 1/4-inch thick. Cut using a round cutter and place cookies on prepared baking sheet, about two inches apart. Chill cookies for ten minutes.

Bake until cookies are lightly golden brown on the edges and aromatic, about 30 minutes. Allow cookies to cool on the pan for five minutes and then transfer to wire rack to cool. Repeat using remaining dough.

Store in an airtight container for up to two weeks.