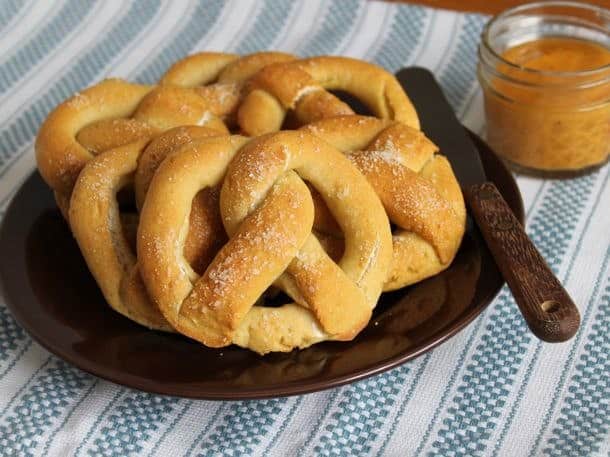 Soft pretzels are just about perfect. They're chewy, salty and great with everything from a beer to a salad. The thing is: they're chewy. And gluten-free flour doesn't do chewy well.
But this year I decided I didn't want to go through another football season or Oktoberfest without a soft pretzel. So I headed into the kitchen.
Since gluten, the protein found in wheat and other grains, is responsible for the distinctive soft pretzel chew, I began by focusing on the flour blend. The flavor of pretzels is rather subtle I first used white rice flour and tapioca starch. I hoped the white rice flour would be bland enough to fade into the background while the tapioca starch, along with a little xanthan gum, provided chew. It worked. Sort of.
The white rice flour was so bland that the pretzels tasted flat, and since I only used a little tapioca starch, there was very little chew. One of my first tasters said, "These taste like they want to be soft pretzels but just aren't. They're odd."
Since I didn't want bland pretzels, I replaced the white rice flour with brown rice flour. While the flavor was better, the pretzels were unappetizingly grainy. Combining the white rice flour and brown rice flour solved this problem.
During testing, I increased the amount of tapioca starch in the recipe. From previous experience, I knew that too much tapioca starch could make a recipe gummy. I added it cautiously, and one day, after using 3/4 cup of tapioca starch, I pulled a baked pretzel apart. There was some resistance as I tore the pretzel and the crumb had the tight appearance of wheat-based soft pretzels. When I took I bite, the pretzel felt chewy! Finally, a gluten-free soft pretzel that was chewy and flavorful.
But texture isn't the only characteristic unique to soft pretzels. They need to be dark brown and shiny. Commercial bakers achieve this by boiling the pretzels in water with a little food-grade lye, a powerful alkaline. The solution turns the dough slightly yellow during boiling and aides the Milliard reaction during baking ,causing the pretzels to darken.
Since I didn't have any lye on hand, (and I'm guessing you don't either!) I used an alkaline that I did have in the kitchen: baking soda. While baking soda isn't nearly as powerful an alkaline as lye, it did turn the dough slightly yellow during boiling. The finished pretzels, however, were a little too light for my liking.
Adding additional baking soda wasn't solving the problem. On a whim, I added some granulated sugar to the solution. I hoped the sugar would help turn the pretzel a nice golden brown.
It worked! And best of all, the additional sugar didn't add sweetness to the pretzels, just a lovely golden brown color.
Now, with a pretzel in hand, I'm ready for football season!
Here's how to make 'em!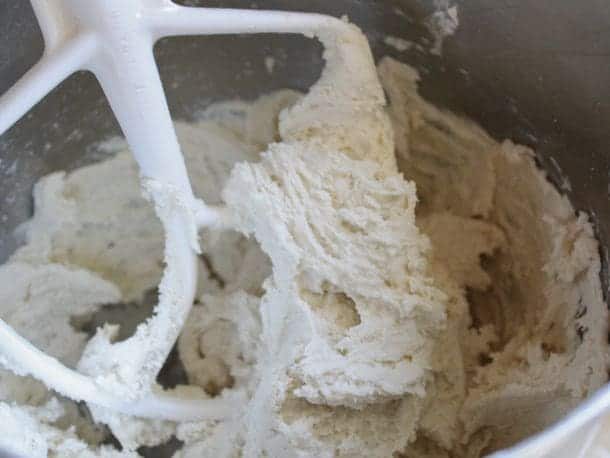 You want the dough stiff but not dry. Don't worry if it doesn't form a dough ball in the stand mixer. It won't.
After two minutes of mixing, no dry ingredients should cling to the bottom or sides of the mixing bowl. If dry ingredients remain, add one to two tablespoons additional water.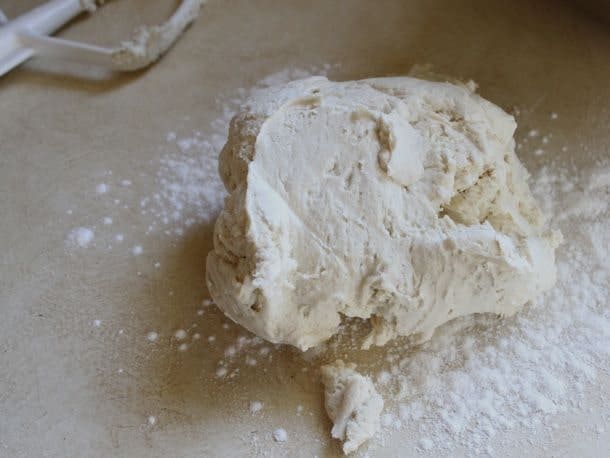 Turn dough out onto a lightly white rice floured surface. Don't use too much flour. A light dusting to prevent the dough from sticking to the counter is all you need.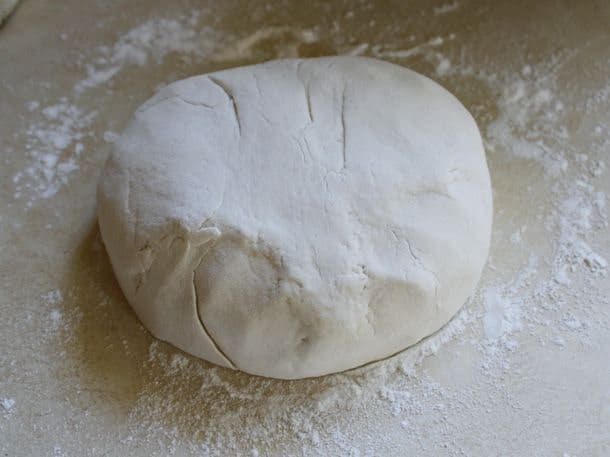 Gently knead dough into a ball. Gluten-free dough requires a light touch. Once the dough forms a ball, stop kneading and place into a lightly oiled bowl to rise. Brush or spray the top of the dough with oil to prevent a skin from forming.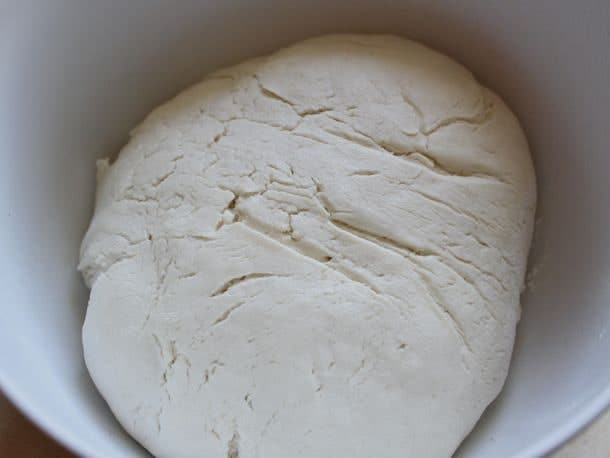 Allow dough to rise until doubled in size. This usually takes about an hour but the time varies depending on temperature.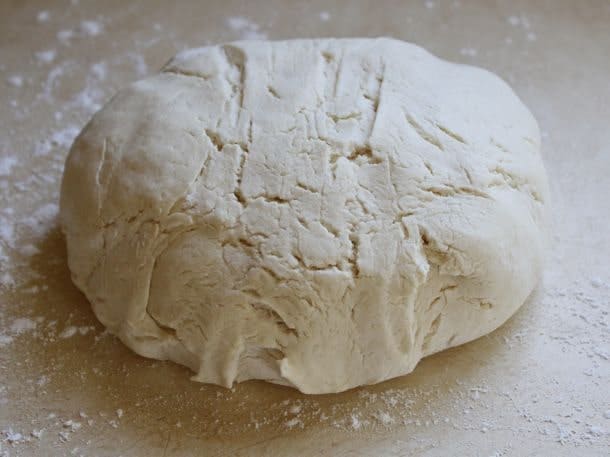 Turn dough onto a very lightly white rice floured counter. Too much flour on the counter makes it hard to shape the pretzels. A light dusting of white rice flour will do.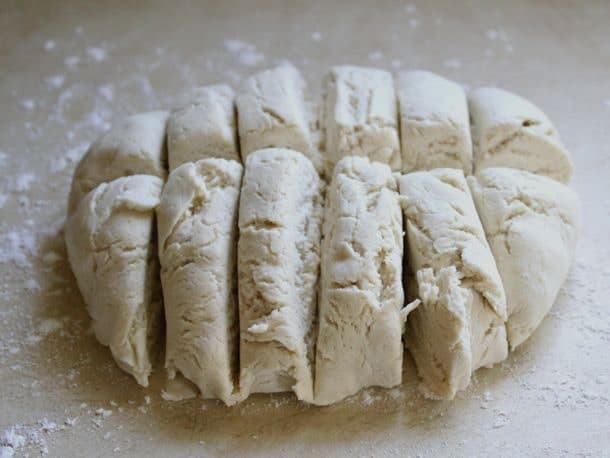 Divide dough into equal portions. (A bench scraper works well for cutting the dough.)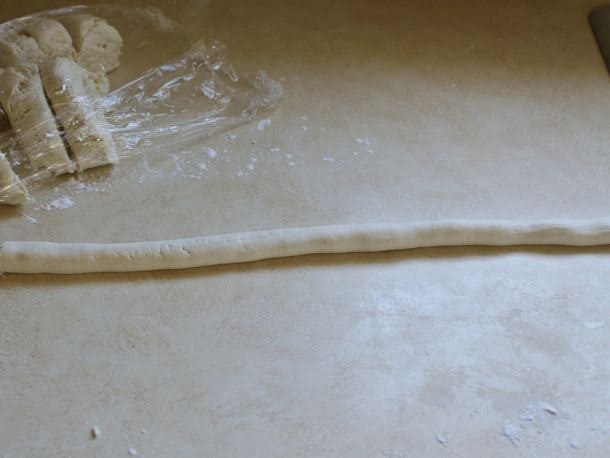 Knead each dough ball until it becomes smooth. It should lose its shaggy appearance.
Roll out into 12-inch log. Take care not to use too much flour on the countertop. If the dough has too much flour on the surface, brush it off with a pastry brush. Cover the other pieces of dough with a piece of plastic wrap.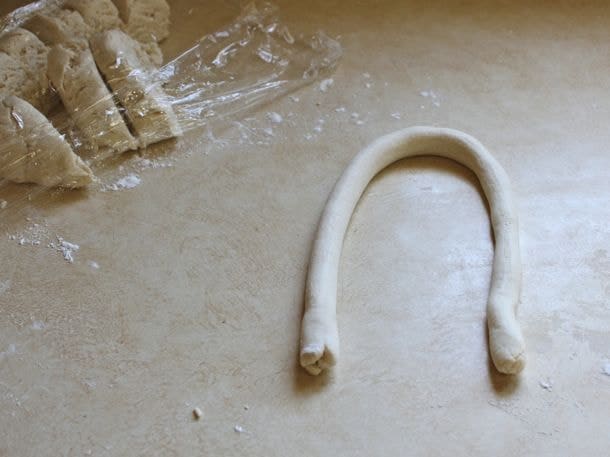 Gently turn dough into an upside down "U."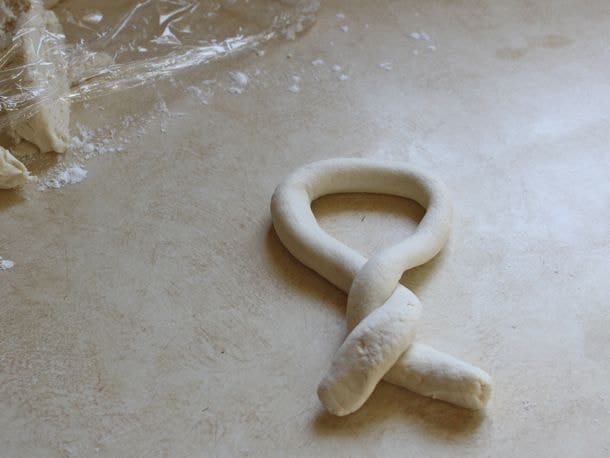 Twist ends together.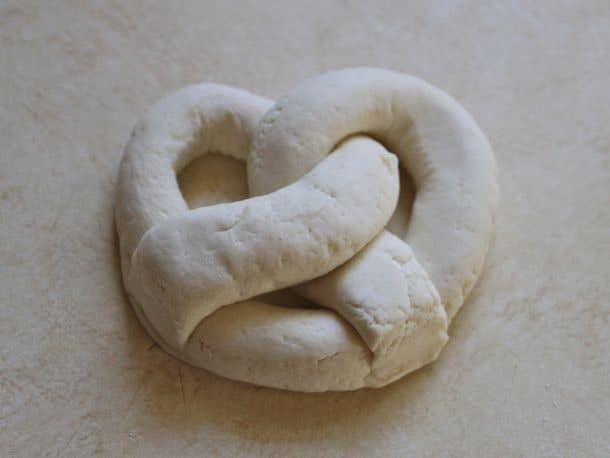 Press the ends into the bottom of the "U". You want to be sure the dough sticks to itself, so it doesn't come apart while boiling.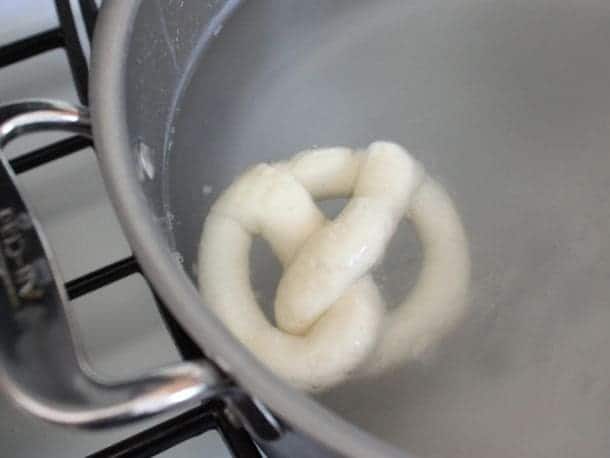 Boil the pretzels until they float.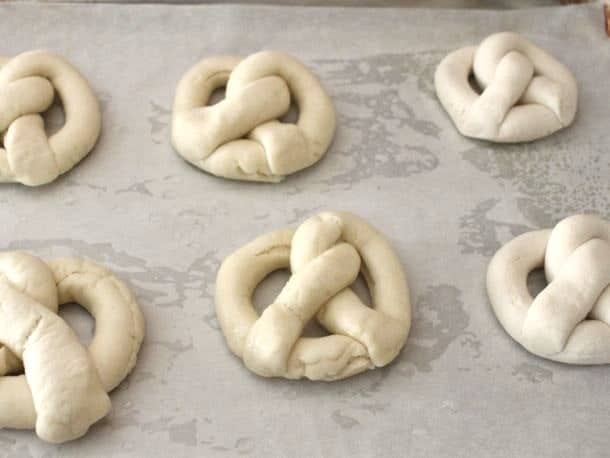 Once boiled, the pretzels turn slightly yellow. (The four pretzels on the left have been boiled. The two pretzels on the right have not been boiled.) Sprinkle some kosher salt on the pretzels and bake.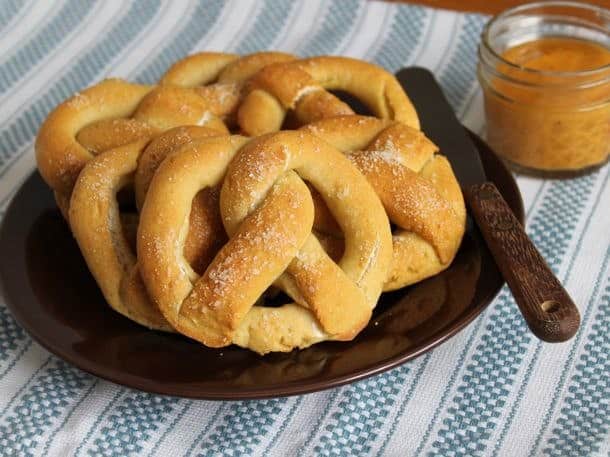 Enjoy!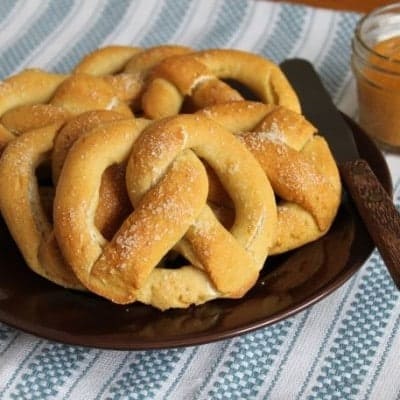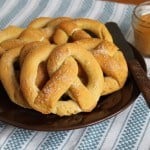 How to Make Chewy Gluten-Free Pretzels
Prep Time
1
hour
30
minutes
Total Time
1
hour
55
minutes
Ingredients
For the Pretzels
2

cups

finely ground white rice flour

(8 ounces; 226 grams)

1

cup

brown rice flour

(5 ounces; 142 grams)

3/4

cup

tapioca starch

(3 ounces; 85 grams)

1

teaspoon

salt

1

teaspoon

xanthan gum

1/2

teaspoon

baking powder

1

cup

warm water plus 2 tablespoons

(9 ounces; 255 grams)

1

packet

active dry yeast

(2 1/4 teaspoons)

1

large

egg

(1 3/4 ounces; 50 grams)

3

tablespoons

light corn syrup

(2 ounces; 56 grams)

2

tablespoons

vegetable oil

(3/4 ounce; 21 grams)
For the Water Bath
16

cups

water

(128 ounces; 3.6 kilos)

1/4

cup

baking soda

2

tablespoons

granulated sugar

(1 ounce; 28 grams)
Instructions
For the Pretzels: In the bowl of stand mixer, combine white rice flour, brown rice flour, tapioca starch, salt, xanthan gum, and baking powder. Whisk to combine.

In a small bowl, combine 1 cup warm water and active dry yeast. Stir with a fork. Allow to stand for three minutes. Add water-yeast mixture, egg, light corn syrup, and vegetable oil to dry ingredients.

Fit stand mixer with paddle attachment. Mix on medium speed until dough forms, about 4 minutes. The dough should be firm but not dry. If any dry ingredients remain at the bottom of the bowl or if the dough seems dry, add the additional 2 tablespoons water.

Turn dough out onto lightly white rice-floured counter. Dust your hands with white rice flour and knead dough into a ball until smooth. Take care not to use too much pressure while kneading.

Transfer dough to lightly greased bowl. Lightly brush the dough with oil. Cover the bowl with plastic wrap and allow to rise until almost doubled in size, about 1 to 1 1/2 hours.

Adjust oven racks to middle position and preheat oven to 425°F. Bring 4 quarts of water to a rolling boiling. Turn dough out onto a very lightly white rice floured countertop. Punch down dough gently to deflate. Cut into 12 pieces. Cover dough with plastic wrap. One at a time, knead each piece of dough until smooth. Then, roll out the dough pieces into 12 to14-inch logs. (You want little to no white rice flour on the area of the counter where you are rolling the dough. If there is too much flour on the outside of the dough, the pretzel dough won't stick to itself when you go to shape it.)

Line two rimmed baking sheets with parchment paper. Working one log at a time, form the dough into a into "u". Twist each end together and then press the rope into the bottom of the "u". You want to press the dough firmly to ensure the ends stick to the "u" or the pretzel can unravel during boiling. Place shaped pretzels on prepared baking sheet.

Prepare the Water Bath: Add the baking soda and granulated sugar to the boiling water. One at a time, boil the pretzels. If the pretzel floats, boil for about five seconds. If the pretzel sinks, wait for it to float to the top of the water and then remove. Return boiled pretzels to the prepared baking sheets. Sprinkle generously with kosher or pretzel salt.

Bake until golden brown, about 25 minutes, rotating baking sheets halfway during baking. Remove and allow pretzels to cool. Pretzels are best served the day they're made. If desired, freeze once cooled and reheat in a warm oven.