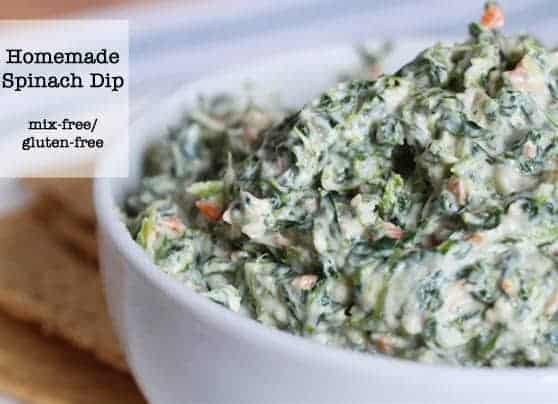 Time for another round of culinary confessions! Today's topic: spinach dip. Before going gluten-free, I loved spinach dip. Not high-class spinach dip, mind you. The kind you make from a packet of Lipton soup mix. I added sour cream, mayo, and a little parmesan and called it a day. I didn't even bother adding water chestnuts or green onions.
Since going gluten-free, I haven't eaten this dip because (at the time of this piece 1/31/2014), Lipton soup mix contains wheat. Boo!
So when a reader asked about a spinach dip, I headed into the kitchen to get reacquainted with an old friend. And I am so glad I did. Folks, creamy, wonderful spinach dip is back in my life.
Here's how to make it!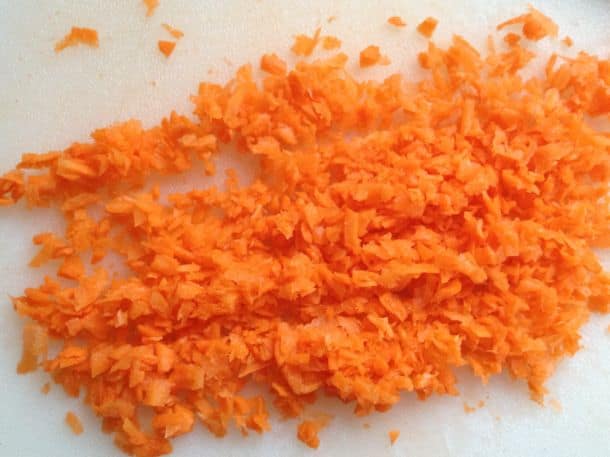 Shred a carrot. Remember to peel it before you shred it!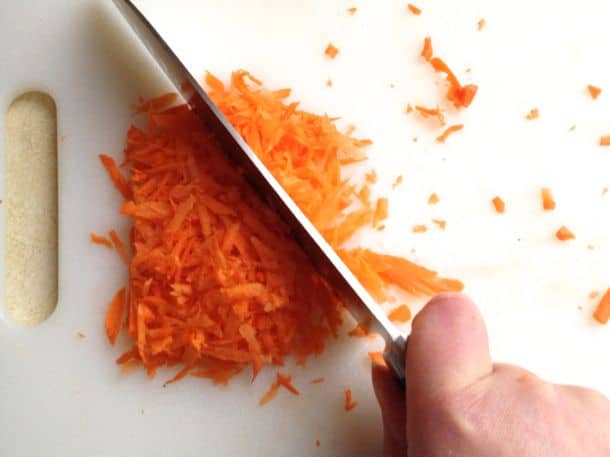 Chop it. This sounds like a silly step but, trust me, you want small pieces of carrots, not long shreds. You want fine pieces, not a mush.
Then chop an onion. You want that puppy finely chopped! (I, um, forgot that photo.)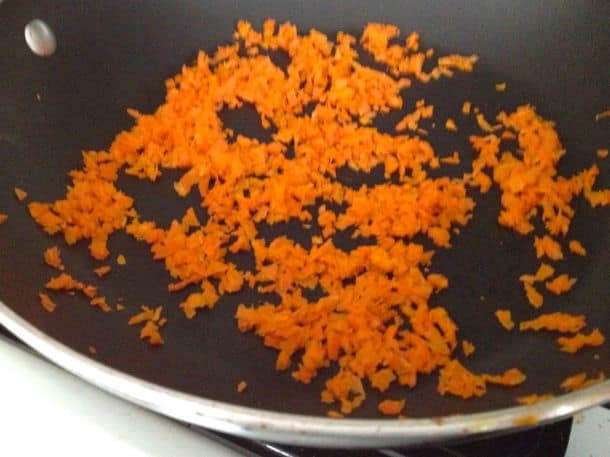 Next cook 'em. Why? Well, cooking not only softens the vegetables, it also takes the bite off the onions. This is key. You don't want the raw onion and carrot to compete with the other flavors. First cook the carrots.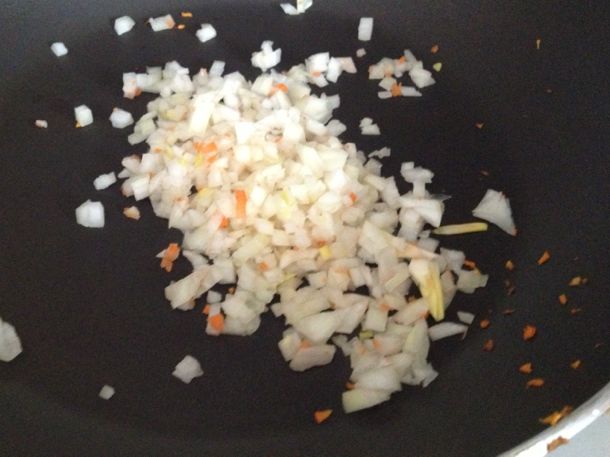 Then cook the onions. You only need to cook the onions for about two minutes. That's it! Use the same frying pan. If some of the carrots hang around the pan, that's fine. No need to spend time and energy getting each bit of carrot out of the pan.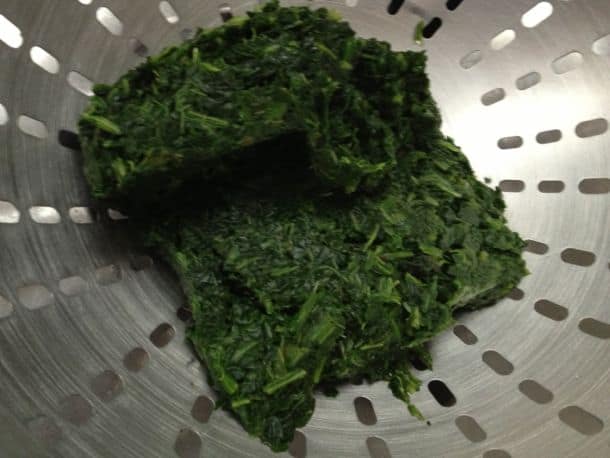 While you wait for the onions and carrots to cool, it's time to deal with the spinach. You want chopped, frozen spinach for this. If you don't like frozen spinach. Cook fresh spinach, cool it, and then chop.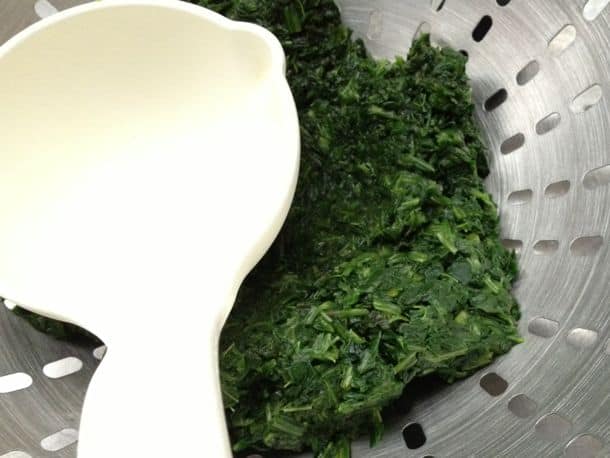 We need to squeeze the water from the spinach. You can do this by hand. However, I find it easier to put the spinach in a colander and press it with the back of a ladle. Try to get the spinach as dry as possible. Spinach loves to hold onto water.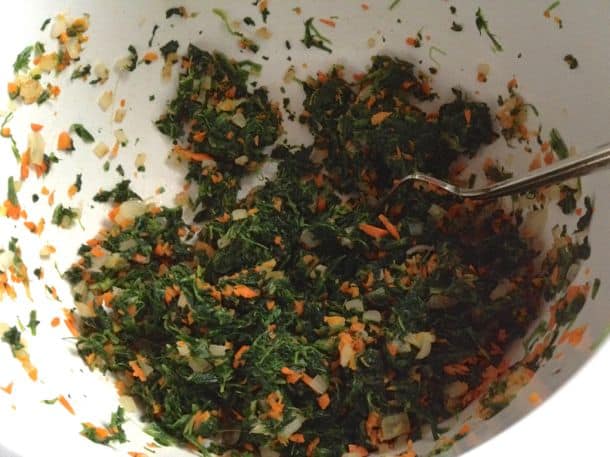 Stir the onions and carrots together with the spinach.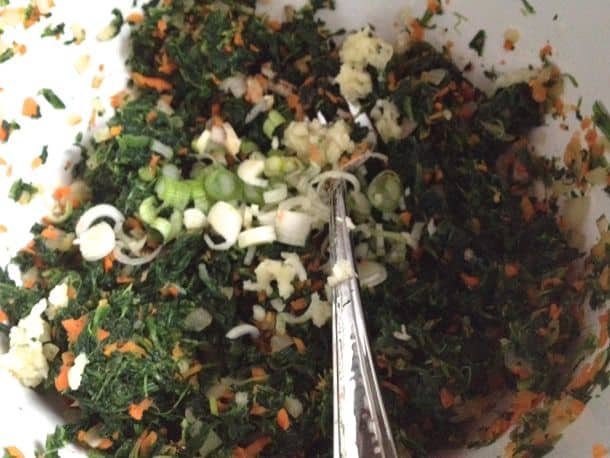 Add chopped green onions, garlic, Worcestershire sauce, and gluten-free soy sauce. Stir.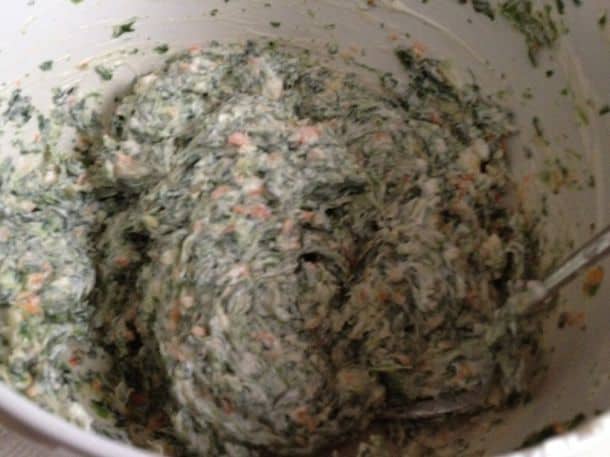 Plop in mayo and sour cream. Add parmesan if you want. And not fancy parm. The canned kind. Trust me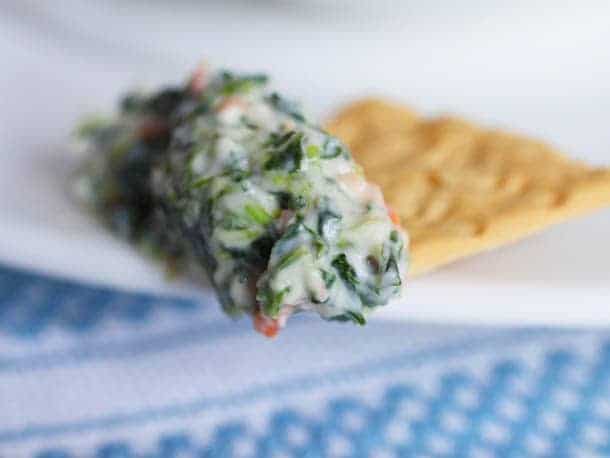 Spread on a cracker. Die of bliss.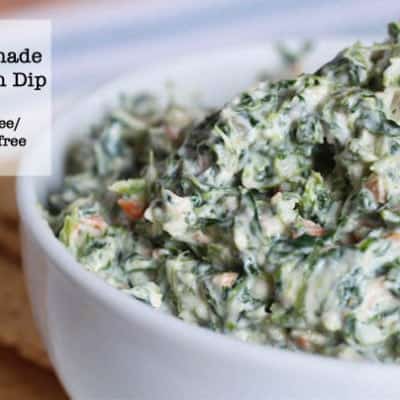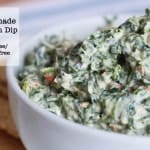 Homemade Spinach Dip
Ditch the mix and make this homemade spinach dip. You'll be so glad you did!
Ingredients
1

teaspoon

olive oil

divided

1/2

cup

shredded carrot (about 1 medium carrot), finely chopped

1/2

cup

yellow onion, finely diced

1

ten-ounce box

chopped spinach, thawed

2

cloves

garlic, minced or put through a garlic

2

scallions, finely chopped

1

cup

mayonnaise, regular or low fat

1/2

cup

sour cream, regular or low fat

1

teaspoon

Worcestershire sauce

1

teaspoon

gluten-free soy sauce

1/4

cup

Parmesan cheese, preferably the canned kind
Instructions
Heat 1/2 teaspoon olive oil in small nonstick frying pan over medium high heat until shimmering but not smoking. Add the carrots. Cook for two minutes or until carrots just begin to softer. Transfer carrots to a plate. Heat remaining olive oil. Cook onions for two minutes or until onions just begin to soften. Place on the plate with the carrots. Allow to cool for five minutes.

While the carrots and onions cool, squeeze the water out of the spinach. I do this by placing the spinach in a colander and pressing on it with the back of a spoon.

In a large bowl, stir together the carrots, onions, and drained spinach. Add the scallions (green onions) and garlic. Stir until combined. Add the sour cream, mayonnaise, Worcestershire sauce, and gluten-free soy sauce. Stir. If desired, add the Parmesan cheese. Serve. Store leftover dip in the refrigerator for up to three days.