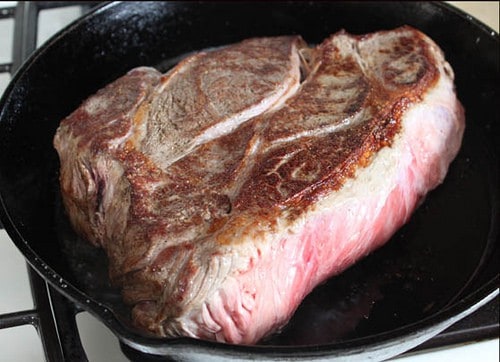 Don't you hate it when friends move away? It's a natural part of life, sure, but it still stinks. A few months ago, two of our dear friends moved away from the area. The good news? They are only four hours "down the road." The bad news? They're four hours down the road!
So the other day when Rachel emailed me a cooking question, I couldn't tell her to just drop by the house for a chat. Instead I pulled out my camera and created this post. Yay technology!
Her question: Could the "Easy Beef Roast" from my second cookbook, "How to Cook Gluten-Free" be prepared in the slow cooker.
Answer:…yes?
I was 99.9% sure it would work but I wanted to test it myself. (And G was thrilled that Rachel asked this question. Any excuse to eat Pot Roast is a good one, right?)
Here's what I did and the tweaks I made.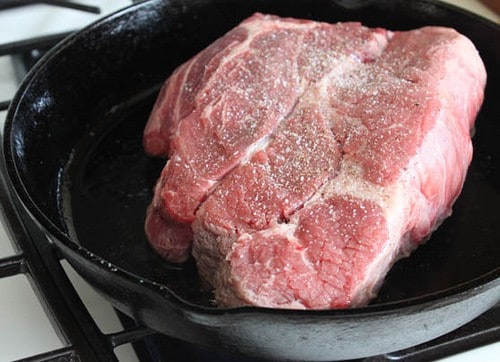 I started with a four pound boneless chuck roast. Before searing, pat the roast dry. Really dry. Then generously salt and pepper the meat on both sides. Heat olive oil in a heavy skillet until it just begins to smoke. Sear the meat for about seven minutes.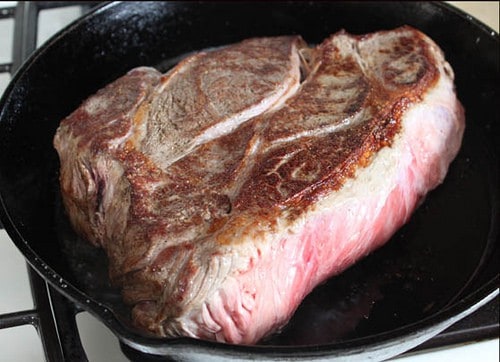 Carefully turn the meat and cook for another seven minutes.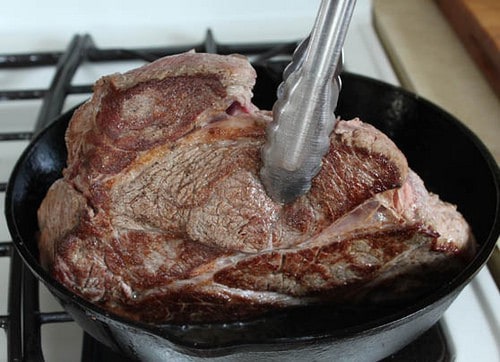 Then, using a pair of tongs, sear each side of the meat. You don't need to do this for seven minutes. A minute or two does the job nicely.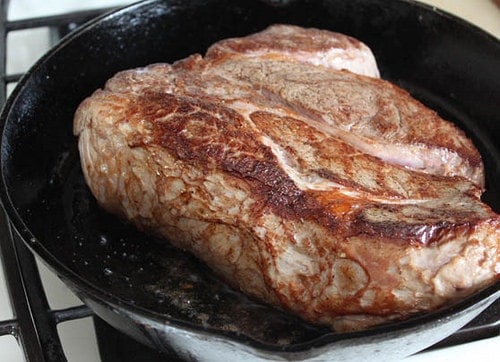 Ohh….nice. Now transfer the meat to your slow cooker. Just plunk it in there. We'll get to it in a second. First! Onions!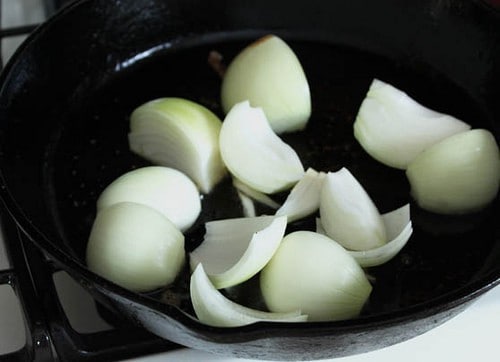 Throw two quartered onions into the hot pan. (Okay, don't throw. Place gently.)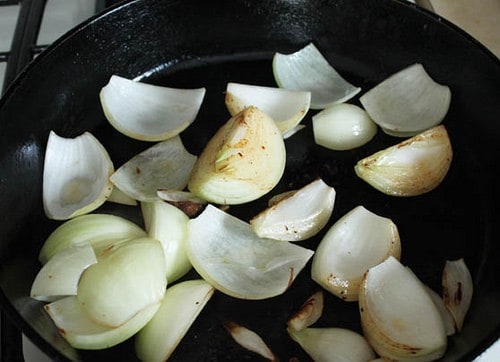 Cook until the onions just begin to turn golden brown. Stir them occasionally. You can do this with your metal tongs. No need to dirty a wooden spoon. Less dishes= more joy. The onions get a little shiny too. And they smell amazing. WOOT! Plunk those onions into the slow cooker along with the pot roast.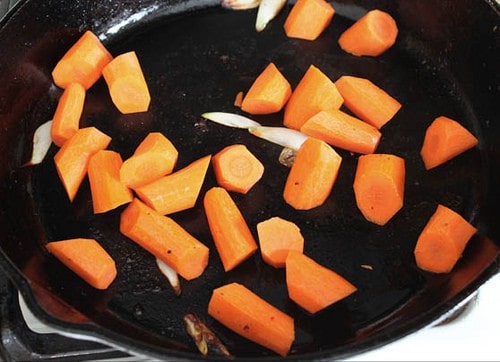 Repeat with carrots. You want to cook them for about three minutes. They won't soften but they will turn a little brighter.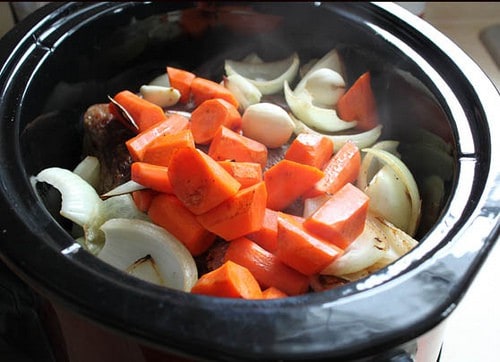 Add six cloves of garlic to the slow cooker. Don't worry. The roast won't taste garlicky. It'll taste amazing. Better than amazing, really. Heavenly.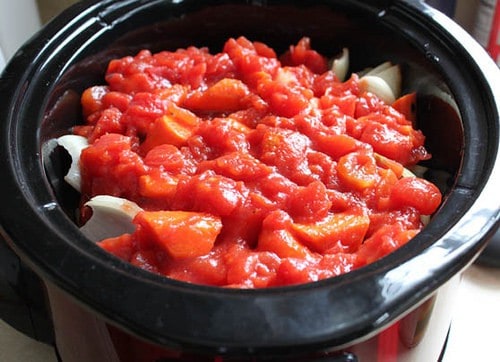 Top with one large can of diced tomatoes.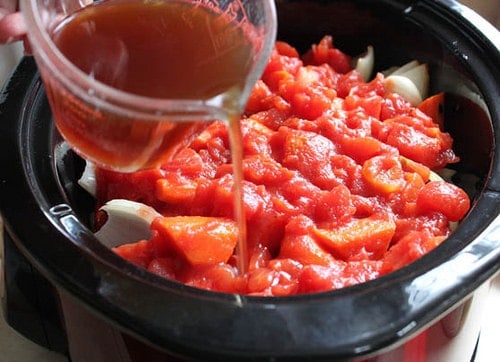 Add two cups of paleo/ beef broth. Be careful with beef broth. Lots of brands contain gluten. I used Kitchen Basics. If you have bone broth on hand, use it.
Cook for eight hours on low. I don't like this roast cooked on high.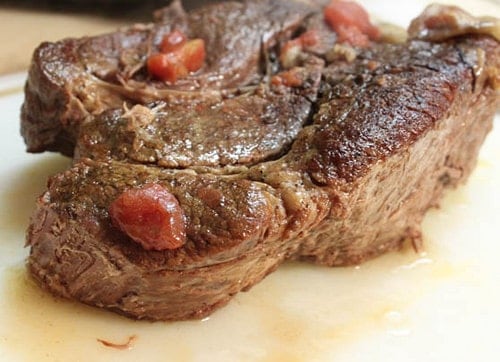 Culinary confession: I had trouble getting the roast out of the slow cooker. It wanted to fall apart under my tongs; it was *that* tender. But it wasn't overcooked or dry. WIN!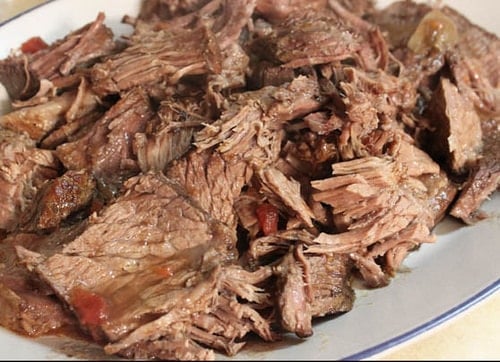 And that's it! Serve with strained pan juices and enjoy.
"But Elizabeth! What about those carrots and onions? Can I serve those?"
Good question. Since the carrots cooked for eight hours, they aren't very flavorful. At all. What I like to do is roast some carrots in the oven to serve along with the roast. This way, you get tasty carrots instead of mushy, flavorless carrots.
I'm so glad Rachel asked about this recipe for a slow cooker! With the simple addition of beef stock and a time adjustment, the roast worked perfectly.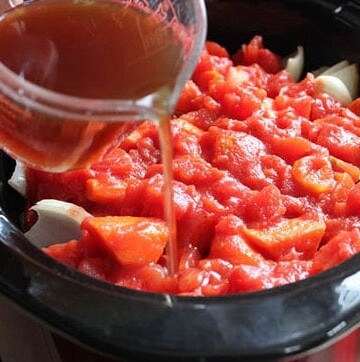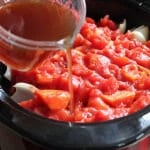 How to Make the Best Paleo Pot Roast
Total Time
8
hours
30
minutes
Ingredients
Kosher salt

freshly ground black pepper

1

(3 to 4 pound)

chuck roast, patted dry

4

medium

carrots, peeled and cut into large chunks

2

medium

onions, quartered

6

cloves

garlic, peeled

1

(28 ounce) can

diced tomatoes, with juices

2

cups

gluten-free beef stock (be sure to read labels or homemade bone broth)

(16 ounces; 453 grams)
Instructions
Season chuck roast generously on both sides with Kosher salt and freshly ground black pepper. In a large (10-inch) heavy bottomed skillet, heat olive oil over high heat until it's hot, shimmers and just begins to smoke. Add chuck roast. Brown the roast, undisturbed, for about seven minutes. Use a pair of tongs and flip. Cook for an additional seven minutes. Using your tongs, brown the sides of the roast for about two minutes per side. You need to hold the roast as you do this. Transfer roast to the slow cooker.

Reduce heat to medium-low. Add the onions to the hot pan. Cook until they just start to turn brown, about four minutes. Stir the onions occasionally. Transfer onions to the slow cooker. Repeat with carrots. Cook for four minutes, stirring occasionally. Transfer carrots to the slow cooker.

Add garlic cloves to the slow cooker. Evenly spread the tomatoes over the top of the slow cooker. Add beef stock. Cover and cook on low for eight hours.

After eight hours, remove chuck roast from the slow cooker. Cut into thick pieces. Place on a platter and cover with aluminum foil. Strain out the onions, carrots, and tomatoes. Ladle the cooking liquid into a two-cup measuring cup. Skim the fat off the top. Pour cooking liquid over the slices of roast. Serve.