Soft and tender gluten-free biscuits. No buttermilk required! (Dairy-free option included.)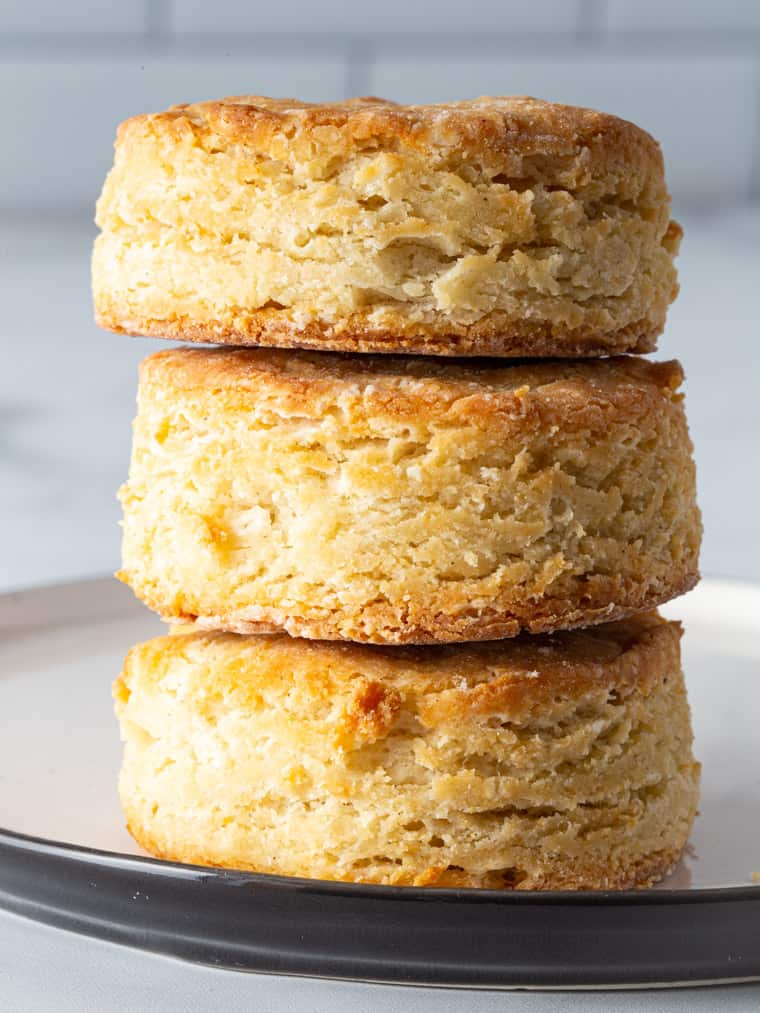 This isn't the first time I've posted a recipe for gluten-free biscuits. My gluten-free Cheddar biscuit recipe, in fact, is one of the most popular recipes I've shared. But I've never quite nailed a recipe for classic biscuits, the type that's soft and tender and wonderfully buttery.
I tinkered with the recipe on and off for a long time. And I finally (finally) came up with a gluten-free biscuit recipe that I think you'll love. (And, good news for my dairy-free friends, I have a dairy-free option for you!)
Why You'll Love These Gluten-Free Biscuits
Light, tender and flaky.
Not sweet.
Tangy and flavorful.
Buttermilk-free! (More about that below.)
Are gluten-free biscuits easy to make?
I think the answer to this varies by person. Some folks grew up making and eating biscuits. For them, biscuits are easy. For other folks, who perhaps love eating biscuits but have never made them, there's a bit of a learning curve. I wouldn't call them hard-to-make but they do require some specific attention.
If this is your first time making biscuits, take your time. Enjoy the process. It's a lovely recipe to make. From measuring the ingredients to cutting out the biscuits, this recipe invites you to slow down and enjoy the moment.
I've never made biscuits before. What do I need to know?
Oh, yay! Welcome to the biscuit-making club. Below I go into detail about what you need to know about making biscuits. But here's a quick lowdown.
Whisk the dry ingredients together. This is an easy step to skip. But please don't! There's a lot of baking powder in this recipe and we want it evenly distributed throughout the flour mixture. This ensures the biscuits rise evenly.
Use cold butter. It'll give you light gluten-free biscuits.
Don't work the butter in too much. Or too little. Here's where biscuit success lies. Making biscuits, like making pie crust, requires you to "cut in" cold butter into the flour mixture. You want the butter pieces to be about the size of peas. If they are too small, the biscuits won't turn out as light and tender as you want. And if you leave the pieces of butter too big, about the size of pennies, the butter can leak out of the biscuits during baking.
Those are the three keys to success. Now, let's look at all the nitty-gritty details, from the ingredients to the individual steps.
Gluten-Free Biscuits: The Ingredients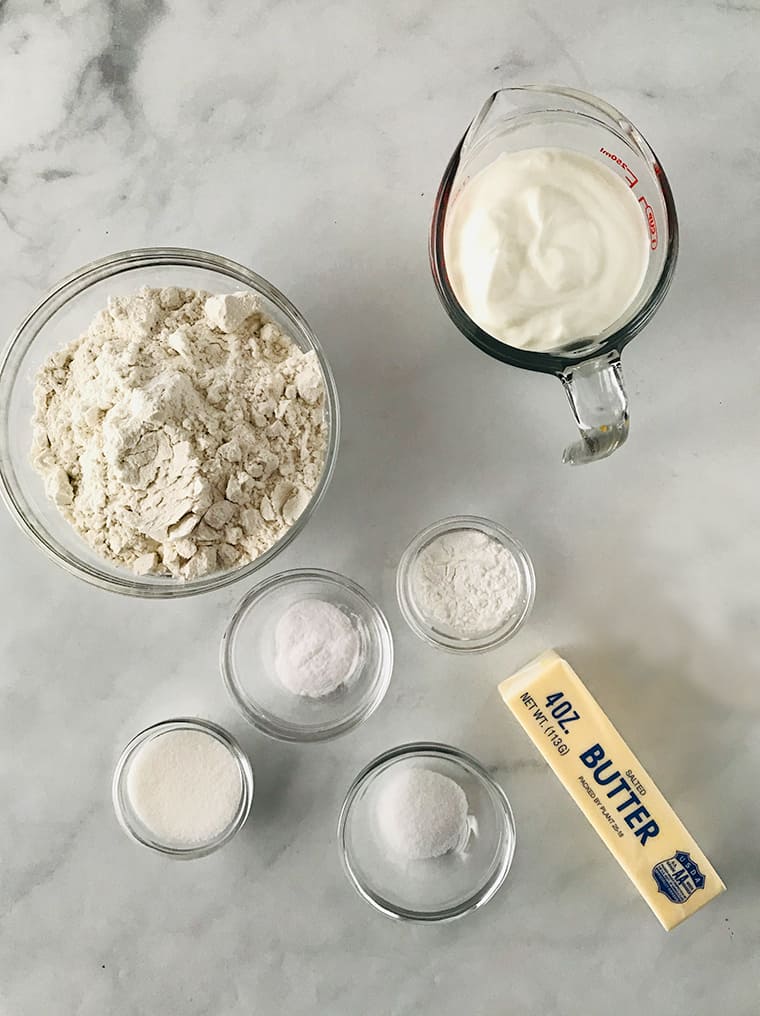 Gluten-Free Flour. This recipe calls for a gluten-free flour blend. I use Bob's Red Mill because 1. It works really well. 2. It's affordable. 3. It's easy to find. If you prefer a different flour blend, give it a try. Just know that you might experience different results.
Butter (or Shortening). Whether you use butter or shortening, you want it to be cold. How cold? Straight-from-the-fridge cold. The reason we want cold butter or shortening? Steam! As with pie dough, the water in the butter evaporates as the biscuits bake. This creates steam which helps leaven the biscuits. If the butter is warm, the flour absorbs the water and fat and we don't get the puff of steam we need for light, fluffy biscuits.
My preference when making biscuits is to use butter. It gives you the best flavor and texture. If you're dairy-free, use a dairy-free butter replacement or use shortening. (One note: biscuits made with shortening lack the flavor of those made with butter or butter replacements.)
Plain Yogurt. When I set out to develop a recipe for gluten-free biscuits, I assumed I'd use buttermilk. It's classic. However, I remember Stella Parks mentioning that she elected to use yogurt in her biscuit recipe* because it's so much easier to find. I hadn't noticed it but she's right. Buttermilk, an ingredient that was once ubiquitous at grocery stores isn't nearly as common. Yogurt, on the other hand, is everywhere.
*Please note: the biscuit recipe I linked to above contains wheat flour and is not gluten-free. I'm linking to the recipe because it's where I got the inspiration to use yogurt and not buttermilk.
Use plain yogurt, not Greek yogurt, in these biscuits. And look for a brand that's simply milk, active yogurt cultures, and pectin. Yogurts with starches or gums can negatively impact the texture of the biscuits.
An Egg (Optional). My original biscuit recipe contained eggs. So I thought this recipe needed eggs. And I included them in my early tests. Eggs aren't included in classic biscuit recipes and I wanted to see if this recipe would work without eggs.
And, guess what, it worked! But that doesn't mean you can't use an egg in this recipe.
If you prefer your biscuits extra tender with a bit of spread, add an egg to the dough. (Full instructions included. See the recipe note for "Rich Gluten-Free Biscuits.)
Made without an egg, these gluten-free biscuits are what I think of as traditional buttermilk biscuits (No buttermilk, of course.) They are tender and flaky but sturdy enough to be split and used for a chicken sandwich.
Baking Powder and Baking Soda. Baking powder is the traditional leavener of biscuits. Baking soda isn't so common. This recipe needs it because the yogurt brings more acidity to the dough than buttermilk. Too much acidity means biscuits that are gummy and unpleasantly sour. To balance that acidity, a little baking soda does the trick. The recipe only calls for a teaspoon but it's an ingredient you don't want to skip.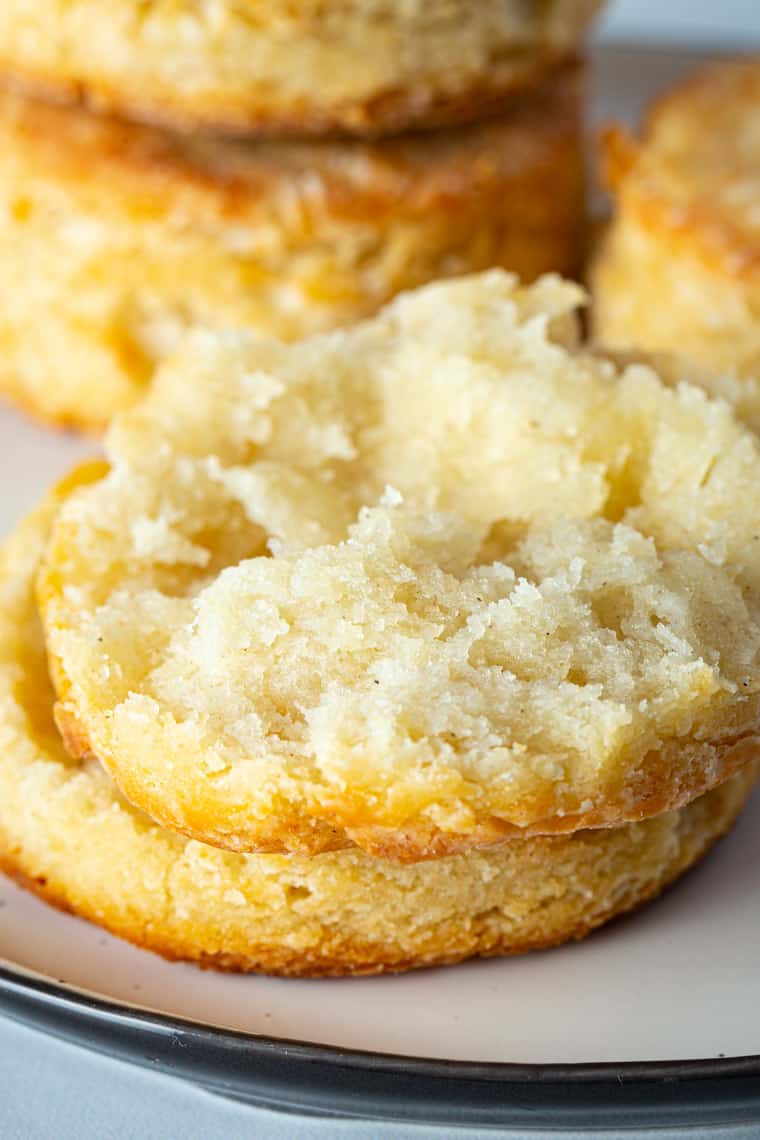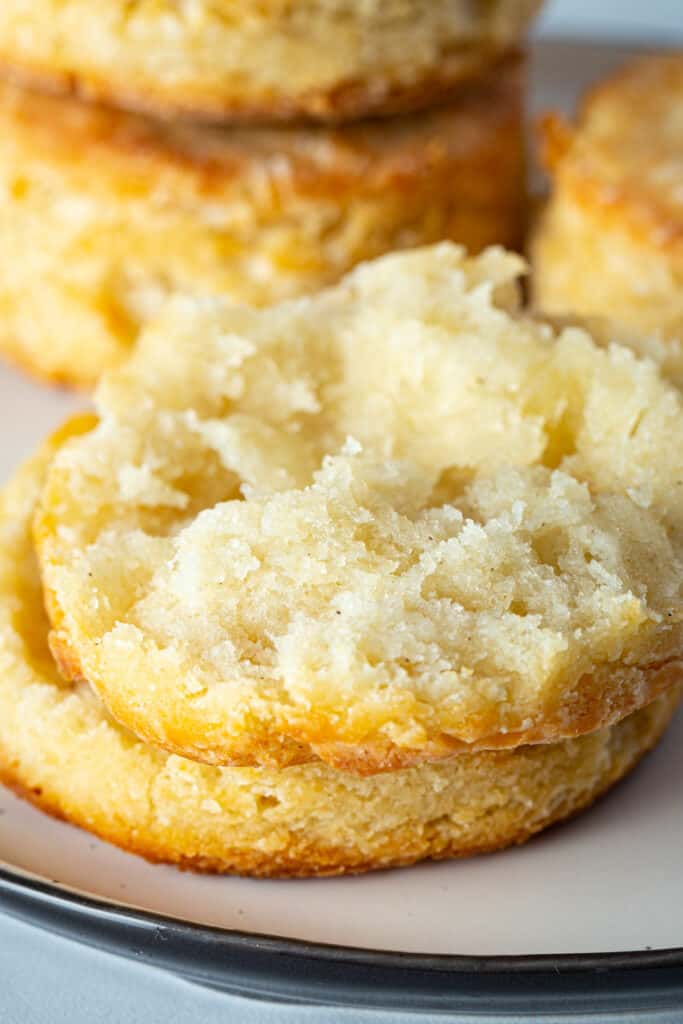 How to Make Gluten-Free Biscuits: Steps for Success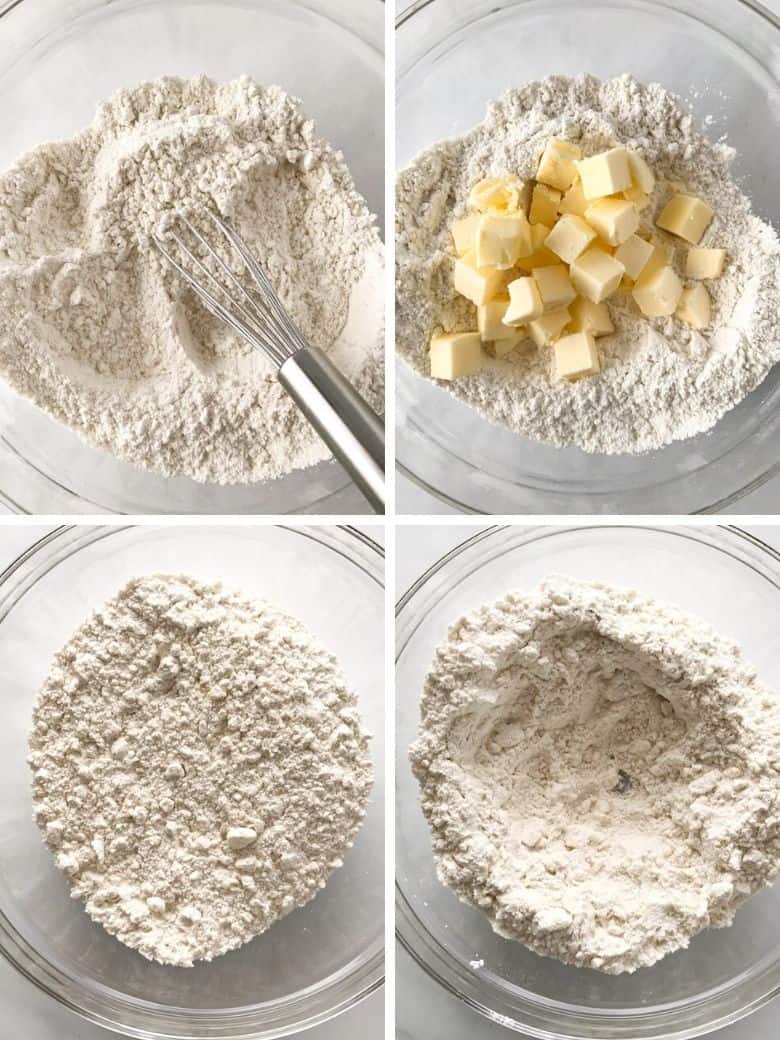 Spend Time Whisking. There's a generous amount of baking powder in this recipe and it needs to be evenly distributed throughout the gluten-free flour mixture to ensure the biscuits rise evenly. Spend a minute or so whisking the ingredients together or, if you're using a food processor, pulse the mixture a few times to combine.
Cut in the Butter. You have three options for cutting in the cold butter.
By Hand. Use your fingers and rub the butter into the gluten-free flour mixture by using a snapping motion. I don't recommend using your fingers if you have very warm hands.
A Pastry Cutter. Some folks love pastry cutters. You run them through the butter and dry ingredients in a rolling motion. But…I find them annoying because you constantly have to clear the butter-flour from the tines of the cutter. If this doesn't bother you, go ahead and use one.
A Food Processor. If you have warm hands, this is the tool for you! A few short pulses with a food processor quickly cuts the butter into the flour mixture. And there's no fighting with the tines of a pastry cutter that's jammed with flour and butter. Those are the benefits. The drawback is over incorporating the butter. Food processors work so quickly that you can work the butter in too much. A few quick pulses does the job. After cutting the butter into the flour mixture with a food processor, I recommend transferring the mixture to a large bowl and stirring in the yogurt by hand. This keeps the butter the correct size and prevents you from adding too much yogurt. (Sometimes the mixture can look dry in a food processor when it's not.)
Stir, by hand. Once you've cut the butter or shortening into the gluten-free flour mix, stir in the yogurt. The goal here is to add "just enough" yogurt. You don't want to see any dry flour hanging out in the bottom of the bowl; nor do you want the dough to feel so damp that it squishes when you squeeze it.
And squeezing it is a good idea. Sometimes the dough can look dry when stirring it with a wooden spoon but when you give a squeeze and a quick knead with your hands, you'll find it's hydrated enough.
If the dough does seem dry, add additional yogurt. Start with one tablespoon and increase as needed. Sometimes, depending on the gluten-free flour, temperature of the butter, and humidity in your kitchen, the biscuit dough might need a little extra yogurt.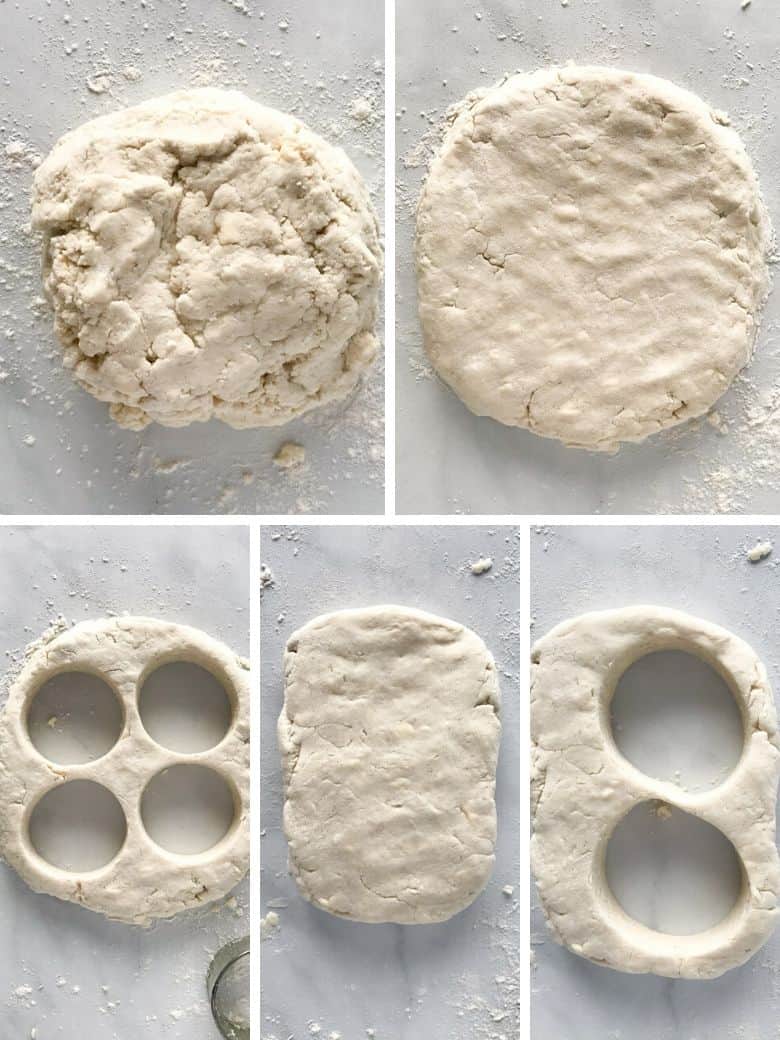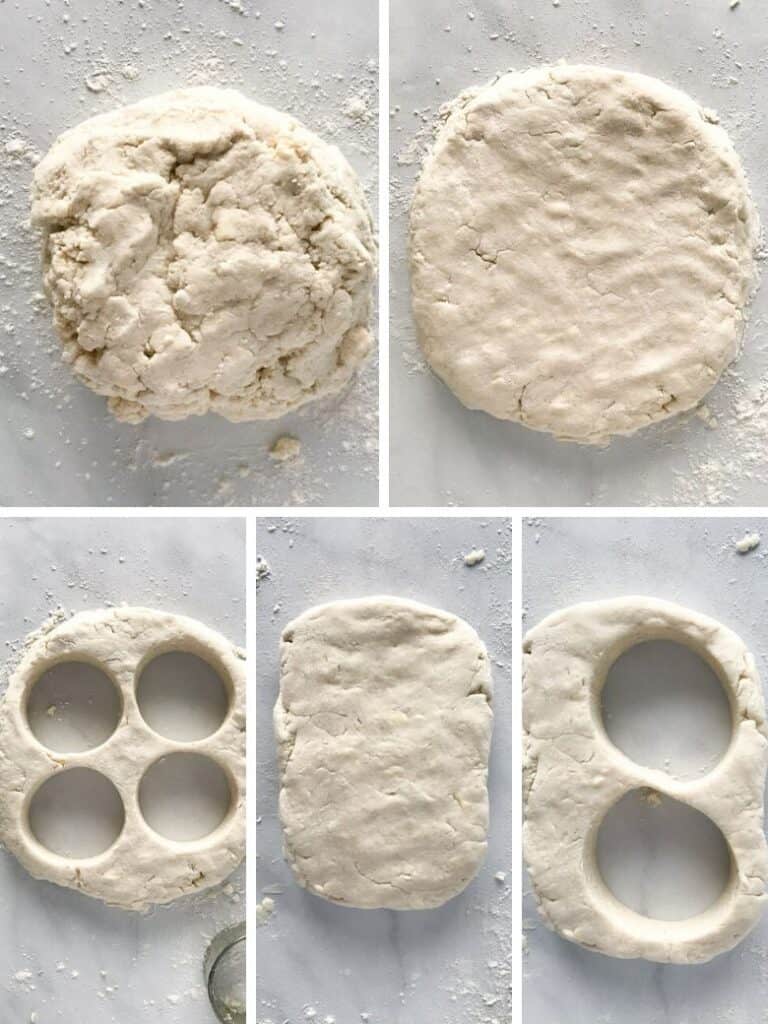 Pat. Cut. Repeat. Once the dough is at the correct consistency, dust your counter with gluten-free flour and pat the dough into a small rectangle. Cut into three or four biscuits and then gently squeeze the dough back into a rectangle and repeat the process. This patting, cutting, and repeating is an unusual step for making biscuits but it's needed.
These gluten-free biscuits bake up light and tender but they don't rise much because of the lack of gluten. The thickness of the dough is about the thickness of your final biscuit.
By keeping the dough thick, cutting out a few biscuits and gathering the dough back into a rectangle, you get nice thick biscuits. Don't worry about the dough getting tough. There is no gluten in the dough. In traditional biscuits, the more you work the dough, the more the gluten develops. Developed gluten=tough biscuits.
As you work and rework the dough, be aware of its temperature. If the dough is getting soft, this means it's getting warm. Cut it into rounds and chill the biscuits for about 15 minutes before baking.
Baker's Tip: Sometimes you'll have just enough dough left for one biscuit. Don't let this dough go to waste. Gently press the dough into a round and you're all set.
Speaking of cutting the biscuits, real talk: I love you but I'm going to holler a bit here: DON'T TWIST YOUR CUTTER. (sorry for the yelling) If you twist the cutter, it can smush the edges of the biscuits and prevent them from rising. If you find your dough sticking to the cutter, dip the cutter in gluten-free flour between each biscuit to prevent it from sticking.
Bake Until Brown. Thanks to the granulated sugar and baking soda in this recipe, the biscuits bake up a lovely golden brown. Once baked, allow them to cool for a few minutes before serving. Warm biscuits are lovely. Hot gluten-free biscuits can taste gummy.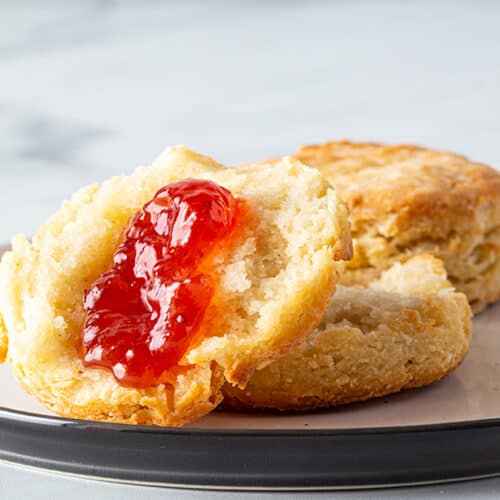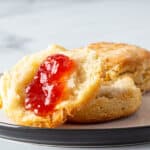 So that's how you make gluten-free biscuits! Take your time. Use cold butter (or shortening) and remember: pat, cut, repeat. Soon you'll be enjoying the best gluten-free biscuits you've ever had.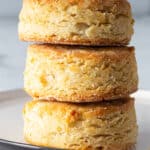 Gluten-Free Biscuits
Tender and fluffy gluten-free biscuits. The secret ingredient? Yogurt!
Ingredients
2 1/4

cups

gluten-free baking flour

(11 1/4 ounces; 320 grams)

2

tablespoons

granulated sugar

(1 ounce; 28 grams)

1

tablespoon

baking powder

1

teaspoon

baking soda

1/2

teaspoon

salt

6

tablespoons

cold butter, cut into small pieces

(3 ounces; 85 grams)

1

cup

plain yogurt, plus additional as needed

(about 8 ounces; 226 grams)
Instructions
Preheat Oven and Prepare Pan. Adjust oven rack to middle position and heat oven to 400 degrees F. Line a rimmed baking sheet with parchment paper.

Whisk the Dry Ingredients. Whisk together gluten-free flour, sugar, baking powder, baking soda, and salt in a large bowl. Take your time with this step to ensure the ingredients are thoroughly combined.

Make the Dough. Using your hands or a pastry cutter, cut butter into the flour mixture until the butter is about the size of peas. Make a well in the center of the bowl and add one cup of yogurt. Stir the mixture together with a wooden spoon and then knead a few times (in the bowl with your hands.) If dry flour remains in the bottom of the bowl, add an additional tablespoon of yogurt. Repeating as needed. The dough should easily hold together. It shouldn't be dry or too soft and squishy.

Cut Dough into Rounds. Dust your countertop with gluten-free flour. Turn dough out onto the counter and press it into a rectangle, about 1 1/4 inches thick. Cut into three or four rounds using a 1 1/2 inch biscuit cutter.

Place biscuits on the prepared baking sheet.

Gather the remaining dough together, kneading and patting it into a rectangle and cut out additional biscuits. Repeat. You should have 8-9 biscuits at the end.

If the dough seems soft or warm, chill for 15 minutes.

Bake the Biscuits. Bake until the biscuits are deeply golden brown, about 15 minutes.

Serving and Storing. Allow biscuits to cool for 5 minutes on the pan before serving. Gluten-free biscuits taste best the day they are baked.
Food Processor Directions
Combine the gluten-free flour, granulated sugar, baking powder, baking soda, and salt in the bowl of a food processor. Pulse a few times to combine.

Add the cubed butter. Pulse a few times to cut the butter into the dry ingredients. The butter should be the size of peas, no smaller.

Transfer the mixture to a large mixing bowl. Add the yogurt. Stir to combine with a wooden spoon or firm spatula. Once a dough forms, knead the dough a few times in the bowl. If the dough seems dry, add an additional tablespoon of yogurt. Follow step four above for cutting and baking.
Recipe Notes
Plain Yogurt: Use plain yogurt, not Greek yogurt. Full-fat, low-fat, or no-fat plain yogurts all work. Full and low-fat yogurts make for richer biscuits. 
Dairy-Free, Gluten-Free Biscuits: Replace the butter with an equal amount of cold dairy-free butter or shortening and the yogurt with a plain dairy-free yogurt. Some dairy-free yogurts contain sugar and starches which can change the texture of the final biscuits.
Rich Gluten-Free Biscuits: For biscuits with a very soft and tender crumb: reduce yogurt to 3/4 cup and add one egg. Whisk the yogurt and egg together until smooth. Follow the directions above.