If you're craving tender and light gluten-free biscuits, this recipe is for you. To make a batch, simply mix together cold ingredients, let the dough rest, and bake the biscuits in a hot oven. You'll quickly have a batch of warm biscuits to enjoy!
Terrific biscuits without gluten are possible. This recipe makes light and fluffy biscuits that you can shape with a cutter or drop from a spoon. Enjoy them with butter, jam, or served as part of biscuits and gravy.
Gluten-Free Biscuit Recipe: Ingredients and Dairy-Free Options.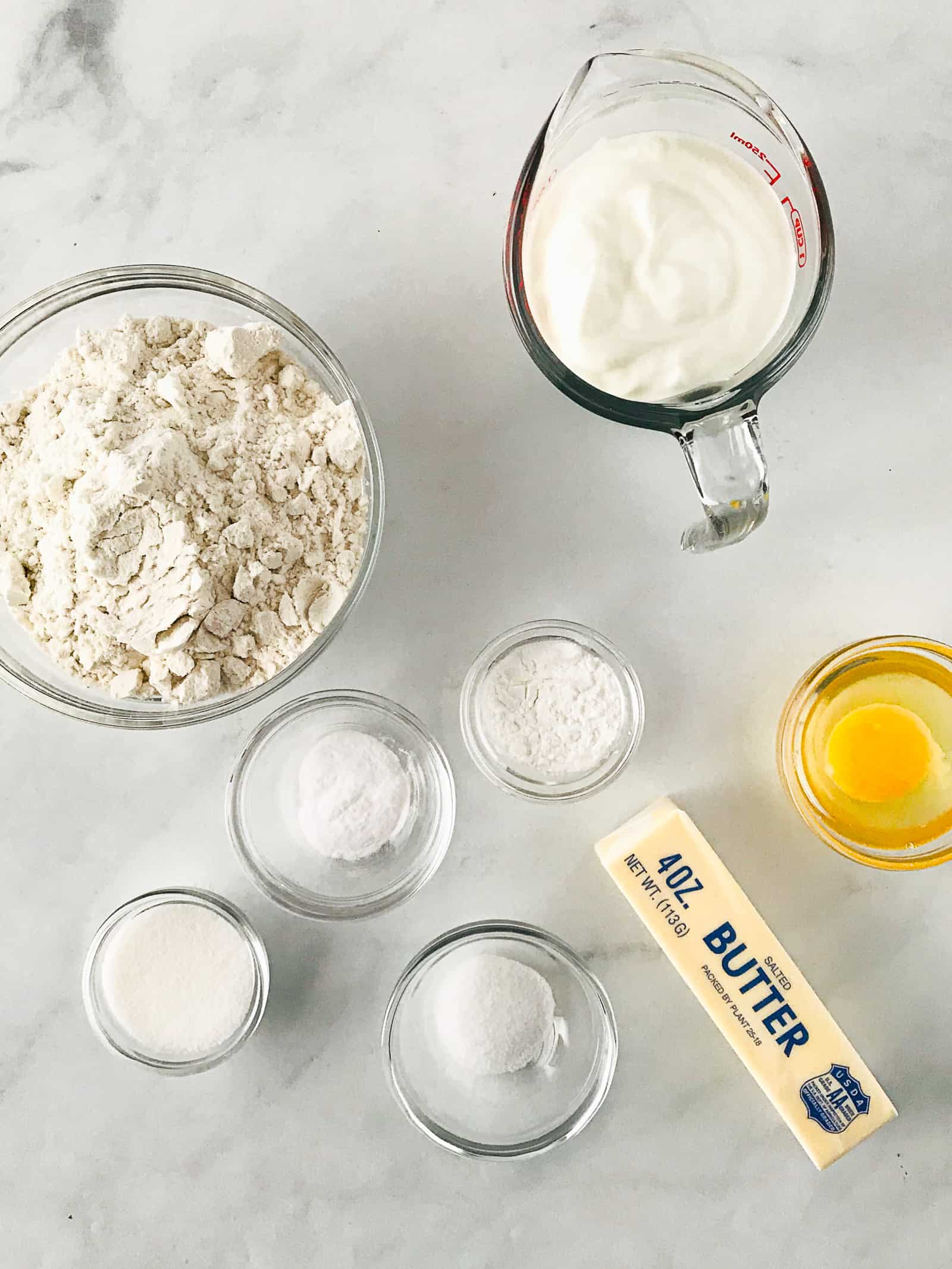 Gluten-Free Flour. Use a gluten-free flour blend. Since flour blends vary from brand to brand, each blend produces different results. Use a blend that contains xanthan gum. If it doesn't, add one teaspoon xanthan gum to the flour blend. Without it, the biscuits spread. The recipe was tested with Bob's Red Mill Gluten-Free Baking Flour.

Cold Butter. Butter gives biscuits a lovely flavor and delicate texture. If you're dairy-free, use a dairy-free butter replacement meant for baking. Use cold butter or spread. You want it to feel very cool to the touch but somewhat pliable. If it's rock-hard it will be difficult to work into the gluten-free flour mixture.

Why cold butter? As the biscuits bake, the water in the butter evaporates. This creates steam which helps leaven the biscuits. If the butter is warm, the flour absorbs the water and fat. This makes the biscuits dense and heavy.

Yogurt. Many biscuit recipes include buttermilk. This one doesn't. Instead, a cup of plain yogurt hydrates the dough. Like buttermilk, it's tangy and acidic. Since it's thicker than buttermilk and includes more protein, it helps the dough hold together and prevents the biscuits from spreading as they bake.

Both Greek yogurt and plain yogurt work. For the best flavor, use a full-fat (whole milk) yogurt.

Baking Powder and Baking Soda. Biscuits are considered a "quick bread" because they don't include yeast and require no rising time before baking. The rise comes from both baking powder and baking soda.

Sugar. A small amount of granulated sugar helps the biscuits to brown. It doesn't add much sweetness. If you prefer a biscuit without sugar, simply omit it.

Salt. Adds flavor. Use table salt, not flaky or Kosher salt for this recipe. Table salt mixes easily and evenly into the dough.
How to Make Gluten-Free Biscuits. Tips and Techniques for Success.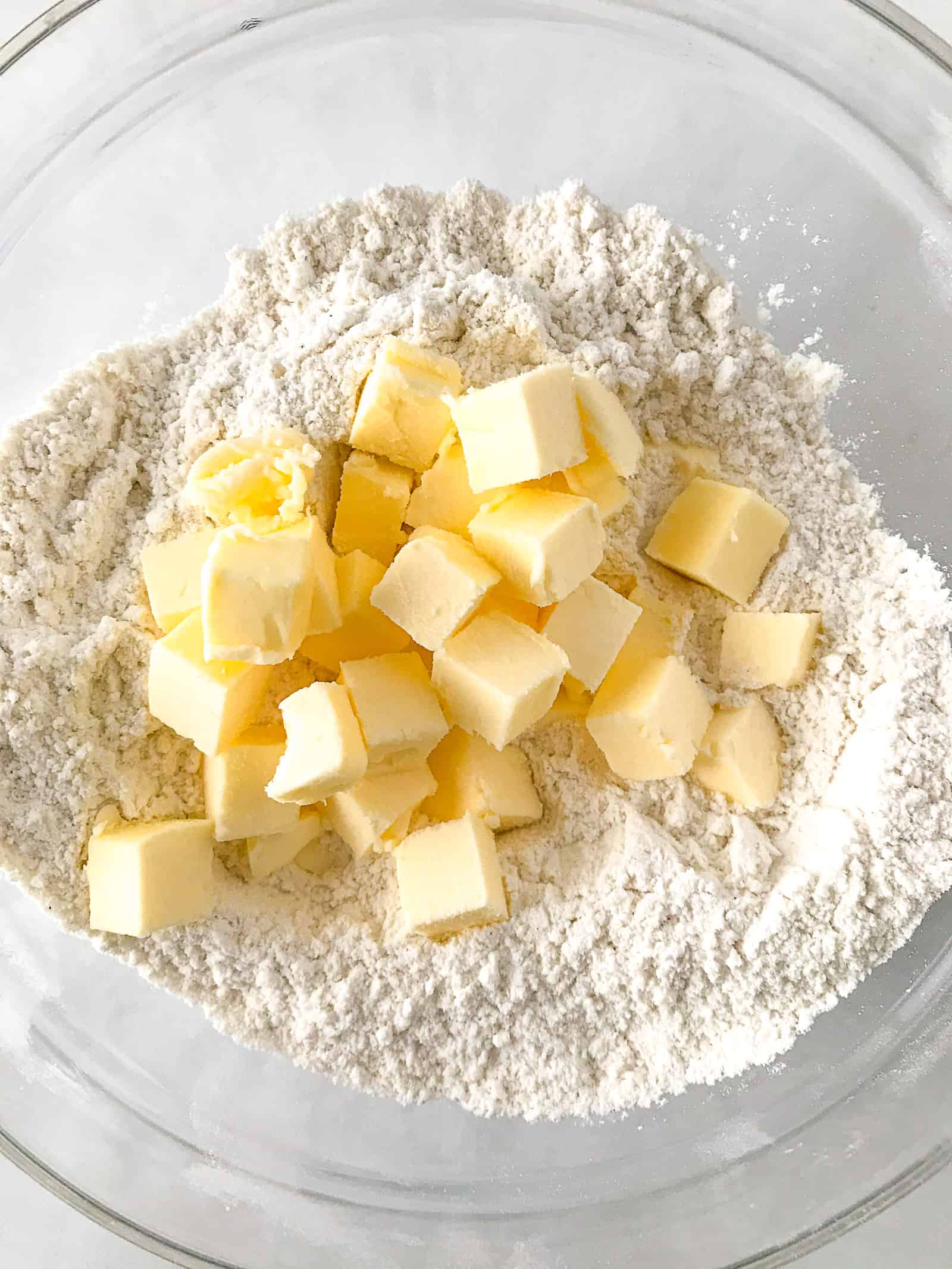 Make the Gluten-Free Biscuit Dough.
If there's one thing to remember before making gluten-free biscuits it's this: keep things cold. The colder your ingredients, the lighter the biscuits. In the summer, or if you're working in a very warm kitchen, chill a metal bowl in the fridge for about 20 minutes before making the dough.
Whisk the gluten-free flour. Whisking the dry ingredients evenly distributes the baking powder and soda throughout the flour. This ensures the biscuits rise evenly. You can do this in a mixing bowl with a whisk or in the bowl of a food processor.

Cut in the cold butter. Adding cold butter makes the biscuits tender and flaky. During baking, the water in the cold butter evaporates into steam. This creates little air pockets in the biscuits which give them their delicate texture. Use butter that's about 42℉.

You can cut your butter into small cubes or grate very cold, almost frozen butter, on a box grater. Grated butter mixes very quickly into flour and is a great option if you're mixing the dough by hand.

To do this by hand: toss small cubes of cold butter into the gluten-free flour mixture. Coat each piece of butter with flour. Press each piece of butter to flatten it. Once the butter is flattened, gently rub it with your hands to break it into smaller pieces. Stop when the pieces of butter are about the size of peas.

If you're using grated butter, stir it gently into the gluten-free flour mixture to coat. There's no need to press it.

To use a pastry cutter: Add cubed or grated cold butter to the flour mixture. Work the butter into the flour by using a rocking motion with the pastry cutter. If the mixture sticks to the cutter, gently remove it with your hands or a small rubber spatula. Stop when no large pieces of butter remain. Look for the cold butter to be evenly distributed throughout the flour.

To use a food processor: Place cubes of cold butter into the bowl of a food processor. Pulse once to combine in a 5-second burst. Then pulse the machine until the butter is about the size of peas. It usually takes about ten 3-second pulses. Cubed butter works better than grated butter in a food processor.

Mix the dough. After adding the butter, stir in the yogurt. This is best done with a sturdy rubber spatula or a wooden spoon. If you used a food processor to add the butter, transfer the mixture to a mixing bowl. Food processors are great for adding butter. However, they tend not to incorporate liquid evenly. Stirring in the yogurt with a wooden spoon gives the best results.

The dough should easily hold together but not feel tacky to the touch. If there's dry flour in the bowl or the dough doesn't hold together, the next step is for you.
Add additional liquid. Since yogurt thickness varies, sometimes the dough is dry. If this is the case, add water or milk until the dough holds together. Start by adding two tablespoons of liquid and stir. Add more water or milk as needed. Pinch the dough with your fingers. It should hold together easily but not feel sticky to the touch.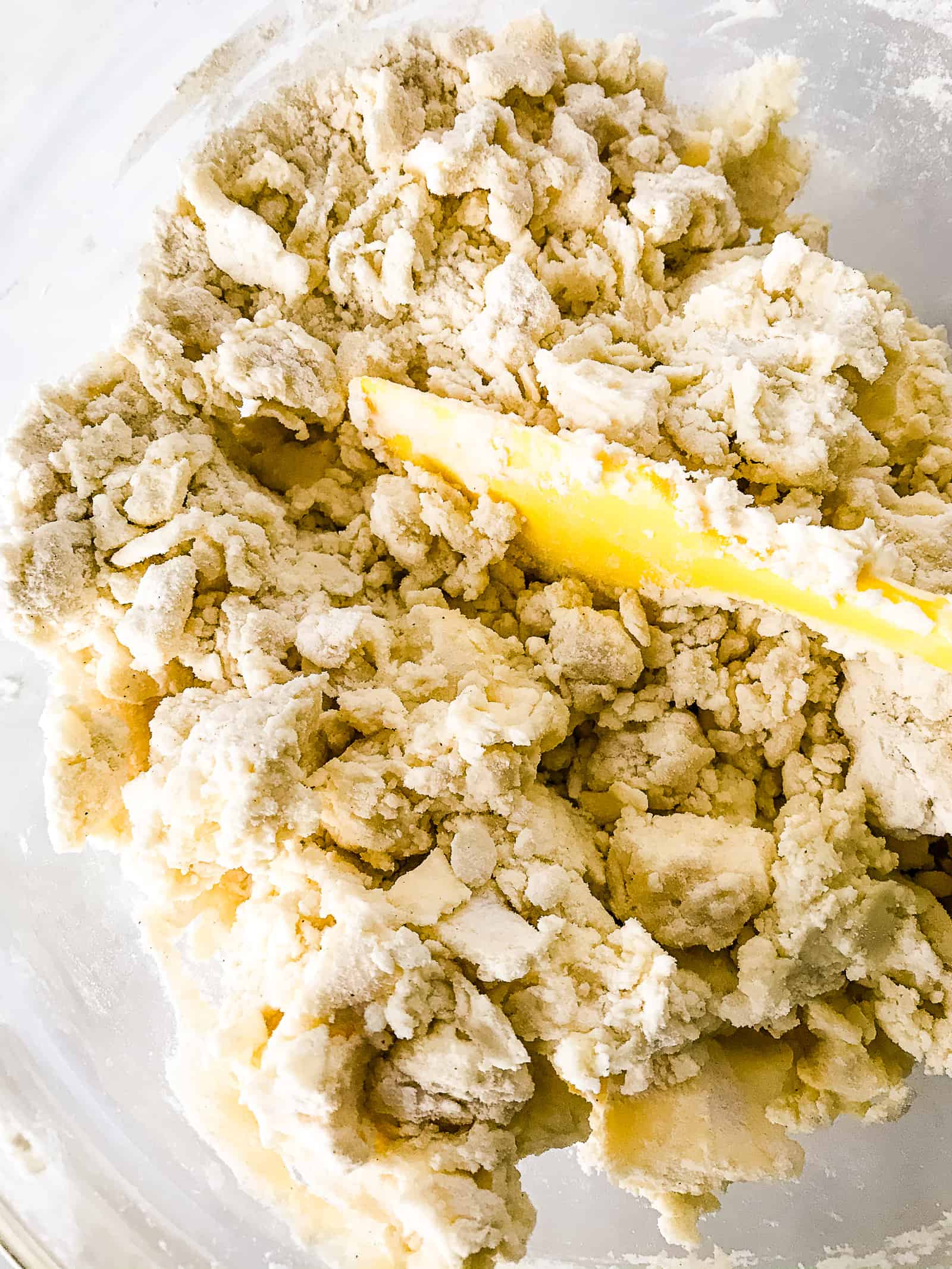 Let the dough rest.
After mixing the biscuit dough, let it rest (sit in the bowl) for about 20 minutes while the oven heats. Resting the dough allows the gluten-free flour to absorb the liquid, making the dough easier to handle. It also reduces the gritty texture that sometimes occurs in gluten-free baked goods.
While the dough rests, preheat your oven. Most ovens take about 15 to 20 minutes to come to temperature. It's important to bake the biscuits in a preheated oven. A hot oven = light biscuits. It ensures the biscuit dough immediately hits the heat and starts to rise. If the oven is cold, the rise is delayed and butter melts slowly, not giving off as much steam. And, remember, don't place the mixing bowl of dough on top of the oven. Keeping the biscuit dough cool is key.
Cut or scoop biscuits. It's up to you!
Whether you like to roll and cut biscuits or make "drop" biscuits, you can use this dough. Cutout biscuits tend to be a bit fluffier than drop biscuits. But the flavor is the same for both.
For Cut-Out Biscuits: Use a Sharp Cutter.
If you want to cut your biscuits into rounds, start with a sharp cookie cutter. Using a sharp cutter helps the biscuits to rise. Dull cutters press the edges together preventing the biscuits from rising. As you cut, don't twist the cutter. Doing this seals the edge of the biscuits and they don't rise as high.
To cut-out biscuits, lightly dust your counter with gluten-free flour. Turn the dough onto the counter. Gently press it together and pat it into a rectangle. Avoid rolling out the dough with a rolling pin. The weight of a rolling pin can flatten the dough and make for dense biscuits.
Cut the dough into 6 or 7 biscuits. You'll have lots of dough left at this point. That's a good thing. Place the biscuits onto a parchment-lined baking sheet or into a lightly greased 10-inch cast-iron skillet.
Gently press the remaining dough into a rectangle. It's okay to knead the dough once or twice. You want to be gentle while kneading the dough but don't be afraid to press it together. Cut out 5 or 6 more biscuits from the dough.
For Drop Biscuits: An Ice Cream Scoop Works Great.
Skip patting the dough into a rectangle. Simply scoop the dough right from the bowl, onto a parchment-lined baking sheet, or into a 10-inch cast-iron skillet. If you have a large ice cream scoop, use it for this. Use about ¼ cup of dough per biscuit.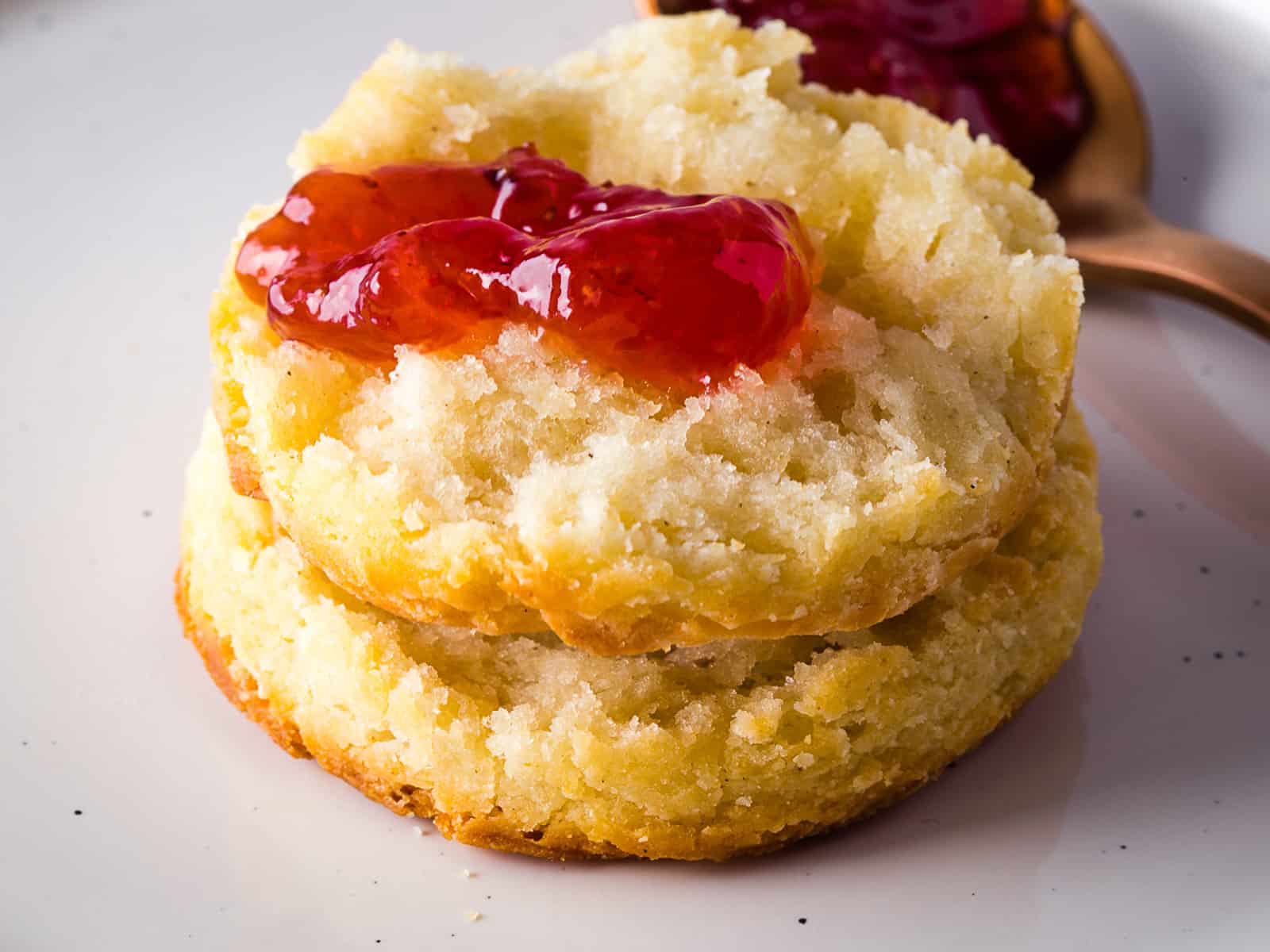 Bake until brown.
Biscuits take about 15 minutes to bake. Look for them to be evenly brown. After baking, let the biscuits cool for about 10 minutes before eating. If you dig in too soon, the biscuits might have a gummy texture. It takes a few minutes for the gluten-free starches to cool and set up. It's hard to wait but worth it.
How to Store Gluten-Free Biscuits.
Biscuits taste best the day they are made. If you have biscuits left over, cover and store at room temperature. Warm them slightly before eating, either in a toaster oven, air fryer, or microwave.
How to Freeze Gluten-Free Biscuits.
Bake the biscuits as directed. Let them cool on a wire rack and then place them in a freezer container. Freeze the biscuits for up to three months. When ready to eat, remove the biscuits from the freezer and thaw at room temperature.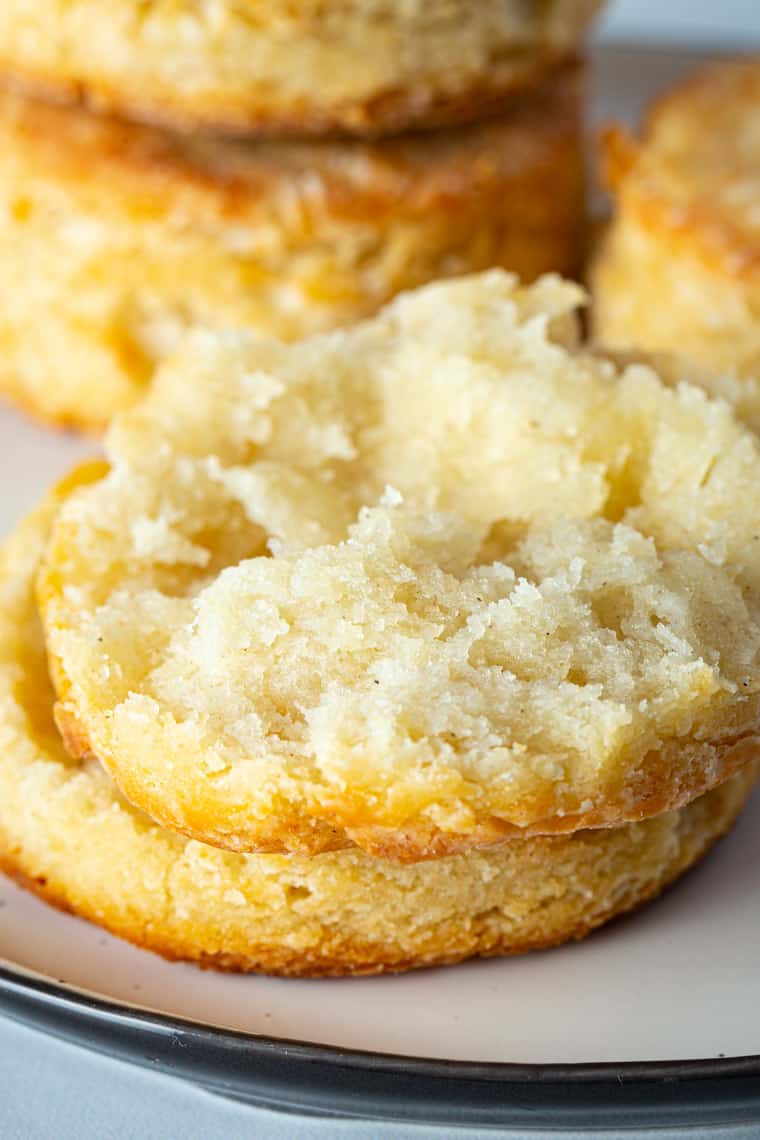 Common Gluten-Free Biscuit Questions
Can I make gluten-free and dairy-free biscuits?
Yes. Replace the butter with a dairy-free baking spread and the yogurt with a dairy-free alternative.
Should I use a pan or skillet?
Both work! Biscuits baked on a pan tend to spread a bit more than biscuits baked in a skillet. Biscuits baked in a skillet touch and support each other as they bake.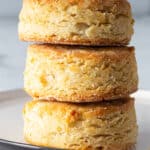 Gluten-Free Biscuit Recipe
For the best gluten-free biscuits, follow these simple steps: use cold butter, let the dough rest, and bake the biscuits in a hot oven.
Ingredients
2 ¼

cups

gluten-free baking flour

(11 ¼ ounces; 320 grams)

2

tablespoons

granulated sugar

(1 ounce; 28 grams)

1

tablespoon

baking powder

1

teaspoon

baking soda

½

teaspoon

salt

6

tablespoons

cold butter, cut into small pieces

(3 ounces; 85 grams)

1

cup

plain yogurt, Greek or traditional, plus additional as needed

(about 8 ounces; 226 grams)

water or milk, as needed
Instructions
Whisk gluten-free flour, sugar, baking powder, baking soda, and salt in a large bowl.

Cut the butter into the flour mixture with your fingers or a pastry cutter until the butter is the size of peas.

Stir in the yogurt until absorbed. If dry flour remains in the bottom of the bowl, add a tablespoon of water or milk. Stir and add more water as needed. The dough should easily hold together. It shouldn't be dry or too soft and squishy.

Cover the bowl and let the dough rest for 20 minutes. Adjust oven rack to middle position and heat oven to 400°F. Line a rimmed baking sheet with parchment paper.

For Cut-Out Biscuits: Dust your countertop with gluten-free flour. Turn dough out onto the counter and press it into a rectangle, about 1 ¼ inches thick. Cut into three or four rounds using a 1 ½ inch biscuit cutter.

Place biscuits on the prepared baking sheet.

Gather the remaining dough together, kneading and patting it into a rectangle and cut out additional biscuits. Repeat. You should have 8-9 biscuits at the end.

For Drop Biscuits: Scoop dough onto a parchment-lined baking sheet, about ¼ cup per biscuit.

Bake until the biscuits are deeply golden brown, about 15 minutes.

Allow biscuits to cool for 5 minutes on the pan before serving. Store leftover biscuits wrapped on the counter or cool and freeze for up to three months.
Recipe Notes
Dairy-Free, Gluten-Free Biscuits: Replace the butter with an equal amount of cold dairy-free butter or shortening and the yogurt with a plain dairy-free yogurt. Some dairy-free yogurts contain sugar and starches which can change the texture of the final biscuits.
Rich Gluten-Free Biscuits: For biscuits with a very soft and tender crumb: reduce yogurt to 3/4 cup and add one egg. Whisk the yogurt and egg together until smooth. Follow the directions above.
Food Processor Directions.
Combine the gluten-free flour, granulated sugar, baking powder, baking soda, and salt in the bowl of a food processor. Pulse a few times to combine.
Add the cubed butter. Pulse a few times to cut the butter into the dry ingredients. The butter should be the size of peas, no smaller.
Transfer the mixture to a large mixing bowl. Add the yogurt. Stir to combine with a wooden spoon or firm spatula. Once a dough forms, knead the dough a few times in the bowl. If the dough seems dry, add an additional tablespoon of yogurt. Follow step four above for cutting and baking.