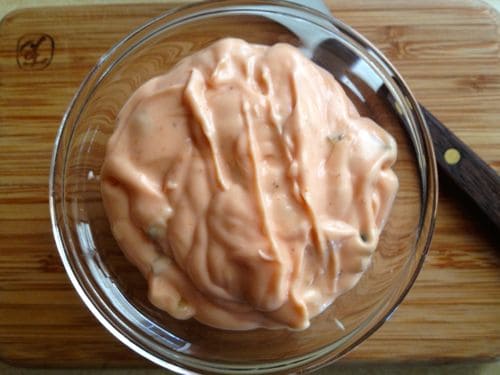 It seems I've lied to myself for several years. I thought I knew how to make a mock "special sauce*" at home–yes that special sauce sauce made famous by McDonald's Big Macs. Turns out, I was wrong. Really wrong.
*It's not even called "special sauce". On McDonald's site, they refer to it as "Big Mac Sauce." My world just flipped upside down.
The other night, as Greg cooked burgers on the grill, I whipped up a batch of "special sauce", snapping pictures for you as I went along. Before writing up my recipe, I did a quick search for special sauce. A video from McDonald's popped up. I watched it. And what I saw shocked me.
McDonald's special sauce contains no ketchup.
Let me say that again: there's no ketchup or tomatoes, in special sauce.
Huh?
Over the years all the "copycat" recipes I saw mixed mayonnaise with thousand island dressing. Since I don't keep thousand island dressing in the house, I swapped it for ketchup. The combo makes a rich, sweet sauce that I love.
It seems, however, that my sauce wasn't a copy of the special sauce you'd find on a Big Mac. Boo! Turns out, mayonnaise and mustard make up the special sauce.
Oh well. Can't win 'em all. I still think my burger sauce is pretty special.
Here's how I make it: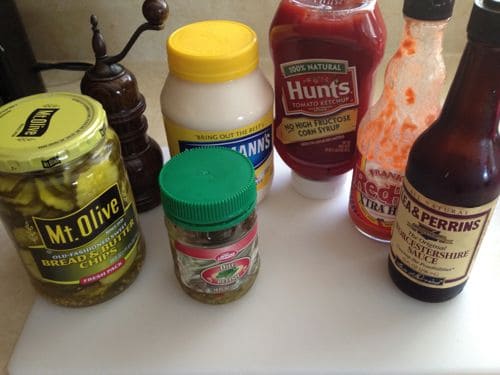 See. No mustard!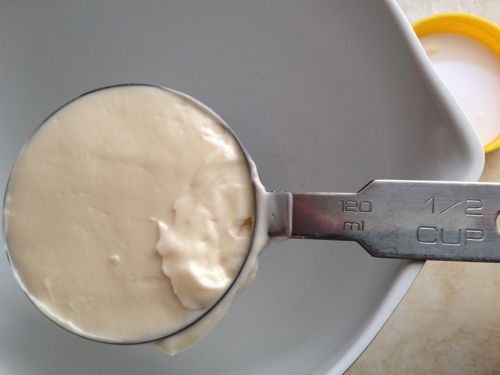 I use canola-based mayo. Use whatever mayo you love–even Miracle Whip*.
*Miracle Whip is NOT my favorite. But, dude, if you love it, use it.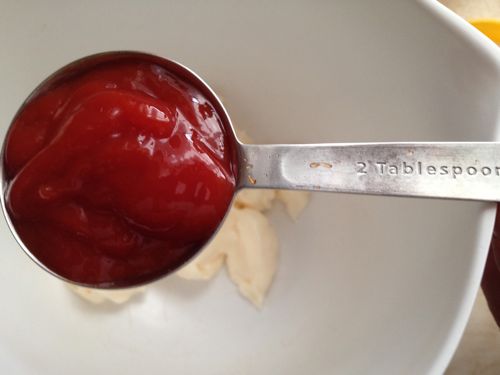 Ketchup! Ketchup! Ketchup! For me, the ketchup transforms the sauce. I love it. LOVE IT.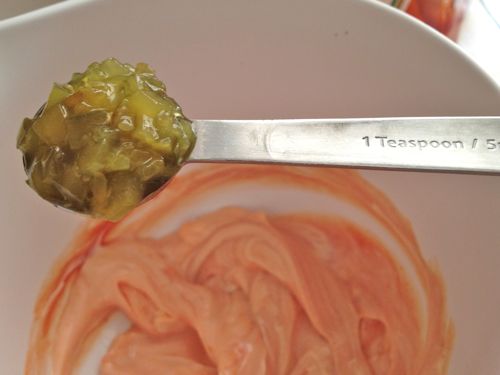 Dill relish!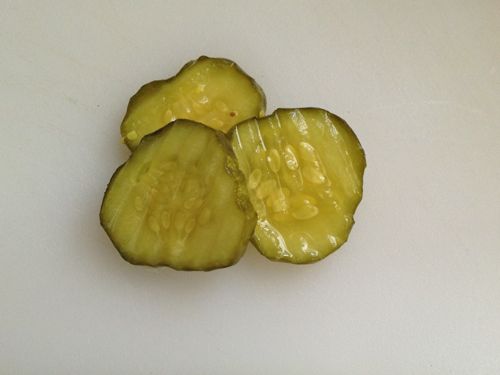 Sweet pickles. I don't keep sweet relish in the house. So I chop up about three bread and butter pickles. If you don't have dill relish in the house, chop up three dill slices. Easy peasy.
(Sweet pickles! Speaking of…does anyone remember the "Sweet Pickles" commercials from the 1980s? (Here it is!) I was TOTALLY bummed when a busload of characters in a small green bus didn't arrive at my house along with my books. SO BUMMED. And now that you ask, I still don't think I'm over it.)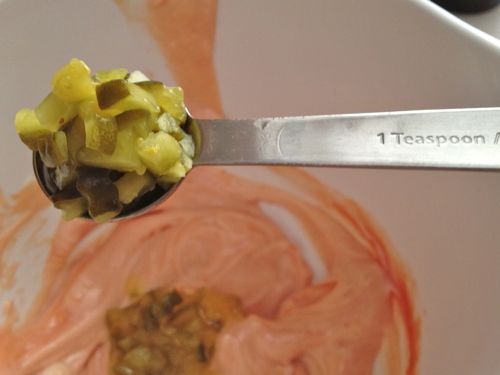 Add about a generous teaspoon of chopped sweet pickles or sweet pickle relish.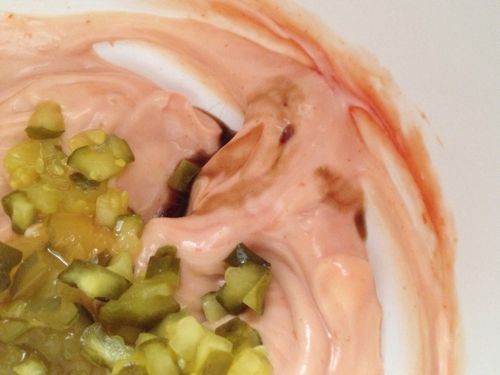 See the brown liquid? That's a dash of Worcestershire sauce.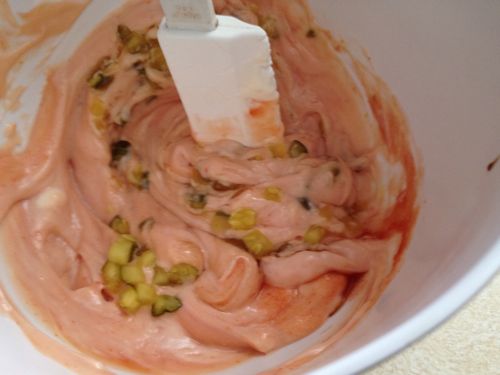 And that red liquid? Hot sauce! Stir it all together.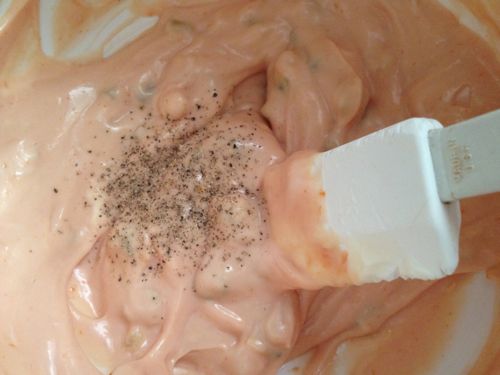 Taste. Add a bit of freshly ground black pepper, if needed.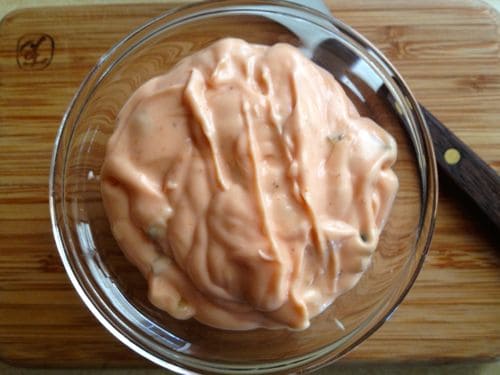 Done!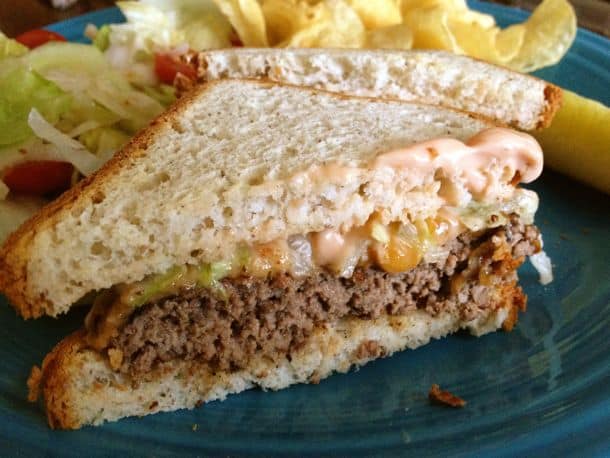 Go ahead and slather it on your burger.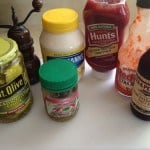 How to Make the Best Homemade Special Burger Sauce
This easy sauce makes any burger, from veggie to turkey to traditional, shine.
Ingredients
1/2

cup

mayo

(4 ounces; 113 grams)

2

tablespoons

ketchup

(about 1 ounce; 28 grams)

1

teaspoon

dill relish

(or three dill pickle slices, chopped)

1

teaspoon

sweet relish

(or three dill pickle slices, chopped)

1

dash

Worcestershire sauce

1

dash

hot sauce

pinch

garlic powder, optional

pinch

onion powder, optional

optional

freshly ground black pepper
Instructions
Combine ingredients except freshly ground black pepper in a small bowl. Stir. Taste. Add freshly ground black pepper to taste.

Store leftover sauce, covered, in the refrigerator.