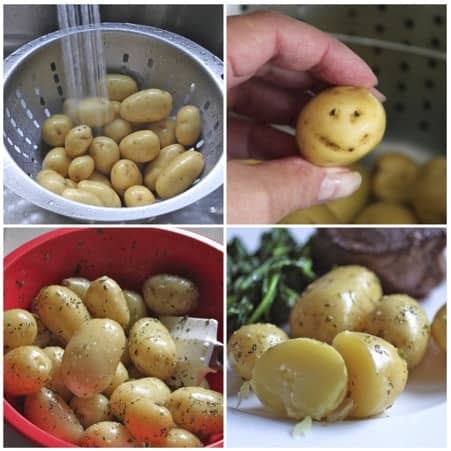 Steamed potatoes. Don't they sound…kind of boring? I'd never really thought about steamed potatoes.
For my friend's birthday party, her husband made an incredible clam steam. Along with the clams, sausages, and corn, there were, you guessed it, steamed potatoes. At first I thought I'd give the steamed potatoes a pass. I mean, they were just potatoes! Better to save tummy room for those clams, right?
Well, after I'd eaten my share of clams, I still had a wee bit of room–perfect for half a potato. Since these were large white potatoes, I asked my husband to share with me. (Spoiler: This does not end well for Greg.) I cut the potato in half, poured some melted butter on it and gave it a generous sprinkle of salt.
Oh my! This potato was so good! It's flesh was creamy while the skin remained almost "snappy" without being tough. When Greg decided to nab his share of the potato, I, um, decided I didn't feel like sharing!
I wondered if I loved the potatoes so much because they steamed above clams and sausages or if perhaps steamed potatoes were just that good. After making several batches this summer, I can affirm: they are just that good.
Here's how to make them. (You'll need a steamer basket to make the potatoes. That's it!)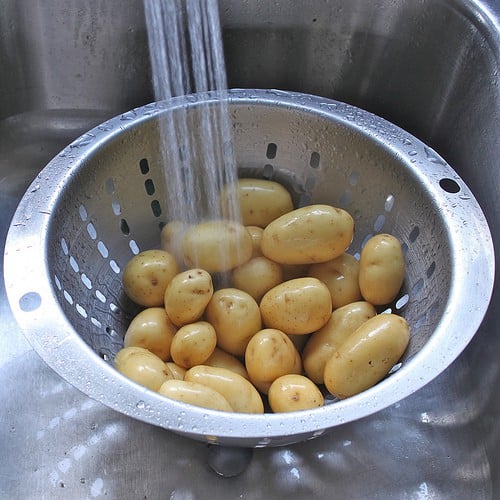 Wash potatoes. You can steam any size potato but I think small ones are best. I picked these up at the farmers' market.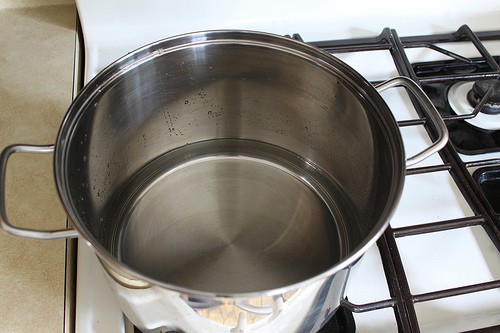 Add about one-inch of water to the bottom of a large pot.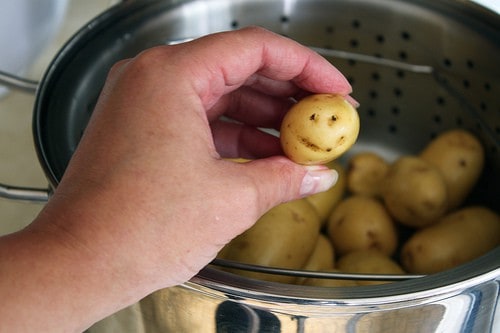 Look for the smiling potato. (Okay, you don't have to do this. But, seriously, how cute is that potato?!?)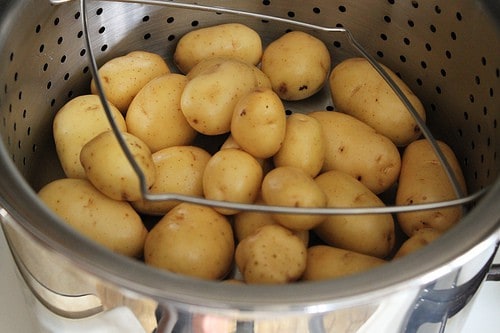 Place potatoes in the steamer basket. Arrange the largest potatoes on the bottom of the basket and the tiny guys on top.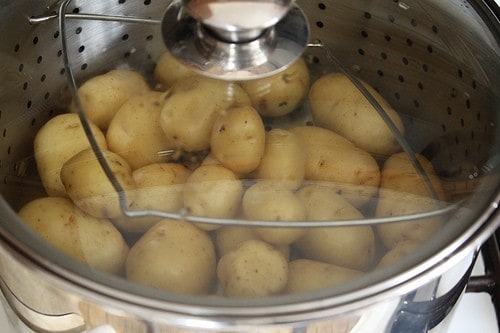 Cover. This is important! You can't steam potatoes in an open pot!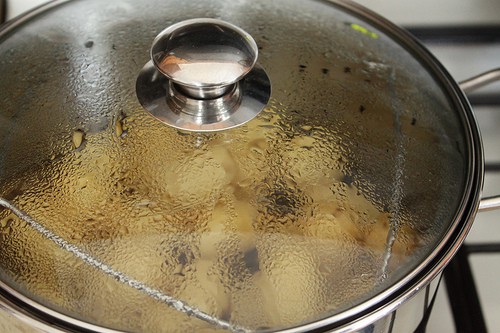 After about 30 minutes of cooking over medium heat, it's time to check the potatoes. If you really tiny potatoes, check them after 20 minutes. For big potatoes, wait 40 minutes.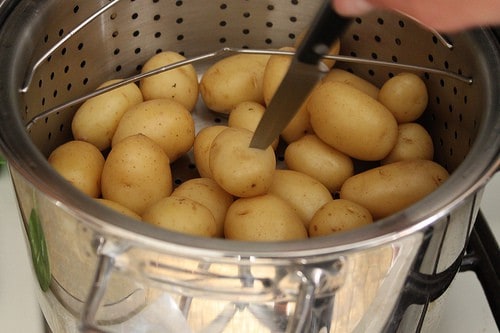 You want your knife to slide easily into the potatoes. (I always check a few just to be sure they are all ready.)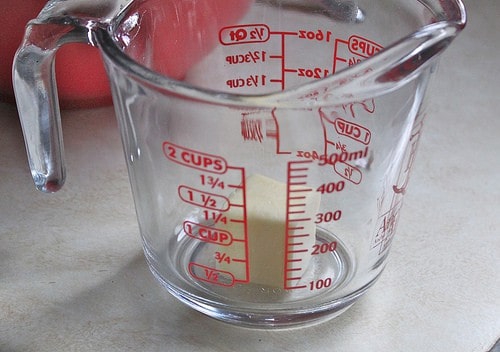 Melt two tablespoons of butter.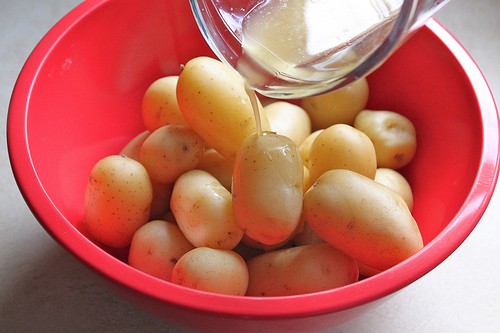 Pour over potatoes.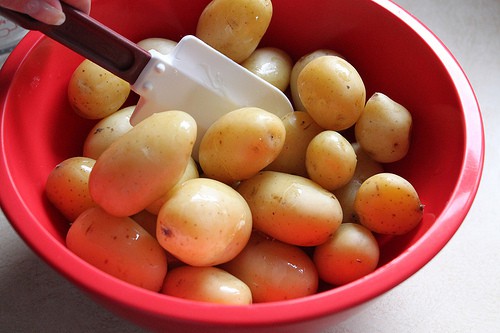 Stir.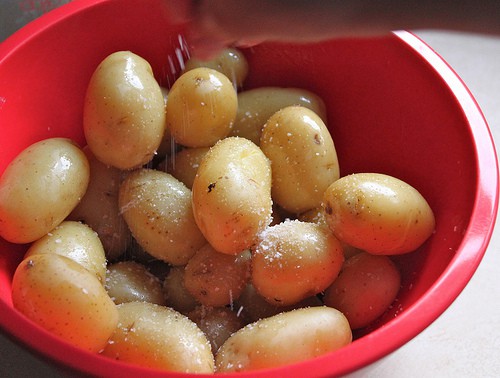 Add a generous sprinkling of kosher salt.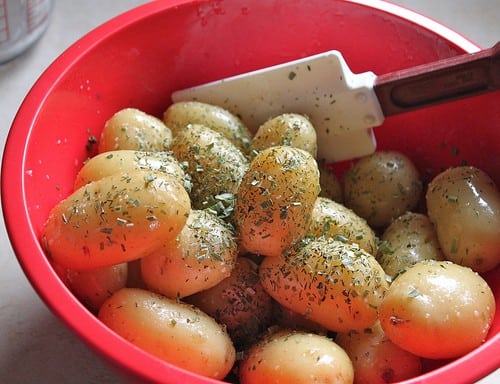 And herbs. You can use dried or fresh. I love (LOVE, LOVE, LOVE) Penzey's Parisien Bonnes Herbes. But use whatever you love. Dill, basil, and chives are especially nice.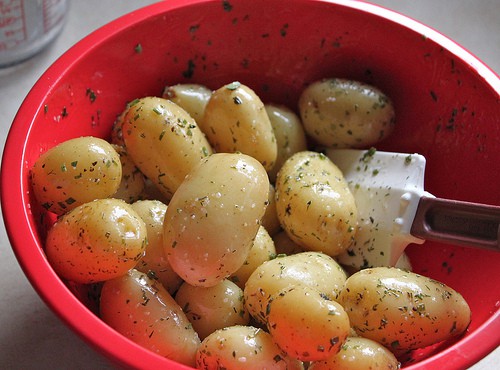 Stir.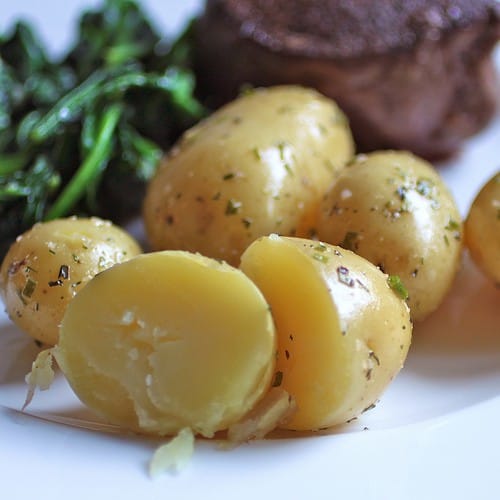 And serve. The finished potatoes are creamy with an intense and lovely potato flavor.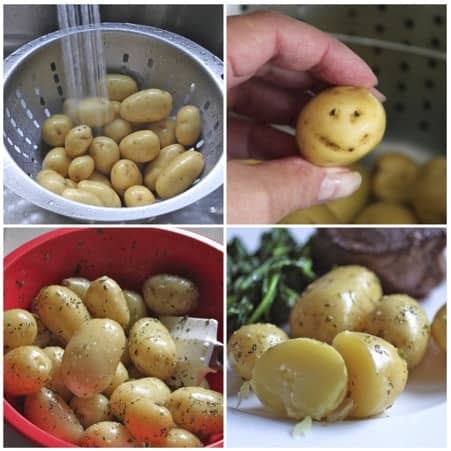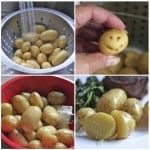 How to Steam Potatoes
Steamed potatoes are easy, quick, and best of all, delicious.
Ingredients
28-32

ounces

small baby potatoes, such as baby Yukon gold or red potatoes

2

tablespoons

butter, melted

(1 ounce; 28 grams)

Kosher Salt

Fresh or dried herbs
Instructions
Wash potatoes. Add about one-inch of water to a pot that has a fitted steamer basket or can hold a steamer insert.

Place potatoes into steamer basket. Cover pot. Turn pot to high. When steam starts to escape from the lid, reduce heat to medium, about ten minutes.

Steam until potatoes are tender, about 30 minutes. Time varies depending on the size of the potatoes.

Transfer potatoes to a medium bowl. Pour melted butter over potatoes. Stir. Season with kosher salt and herbs to taste.