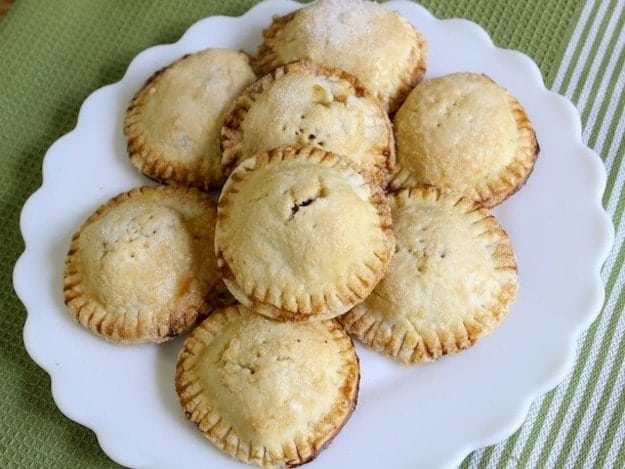 These cute individual gluten-free apple pies are a snap to make! You sandwich apple pie filling between two pieces of gluten-free pie dough, crimp with a fork, and bake. If you feel like it, brush the top with a beaten egg and sprinkle on a little coarse sugar. The crunch of the sugar adds a nice touch to these adorable pies. The best part? You don't need to invest in mini pie pans to make these handheld treats!
Individual Gluten-Free Apple Pie: How a Bad Crop Started a Sweet Tradition
One of the awesome benefits of living in upstate New York is that I'm sitting right in the heart of New York's apple country. There are dozens of fantastic orchards just a few miles from our home. And, around here, the fall apple crop is big news. How big? A few years ago, the front page of my carried this headline: "Slim pickings for area's apple crop." The combination of warm March temperatures and an April freeze led to a poor apple-growing season and early fall apples. How early? Some pick-your-own-orchards opened in early August that year! August!
Not wanting to miss the apple crop, I did what any apple-loving baker would do. I made pie. In August. Which, let me tell you, just felt weird.
Instead of baking a traditional pie, I decided to make individual gluten-free apple pies since the petite size makes them easy to enjoy while dining outdoors–as we tend to do in August. And, thus, a new tradition was born!
Ever since, I've made individual gluten-free apple pies in the fall. Even when the apple crop is awesome, as it was this year!
Individual Gluten-Free Apple Pie: How to Make 'Em
Back when I was baking with wheat, individual pies were especially fun to make. You simply took a round of pie dough, plopped in some apple filling, and folded the dough over the filling. The gluten-free pies, however, weren't as fun or easy to make at first.
Since the dough lacks the elasticity that gluten provides, it tore each time I tried to fold it over the apple filling. Instead of a smooth pastry, each pie had many deep cracks that leaked filling during baking. To fix this, I tried allowing the dough to reach almost-room temperature before baking, thinking that a warmer dough would give easier as it folded over the apples. No luck. Then I tweaked the dough itself. This yielded a dough that tasted more like a vanilla cookie when baked than pie crust. And it still broke as I folded it.
Finally I ditched the idea of a turnover. I grabbed two round cutters, cut dough rounds, filled them, and attempted to seal the dough. Again the top piece of dough tore as it went over the chunky filling. This time, there was an easy solution to the problem: use a larger cutter for the top pastry. The slightly larger piece of dough covers the filling easily. No tugging required! This simple adjustment again made it easy to make individual pies.
Who knew that such a sweet tradition would be born from such a bad apple season?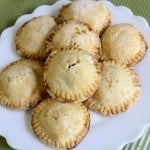 Individual Gluten-Free Apple Pie
You need two round cookie cutters to make these individual gluten-free apple pies, one slightly larger than the other. One 3-inch and one 3 1/2-inch cutter make the perfect bottom and top for the crust. Be sure to use the larger cutter for the top crust. This allows it to easily drape over the apple filling without tearing.
Total Time
1
hour
10
minutes
Ingredients
For the Crust
2

cups

white rice flour

(8 ounces; 226 grams)

3/4

cup

tapioca starch

(3 ounces; 85 grams)

3

tablespoons

granulated sugar

(1 1/2 ounces; 42 grams)

1/2

teaspoon

salt

1/2

teaspoon

xanthan gum

2

sticks

cold, unsalted butter, cut into tablespoon-size pieces

(1 cup; 8 ounces; 226 grams)

4 to 6

tablespoons

water

(2 to 3 ounces; 56 to 85 grams)
For the Filling
2

large

apples, peeled, cored, and cut into 1/2-inch cubes

3

tablespoons

dark brown sugar

(1 1/3 ounces; 36 grams)

2

tablespoons

juice from 1 lemon

1

teaspoon

ground cinnamon

2

tablespoons

white rice flour

(1/2 ounce; 14 grams)

1

large egg

beaten

granulated or coarse sugar
Instructions
In bowl of food processor, combine white rice flour, tapioca starch, granulated sugar, salt, and xanthan gum. Pulse to combine. Add butter. Pulse until no large pieces of butter remain. Add 4 tablespoons water. Pulse until dough forms. If dough does not form, add two additional tablespoons water.

Lightly white rice flour your counter. Divide dough into two even balls and shape each into a disk. Wrap and chill dough for at least two hours or overnight.

Preheat oven to 375 °F. While oven preheats, prepare filling. Toss together apple pieces, dark brown sugar, lemon juice, and cinnamon. If desired, add more sugar to taste. Toss apple mixture with white rice flour.

Remove one dough round from the refrigerator. Allow to stand for about five minutes. Lightly white rice flour countertop. Roll dough out to approximately 1/8-inch. While rolling, occasionally run a long, thin metal spatula under the dough to prevent it from sticking to the counter.

Using the 3-inch cutter, cut dough into 6 pieces. (These will be the pie bases.) Gather dough and gently gather into a ball. Reroll. Now use the 3 1/3-inch cutter and cut out another 6 pieces. (These will be the pie tops.) Place the six 3-inch dough cut-outs on parchment-lined baking sheet. Top with approximately one tablespoon of apple filling. Brush edges with beaten egg. Cover filling with 3 1/2-inch dough round. If dough tears, lightly pinch it back together. Crimp edges together with fork. (To keep dough from sticking to the fork, dust it with white rice flour before crimping.) Chill pies for five minutes.

Brush pies with beaten egg and generously sprinkle with granulated or coarse sugar. Pierce top twice with fork to allow steam from the filling to escape. Bake until filling bubbles and crust is golden brown, about 25 minutes. While one pan of pies bakes, form second pan. Bake second pan of pies in the same manner.

Allow pies to cool on baking sheet. Store, covered, at room temperature for up to three days.