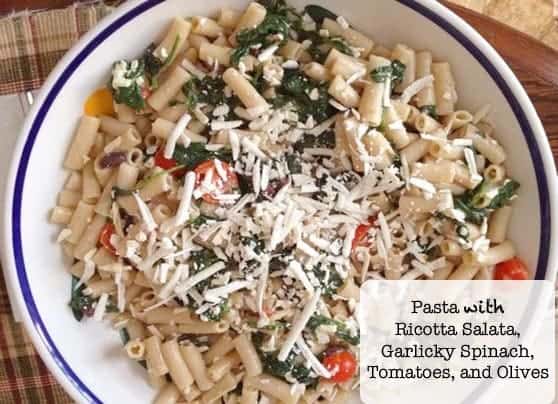 My love for pasta knows no limit. Even in the heat of summer, I bring a pot of water to a boil to cook pasta for dinner. This recipe, which highlights fresh tomatoes and basil from the garden, comes together quickly, making it a nice dinner for busy nights.
For this pasta, I use ricotta salata. Unlike the more commonly used ricotta, which is soft and creamy, this version of ricotta is firm, almost like feta. It's a mild cheese and while it's great sliced and eaten with some bread or vegetables, I prefer it in hot dishes. For this pasta, I shred the ricotta salata and toss it together with the hot pasta. Unlike other cheeses, it doesn't really melt. Rather, it just softens, adding salty-cheesy bites that surprise you while eating. Remember the delight in getting bits of marshmallows in your cereal as a kid? The cheese is like that. Bits of goodness sprinkled throughout your serving!
If you can't find blocks of ricotta salata, use the crumbled version. If, however, you can't find it at all, replace it with either feta or fresh mozzarella. Either cheeses work well in this dish. And, if you are dairy-free, simply omit the cheese completely. The pasta tastes great with or without it.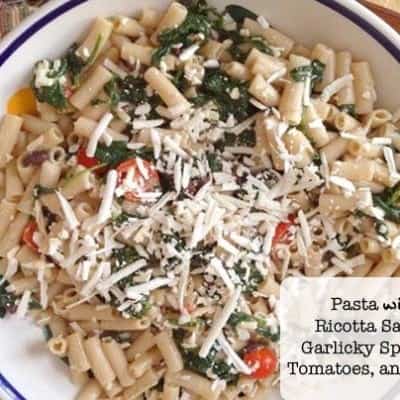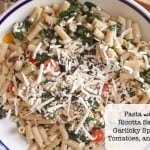 Gluten-Free Pasta with Ricotta Salata, Garlicky Spinach, Tomatoes, and Olives
Ricotta salata adds a mild cheese flavor to this dish. If you are unable to find it, replace it with feta or fresh mozzarella. To make the pasta dairy-free, simply omit the cheese.
Ingredients
1

pound

gluten-free penne pasta

Kosher salt

4

tablespoons

olive oil

divided

4

cloves

garlic, minced or put through a garlic press

(about 4 teaspoons)

10

ounces

baby spinach

1

pint

grape tomatoes, washed and halved

1/4

cup

pitted kalamata olive, halved

sliced

3

ounces

ricotta salata, grated, divided

(about 1 cup)

Freshly ground black pepper

10

fresh basil leaves, chopped
Instructions
Bring a large pot of salted water to a boil over high heat. Cook pasta according to package directions. Drain pasta and return to cooking pot, reserving 1 cup of cooking liquid.

While pasta cooks, in a large skillet, heat one tablespoon olive oil over medium-high heat until shimmering. Add half the garlic and cook, stirring frequently with a wooden spoon, until the garlic is soft and lightly brown, about 2 minutes. Add half the spinach and cook until tender, about 1 minute. Transfer the cooked spinach to a bowl. Repeat with another tablespoon of olive oil, remaining garlic, and spinach.

Add the spinach, tomatoes, olives, and remaining olive oil to the pasta and stir to combine. If the sauce seems too thick, loosen it by adding pasta water a little at a time until desired consistency is reached. Add three-quarters of the grated ricotta salata. Stir to combine.

Season to taste with kosher salt and freshly ground black pepper. Pour pasta into a large serving bowl or spoon onto individual plates. Top pasta with remaining ricotta salata and basil.