Chocolate Almond Butter is even tastier than Nutella. This recipe makes a healthy spread that's low in sugar and made without hazelnuts!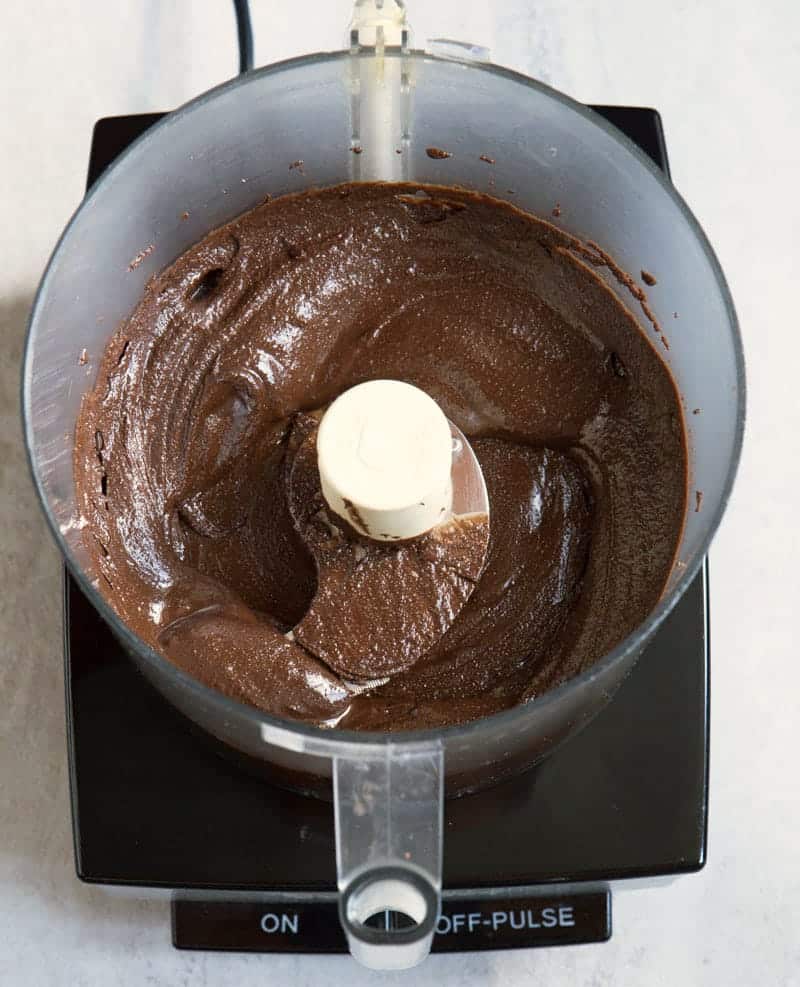 Look at that! It's not loaded with sugar and contains no palm oil. Plus, it's much cheaper than buying a jar at the store. And, I promise, homemade tastes even better than the store bought variety.
Chocolate Almond Butter: The Nuts
Okay, so the Nutella that you love is made with hazelnuts. I didn't make this spread with hazelnuts because…(dun dun dun) I'm allergic to them. I know. Not very exciting.
Here's the thing, you can make this spread with any nut. I made mine with almonds and, oh my god, it's so good.
Pick whatever nut you love and then roast it. (Skip this step if you buy your nuts pre-roasted.) When you toast nuts, the flavor deepens. But! Toasting nuts burn really easy. So keep your eye on it during this process. A pan of nuts usually takes about 10 minutes to toast in a 350 degree oven.
If you're using almond, walnuts or pecans, you're ready to move on to the next step. If you're using hazelnuts, you need to remove the papery skin. To do this, place the roasted hazelnuts into a bowl. Cover with another bowl of the same size. Give it a shake. Remove the hazelnuts that have lost their skins. Repeat until all the hazelnuts are skinned.
This takes a few minutes but it's worth it. If you leave the skin on the hazelnuts, it can add a bitter flavor to the spread.
Chocolate Almond Butter: The Cocoa Powder and Sugar
Unlike commercial spreads that are loaded with sugar, we only use a half cup of powdered sugar for the entire batch. Now what if you like your spread a little sweeter? Go ahead and add more sugar after you taste it. Easy-peasy.
For a deep chocolate flavor, use Dutch processed cocoa powder. This cocoa powder has a lovely dark color and an amazing chocolate flavor. If you can't find it at your local grocery store, look for it at specialty stores or order it online. It's worth it. I promise.
Chocolate Almond Butter: Mixing It Together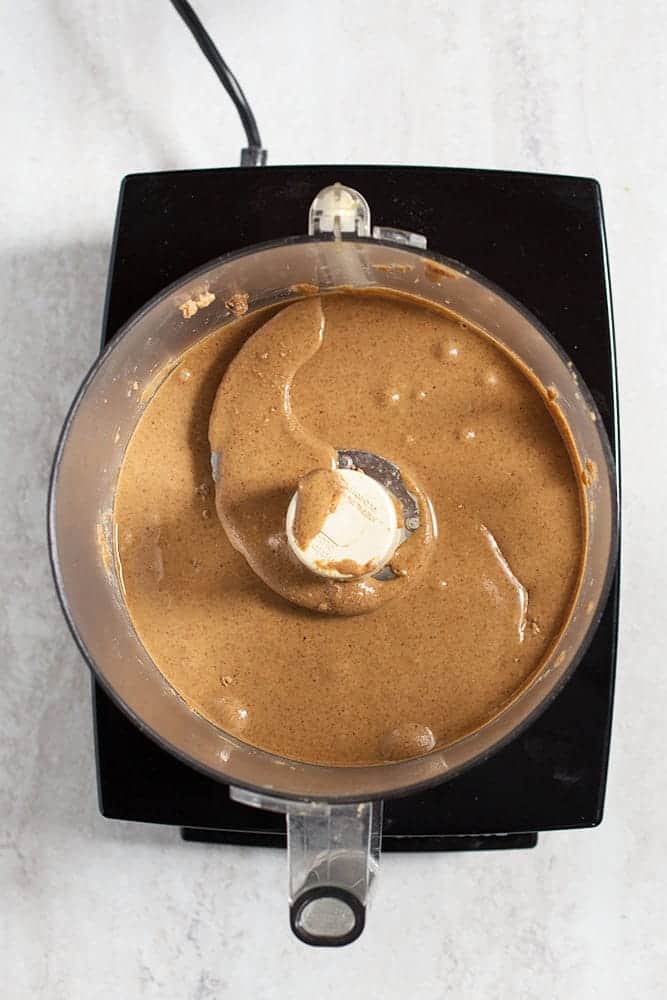 To make this spread, you need either a food processor or a high-powered blender, like a BlendTec or Vitamix. affiliate links to Amazon
Place the nuts into the food processor or blender and process until smooth. This can take a long time. How long? Up to 20 minutes in a food processor.
At first, the almond butter will look dry and weird. After a little while, the oil runs out of the nuts and it gets nice and smooth.
But what happens if your almond butter doesn't get smooth? Good question!
This has happened to me on more than one occasion. It drives me bonkers. Thankfully, there's an easy fix: oil. Pour in two tablespoons of almond or olive oil to smooth things out.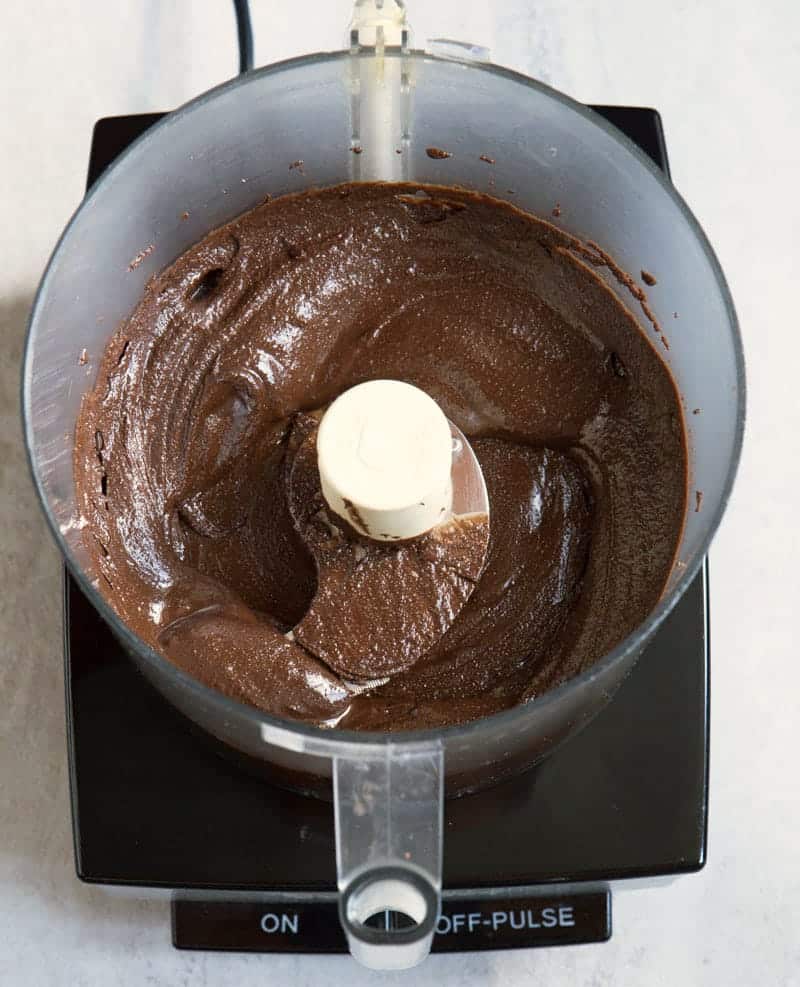 Once the almonds are ground into a smooth butter, add the cocoa powder and sugar. Blend until smooth. Taste. Adjust the sweetness to taste. If the chocolate almond butter seems too thick, add a little more oil. Sometimes I add a little sprinkle of Kosher salt. This doesn't make the spread taste salty, it just enhances the flavor.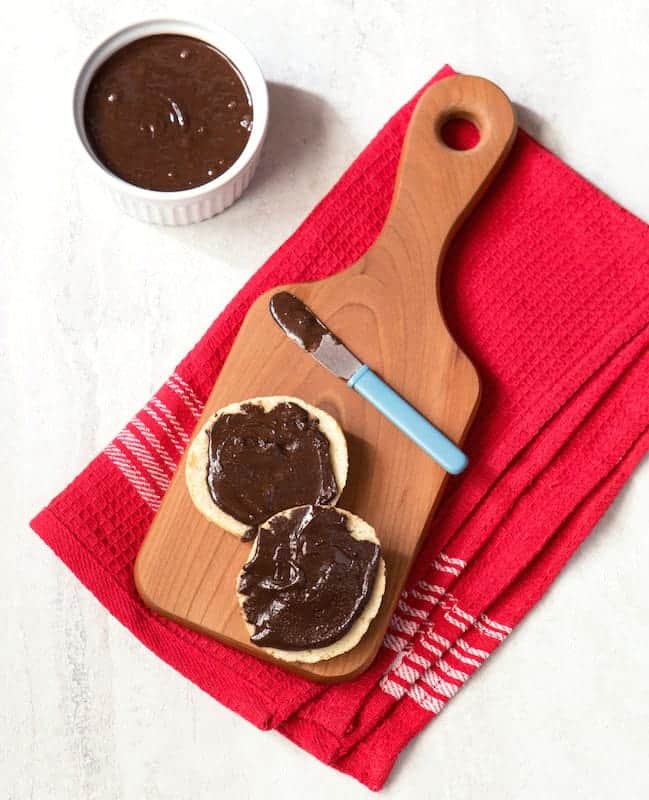 That's it! At first, the spread will be really soft. It sets up overnight. Have fun using it on everything. May I suggest starting with toasted gluten-free sandwich bread?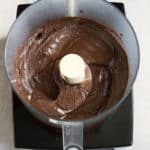 Chocolate Almond Butter
Chocolate almond butter is easy to make! It tastes similar to Nutella but without the hazelnuts or palm oil.
Ingredients
2

cups

raw almonds

2

tablespoons

almond oil

1/2

cup

powdered sugar

1/3

cup

cocoa powder, Dutch process or regular

1

teaspoon

vanilla extract, optional

1/8

teaspoon

fine salt, optional
Instructions
Adjust your oven rack to the middle position. Preheat oven to 350 degrees F. Place almond on a rimmed baking sheet and roast until aromatic, about 12 minutes.

Transfer the almonds to the bowl of a food processor or place into a high powered blender. Blend until smooth. If the almond butter seems dry, add the almond oil.

Once the almond are ground into smooth butter, stop the machine and add the powdered sugar and cocoa powder. If using vanilla and salt, add these at the same time. Blend until smooth. This takes about two minutes.

Store in a airtight container, on the counter or in the refrigerator, for up to one month.