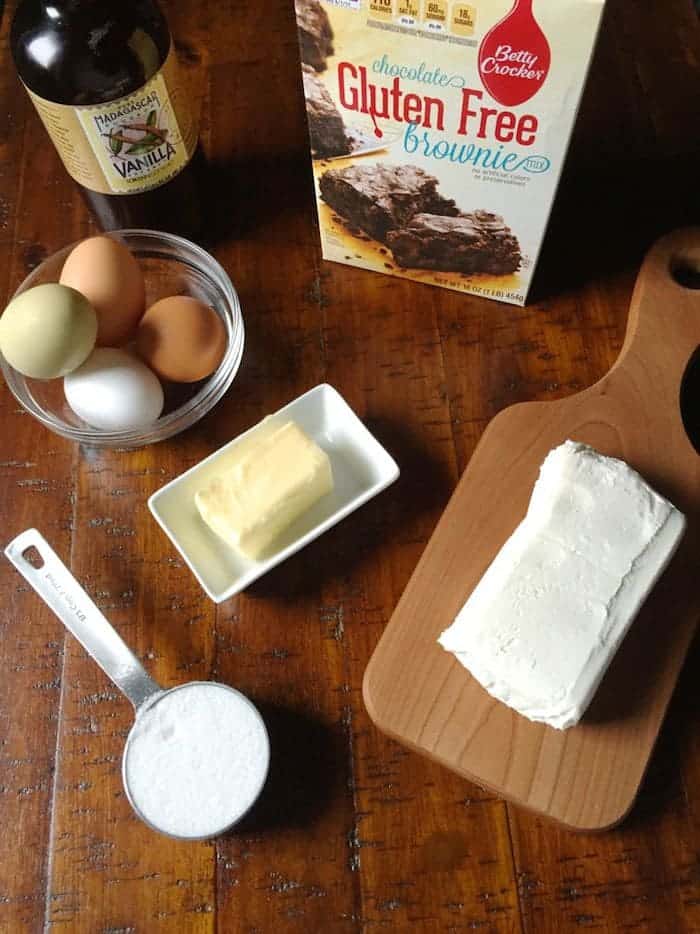 You know what I love better than brownies? Gluten-free cheesecake brownies! It's a classic culinary combo and I think I love it even more than either plain cheesecakes or plain brownies. But before I can be sure, I should probably sample all three. You know, for science!
These cheesecake brownies lend themselves really well to using a mix. To start this recipe, I grabbed a Betty Crocker mix. Use whatever brownie mix you love, just be sure it makes an 8×8 square. You don't want to use the mix that makes a 9×13 or you won't have enough cheesecake topping. And who wants that to happen?
Let's make a batch!
How to Make the World's Easiest Gluten-Free Cheesecake Brownies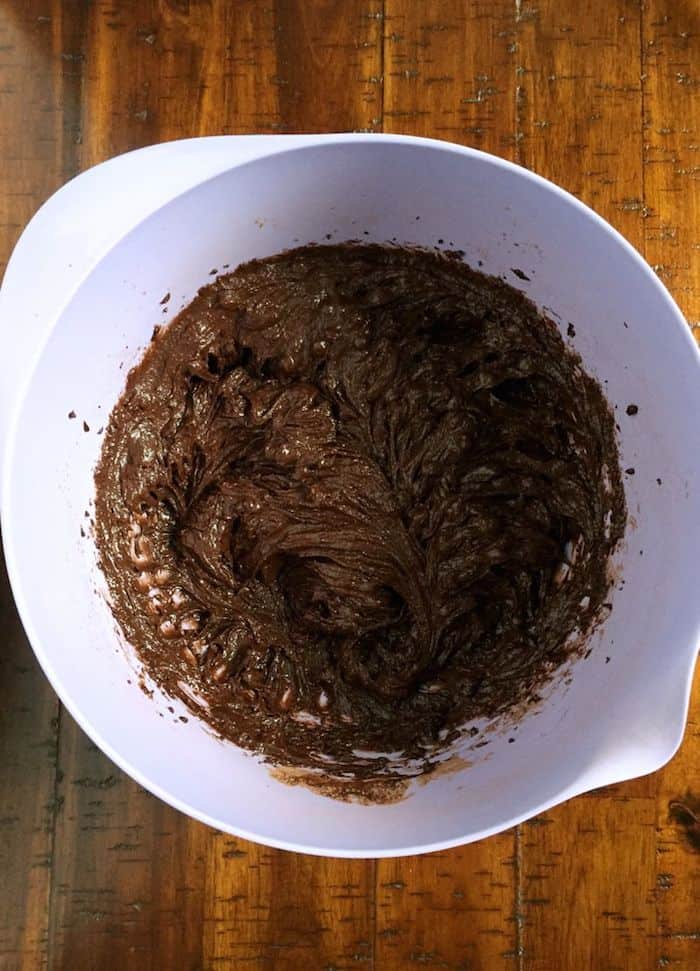 The original mix calls for two large eggs. Since I wanted my brownie base to be more cakey than fudgy, I added an extra egg. (Side question: how do you like your brownies? Cakey or Fudgy?)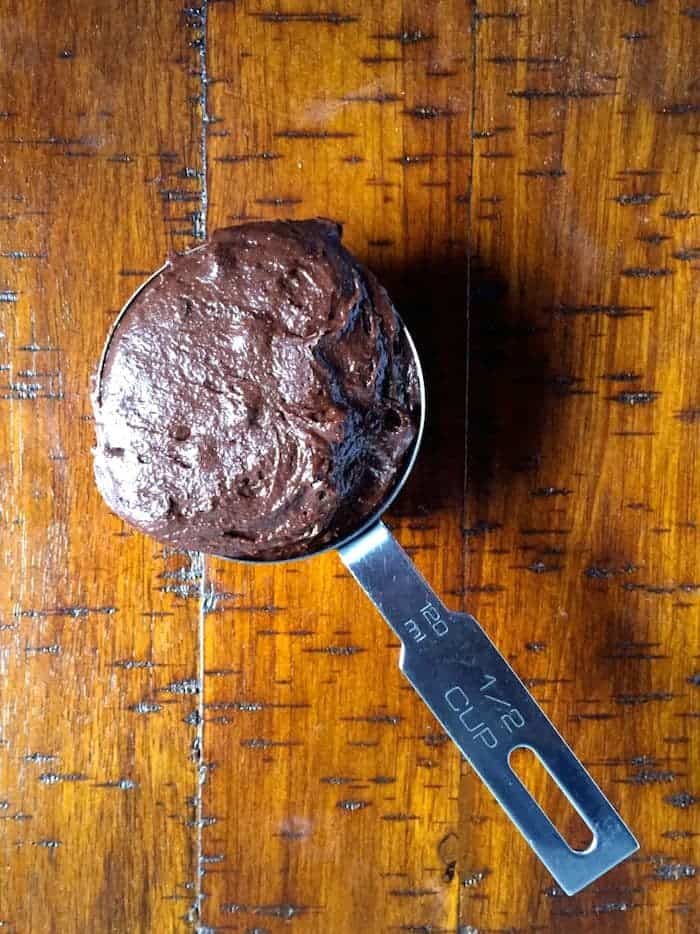 You want to reserve 1/2 cup of the brownie batter. We'll use this later to create a pretty swirl!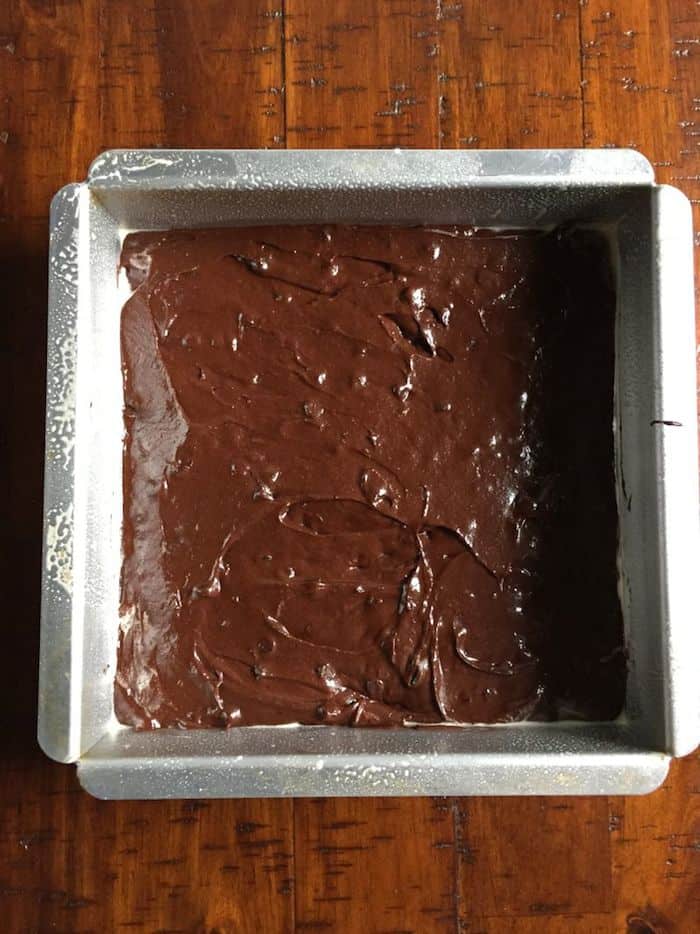 Add the remaining batter to the pan. I love how this mix includes chocolate chips. They're like, "Here! Have some extra chocolate." And I'm all, "THANK YOU KINDLY!"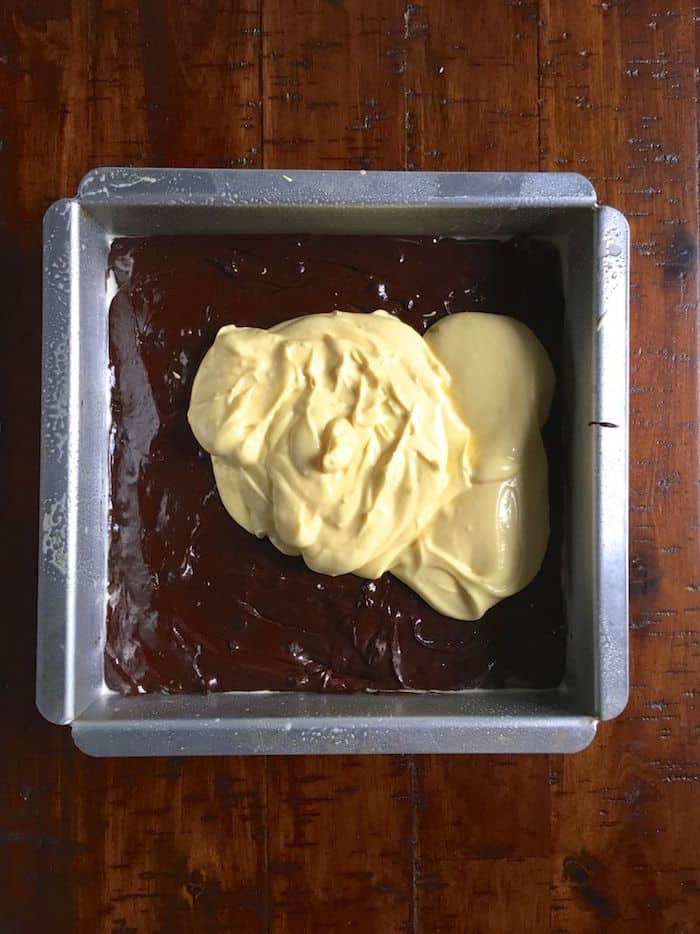 Isn't that glorious? I make a wee bit more cheesecake topping than most people. I mean, I want these to taste like cheesecake brownies. Not "hint of cheesecake" brownies. Basically, I want Sofia from the Golden Girls to find these brownies and acceptable alternative to the Girls regular cheesecake. (Please tell me you're familiar with the best show of all time, aka The Golden Girls.)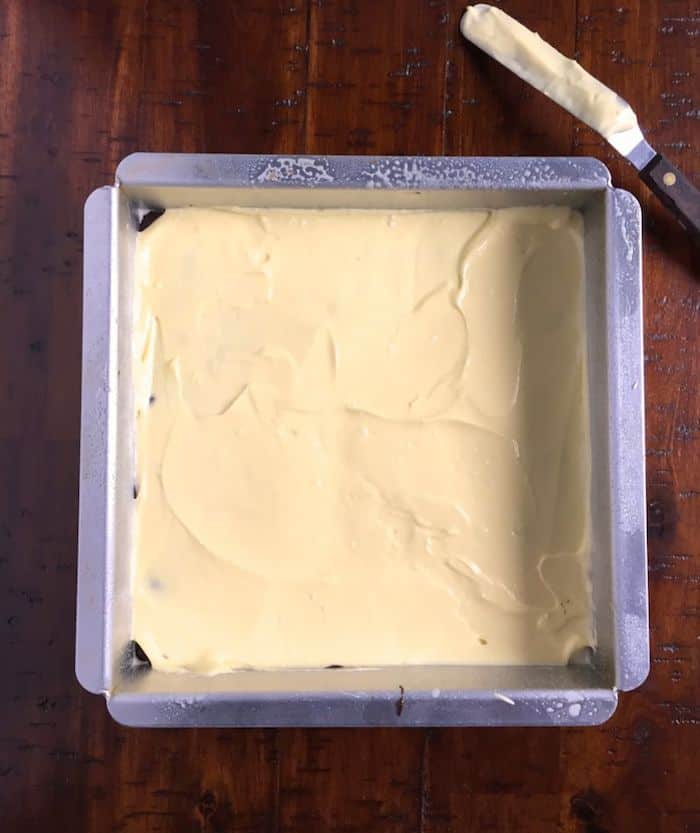 Spread the cheesecake batter evenly onto the brownie batter. Don't stress too much about this. If you don't cover the top of the brownie fully or if some of the cheesecake and brownie batter swirl together, it's all good.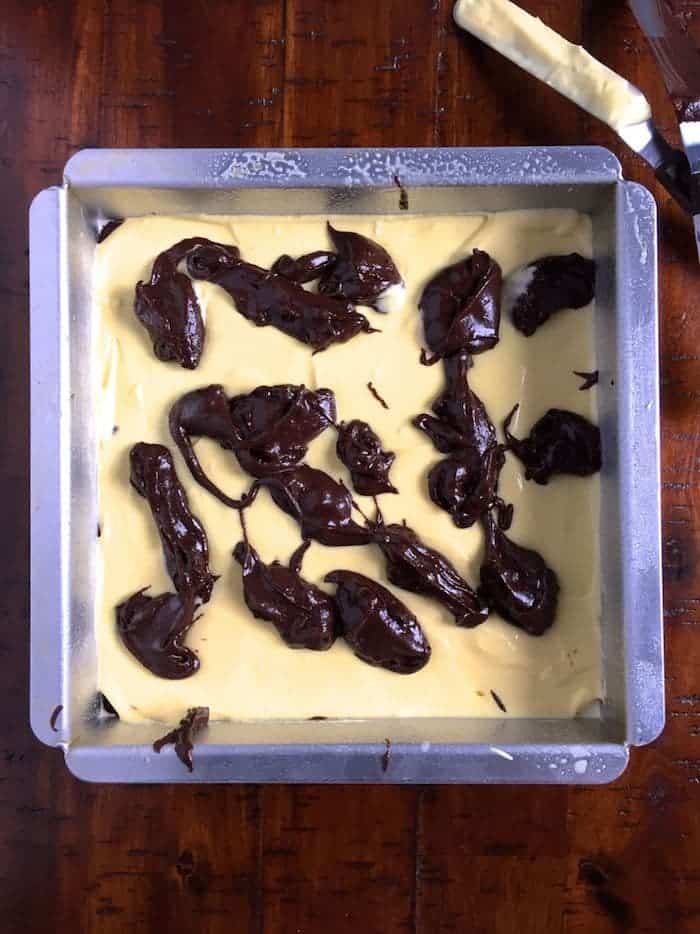 Drop the remaining brownie batter into the pan.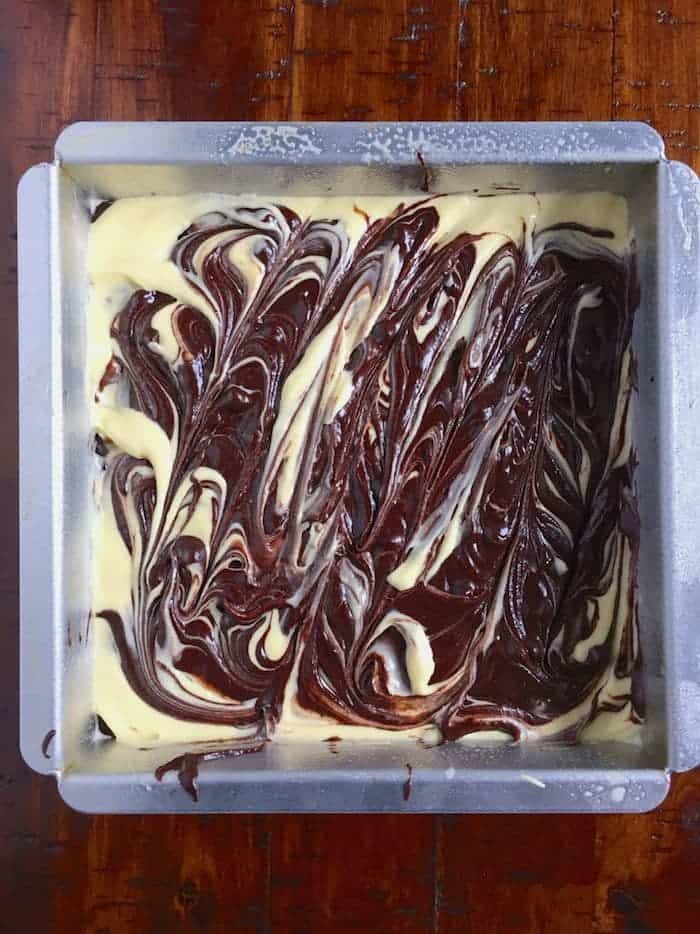 Swirl the two batters together with a knife or small offset spatula. This gets addicting. Try to stop before the cheesecake brownie completely disappears into the brownie batter. 🙂 As you can see, I only barely stopped in time.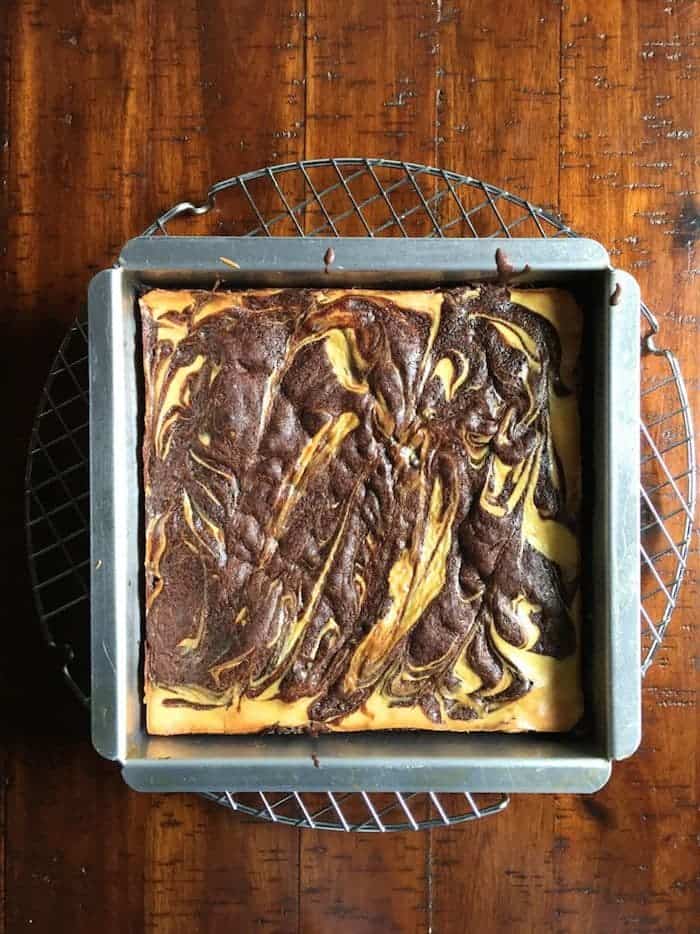 Bake until the edges are golden brown and the whole thing looks AMAZING.
Allow the brownies to cool for a couple of hours. Things to do while waiting for the brownies to cool: tap fingers. read a book. wait. curse the slow passage of time.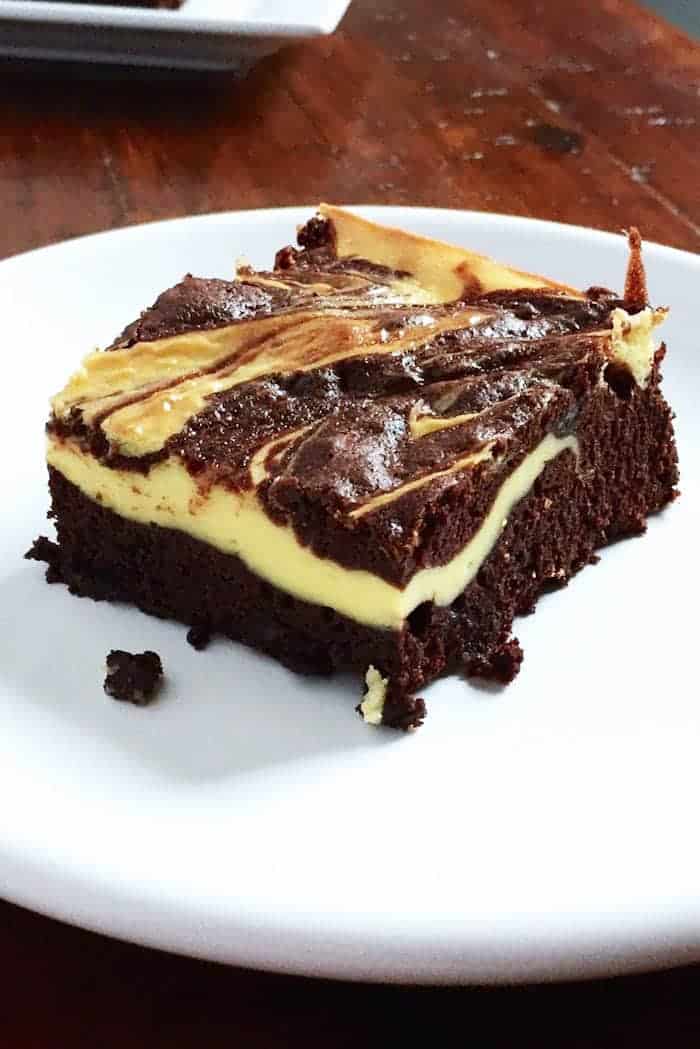 Cut into squares and enjoy!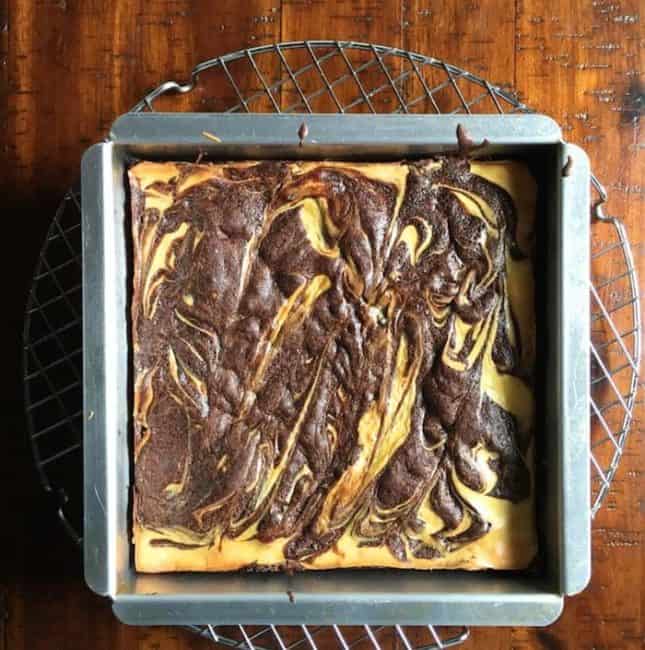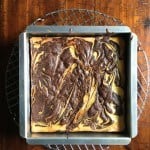 Gluten-Free Cheesecake Swirl Brownies
Use your favorite gluten-free brownie mix to make these easy and over-the-top brownies!
Ingredients
1

(16 ounce) box

gluten-free brownie mix

3

large

eggs

1/2

stick

unsalted butter, melted

(1/4 cup; 2 ounces; 57 grams)

8

ounces

cream cheese, softened

1/3

cup

granulated sugar

(2 1/3 ounces; 65 grams)

1

large

egg

(about 4 ounces; 50 grams)

1/2

teaspoon

vanilla extract
Instructions
Preheat oven to 350 degrees F. Spray an 8x8-inch pan with nonstick cooking spray or line pan with aluminum foil.

Combine brownie mix, eggs, and butter in a large mixing bowl. Stir until smooth. You can do this with a wooden spoon or electric mixer.

Reserve a 1/2 cup of batter. Spread remaining batter into the prepared pan.

Combine cream cheese and granulated sugar in a medium bowl. Beat until smooth. Use a handheld mixer for this. Be sure to use room temperature cream cheese or your batter will be lumpy. Add the egg and vanilla extract. Stir until batter is smooth.

Spread cream cheese mixture evenly over the brownie batter. Drop the remaining 1/2 cup of brownie batter evenly over the cheesecake topping. Swirl batters together with a knife of offset spatula.

Bake until golden brown, about 35 minutes.

Allow brownies to cool for several hours. Cut into squares and serve. Store, wrapped, on the counter for up to three days.